Project Pabst Returns To Portland July 18th and 19th
|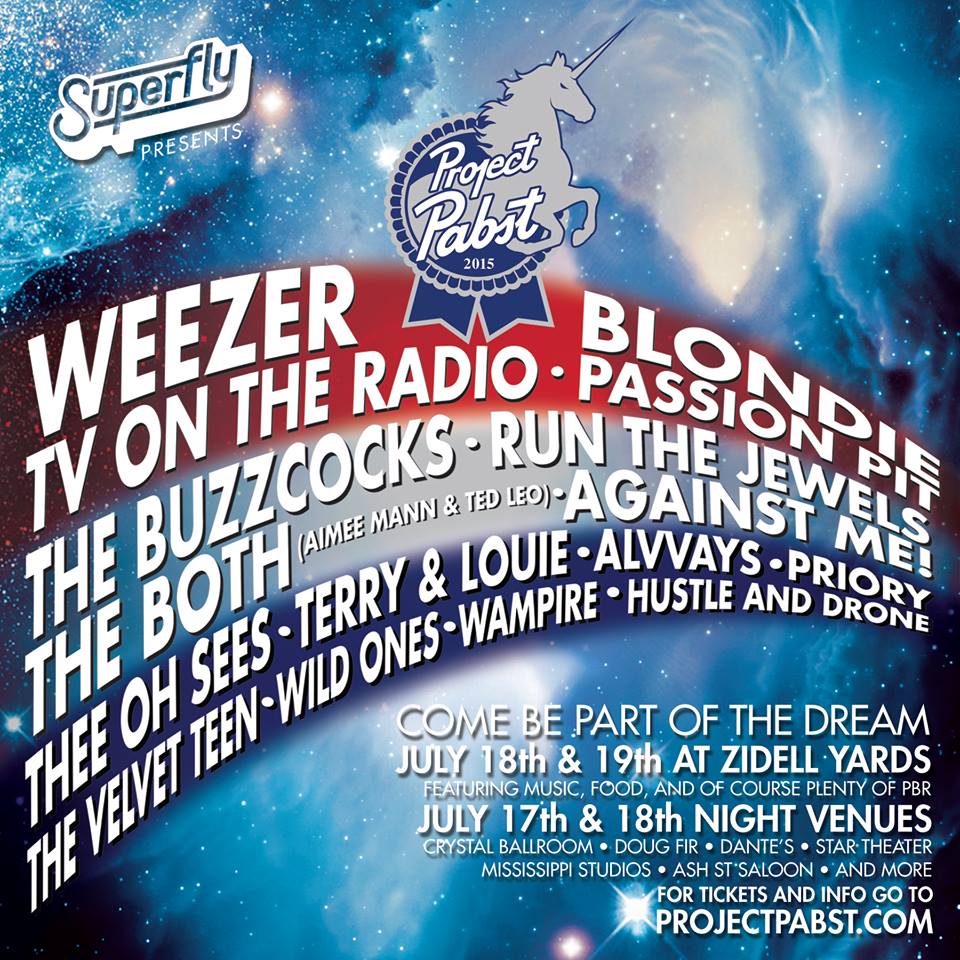 Late last summer Pabst Brewing Company set up shop on Portland's South Waterfront in the currently vacant Zidell Yards to host the inaugural Project Pabst, a two day music fest that brought Portland a diverse musical lineup that wowed the masses. Once again Pabst and its promotional partner Superfly are proud to announce the return of Project Pabst to Portland, Oregon on July 18th and 19th.
Project Pabst is an innovative celebration of Pabst and the city of Portland that features a main festival along with additional night shows comprised of music, entertainment, food and drink. The festival will return to the restored Zidell Yards located between the new Tilikum Crossing and the Ross Island Bridge that hosted the incomparable first year's festival. Zidell Yards will host the festival's two stages on its 10 acres in the heart of the South Waterfront District featuring Blondie, Weezer, Passion Pit, TV On The Radio, The Both, and Against Me! will be among the many artists who will perform this year.
In one year, Project Pabst single-handedly raised the bar for live music in Portland. Now an annual gathering, this year's lineup will solidify Project Pabst as the premier festival in the region, with unmatched creative programming. The Oregonian said of the inaugural event, "As debut days go, Project Pabst's Portland reveal stuck the landing." In the festival's second year, the lineup features legendary acts like Blondie, seminal UK-punks The Buzzcocks, and powerhouse hip-hop duo Run The Jewels, as well as Terry Six and King Louie Bankston of beloved Portland outfit, The Exploding Hearts.
"We were pleasantly blown away by the way Project Pabst was embraced by not just the city of Portland, but by our loyal PBR consumers and music fans across the country," says Pabst Brewing Company's CMO Dan McHugh. "We are excited for year two of Project Pabst. From the very beginning, we wanted it to be more than just a music festival; we wanted it to be a PBR experience.  We look forward to sharing that with even more people this year."
The Superfly and Pabst Brewing company collaboration continues this year creating the ideal multi-faceted festival experience Portland deserves. Superfly's history of designing groundbreaking properties such as Bonnaroo and Outside Lands, cultivating them into becoming incomparable global phenomena, coincides perfectly with Pabst's remarkable vision as the largest American-owned brewer established in 1844. The Oregonian said of last year's partnership, "In their collaborative debut, Pabst and promoter Superfly put together an almost unbelievably smooth festival weekend."
"We are so excited to build upon last year's tremendous success," said Superfly's Richard Goodstone. "The team put together an amazing line up and will have lots of surprises for year two."
The unique strengths of these two companies using the backdrop of the beautiful waterfront in one of the greatest musical cities in the country is certain to make for another unforgettable weekend. This year's music programming will again represent a wide range of genres, with major national headliners performing alongside exceptional emerging talent, making the event a substantial celebration of the established and the cutting edge. Local acts will also be featured prominently as the festival will represent Portland's vibrant cultural community.
The Portland flavor will also be seen in the festival's concessions, featuring foods from local eateries. With a seemingly endless selection of music and activities, Project Pabst is certain to provide a singular festival experience that will also serve as a beacon as it shines a light on the wonders of the Portland community.
Gates open to Project Pabst at 12 noon and close at 9:00pm on both Saturday and Sunday. Re-entry is permitted. To re-enter you must scan your ticket out BEFORE you exit, and re-scan your ticket in when you re-enter. Project Pabst is a 21+ event. All attendees must present a valid ID upon entry.
The 2015 Project Pabst lineup features:
Weezer
Blondie
TV On The Radio
Passion Pit
The Buzzcocks
Run The Jewels
The Both (featuring Aimee Mann & Ted Leo)
Against Me!
Thee Oh Sees
Terry & Louie
Alvvays
Priory
The Velvet Teen
Wild Ones
Wampire
Hustle And Drone
Discounted advance tickets for the two day event have long been sold out. Tickets are still very affordable at $40 Single Day or $75 Weekend pass. Tickets can be purchased in advance here before Project Pabst sells out. One dollar from every ticket will go to help the Jeremy Wilson Foundation, dedicated to providing financial assistance in times of medical crisis and to improving the overall well-being of individual musicians and their families.
But Project Pabst is more than just the two day event outside along the Willamette River waterfront. There are also other shows taking place throughout Portland over the weekend that are held in conjunction with Project Pabst at Crystal Ballroom, Dante's, Star Theater, Revolution Hall, Doug Fir, Mississippi Studios, Ash Street Saloon, and Bunk Bar. These shows all require separate admission tickets but also are quite affordable. All night shows are 21+. All ticket buyers must present a valid ID upon entry. The lineup is subject to change without notice.
Crystal Ballroom
Saturday: BADBADNOTGOOD, Ghostface Killah, and Del the Funky Homosapien – $22
Dante's
Friday: The Spits, The Epoxies, and Long Knife – $8
Saturday: Oblivians, Pure Country Gold, and Bobby Peru – $12
Sunday: The Mummies, Gaythiest, and Sex Crime – $15
Star Theater
Friday: The Sonics, Pierced Arrows, and Fireballs of Freedom – $10
Saturday: Roky Erickson and The Pynnacles – $15
Revolution Hall
Friday: Preservation Hall Jazz Band and Son Little – $25
Saturday: Earth, Federale, and 1939 Ensemble – $16
Doug Fir
Thursday: Brian Posehn, Bryan Cook, and Sean Jordan – $20
Friday: Shannon and the Clams, Chastity Belt, and The Shivas – $12
Saturday: Fernando, Jeremy Wilson, and Mike Coykendall – $10
Mississippi Studios
Friday: Tacocat, The Ghost Ease, and Shadowlands – $12
Saturday: The Coathangers, Is/Is, and Marriage + Cancer – $12
Ash St. Saloon
Friday: Jex Thoth, Atriarch, Ides of Gemini, and Barrowlands – $12
Saturday: Subrosa, Brothers of the Sonic Cloth, Lesbian, and Eight Bells – $12
Bunk Bar
Friday: Chrome – $15
Project Pabst will donate one dollar from every ticket sold to go to The Jeremy Wilson Foundation. The Jeremy Wilson Foundation is a 501(c)3 nonprofit musicians' service organization dedicated to providing emergency financial assistance in times of medical crisis and to improving the overall well-being of individual musicians and their families.
Project Pabst
Zidell Yards
3030 SW Moody Ave.
Portland, OR 97201