Breakside Brewery Unveils Details on its Revamped 2021 Barrel Series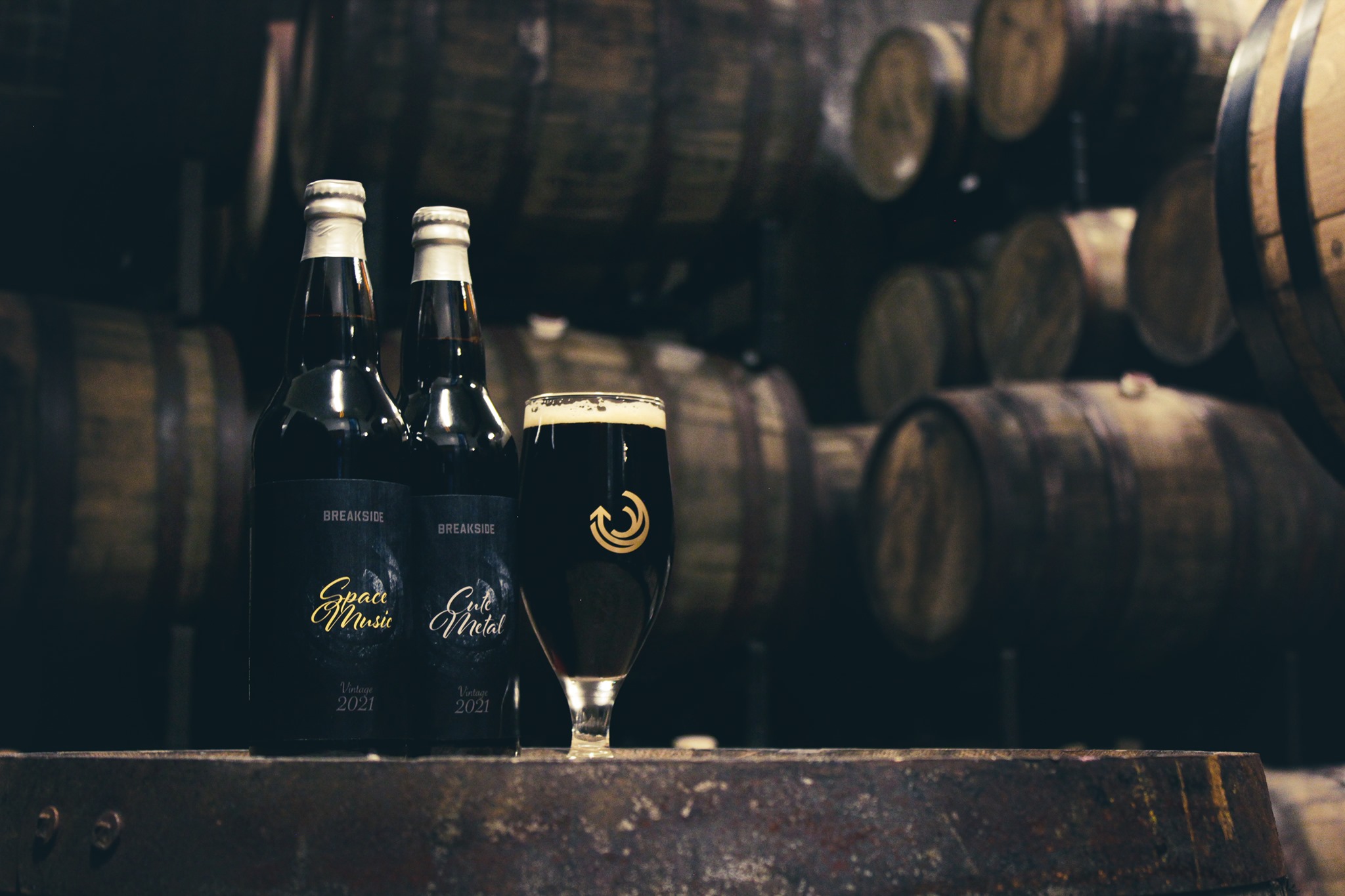 Over the course of the coming year, Breakside Brewery is excited to release beers that have been patiently resting in wooden barrels in the brewery's cellar. The beers that will be brought to market are from the brewery's wood cellar program that's comprised of its spirit barrel program and mixed fermentation program. The goal is to release new bottles, direct to consumer, about every 8-10 weeks.
The barrel program is headed by Daniel Hynes, Breakside's Wood-Cellar Manager, while working in conjunction with Ben Edmunds, Breakside's Brewmaster. Hynes handles the operations of the barrel program, including filling and racking, storage, maintenance, adjunct handling, record keeping, and blending. Whereas Edmunds focuses on base recipe development and barrel procurement. When deciding on the final product, both Hynes and Edmunds rely on their team members' palates to come up with what they feel is the best possible blend.
Breakside fully dived into barrel-aging ten years ago. Since this time, the brewery has brewed exclusive batches of beer designed solely for aging in barrels to then blend the batch together to come up with the final product for release. Many of these barrels aged anywhere from 18-24 months, a bit longer than many other breweries but it's what Hynes and Edmunds feel is necessary to find that sweet spot to then blend with younger beers.
Some of these techniques that they have implemented are what the two have learned from their friends in the industry. A few breweries where they take inspiration from include Kane Brewing in New Jersey, Weldwerks in Colorado, and many of the brewers in the Chicagoland area such as Maplewood Brewing. But much closer to home, they also find inspiration from Fremont Brewing and its highly cherished barrel program.
It is from these breweries where Breakside learned and adapted to brewing bigger beers to set aside to age in former whiskey and bourbon barrels. The beer's gravities, both starting and finishing, are higher along with the body also being bigger. Their goal is to brewing strong stouts and porters that will enhance with the barrel aging process that Hynes continues to develop and refine.
Now, with this new program set to debut this Saturday on February 27, Breakside is very excited with the final product in the first two releases – Space Music and Cute Metal. Packaged in 22oz bottles with easy to remove neck foil, the packaging on these bourbon barrel-aged beers is very elegant and sleek. Nothing too flashy, just to the point, as it's what's inside the bottle that counts.
Yesterday we participated in an online tasting of Space Music and Cute Metal with Edmunds and Hynes. During this session we learned more about the program from its beginnings to the product that will be released and the processes involved in between. Best of all, we were led through a sampling of the first two releases and from this tasting we are very excited to taste what lies ahead.
In the past Breakside has released numerous barrel-aged beers but the program was a bit scattered and didn't offer a theme or long-standing continuity. Not that there was anything wrong with that as the brewery were awarded medals at beer competitions for these beers but a fresh start is what the Edmunds and Hynes were looking for. Therefore the two wanted to create some new for its customers.
As Edmunds told us, "It's a new beginning for the program." One that began in 2019 where they spent time and considerable energy into making decisions that they felt were correct to move forward with this program. They analyzed everything from the base beer being brewed, the blending and the packaging.
Now Breakside has 16 different base beers aging in nearly 230 casks. This type of assortment allows for a larger range of beers. But more importantly, Hynes will now be able to blend beers that are relevant 'in the moment' rather than count on ideas that he came up with 10-20 months ago. With this size of library he now can decide which are the best beers to blend as the range is much larger.
When it comes to the blending of these beers it does become a collaborative effort at the brewery. "We panel each one of these beers three times," said Hynes. This allows for the best possible blend to take place as the variance from adding or subtracting a beer can provide varied results as Edmunds has realized. "One single cask can push it one way or another."
Over the course of these ongoing barrel-aged beer release, consumers should expect to see dark base beers being used. These stouts and porters sell better, therefore it'll predominantly be the beers styles being released. Lighter appearance barrel-aged beers just don't have the interest from its customers.
For the most part, Breakside plans to buck the current trends of adding copious amounts of adjuncts to these beers. That's not to say that the brewery is not going to do so, but in a way that is a bit more refined or what one may consider in moderation. Hynes does not want adjuncts to be the sole focus of these beers as he prefers that the barrels do the majority of the work.
Though we have mainly discussed bourbon barrels, Breakside will also use other former spirits barrels in this program. In their library they have rum, brandy, nocino, aquavit, and Chardonnay barrels. That said, the main focus is going to be on big, bold stouts and porters to age in various bourbon barrels.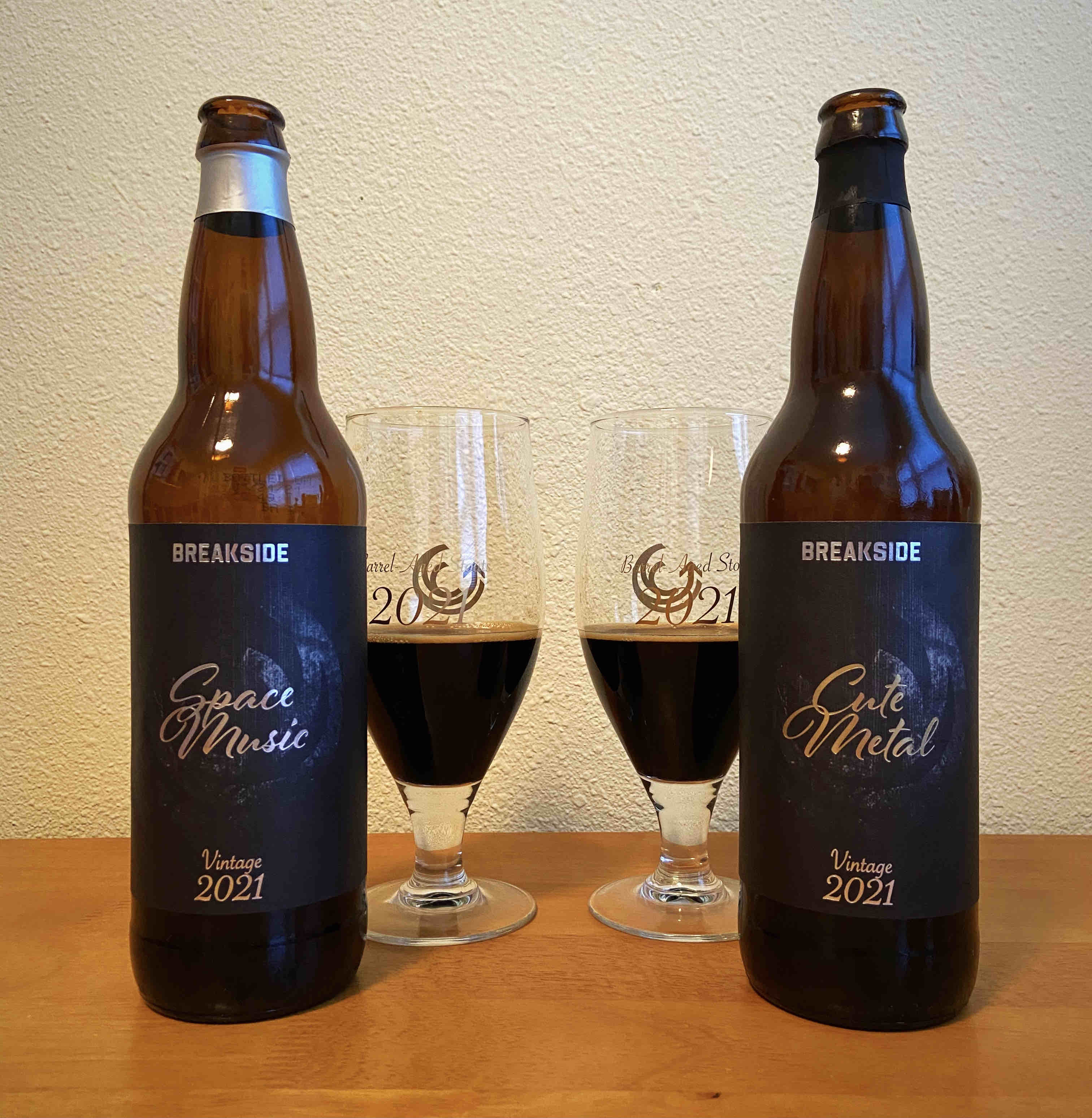 From sampling Space Music and Cute Metal today, we can definitely say that both are worthy of seeking out and are ready to drink right now. There's no need to age either beer, both are full of nuances that challenge your senses from the first sip to the final one.
Space Music is your basic bourbon barrel-aged Imperial Stout but one that is smooth, not to heavy or overbearing and quite deceptive of its 11.9% ABV. It'll comfortably sit alongside heavyweights such as Fremont Brewing Bourbon Barrel-Aged Dark Star and Goose Island Bourbon County Brand Stout. This is excellent company to have.
Moving to Cute Metal, this Imperial Milk Stout that's blended with an Imperial Chocolate Stout and Russian Imperial Stout, finds the perfect balance of the use of Madagascar Vanilla Bean and Ecuadorian Cacao Nibs. The vanilla flavors are faint and not overbearing, perfect for an evening sipper.
The pre-sale is now live for the first two releases in Breakside's 2021 Barrel Series. Space Music and Cute Metal are packaged in 22oz bottles and retail at $16.00 each. The brewery is also offering a special two-bottle package, one bottle of each beer that also includes a free Breakside 2021 glass that's only available in this $32 package. As barrel-aged beers go, the price point is attractive for the larger 22oz format. Place orders at www.breakside.com and select "pickup" from either Dekum, Slabtown or the Milwaukie Taproom that begins on Saturday, February 27. 2021. Each beer is limited to 100 cases each and will only be sold in the three Breakside pubs.
The tasting notes for each of these beers is quite extensive and full of eloquent details that are great for the consumer. It's almost as if Breakside is taking its customers on an educational journey with each release. One can really get a sense of the work that Hynes put forth into this program from reading these notes below.
Space Music Description
Barrel-Aged Stouts 2021– Release #1
ABV: 11.9%
IBU: 29
Blend Components:
44% Traditional Russian Imperial Stout in Bourbon Barrels 22 months
35% Imperial Milk Stout in Bourbon Barrels 8 months
21% American Imperial Stout in Bourbon Barrels 5 months
Number of Casks in Blend: 9
Average Aging in Barrel: 14 months
Descriptors: rich and intense; chest warming; luscious chocolate, caramel, and Bourbon
Tagline: With Space Music, we unveil our new approach to blending barrel-aged stouts
Stout, Bourbon, oak, and age.  Space Music, our first blend, is an unadulterated glimpse into our new wood cellar. No adjuncts, nothing to mask the beautiful interplay between these high gravity base stouts, the barrels, and the contours of time. Making this sort of beer is almost like passing the litmus test: if you want to make a range of great barrel-aged stouts, you have to be able to pull off the classic one. It's like knowing how to cook a perfect French omelet, or roast a perfect chicken. You have to be able to master technique before you can bend the rules.  We sought to check all of the classic boxes of wood-aging here: char, light smoke, oak-flavors of coconut and vanilla, tannin, pleasant oxidation, and, of course, Bourbon. The three base beers work in concert: the aged Russian Imperial Stout is lighter in body which allows the most wood-derived flavors and malt artifacts to come through. Lots of roast, ash, rickhouse, and char. The younger beers are bigger bodied and show less wood-derived character, so they contribute sweetness, bright chocolate, intense syrupy notes, rum raisin, and punchier alcohol notes. They enliven the older beer while also embiggening it.
Cute Metal Description
Barrel-Aged Stouts 2021– Release #2
ABV: 11.0%
IBU: 24
Blend Components:
60% Imperial Milk Stout in Bourbon Barrels 8 months
25% Imperial Chocolate Stout in Bourbon Barrels 8 months
15% Traditional Russian Imperial Stout in Bourbon Barrels 22 months
Number of Casks in Blend:
Average Aging in Barrel: 11 months
Additional Ingredients: Madagascar Vanilla Bean, Ecuadorian Cacao Nibs
Descriptors: brownie, boozy sundae bar, death by chocolate
Tagline: Liquid decadence — the exquisite trinity of barrel-aged stout, vanilla, and chocolate
Cute Metal is our blended barrel-aged stout with Madagascar vanilla and Ecuadorian chocolate. We began this blend with a milk stout that is the biggest beer, body-wise in our arsenal. The milk stout is thick, mouthcoating, oily, viscous. The other stouts are big too, so the fact that we use them to 'cut' the big beer down a bit tells you just how intense the milk stout is. The goal was to use this sumptuous majority beer to create a perfect platform for world class, real vanilla and chocolate. No extracts, essences, 'natural flavorings,' or the like. This is not fast food, and it's not cheap pastry. Think sophisticated, indulgent dessert with Grade A ingredients. The chocolate stout brings bright fruitiness, berry, coffee cherry, cascara, and burnt umber-hued cocoa powder. It evokes drinking chocolate, in all its rich, bitter, and acidic complexity. And vanilla. If you taste vanilla, it's too much vanilla, so don't expect something that will beat you in the face. Vanilla used expertly is barely present yet essential. It enhances and focuses the other ingredients, softens their edges and brings harmony. We hope you enjoy this foray into the world of pastry– it's our version of Triple Fudge Brownie for fancy girls and boys.
About The Author
DJ
D.J. is a Portland, Oregon based writer that spent his formative years in the Midwest. With over 25 years under his belt of drinking beer at festivals across America and the world, he has developed a strong appreciation and understanding of craft beer and the industry that surrounds it. He can be found in any of the great breweries or beer bars that make Portland the best beer city in the world. His writing can also be found in the archives of Northwest Brewing News and can be followed on Twitter and Instagram at @hopapalooza.