Ecliptic Brewing and Ruse Brewing Release Cosmic Collaboration Italian-Style Pilsner
|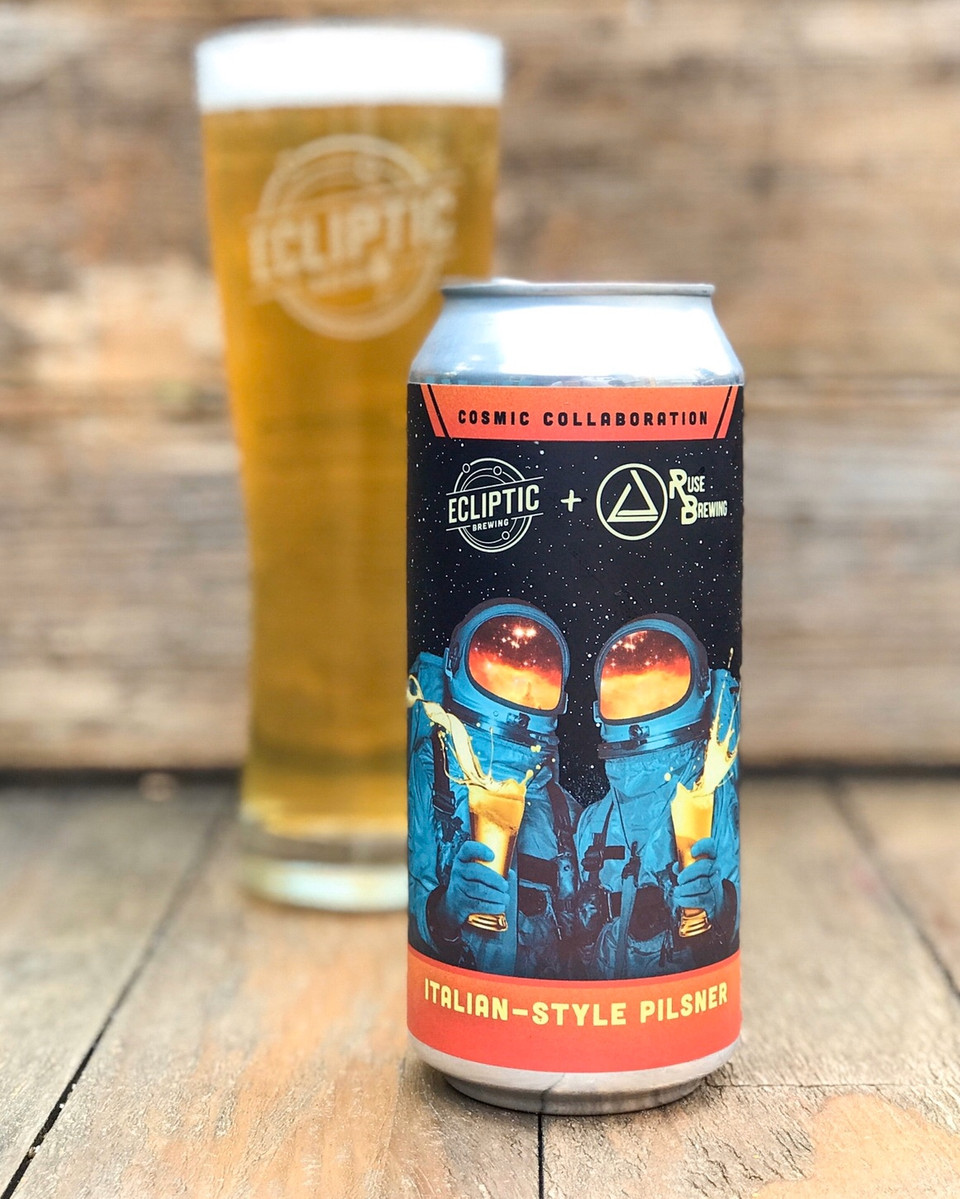 For its latest release in its Cosmic Collaboration Beer Series, Ecliptic Brewing has teamed up with fellow Portland brewery, Ruse Brewing and its two co-owners – Shaun Kalis and Devin Benware. The result is Cosmic Collaboration Italian-Style Pilsner that is now available in 16oz cans and on draft. Both brewery's will be part of the release when Ecliptic Brewing hosts a Virtual Release Party on Thursday, May 14th via Zoom.
Cosmic Collaboration Italian-Style Pilsner is brewed with German lager yeast, Weyerman Extra Pale Pils malt, and dry hopped with all German hops – Polaris, Saphir, and Hallertau Blanc. The result is a pilsner with a crisp, clean finish and fresh hop aroma. With spring officially here, this beer makes the perfect patio partner as a light and refreshing option. The Italian-Style Pilsner sits at 5.3% ABV and 35 IBUs.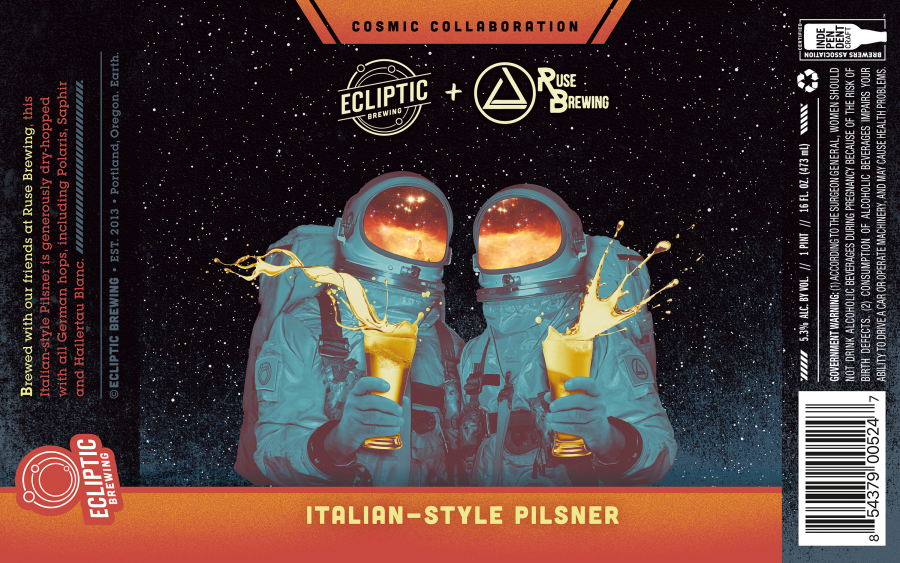 "We're excited to play with a new style that we've never made before and also offer a lager in cans," said Ecliptic Owner and Brewmaster, John Harris, in a statement. "We've been friends with the Ruse crew for a long time. Sean and I have played music together for years, and Ruse has always been a part of our summer Brewer's and Their Bands event. It's about time we made a beer together!"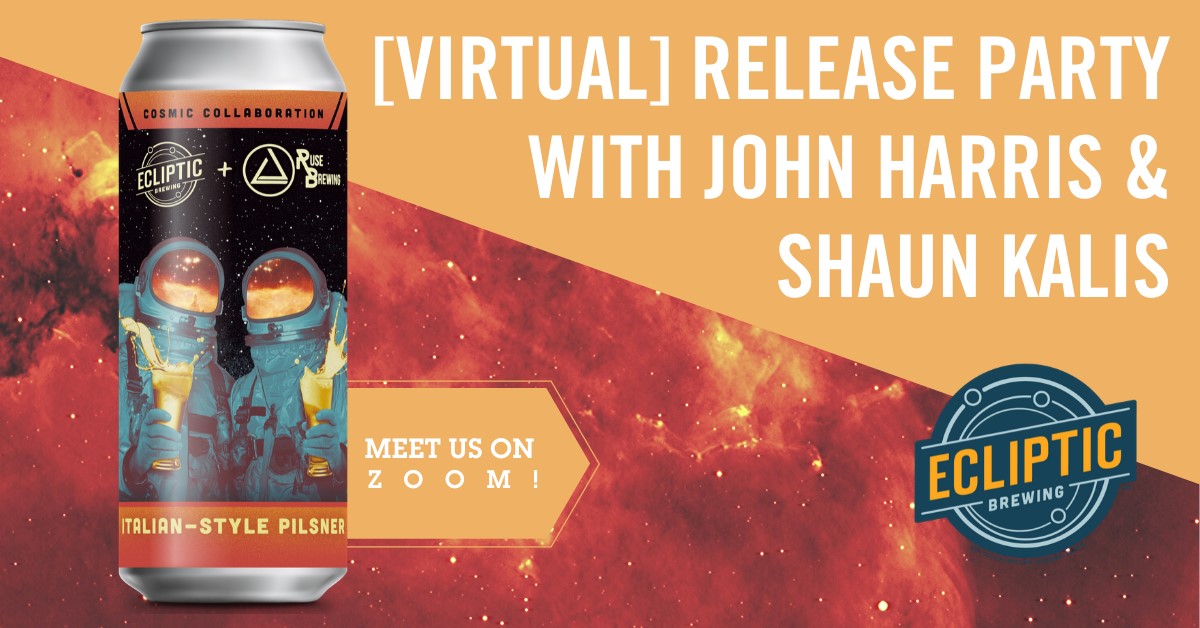 On Thursday, May 14th from 5:00-6:30pm, Ecliptic will host the Virtual Release Party for this new beer via Zoom. Both John Harris and Shaun Kalis will be in attendance chatting beer, leading a tasting of some of their favorites from each brewery, hosting a Q&A for guests, and topping it off with a quick musical duet! Visit Ecliptic's event webpage for up to date details on this release.
Cosmic Collaboration Italian-Style Pilsner is now available in both draft and 16oz cans throughout Ecliptic Brewing's distribution network. This beer and other beers, plus food, wine and cider can be ordered from Ecliptic Brewing for easy pickup at the brewery. Learn more by clicking here.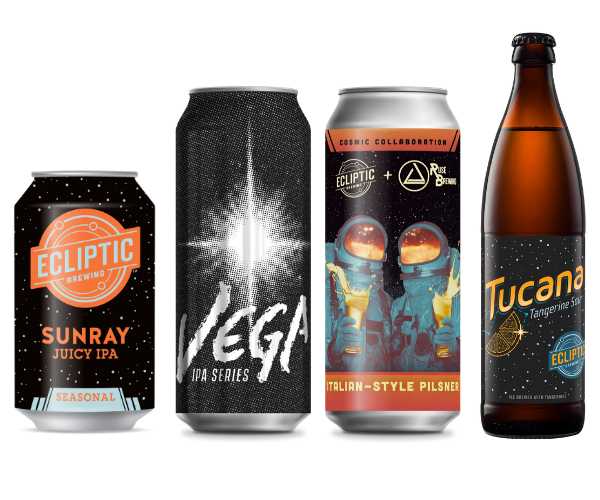 And if you're looking for a few addtional beers for the Zoom meet up on Thursday, Ecliptic Brewing is now offering The Ruse Party Pack that will include the beers you'll be tasting during the party, so you can follow along at home. This pack includes: Ecliptic + Ruse Italian-style Pilsner (16oz can), Vega IPA #6 (16oz can), SunRay Juicy IPA (12oz can), and Tucana Tangerine Sour Ale (500ml bottle) priced at just $13.00! Order for pickup right here.