Pelican Brewing Launches Its First Canned Beer – Hazy Rock Juicy India Pale Ale
|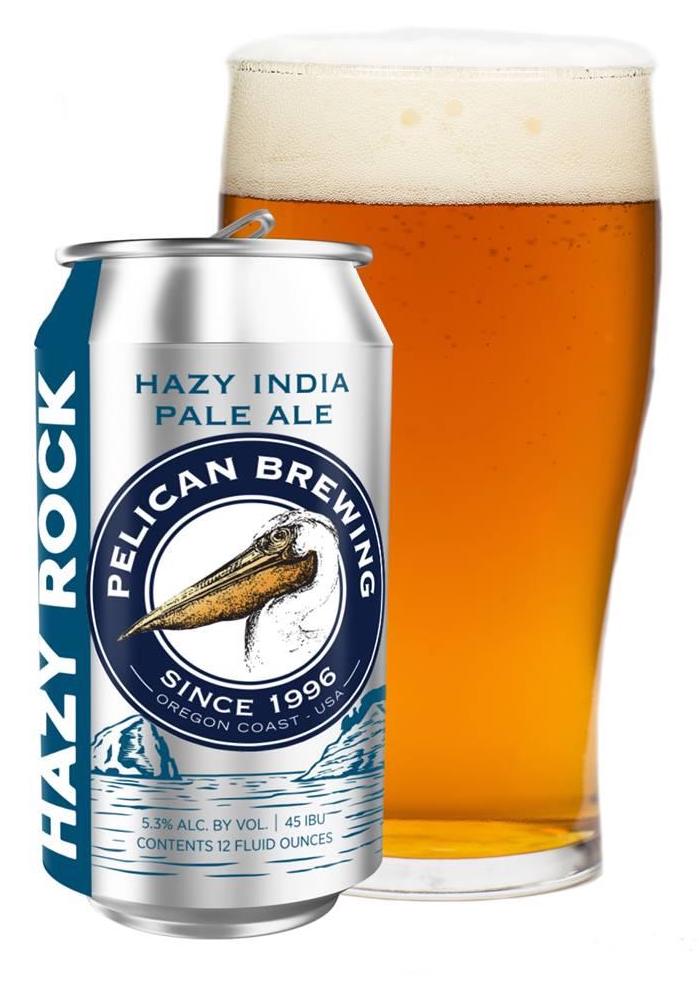 Having been brewing beer for its entirety along the Oregon Coast its surprising that it has taken Pelican Brewing Company this long to finally release a beer in a convenient 12 ounce can. Well this is about to happen when it introduces its new Hazy Rock Juicy IPA in 12 ounce, 6 pack cans.
Here are additional details from Pelican's press release…
Hidden within the swirling fog is a beer as big and bold as Haystack Rock itself. Hazy Rock India Pale Ale bursts forth with intensely juicy hop aromas and a round, smooth body. The obscure, yet bold appearance belies the bright, fruity hop flavors with notes of mango, clementine, guava and pineapple. A soft finish enhances drinkability while the clean, toasty malt adds balance. Two-row malt, malted oats, Meridian hops, El Dorado hops, Huell Melon hops and dried grapefruit peel combine to create a foggy appearance and a soft, smooth finish for superb drinkability:
ABV: 6.2%   |  IBU: 35   |  PLATO: 15º
"For our first ever can release, we imagined a new beer that would be ideal for a can— the hazy IPA style is such a fun and innovative take on IPA it seemed like a perfect fit and the result is a fresh and juicy IPA that we'll be drinking on lazy summer days at the coast," says Jim Prinzing, chief executive officer, Pelican Brewing Company. "As a beach brand, we love the idea of cans as an outdoor friendly vessel and we think our fellow fanatics will love this Pelican twist on the style."
Hazy Rock, which debuts in the craft beer aisle in early July, will be available in 6-pack, 12 oz. cans, and on-tap.
"Hazy Rock is designed to deliver exceptionally fruity, juicy, hop aromatics, without overwhelming the palate with bitterness" says Darron Welch, founding brewmaster Pelican Brewing Company. "Hazy Rock has a rounded malt flavor to underpin the bright hop flavors, and a dry, well-attenuated finish keeps the beer wonderfully drinkable."
Like all Pelican beers, Hazy Rock is born at the beach by a team of award-winning craft beer makers known for brewing styles of beer that they themselves love to drink. Cheers!