Worthy Brewing Releases Hoppenwolf Helles Lager + Worthy & Wise Coffee Cream Ale
|
On its latest two beer releases, Worthy Brewing has reigned in its distribution of both Hoppenwolf Helles Lager and Worthy & Wise Coffee Cream Ale to within the Central Oregon market. The Bend based brewer has released both beers in 12oz, 6-pack cans and on draft but according the brewery's Beer Blast, both beers will only be available closer to its home base in Central Oregon.
Hoppenwolf Helles Lager is the brewery's take on a more traditional lager using noble hops. Worthy & Wise Coffee Cream Ale is a collaboration with Dapper & Wise Coffee Roasters from Portland. This light-colored coffer beer uses Ethiopian Shantawene natural coffee beans in the brewing process.
Learn more about both beers with descriptions from Worthy Brewing…
Hoppenwolf Helles Lager
What was once a pub favorite is now available in 12 oz cans: introducing Hoppenwolf Helles Lager, Worthy Brewing's ode to the oldie but goodie world of noble hops and crisp lagers.
We began toying with this Helles several years ago on our pilot system. With each batch, we upped our game, perfecting the right blend of malts, yeast and hops. What used to be a novelty is now a game changer. Worthy intends to do for the lager world what its tried to do for the IPA world – introduce new and fresh flavors to old style recipes.
The timing couldn't be sweeter. Worthy recently invested in an old school horizontal 170s bbl lagering tank, which we intend to keep busy with fresh batches of pilsners and lagers utilizing Oregon grown malts and first generation hops from the Indie Hops breeding program.
How's it taste? Our regulars at the pub have been crowing about its drinkability. One sip, as they say, begets another.  A slightly sweet, biscuity malty front end that tapers off with that classic noble hop spiciness that transports you to an old world Bavarian castle.
Worthy's staked out a reputation for well balanced tropical IPAs.  We love our IPAs but what brung us was our love of lagers, which in 2012 when we launched had not yet gone "mainstream" craft.  The timing was perfect. With our new tank, our long time appreciation of European lagers, our dedication to innovation and love of home-grown farm-fresh ingredients, Hoppenwolf is the right beer at the perfect time.
Why Hoppenwolf? Well, we know from lore that humulus lupulus refers to a voracious climbing vine that rapaciously smothers other plants. Our ancestors thought the hop behaved like a "wolf in sheep's clothing." Fittingly, while fresh, drinkable and nearly irresistible, please exercise caution when enjoying this adult bevvie – you wouldn't want to turn into a werewolf.
"Any excuse to get a new lager on tap gets the brewers super excited. Especially when it's a more complex and challenging style to master. This iteration of our Hoppenwolf has become a go-to for our bartenders and brewers alike. The biscuit malt really shines through for a crisp, refreshing flavor and the more pronounced hop profile separates Hoppenwolf from your everyday lager. At 5.2% ABV and at 17 IBU this lager is insanely drinkable and will have you reaching for another….and another…." Brian Chapman – QA Manager
Available in select locations around Central Oregon as a 6-pack, 12oz can offering.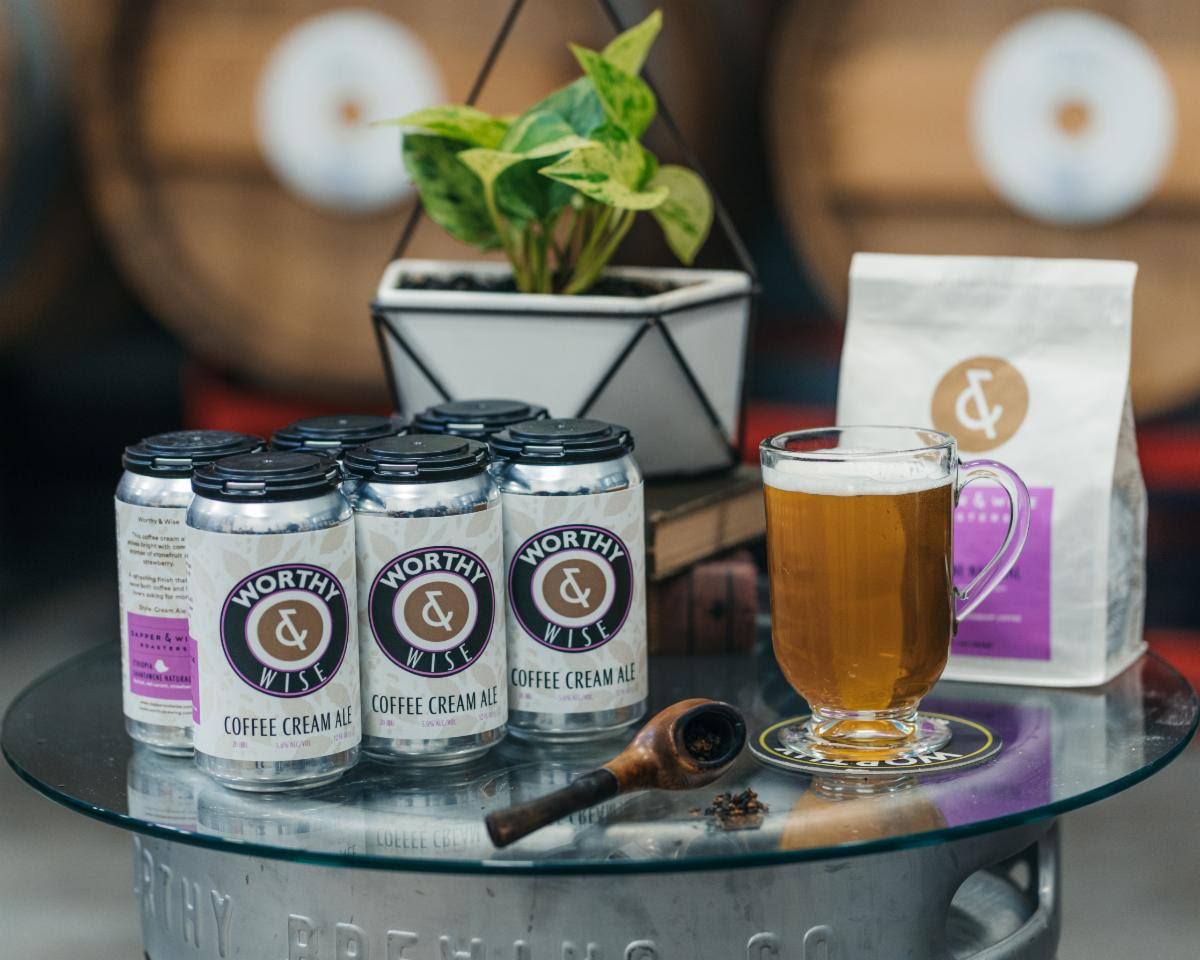 Worthy & Wise Coffee Cream Ale
We worked with our friends, Dapper & Wise Coffee Roasters in Portland, Oregon, to create this incredibly smooth Coffee Cream Ale. Utilizing their perfectly roasted Ethiopian Shantawene Natural bean, we were able to create a beer that surprises both the palate and the brain.
No, it's not dark. And no, it's not a get-up-and-go in the morning breakfast beer. But it is a bubbling, 5.6 ABV, 17 IBU, straw-colored cream ale with subtle layers of stone fruit, strawberry and coffee which together present a mystery that the brain can't resist unraveling with another satisfying sip.
The coffee roasted by Dapper & Wise hails from a mill in the tiny village of Shantawene, which lies deep in the Sidama region of Ethiopia. Located in the foothills of the Bombe Mountains, higher in elevation than many of the mills in the region, coffee ripens slower here.
Thanks to recent favorable government legislation, mills such as Shantawene are able to deal directly with roasters like Dapper & Wise, bringing their farmers better return for their coffees.
In the words of our Brewmaster, Dustin Kellner: "In my experience with coffee beers, you tend to get the best characteristics from the coffee by adding cold brew to finished beer. In the cupping with Dapper and Wise, we tasted a hot and cold version of each variety to get the best idea of what it would translate like in the finished beer and chose the beer style based on the variety of bean. The result is all of the flavor with little to none of the bitterness. We all fell in love with the Ethiopian beans because of their fruity sweetness and citrus/stone fruit characteristics. Rather than risk covering that up with the roastiness of a stout, we opted for a clean, crisp, classic cream ale. Lightly hopped and relatively low in ABV to be extremely drinkable and showcase the light roast of the coffee."
"In a perfect world, everything would be made out of coffee and beer.  What a treat to work together with Worthy to create the world's most perfect beverage!" – Bethany Spangler of Dapper & Wise
Available in select locations around Central Oregon as a 6-pack, 12oz can offering.