Zupan's Markets Partners With Hopworks Urban Brewery On Farm-To-Market Hazy IPA
|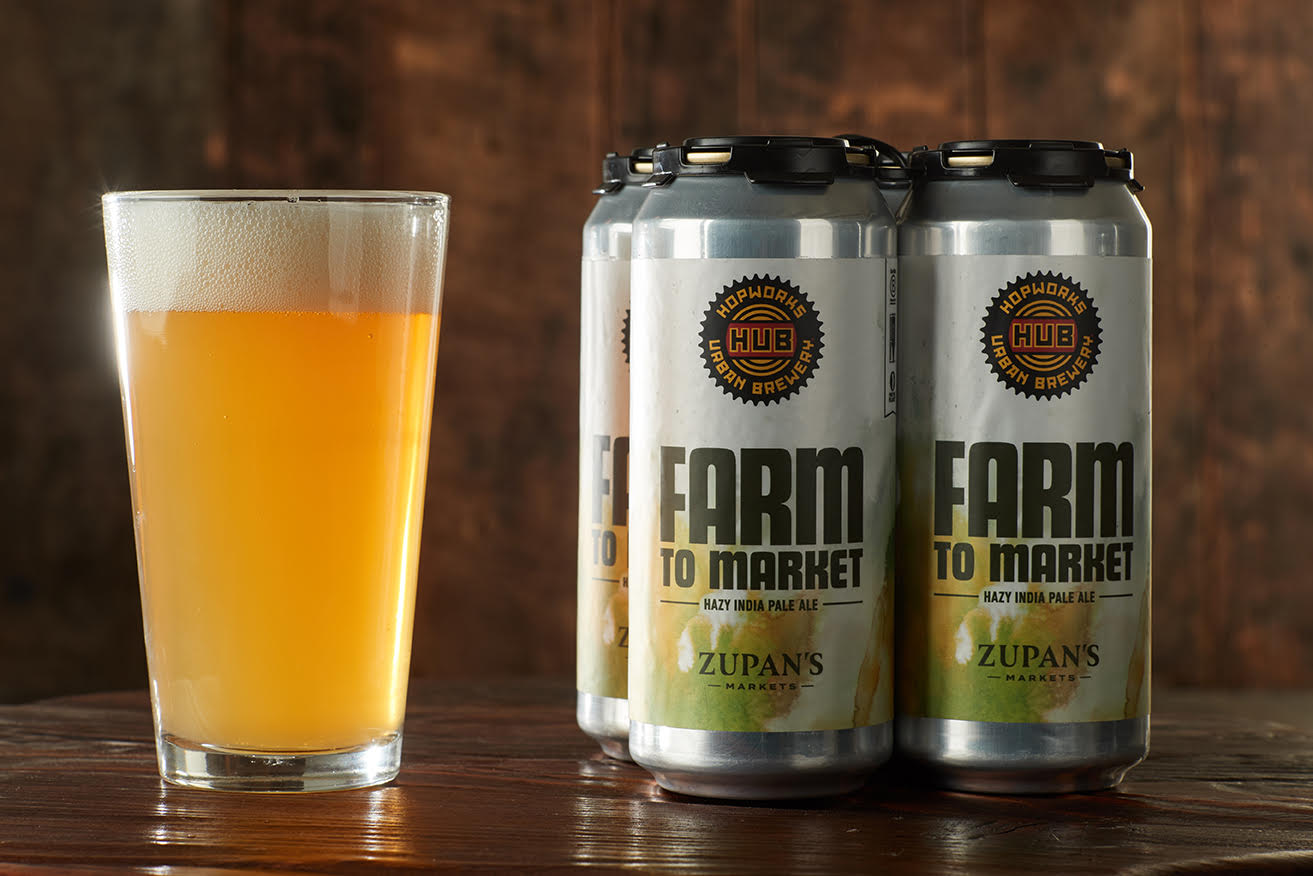 The latest in Zupan's Markets Farm-to-Market Beer Series, Farm-To-Market Hazy IPA is now hitting its three Portland area stores. For this edition Zupan's collaborated with Portland's Hopworks Urban Brewery (HUB) to release the seventh Farm-to-Market beer in the grocer's private label line.
Farm-To-Market Hazy IPA is a take on the New England Style Hazy IPA and is also part of HUB's rotating Hazy Series and highlights ingredients from Oregon-based farms. The beer's hop additions features Strata hops, a new breed from Salmon-Safe certified Goschie Farms in Silverton, Oregon. This fruity tasting IPA has a citrus bouquet and is perfect to pair with your holiday dinners.
"Zupan's Markets is excited to continue to explore the hottest beer styles with our exclusive Farm to Market line,' said Zupan's Markets' President and CEO Mike Zupan in a statment. "The popularity of the Hazy IPA has exploded in the last year and together with HUB we have created the perfect one for the holiday season."
Christian Ettinger, Hopworks owner & brewer and the Hopworks team will sample the new Farm-to-Market beer alongside other HUB favorites at each Zupan's Markets location on Friday, November 16 from 4:00-7:00pm.
"The Farm To Market series at Zupan's Markets does a fantastic job of celebrating the relationship between farmers and delicious beer," said HUB Brewmaster and Founder, Christian Ettinger in a statement. "Since day one we have enjoyed getting to know our local grocers and farmers in the Willamette Valley so this partnership with Zupan's makes a lot of sense. The Strata hops are grown at Goschie Farms, one hour outside of Portland, and have an incredible dank flavor profile and tropical hop bouquet. We hope you love this innovative hazy IPA as much as we do!"
Farm-To-Market Hazy IPA Stats:
Profile: ABV 6.3%
Malts: Organic 2 Row
Hops: Strata
Tasting Notes: Hazy IPA with loads of oats and wheat for a velvety smooth and thick texture. Resinous and fruity tasting Strata hops from Goschie Farms give this beer a juice-like character and citrus bouquet.
Farm-to-Market Hazy IPA is exclusively on shelves at all three Zupan's Markets locations in 16oz can/4packs for $12.99. With only 140 cases produced, it will be available only for a limited time.
Zupan's Market Locations:
Burnside, 2340 W Burnside, Portland, OR
Lake Grove, 16380 Boones Ferry Road, Lake Oswego, OR
Macadam, 7221 SW Macadam, Portland, OR