2nd Annual NW Ciderfest Benefiting MDA
|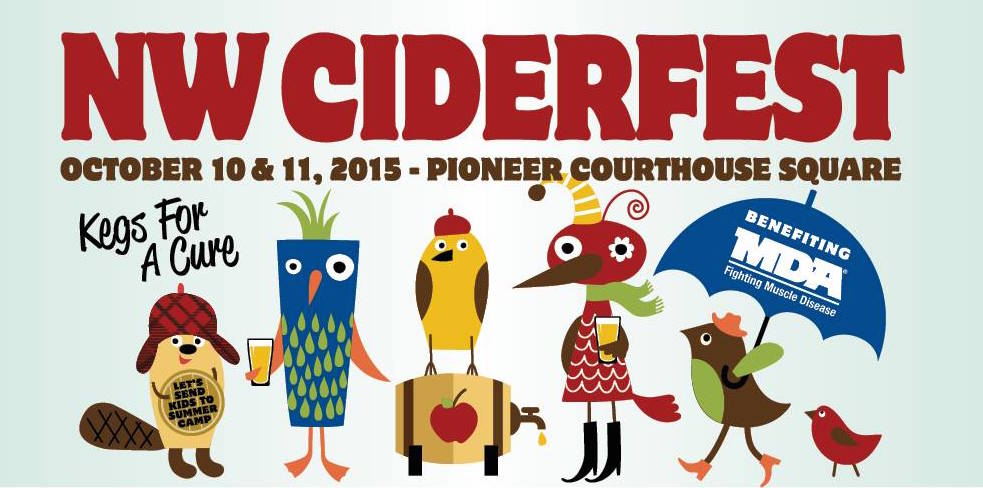 One of the nice things in the craft beverage world is how many of its events help support organizations and causes that are always in need of additional revenue sources. It's a positive feeling that while drinking beverages we all love, we are also helping out the local community.
One of these organizations, Muscular Dystrophy Association (MDA), and its Oregon and Southwest Washington Chapter will be the benefactor of the 2nd Annual NW Ciderfest. This year's event will return to downtown Portland at Pioneer Courthouse Square on Saturday, October 10th from 11:00am to 8:00pm and Sunday, October 11th from 11:00am to 6:00pm. NW Ciderfest will feature over 25 Northwest cideries, cider store, food trucks, VIP area that includes live music, special cider cocktails and reserve cider tastings complimentary to VIP ticket holders.
"We are so excited about our 2nd year, we've expanded the event to two days and added more local ciders, food options and event partners all with the goal to help us continue to fund healthcare services and support to more than 2,400 individuals with muscular dystrophy (including ALS), as well as four local clinics, support groups in Oregon & SW Washington" said Colleen King-Showalter, Director of Business Development at MDA.
Tickets can be purchased online at www.nwciderfest.org and are available at two levels: the V.I.P. admission is $50 for age 21 and over, and includes 10 cider tasting tickets and admission to V.I.P. area featuring reserve ciders, cocktails and a souvenir glass; general admission at $25 for age 21 and over, which includes 6 cider tastings tickets and a souvenir cup.
2015 Participating Cideries:
Event partners include, the Northwest Cider Association, Fuller Events, Schilling Cider and Portland Cider Company. In addition to Umpqua Bank, major sponsors include Fred Meyer, Miller Nash, Dreambuilders Custom Homes, Esurance, UBER, Ryan's Juice, OHSU, and ALPH Broadcasting. For more event information visit http://www.nwciderfest.org and on Facebook at NWCiderfest.
NW Ciderfest
Pioneer Courthouse Square
Portland, OR