Cider Summit Returns to Seattle in September 2023
|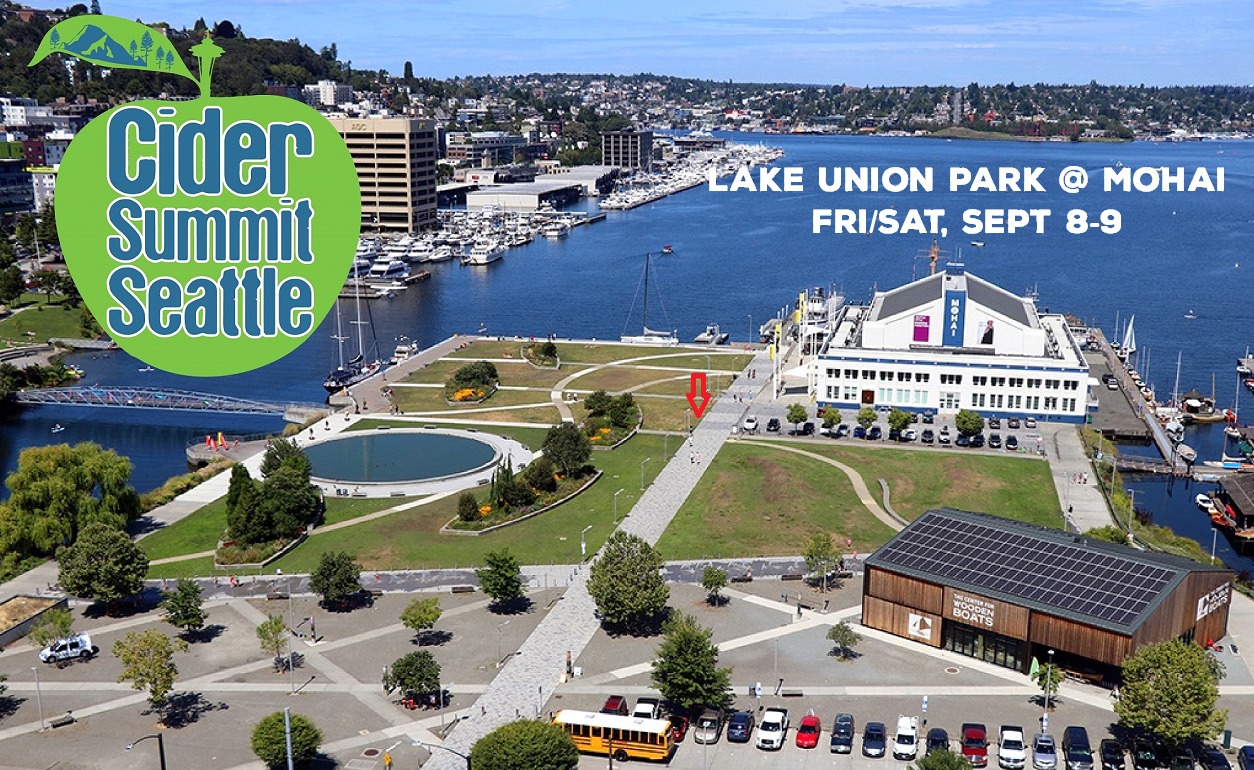 (SEATTLE –– July 12, 2023) –– The annual Cider Summit Seattle, the region's largest hard cider tasting festival, is coming back, this time with an even more diverse range of product selections. Cider Summit Seattle will take place Friday, September 8 from 3 – 8 p.m. (VIP session at 2 p.m.) and Saturday, September 9 from noon – 5 p.m. at Lake Union Park @ MOHAI, 860 Terry Ave. N., adjacent to The Museum of History & Industry. Attendees can also purchase access to a hosted, four-course pairing that will take place from 11 a.m. – 12 p.m on Saturday, September 9. The tasting will feature sips from Finnriver Cider and bites from Cypress Grove Cheese and Salt Blade Hand Crafted Meats.
"We are thrilled to be returning to the beautiful Lake Union Park for our 12th annual festival," said Alan Shapiro, Cider Summit co-founder and producer. "Each year we look forward to bringing new ciders and flavors of the Pacific Northwest for our attendees to savor."
Presented by Teku Tavern + Café, more than 50 cideries convene at Cider Summit to share over 150 ciders, meads, cider cocktails, and fruit spirits from Pacific Northwest favorites to international classics – nearly half of which have not previously been poured at the event. Many cidermakers will be on hand to guide guests through tasting experiences.
"Gathering with friends to discover an array of new ciders is a quintessential way to welcome fall," said Michelle McGrath, CEO of the American Cider Association. "A crisp cider paired with artisan foods and a view of Lake Union makes for the perfect September day."
Tickets are on sale now
General admission and VIP tickets are now available online for purchase until September 7, 2023.
VIP tickets – $45+ if purchased by July 31 and $50+ after. This experience includes a festival tasting glass, early entry on Sept. 8, and 16 tasting tickets.
General admission tickets – $35+ if purchased by July 31, $40+ through Sept. 7 and $55 at the gate – include a festival tasting glass and 12 tasting tickets.
Cider, cheese, & charcuterie tasting – available for $35+ as an add-on to any ticket purchase and includes access to a hosted, four-course tasting event on Saturday beginning at 11:00 am. This event is limited to 72 participants and will feature a surprise bonus tasting.
Designated driver tickets – available for $10 only at the gate and include a bottle of water. Minors are not allowed at the festival.
Taxes and fees not included. Advance-sale tickets will be available exclusively online. Additional tasting tickets are available onsite at $2 per ticket.
Food and More Fun
Eats are available for purchase from Seattle Monster Dogs and Frelard Tamales, along with additional onsite snacks.
Oregon Fruit Products Fruit Cider Challenge, with voting via QR code to determine winner.
Cider Cocktail Lounge featuring a variety of fruit spirits, pommeau and more!
Heritage Cider Pavilion featuring farm-based regional artisanal cider producers.
Stop by the Dog Lounge hosted by Just Food for Dogs and benefiting Seattle Humane Society for shade, water, and treats. Well-behaved dogs on leash are welcome!
Event store featuring bottles and cans to-go, festival merch, and extra tasting tickets.
About Cider Summit
Founded over a dozen years ago, Cider Summit produces cider tasting festivals in Seattle, Portland, San Francisco, and Chicago. Cider Summit Seattle is sponsored by Teku Tavern + Café, Amazon, Oregon Fruit Products, Umpqua Bank, Just Food for Dogs, and NW Beverages. Media partners include The Stranger, CIDERCRAFT Magazine, iHeart Media, and KEXP. Our event beneficiaries include The Institute for Myeloma & Bone Cancer Research, , Seattle Humane, and NW Cider Association. Learn more at CiderSummit.com and follow @CiderSummit on social media and join the conversation with #CiderSummitSEA.