Reverend Nat's Hard Cider Celebrates its 12th Anniversary
|
What began as a project in his Portland basement twelve years ago, Nat West has since made a name for himself in the cider industry with his brand, Reverend Nat's Hard Cider. Now with a new taproom open, the good Reverend is ready to celebrate its Grand Opening while hosting a Summer Night Market in celebration of the cidery's 12th anniversary!
Earlier this year, West took over the spot that was being developed to be the new home of Logsdon Farmhouse Ales, a brewery that appears to be permanently closed. Prior to that, the building was home to Southeast Wine Collective on bustling SE Division in Portland.
Now with taproom's buildout completed, West is set to host the official grand opening of the new Reverend Nat's Taproom. This opening will also be part of the cidery's 12th anniversary celebration as well as the hosting of a Summer Night Market.
The Summer Night Market is held in partnership with Assemblage PDX. For the market, the street will be closed and will feature 26 local artists and vendors and eight food carts from the new Farmhouse Carts pod that's attached to the Rev Nat's Taproom. The Night Market is a benefit for the Portland Sisters of Perpetual Indulgence, Order of Benevolent Bliss, an advocacy and support group for the LGBTQIA+ community.
"I started this business in my basement without imagining that it would be successful enough to move beyond my house," said Nat West. "In the last decade I've served a lot of people from around the world who have visited to enjoy cider from my two locations in Portland prior to this new space, each one an upgrade. Now I couldn't be more excited to join the amazing Division Street business community and welcome cider fans new and old to my new home."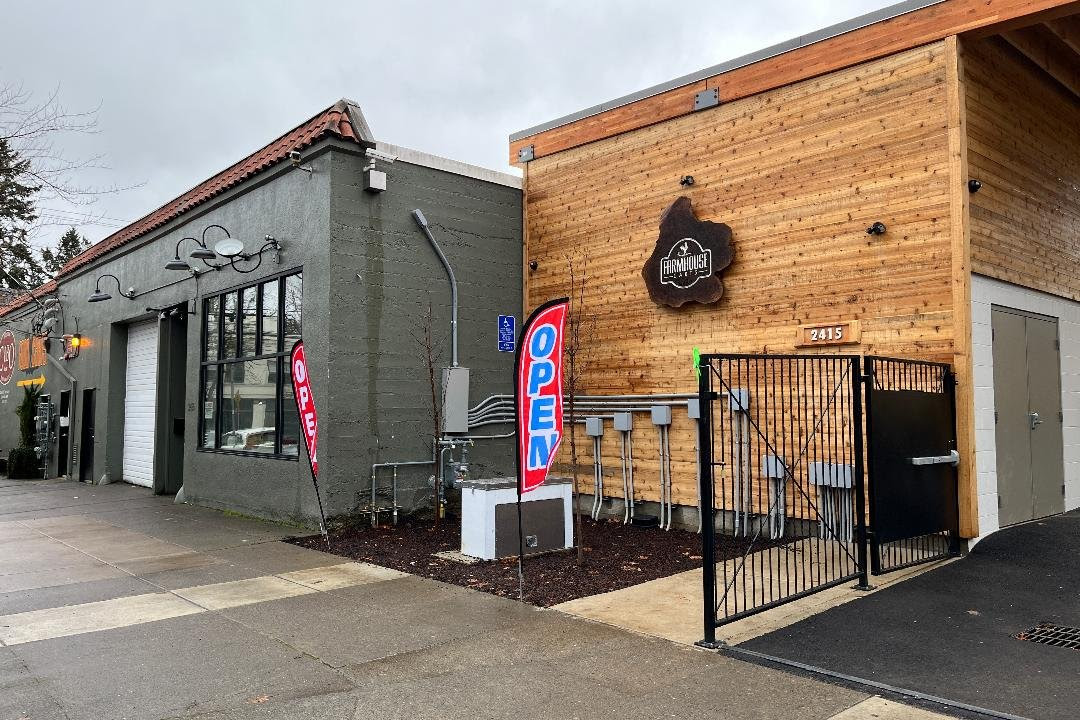 The new Cidery & Taproom is located on SE 35th Place, one door down from Division Street and behind the long-standing wood-fired Italian restaurant Cibo. A new 9-space food cart pod opened adjacent to the cidery earlier this year. The pod features acclaimed Mama Chow's Chinese street food, Sunrise Coffee Co, Shera Indian, Thai Burger PDX, Let's Roll, Gyro World and E-San Thai. A side door connects the air conditioned Reverend Nat's Taproom to the outdoor covered and heated cart pod dining area.
Behind the Taproom is a 5,000 square foot production space. In the coming weeks, the Reverend Nat's team will be consolidating their cidermaking operations into the new space as they move out of their current production-only facility that is located under the 405 bridge in North Portland.
"I have been looking for a new Taproom since we were forced to close our previous Taproom in 2020, but I didn't want just any place that would work," state West. "I wanted a space that brought our over ten years of history and world-class ciders to a neighborhood where we had other food and beverage businesses to work alongside." The new Taproom is open seven days per week with hours on Monday through Thursday from 3 pm to 9 pm and Friday, Saturday and Sunday from noon to 10 pm.
The upcoming Summer Night Market continues a tradition that Reverend Nat's began at their previous home off NE Broadway. This marks the fourth time that the popular cidery has partnered with other artists and craftspeople to showcase handmade products. This year the offerings from local makers include handmade clothes and guitars, drinkware, wall art, scents, jewelry and home goods, useful gadgets, plant accessories, ceramics, soaps, and travel essentials. While browsing these handicrafts, you can enjoy six hard ciders, five local beers, and five non-alcoholic options include a new Rev Nat's alcohol-removed hard cider and four non-alcoholic beers.
This family-friendly event has no entry fee, minors are welcome, and runs from 4:00-10:00pm. More information on the Summer Night Market can be found on Rev Nat's social media channels as well at revnats.com/news/12th-anniversary-night-market/
Reverend Nat's Hard Cider
2425 SE 35th Place
Portland, OR 97202