7th Annual Baker's Dozen Coffee Beer and Doughnut Fest
|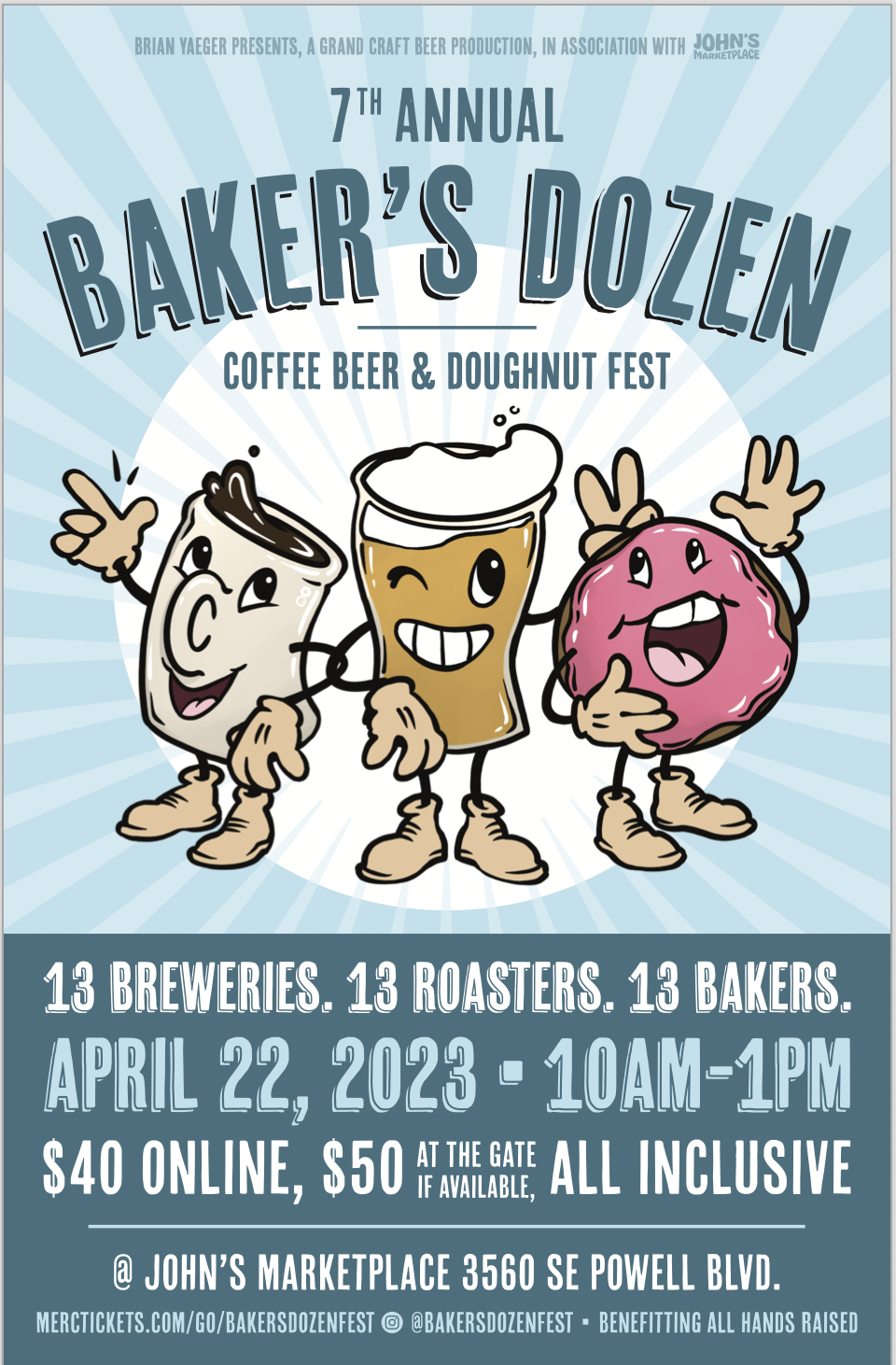 Fans of coffee beers and sugary doughnuts will be excited as the 7th Annual Baker's Dozen Coffee Beer and Doughnut Fest returns next month in Portland, Oregon. The Portland edition of this annual fest will take place on Saturday, April 22 from 10:00am-1:00pm at John's Marketplace on SE Powell.
Once again, Baker's Dozen will bring together beer, coffee and doughnuts for one unique family friendly event. Admission includes samples of everything including many of the specific coffee roasts featured in the beers.
This year's Baker's Dozen line-up features several breweries new to the event including three nanobreweries. Each beer incorporates a different local roaster's coffee beans. Beer samples come in three-ounce pours, roasters will be pouring unlimited coffee samples of the coffee used in the beers, and delectable doughnut morsels will be quartered.
2023 Breweries & Roasters (beers subject to change):
Breakside, Departed Souls (exclusive coffee doughnut stout from New Jersey), Deschutes, Fracture collab w/ Great Notion (Good Coffee), Fremont, Gateway (Rocky Butte Coffee), Labyrinth Forge (Trailhead Coffee), Little Hop (Ace Run Roasters), Living Haus (Puff Coffee), McMenamins (McMenamins Roasting), Steeplejack, Threshold (Hinterland Coffee) and Wayfinder (Proud Mary Coffee).
2023 Bakeries (doughnuts subject to change):
Angel's Donuts, Annie's Donuts, Blue Star, Coco Donuts, Delicious Donuts, Donut Queen, HeyDay, Heavenly Donuts, Helen Bernhardt Bakery, Joe's Donuts, Matt & Memere's, and Sesame Donuts.
Tickets are available now for $40 and will increase to $50 at the door if available. Purchase tickets at Merctickets.com/go/BakersDozenFest.
Baker's Dozen benefits All Hands Raised, a nonprofit organization benefiting Portland public schools, with a focus on racial equality, which is committed to improving education for children and youth throughout Multnomah County from cradle to career.
John's Marketplace
3560 SE Powell Blvd.
Portland, OR