Mt. Hood Meadows Fall Harvest Dinner with Everybody's Brewing
|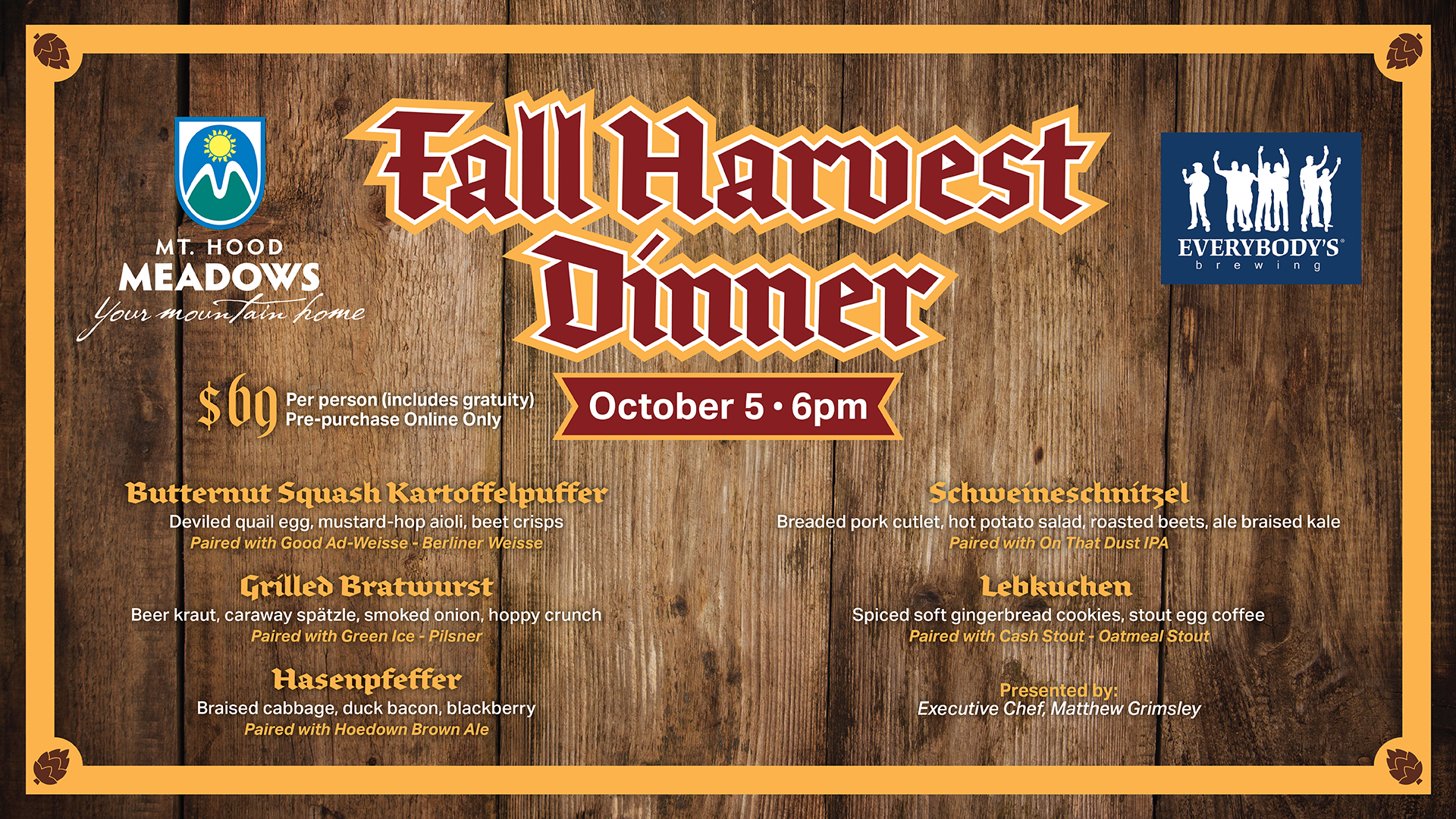 For its 2019 Fall Harvest Dinner, Mt. Hood Meadows partners with Everybody's Brewing from White Salmon, Washington. The two will come together at the ski resort on Saturday, October 5th at 6:00pm.
This five course Oktoberfest themed dinner will feature a meal prepared by Everybody's Brewing! Executive Chef Matthew Grimsley and the culinary team from Mt. Hood Meadows. Here's a peek at the five course dinner that is sure to be a hit with its patrons.
Fall Harvest Dinner Menu:
Butternet Squash Kartoffelpuffer – Deviled quail egg, mustard-hop aioli, beet crisps.. paired with Good Ad-Weisse – Berliner Weisse
Grilled Bratwurst – Beer kraut, caraway spatzle, smoked onion, hoppy crunch.. paired with Green Ice – Pilsner
Hasenpfeffer -Braised cabbage, duck bacon, blackberry.. paired with Hoedown Brown Ale
Schweineschnitzel – Breaded pork cutlet, hot potato salad, roasted beets, ale braised kale.. paired with On That Dust IPA
Lebkuchen – Spiced soft gingerbread cookies, stout egg coffee.. paired with Cash Stout – Oatmeal Stout
Seating is limited and advanced tickets are now on sale for $69.00 each that includes gratuity. Tickets can be purchased by clicking here.