Portland Culinary Alliance 6th Annual Portland Cookbook Social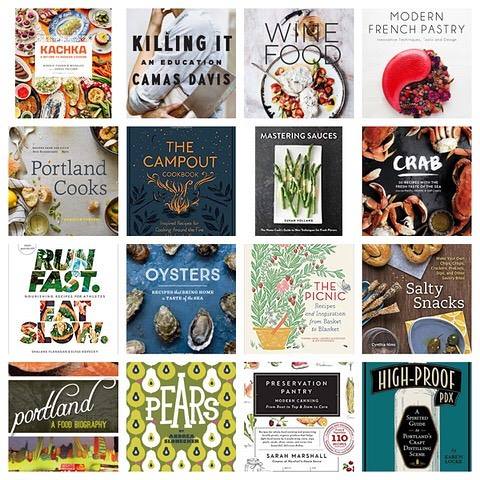 Searching for the perfect holiday gift? If so, the Portland Culinary Alliance presents its 6th Annual Portland Cookbook Social held at Headwaters on Sunday, December 2nd from Noon until 2:00pm.
On hand will be 16 local authors that have put their efforts in creating some of the finest cookbooks and culinary guidebooks together and are ready to sell them directly to you. Each author will be present and ready to sign their book for you or the one you are giving the gift two during this two-hour book signing. Plus, many of the authors will also be serving up some small bites and beverages!
Participating Authors:
Heather Arndt Anderson, Berries: A Global History + Chillies: A Global History + Portland: A Food Biography
Danielle Centoni, Portland Cooks
Chelsea Cole, Everyday Sous Vide: It's All French to Me
Dana Frank, Wine Food
Marnie Hanel, Campout Cookbook + The Picnic
Miles Hassell MD and Mea Hassell, Good Food, Great Medicine
Elyse Kopecky, Run Fast, Eat Slow
Karen Locke, High-Proof PDX
Sarah Marshall, The Preservation Pantry
Bonnie Morales, Kachka: A Return To Russian Cooking
Diane Morgan, Salmon + Roots: The Definitive Compendium with more than 225 Recipes
Cynthia Nims, Crab + Salty Snacks + Oysters
Andrea Slonecker, Pears (Short Stack) + The Picnic: Recipes and Inspiration from Basket to Blanket + Wine Food
Jen Stevenson, 100 Best Places to Stuff Your Faces by Jen Stevensen
Susan Volland, Mastering Sauces: The Home Cook's Guide to New Techniques for Fresh Flavors + Searing Inspiration: Fast, Adaptable Entrees and Fresh Pan Sauces
Cheryl Wakerhauser, Modern French Pastry
In addition to these fine authors, Headwaters will also be hosting Bloom Caramel, Lindauer Chocolates, ROONS, Pozole to the People, Nola Donuts and Wanpaku Natto as they will all be selling their artisan treats.
Entry into the 2018 Portland Cookbook Social is free and the event will take place on the mezzanine level inside The Heathman Hotel.
Headwaters
1001 SW Broadway
Portland, OR 97205
About The Author
DJ
D.J. is a Portland, Oregon based writer that spent his formative years in the Midwest. With over 25 years under his belt of drinking beer at festivals across America and the world, he has developed a strong appreciation and understanding of craft beer and the industry that surrounds it. He can be found in any of the great breweries or beer bars that make Portland the best beer city in the world. His writing can also be found in the archives of Northwest Brewing News and can be followed on Twitter and Instagram at @hopapalooza.