2017 Great American Beer Festival Medal Winners
|
Yesterday the results from the largest brewing competition, the 2017 Great American Beer Festival (GABF) and it awarded 293 medals to 266 brewery locations. Presented by the Brewers Association (BA), GABF is the largest commercial beer competition in the world and continues to grow and expand each year. Locally the Pacific Northwest region faired well. Oregon breweries brought home 17 medals and Washington breweries 10 medals.
Now in its 36th year, GABF served over 3,900 beers on the festival floor from over 800 breweries with the assistance of 4,308 volunteers to 60,000 attendees. The judging component of GABF is now in its 31st year and took place during six sessions over a period of three days. With 98 categories of beer, GABF assembled 276 judges from 13 different countries. Yes, it's sort of hard to believe that there are 98 categories of beers but it is an excellent way for the BA to raise some extra funds. American-Style India Pale Ale had the highest amount of entries with 408 beers. These judges evaluated 7,923 beers from 2,217 breweries in the competition from our 50 states plus Washington, D.C. Of these beers 266 breweries were awarded medals for a total for a total of 293 awarded medals.
Overall, Saint Arnold Brewing Co. won the most medals by a single brewery with three medals. Though Breakside Brewery did win four total medals spanning its three locations. Each brewery location can enter up to four beers into the competition. The 2017 competition also saw 584 new breweries entering for the very first time. Of these breweries, 36 won medals.
Locally Sunriver Brewing came out big winning Small Brewing Company and Brewmaster of the Year (1,000 – 14,999 BBLS). Also of note, Melvin Brewing was awarded Large Breweries of Multiple Location Breweries of the Year as it has locations in Wyoming and now Bellingham, Washington.
In all Oregon breweries were awarded 7 Gold Medals, 3 Silver Medals and 7 Bronze Medals. Washington breweries were awarded 6 Gold Medals and 4 Silver Medals. Idaho breweries were awarded 2 Bronze Medals, one in the Fresh or Wet Hop Ale category. Alaska breweries were awarded 1 Gold Medal.
It was nice to see GoodLife Brewing win a Gold Medal for Sweet As Pacific Ale as this has been a very challenging year for the Bend brewer as it lost its co-founder Curt Plants who passed away this past April. This beer was one of the first beers released and brewed by Plants when GoodLife opened.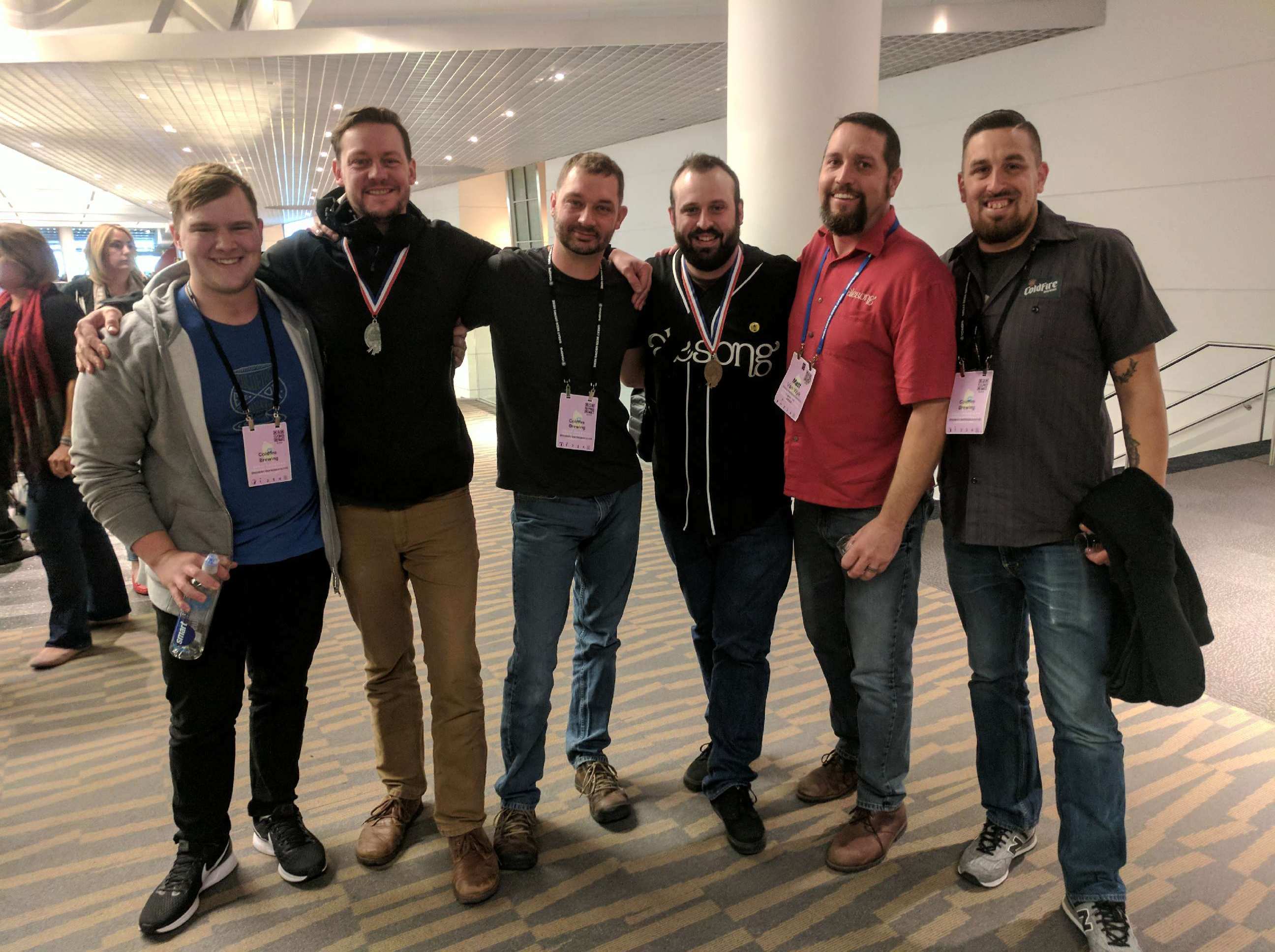 Here's a complete list of Pacific Northwest GABF winners.
Oregon Winners:
Category 1: American-Style Wheat Beer
Gold: Sweet As Pacific Ale, GoodLife Brewing Co., Bend, OR
Category 2: American-Style Wheat Beer With Yeast
Gold: Fuzztail, Sunriver Brewing, Sunriver, OR
Category 5: Belgian-Style Fruit Beer
Silver: ZuurPruim, Logsdon Farmhouse Ales, Hood River, OR
Category 14: Rye Beer
Bronze: Breakside Rye Curious?, Breakside Brewery, Portland, OR
Category 16: Session Beer
Bronze: Stonefly Session Ale, Three Creeks Brewing Co., Sisters, OR
Category 22: Gluten-Free Beer
Gold: Dark Ale, Ground Breaker Brewing, Portland, OR
Category 24: American-Style Sour Ale
Gold: DAM Wild: Hops and Lemon Verbena, Flat Tail Brewing Co., Corvallis, OR
Category 25: Fruited American-Style Sour Ale
Bronze: Breakside Passionfruit Sour Ale, Breakside Brewery & Taproom, Milwaukie, OR
Category 26: Brett Beer
Bronze: Touch of Brett Mosaic, Alesong Brewing & Blending, Eugene, OR
Category 36: American-Style Pilsener or International-Style Pilsener
Silver: Sesión Cerveza, Full Sail Brewing Co., Hood River, OR
Bronze: Lemon Pils, Elk Horn Brewery, Eugene, OR
Category 41: German-Style Pilsener
Gold: Zoigl-Pils, Zoiglhaus Brewing Co., Portland, OR
Category 59: American-Style Strong Pale Ale
Bronze: Breakside Stay West, Breakside Brewery + Beer Hall, Portland, OR
Category 60: American-Style India Pale Ale
Bronze: Breakside IPA, Breakside Brewery & Taproom, Milwaukie, OR
Category 63: Double Red Ale
Silver: St. James, Coldfire Brewing, Eugene, OR
Category 64: Imperial Red Ale
Gold: Cinder Beast, Sunriver Brewing, Sunriver, OR
Category 81: Specialty Saison
Gold: Rye Saison, Base Camp Brewing Co., Portland, OR
Washington Winners:
Category 12: Coffee Stout or Porter
Silver: Udder Chaos, RAM/Big Horn Brewery – Seattle, Seattle, WA
Category 20: Fresh or Wet Hop Ale
Silver: Field to Ferment, Fremont Brewing Co., Seattle, WA
Category 22: Gluten-Free Beer
Silver: Meteor Shower Blonde Ale, Ghostfish Brewing Co., Seattle, WA
Category 47: Munich-Style Dunkel or European-Style Dark Lager
Gold: Chuckanut Dunkel, Chuckanut Brewery, Bellingham, WA
Category 53: German-Style Koelsch
Gold: Chuckanut Kolsch Style, Chuckanut Brewery, Bellingham, WA
Category 57: Australian-Style or International-Style Pale Ale
Gold: Triumvirate, Reuben's Brews Taproom, Seattle, WA
Category 69: Irish-Style Red Ale
Gold: Ridgetop Red, Silver City Brewery, Bremerton, WA
Category 70: English-Style Brown Ale
Gold: Boulder Garden Brown, Orlison Brewing Co., Airway Heights, WA
Category 76: South German-Style Hefeweizen
Silver: Big Horn Hefeweizen, RAM/Big Horn Brewery – Lakewood, Lakewood, WA
Category 91: Export Stout
Gold: Correspondent, Wander Brewing, Bellingham, WA
Idaho Winners:
Category 20: Fresh or Wet Hop Ale
Bronze: Fresh As It Gets, Mother Earth Brew Co. – Nampa, Nampa, ID
Category 64: Imperial Red Ale
Bronze: Jagged Shard, Boise Brewing, Boise, ID
Alaska Winners:
Category 11: Coffee Beer
Gold: Heritage Coffee Brown Ale, Alaskan Brewing Co., Juneau, AK
Congratulations to all of the winners at the 2017 Great American Beer Festival. Here is the complete list of winners from this year's GABF…
2017 Brewery and Brewer of the Year Awards
Packaging Breweries
Very Small Brewing Company and Brewmaster of the Year | <1,000 BBLS
On Tour Brewing Co., Chicago, IL and Mark Poffenberger & Mark Legenza
Small Brewing Company and Brewmaster of the Year | 1,000 – 14,999 BBLS
Sunriver Brewing, Sunriver, OR and Sunriver Brewing Team
Mid-Size Brewing Company and Brewmaster of the Year | 15,000 – 6,000,000 BBLS
Saint Arnold Brewing Co., Houston, TX and Saint Arnold Brew Crew
Brewpubs 
Small Brewpub and Brewmaster of the Year | <750 BBLS
Rockford Brewing Co., Rockford, MI and Rockford Brewing Company
Mid-Size Brewpub and Brewmaster of the Year | 750 – 1,500 BBLS
Moon River Brewing Co., Savannah, GA and Moon River Brewing Company
Large Brewpub and Brewmaster of the Year | 1,500+ BBLS
The Austin Beer Garden Brewing Co., Austin, TX and Amos Swifty Kim
Large Breweries or Multiple Location Breweries
Brewery Group and Brewmaster of the Year
Melvin Brewing, Alpine, WY and Melvin Brewing
Category 1: American-Style Wheat Beer – 39 Entries
Gold: Sweet As Pacific Ale, GoodLife Brewing Co., Bend, OR
Silver: Lemon Rye, 105 West Brewing Co., Castle Rock, CO
Bronze: Fieldhouse Wheat, Triton Brewing Co., Indianapolis, IN
Category 2: American-Style Wheat Beer With Yeast – 52 Entries
Gold: Fuzztail, Sunriver Brewing, Sunriver, OR
Silver: Miner's Gold Hefeweizen, Lewis & Clark Brewing Co., Helena, MT
Bronze: Wrangler Wheat, Figueroa Mountain Brewing – Santa Barbara, Santa Barbara, CA
Category 3: American-Style Fruit Beer – 145 Entries
Gold: Razz Against the Machine, Little Machine, Denver, CO
Silver: The Mesa, Cismontane Brewing Co., Santa Ana, CA
Bronze: Elvis Juice, BrewDog Brewing Co., Canal Winchester, OH
Category 4: Fruit Wheat Beer – 90 Entries
Gold: Sierra Blanca Cherry Wheat, Sierra Blanca Brewing Co., Moriarty, NM
Silver: Purple Line, Smylie Brothers Brewing Co., Evanston, IL
Bronze: Paradise Now, Trim Tab Brewing, Birmingham, AL
Category 5: Belgian-Style Fruit Beer – 58 Entries
Gold: Blood Orange Wit, Refuge Brewery, Temecula, CA
Silver: ZuurPruim, Logsdon Farmhouse Ales, Hood River, OR
Bronze: Cherry Busey, Sun King Brewing Co., Indianapolis, IN
Category 6: Pumpkin/Squash Beer or Pumpkin Spice Beer – 66 Entries
Gold: Saint Arnold Pumpkinator, Saint Arnold Brewing Co., Houston, TX
Silver: Pumpkin Ale, Schlafly Beer/The Saint Louis Brewery, Saint Louis, MO
Bronze: 5 Phantoms Pumpkin Spice Barleywine, Philipsburg Brewing Co., Philipsburg, MT
Category 7: Field Beer – 87 Entries
Gold: C Porter, LauderAle, Fort Lauderdale, FL
Silver: No Crusts, Funky Buddha Brewery, Fort Lauderdale, FL
Bronze: Spa Water Saison, Ohana Brewing Co., Los Angeles, CA
Category 8: Chili Beer – 98 Entries
Gold: Ghost Pepper Imperial Stout, ZwanzigZ Brewing, Columbus, IN
Silver: Bad Hombre, Eight & Sand Beer Co., Woodbury, NJ
Bronze: Dia de los Mangos, Beachwood Blendery, Long Beach, CA
Category 9: Herb and Spice Beer – 145 Entries
Gold: Lemon Balm and Beets Wheat, New Sarum Brewing, Salisbury, NC
Silver: 80 Acre Carrot Ale, Humble Farmer Brewing Co., Holtville, CA
Bronze: India Spring Honey Cream Ale, Broken Plow Brewery, Greeley, CO
Category 10: Chocolate Beer – 62 Entries
Gold: Imperial Smoked Porter With Cacao Nibs, Joseph James Brewing Co., Henderson, NV
Silver: Aphrodisiac Chocolate Pomegranate Imperial Stout, Cranker's Brewery, Big Rapids, MI
Bronze: Tears of My Enemies, Monday Night Brewing, Atlanta, GA
Category 11: Coffee Beer – 89 Entries
Gold: Heritage Coffee Brown Ale, Alaskan Brewing Co., Juneau, AK
Silver: It's 8 O'clock Somewhere, Torched Hop Brewing Co., Atlanta, GA
Bronze: Stony Joe, Stony Creek Brewery, Branford, CT
Category 12: Coffee Stout or Porter – 114 Entries
Gold: Speargun Coffee Milk Stout, Snake River Brewing Co., Jackson, WY
Silver: Udder Chaos, RAM/Big Horn Brewery – Seattle, Seattle, WA
Bronze: Kawi, Currahee Brewing Co., Franklin, NC
Category 13: Specialty Beer – 42 Entries
Gold: Barrel Aged Sweet Potato SouthNorte Rye, Odd Side Ales, Grand Haven, MI
Silver: Rye Hipster Brunch Stout, Odd Side Ales, Grand Haven, MI
Bronze: Agavamente, SouthNorte Beer Co., San Diego, CA
Category 14: Rye Beer – 49 Entries
Gold: Unite the Clans, Third Space Brewing, Milwaukee, WI
Silver: Nighthawk Rye Pale Ale, Packinghouse Brewing Co., Riverside, CA
Bronze: Breakside Rye Curious?, Breakside Brewery, Portland, OR
Category 15: Honey Beer – 69 Entries
Gold: Orange Blossom Common, Karl Strauss Brewing Co. – Carlsbad, Carlsbad, CA
Silver: Jetty Ale, Great South Bay Brewery, Bay Shore, NY
Bronze: Honey Please, Armadillo Ale Works, Denton, TX
Category 16: Session Beer – 40 Entries
Gold: Guillaume, Pizza Port Ocean Beach, San Diego, CA
Silver: Peacekeeper, Launch Pad Brewery, Aurora, CO
Bronze: Stonefly Session Ale, Three Creeks Brewing Co., Sisters, OR
Category 17: Session India Pale Ale – 130 Entries
Gold: Rome City IPA, Brew Hub, Lakeland, FL
Silver: Patio Pounder, Twisted Pine Brewing Co., Boulder, CO
Bronze: Featherweight Session IPA, Boxing Bear Brewing Co., Albuquerque, NM
Category 18: Other Strong Beer – 40 Entries
Gold: Imperial Cream Ale, Nexus Brewery, Albuquerque, NM
Silver: Laissez-Faire, Monday Night Brewing, Atlanta, GA
Bronze: Antwerp's Placebo, Batch Brewing Co., Detroit, MI
Category 19: Experimental Beer – 94 Entries
Gold: Source Series Opuntia, Carolina Bauernhaus Ales, Anderson, SC
Silver: Roswell: Grudge, Black Project Spontaneous & Wild Ales, Denver, CO
Bronze: Hot Pink, Four Day Ray Brewing, Fishers, IN
Category 20: Fresh or Wet Hop Ale – 44 Entries
Gold: Wet Hop Melvin, Melvin Brewing, Alpine, WY
Silver: Field to Ferment, Fremont Brewing Co., Seattle, WA
Bronze: Fresh As It Gets, Mother Earth Brew Co. – Nampa, Nampa, ID
Category 21: Historical Beer – 40 Entries
Gold: Waverly Tulip, Square Peg Brewerks, Alamosa, CO
Silver: Hilltopper's Pride Kentucky Common Ale, Ironworks Brewery & Pub, Lakewood, CO
Bronze: Spring Gruit, The BottleHouse Brewery And Meadery, Cleveland, OH
Category 22: Gluten-Free Beer – 33 Entries
Gold: Dark Ale, Ground Breaker Brewing, Portland, OR
Silver: Meteor Shower Blonde Ale, Ghostfish Brewing Co., Seattle, WA
Bronze: Co-Conspirator Apricot Sour, Revelation Craft Brewing Co., Rehoboth Beach, DE
Category 23: American-Belgo-Style Ale – 53 Entries
Gold: Saison Du Bois, Lynnwood Brewing Concern – Production Facility, Raleigh, NC
Silver: Klipspringer, Metazoa Brewing Co., Indianapolis, IN
Bronze: 5 & 20 IPA, Nedloh Brewing Co., Bloomfield, NY GreatAmericanBeerFestival.com #gabf
Category 24: American-Style Sour Ale – 35 Entries
Gold: DAM Wild: Hops and Lemon Verbena, Flat Tail Brewing Co., Corvallis, OR
Silver: Disenchantment Blend #1, Bond Brothers Beer Co., Cary, NC
Bronze: Yeast of Eden – Skeptics & Believers, Alvarado Street Brewery, Salinas, CA
Category 25: Fruited American-Style Sour Ale – 105 Entries
Silver: Sour Wench Blackberry Ale, Ballast Point Brewing Co. – Home Brew Mart, San Diego, CA
Bronze: Breakside Passionfruit Sour Ale, Breakside Brewery & Taproom, Milwaukie, OR
Category 26: Brett Beer – 71 Entries
Gold: Fancy Pants, Jessup Farm Barrel House, Fort Collins, CO
Silver: Saison Trystero, Our Mutual Friend Brewing, Denver, CO
Bronze: Touch of Brett Mosaic, Alesong Brewing & Blending, Eugene, OR
Category 27: Mixed-Culture Brett Beer – 65 Entries
Gold: Galaxy Dry Hopped Funk Yo Couch, Wiley Roots Brewing Co., Greeley, CO
Silver: 10 Buck Chuck, Firestone Walker Barrelworks, Buellton, CA
Bronze: CBC & Jester King's Cor Cordium, Cambridge Brewing Co., Cambridge, MA
Category 28: Wood- and Barrel-Aged Beer – 70 Entries
Gold: Porter Aged on Palo Santo Wood, Spellbound Brewing, Mount Holly, NJ
Silver: Magpie Muckle, Sun King Brewing Co., Indianapolis, IN
Bronze: Woody Pils, Bull & Bush Brewery, Denver, CO
Category 29: Wood- and Barrel-Aged Strong Beer – 175 Entries
Gold: Hurly Burly Port Barrel Aged Barleywine, Out of Bounds Brewing Co., Rocklin, CA
Silver: Woods Monk, Odyssey Beerwerks, Arvada, CO
Bronze: Barrel Aged Barleywine, Charleville Vineyard & Microbrewery, Sainte Genevieve, MO
Category 30: Wood- and Barrel-Aged Strong Stout – 154 Entries
Gold: Medianoche, WeldWerks Brewing Co., Greeley, CO
Silver: Maman 2017, Perennial Artisan Ales, Saint Louis, MO
Bronze: Barrel-Aged Marfa Light, Big Bend Brewing Co., Alpine, TX
Category 31: Wood- and Barrel-Aged Sour Beer – 86 Entries
Gold: Plum Creek Sour, Rockyard American Grill & Brewing Co., Castle Rock, CO
Silver: Train to Beersel, Bruery Terreux, Anaheim, CA
Bronze: 5th Anniversary Tequila Sour, Loveland Aleworks, Loveland, CO
Category 32: Fruited Wood- and Barrel-Aged Sour Beer – 122 Entries
Gold: Zoned AG Apricot, Corralitos Brewing Co., Watsonville, CA
Silver: BA Excommunication, Max Lager's Wood-Fired Grill & Brewery, Atlanta, GA
Bronze: Riserva, Weyerbacher Brewing Co., Easton, PA
Category 33: Aged Beer – 26 Entries
Gold: La Muerta, Freetail Brewing Co., San Antonio, TX
Silver: Solzhenitsyn, Iron Hill Brewery & Restaurant – Media, Media, PA
Bronze: There is No Quad, The BottleHouse Brewery And Meadery, Cleveland, OH
Category 34: Kellerbier or Zwickelbier – 54 Entries
Gold: Zwickelbier, Red Rock Brewing Co. – Production, Salt Lake City, UT
Silver: Luchesa Lager, Oasis Texas Brewing Co., Austin, TX
Bronze: Pilsner, Marble Brewery – Production, Albuquerque, NM
Category 35: Smoke Beer – 62 Entries
Gold: So long and thanks for all the (smoked) fish!, The Sandlot Brewery at Coors Field, Denver, CO
Silver: Smoke on the Lager, Chilly Water Brewing Co., Indianapolis, IN
Bronze: Croydon is Burning, Neshaminy Creek Brewing Co., Croydon, PA
Category 36: American-Style Pilsener or International-Style Pilsener – 98 Entries
Gold: Rocket 100, The Austin Beer Garden Brewing Co., Austin, TX
Silver: Sesión Cerveza, Full Sail Brewing Co., Hood River, OR
Bronze: Lemon Pils, Elk Horn Brewery, Eugene, OR
Category 37: Light Lager – 45 Entries
Gold: Super Awesome Lager, Austin Beerworks, Austin, TX
Silver: Pedal Haus Light Lager, Pedal Haus Brewery, Tempe, AZ
Bronze: Sun Grown, Sycamore Brewing, Charlotte, NC
Category 38: American-Style Lager or Malt Liquor – 75 Entries
Gold: Mexican Lager, Lone Tree Brewing Co., Lone Tree, CO
Silver: Pabst Blue Ribbon (PBR), Pabst Brewing Co., Los Angeles, CA
Bronze: Sun Grown Fresh Craft Lager, The Sycamore Brewing Cannery, Charlotte, NC
Category 39: American-Style Cream Ale – 92 Entries
Gold: Buckle Bunny, Eureka Heights Brewing Co., Houston, TX
Silver: Canü, Uberbrew, Billings, MT
Bronze: Artifexican, Artifex Brewing Co., San Clemente, CA
Category 40: American-Style Amber Lager – 70 Entries
Gold: Auburn Lager, Mad Anthony Brewing Co., Fort Wayne, IN
Silver: Shiner Bock, Spoetzl Brewery, Shiner, TX
Bronze: Rod's Steam Bitter, Second Street Brewery, Santa Fe, NM
Category 41: German-Style Pilsener – 145 Entries
Gold: Zoigl-Pils, Zoiglhaus Brewing Co., Portland, OR
Silver: Pilsner, Dry Dock Brewing Co. – South Dock, Aurora, CO
Bronze: Pivo, Firestone Walker Brewing Co., Paso Robles, CA
Category 42: Bohemian-Style Pilsener – 93 Entries
Gold: Velvet Revolution, The Austin Beer Garden Brewing Co., Austin, TX
Silver: Bohemian Pilsener, TAPS Fish House and Brewery – Corona, Corona, CA
Bronze: Torch Pilsner, Foothills Brewing Co., Winston-Salem, NC
Category 43: Munich-Style Helles – 105 Entries
Gold: Penn Gold, Pennsylvania Brewing Co., Pittsburgh, PA
Silver: Solar, Sanctum Brewing Co., Pomona, CA
Bronze: Munich Light, Emmett's Brewing Co. – Wheaton, Wheaton, IL
Category 44: Dortmunder or German-Style Oktoberfest – 56 Entries
Gold: Dortmunder, Lupulin Brewing, Big Lake, MN
Silver: Longboard Island Lager, Kona Brewing Co., Kailua-Kona, HI
Bronze: Northtown Native, Cinder Block Brewery, North Kansas City, MO
Category 45: Vienna-Style Lager – 87 Entries
Gold: Gustav, Taft's Ale House, Cincinnati, OH
Silver: Vienna Lager, Lost Forty Brewing, Little Rock, AR
Bronze: Dock Time, Stony Creek Brewery, Branford, CT
Category 46: German-Style Maerzen – 122 Entries
Gold: Asheville Lager, Wedge Brewing Co., Asheville, NC
Silver: Oktoberfest, Rahr & Sons Brewing Co., Fort Worth, TX
Bronze: Oktoberfest, Beaver Island Brewing Co., Saint Cloud, MN
Category 47: Munich-Style Dunkel or European-Style Dark Lager – 47 Entries
Gold: Chuckanut Dunkel, Chuckanut Brewery, Bellingham, WA
Silver: Moondoor Dunkel, Wibby Brewing, Longmont, CO
Bronze: Dunkel, Pug Ryan's Brewing Co., Dillon, CO
Category 48: Dark Lager – 74 Entries
Gold: Mischievous Black, Six Ten Brewing, Tampa, FL
Silver: DTB Schwarzbier, Desperate Times Brewing Co., Carlisle, PA
Bronze: Lighter Than I Look, Figueroa Mountain Brewing, Buellton, CA
Category 49: Bock – 36 Entries
Gold: Low Boy, On Tour Brewing Co., Chicago, IL
Silver: Rock Out with Maibock Out, Hailstorm Brewing Co., Tinley Park, IL
Bronze: Mountain Series: Maibock, Breckenridge Brewery, Littleton, CO
Category 50: German-Style Doppelbock or Eisbock – 51 Entries
Gold: Wobblor, Crooked Lane Brewing Co., Auburn, CA
Silver: Spectator, On Tour Brewing Co., Chicago, IL
Bronze: Goldie's Big Bock, Lonerider Brewing Co., Raleigh, NC
Category 51: Baltic-Style Porter – 48 Entries
Gold: Public Enemy Baltic Porter, Dust Bowl Brewing Co., Turlock, CA
Silver: Herd Of Turtles, Bagby Beer Co., Oceanside, CA
Bronze: Powers of Observation, Ocelot Brewing Co., Dulles, VA
Category 52: Golden or Blonde Ale – 126 Entries
Gold: Boone Creek Blonde, Appalachian Mountain Brewery – Portsmouth, Portsmouth, NH
Silver: Firemans 4, Real Ale Brewing Co., Blanco, TX
Bronze: Blonde, Culture Brewing Co., Solana Beach, CA
Category 53: German-Style Koelsch – 154 Entries
Gold: Chuckanut Kolsch Style, Chuckanut Brewery, Bellingham, WA
Silver: Seafarer, Three Weavers Brewing Co., Inglewood, CA
Bronze: Downhill Kölsch, Elk Mountain Brewing Co., Parker, CO
Category 54: English-Style Summer Ale – 41 Entries
Gold: Organic California Blonde Ale, Eel River Brewing Co., Fortuna, CA
Silver: Back In The ESSA, Monkey Paw Brewing, San Diego, CA
Bronze: Bright Ale, Half Full Brewery, Stamford, CT
Category 55: Classic English-Style Pale Ale – 30 Entries
Gold: Mr. Kite's Pale Ale, Social Kitchen & Brewery, San Francisco, CA
Silver: Extra Pale Ale, Summit Brewing Co., Saint Paul, MN
Bronze: Annadel Pale Ale, Third Street Aleworks, Santa Rosa, CA
Category 56: English-Style India Pale Ale – 41 Entries
Gold: Punjabi, CooperSmith's Pub & Brewing, Fort Collins, CO
Silver: Hoppy Poppy IPA, Figueroa Mountain Brewing, Buellton, CA
Bronze: Jacaranda Rye IPA, Claremont Craft Ales, Claremont, CA
Category 57: Australian-Style or International-Style Pale Ale – 105 Entries
Gold: Triumvirate, Reuben's Brews Taproom, Seattle, WA
Silver: Pure Intention Pale Ale, HopSaint Brewing Co., Torrance, CA
Bronze: Cannonball Australian-Style Pale Ale, Scottsdale Beer Co., Scottsdale, AZ
Category 58: American-Style Pale Ale – 199 Entries
Gold: Monterey Street, Central Coast Brewing Co., San Luis Obispo, CA
Silver: Mosaic Pale Ale, Lynnwood Brewing Concern – Production Facility, Raleigh, NC
Bronze: Triple Tail, SweetWater Brewing Co., Atlanta, GA
Category 59: American-Style Strong Pale Ale – 182 Entries
Gold: Hubert MPA, Melvin Brewing, Alpine, WY
Silver: Wolfback Ridge, Headlands Brewing Co., Mill Valley, CA
Bronze: Breakside Stay West, Breakside Brewery + Beer Hall, Portland, OR
Category 60: American-Style India Pale Ale – 408 Entries
Gold: Prairie Madness, Hailstorm Brewing Co., Tinley Park, IL
Silver: Gold Digger IPA, Auburn Alehouse, Auburn, CA
Bronze: Breakside IPA, Breakside Brewery & Taproom, Milwaukie, OR
Category 61: Imperial India Pale Ale – 221 Entries
Gold: Manta Ray, Ballast Point Brewing Co., San Diego, CA
Silver: Lupulin River, Knee Deep Brewing Co., Auburn, CA
Bronze: Chux, Danville Brewing Co., Danville, CA
Category 62: American-Style Amber/Red Ale – 90 Entries
Gold: F-Town Amber, Copper Club Brewing Co., Fruita, CO
Silver: Legally Red, Second Chance Beer Co., San Diego, CA
Bronze: Blue Bridge, Galveston Island Brewing, Galveston, TX
Category 63: Double Red Ale – 72 Entries
Gold: Hop Donkey, Auburn Alehouse, Auburn, CA
Silver: St. James, Coldfire Brewing, Eugene, OR
Bronze: Midwest Red IPA, Masthead Brewing Co., Cleveland, OH
Category 64: Imperial Red Ale – 41 Entries
Gold: Cinder Beast, Sunriver Brewing, Sunriver, OR
Silver: Hop Zombie, Lone Tree Brewing Co., Lone Tree, CO
Bronze: Jagged Shard, Boise Brewing, Boise, ID
Category 65: English-Style Mild Ale – 44 Entries
Gold: Hold the Reins, Brink Brewing Co., Cincinnati, OH
Silver: Mamoot English Mild, Logboat Brewing Co., Columbia, MO
Bronze: Nemo, Bonn Place Brewing, Bethlehem, PA
Category 66: Ordinary or Special Bitter – 34 Entries
Gold: Three Tun, Brew Hub, Lakeland, FL
Silver: Mooey, Bonn Place Brewing, Bethlehem, PA
Bronze: Saint Arnold Amber Ale, Saint Arnold Brewing Co., Houston, TX
Category 67: Extra Special Bitter – 73 Entries
Gold: 14° ESB, Bent Paddle Brewing Co., Duluth, MN
Silver: Extra Special Ale, Yards Brewing Co., Philadelphia, PA
Bronze: Holler ESB, Holler Brewing Co., Houston, TX
Category 68: Scottish-Style Ale – 53 Entries
Gold: Taildragger's Clan-Destine, Saddle Mountain Brewing Co., Goodyear, AZ
Silver: McGarvey's Scottish Ale, Oggi's Sports Brewhouse Pizza, San Clemente, CA
Bronze: Heavy 80 Scotch Ale, Coal Creek TAP, Laramie, WY
Category 69: Irish-Style Red Ale – 80 Entries
Gold: Ridgetop Red, Silver City Brewery, Bremerton, WA
Silver: Bomber Mountain, Black Tooth Brewing Co., Sheridan, WY
Bronze: Riley's Irish Red, Packinghouse Brewing Co., Riverside, CA
Category 70: English-Style Brown Ale – 63 Entries
Gold: Boulder Garden Brown, Orlison Brewing Co., Airway Heights, WA
Silver: Shaven Yak Brown, Wichita Brewing Co. – Production, Wichita, KS
Bronze: Rogue River Brown, Rockford Brewing Co., Rockford, MI
Category 71: American-Style Brown Ale – 90 Entries
Gold: Bull Creek Brown Ale, Springfield Brewing Co., Springfield, MO
Silver: FRB Brown, Fort Rock Brewing, Rancho Cordova, CA
Bronze: Machine Gun Teddy, Goldwater Brewing Co., Scottsdale, AZ
Category 72: American-Style Black Ale – 54 Entries
Gold: Hoppa Emeritus, Beachwood BBQ & Brewing, Long Beach, CA
Silver: Black 28, Cannonball Creek Brewing Co., Golden, CO
Bronze: Midnight Moonlight, Fat Head's Brewery, Middleburg Heights, OH
Category 73: Berliner-Style Weisse – 72 Entries
Gold: Kalliope, Captain Fatty's, Goleta, CA
Silver: Ringmaster Raspberry Berliner, Big Top Brewing Co., Sarasota, FL
Bronze: Blackberry Table Sour, Baere Brewing Co., Denver, CO
Category 74: Leipzig-Style Gose or Contemporary Gose – 96 Entries
Gold: Mermaid's Scorn, Benchtop Brewing Co., Norfolk, VA
Silver: No. 33 Gose, The Freehouse, Minneapolis, MN
Bronze: Passionfruit Gose, Perrin Brewing Co., Comstock Park, MI
Category 75: German-Style Altbier – 53 Entries
Gold: Glacier Ale, Red Lodge Ales Brewing Co., Red Lodge, MT
Silver: It's Your Fault, Piece Brewery, Chicago, IL
Bronze: Little Red Cap, Grimm Brothers Brewhouse, Loveland, CO
Category 76: South German-Style Hefeweizen – 128 Entries
Gold: Hefeweizen, Gordon Biersch Brewery Restaurant – Navy Yard, Broomfield, CO
Silver: Big Horn Hefeweizen, RAM/Big Horn Brewery – Lakewood, Lakewood, WA
Bronze: Hornet's Nest, The Olde Mecklenburg Brewery, Charlotte, NC
Category 77: German-Style Wheat Ale – 41 Entries
Gold: AlpenGlow, Fat Head's Brewery & Saloon, North Olmsted, OH
Silver: Hidden Gem, OB Brewery, San Diego, CA
Bronze: Saint Arnold Weedwacker, Saint Arnold Brewing Co., Houston, TX
Category 78: Belgian-Style Blonde Ale or Pale Ale – 64 Entries
Gold: Squatters Hell's Keep, Utah Brewers Cooperative, Salt Lake City, UT
Silver: Breton Blonde, Metazoa Brewing Co., Indianapolis, IN
Bronze: Belgian Pale Ale, Redwood Curtain Brewing Co., Arcata, CA
Category 79: Belgian-Style Witbier – 78 Entries
Gold: Wild Wacky Wit, Moon River Brewing Co., Savannah, GA
Silver: Suntrip, New Terrain Brewing Co., Golden, CO
Bronze: Witte Ale, Brewery Ommegang, Cooperstown, NY
Category 80: Classic Saison – 103 Entries
Gold: Saison, Funkwerks, Fort Collins, CO
Silver: Matisse, Night Shift Brewing, Everett, MA
Bronze: One Arm Farmhouse Ale, Hobbs Tavern & Brewing Co., West Ossipee, NH
Category 81: Specialty Saison – 81 Entries
Gold: Rye Saison, Base Camp Brewing Co., Portland, OR
Silver: Make Hay, Cellar West Artisan Ales, Boulder, CO
Bronze: Farmhouse Saison, CO-Brew, Denver, CO
Category 82: Belgian- and French-Style Ale – 53 Entries
Gold: Grisette Summer Ale, Sly Fox Brewing Co., Pottstown, PA
Silver: Biere de Voleur, Horse Thief Hollow Brewery, Chicago, IL
Bronze: Working Title, Perennial Artisan Ales, Saint Louis, MO
Category 83: Belgian-Style Lambic or Sour Ale – 77 Entries
Gold: El Sur, Casa Agria Specialty Ales, Oxnard, CA
Silver: Blended 2017, Side Project Brewing, Maplewood, MO
Bronze: Drinking with Friends, Mraz Brewing Co., El Dorado Hills, CA
Category 84: Belgian-Style Dubbel or Quadrupel – 75 Entries
Gold: #QuadGoals, 515 Brewing Co., Clive, IA
Silver: Deduction, Taxman Brewing Co., Bargersville, IN
Bronze: Four Fat Baby, Hillman Beer, Asheville, NC
Category 85: Belgian-Style Tripel – 77 Entries
Gold: Tripel Dog Dare, Big Dog's Brewing Co., Las Vegas, NV
Silver: Rapunzel, Corridor Brewery & Provisions, Chicago, IL
Bronze: Tripel Horse, River Horse Brewing Co., Ewing, NJ
Category 86: Belgian-Style Strong Specialty Ale – 74 Entries
Gold: Amandus, Lazarus Brewing Co., Austin, TX
Silver: It's Always Something, Peticolas Brewing Co., Dallas, TX
Bronze: Smells Like Money, BearWaters Brewing Co., Canton, NC
Category 87: Other Belgian-Style Ale – 42 Entries
Gold: Witty Moron, Stone Brewing World Bistro & Gardens – Liberty Station, San Diego, CA
Silver: Lux Mundi, Save the World Brewing Co., Marble Falls, TX
Bronze: Cousin Stoopid, Stickman Brews, Royersford, PA
Category 88: Brown Porter – 57 Entries
Gold: Porter, Back East Brewing, Bloomfield, CT
Silver: Pinch Hit Porter, Stadium Pizza Main St., Lake Elsinore, CA
Bronze: Man Full of Trouble, Dock Street Brewery, Philadelphia, PA
Category 89: Robust Porter – 97 Entries
Gold: Tabula Rasa Toasted Porter, Second Chance Beer Co., San Diego, CA
Silver: Black Strap Molasses Porter, Waikiki Brewing Co., Honolulu, HI
Bronze: JFP, Rivertowne Pour House, Monroeville, PA
Category 90: Classic Irish-Style Dry Stout – 30 Entries
Gold: Bearded Seal, Pinthouse Pizza North, Austin, TX
Silver: Sheehan's Stout, Rockford Brewing Co., Rockford, MI
Bronze: Boulder Stout, PT's Brewing Co., Las Vegas, NV
Category 91: Export Stout – 48 Entries
Gold: Correspondent, Wander Brewing, Bellingham, WA
Silver: Z-Man Stout, Pizza Port Carlsbad, Carlsbad, CA
Bronze: Black Rock Stout, Crossroads Brewing Co., Athens, NY
Category 92: American-Style Stout – 60 Entries
Gold: Cholo Stout, Marble Brewery – Mav Lab, Albuquerque, NM
Silver: American Stout, Wild Wolf Brewing Co., Nellysford, VA
Bronze: Night of the Living Stout, Full Pint Brewing Co., North Versailles, PA
Category 93: Sweet Stout or Cream Stout – 69 Entries
Gold: Oatmeal Milk Stout, Finkel & Garf Brewing Co., Boulder, CO
Silver: Milk Bone, Pinellas Ale Works, Saint Petersburg, FL
Bronze: McPoyle, Mile Wide Beer Co., Louisville, KY
Category 94: Oatmeal Stout – 57 Entries
Gold: Wall of Sound, Stereo Brewing Co., Placentia, CA
Silver: The Ferguson, Studio Brew, Bristol, VA
Bronze: Fat Pug, Maplewood Brewing Co., Chicago, IL
Category 95: Imperial Stout – 80 Entries
Gold: The Russian, 2SP Brewing Co., Aston, PA
Silver: Russian Imperial Stout, Iron Hill Brewery & Restaurant – Media, Media, PA
Bronze: Duke Snider's Imperial Stout, Walking Tree Brewery, Vero Beach, FL
Category 96: Scotch Ale – 70 Entries
Gold: Real Heavy, Real Ale Brewing Co., Blanco, TX
Silver: Duck-Rabbit Wee Heavy Scotch Style Ale, Duck-Rabbit Craft Brewery, Farmville, NC
Bronze: AleSmith Wee Heavy, AleSmith Brewing Co., San Diego, CA
Category 97: Old Ale or Strong Ale – 43 Entries
Gold: 10&2 Barleywine, Fifty West Brewing Co., Cincinnati, OH
Silver: Heini's Good Cheer, Roundabout Brewery, Pittsburgh, PA
Bronze: Pilgrim's Dole, New Holland Brewing Co., Holland, MI
Category 98: Barley Wine-Style Ale – 49 Entries
Gold: Shipfaced, Silver Harbor Brewing Co., Saint Joseph, MI
Silver: No. 20 Barleywine, The Freehouse, Minneapolis, MN
Bronze: Behemoth, One Barrel Brewing Co., Madison, WI
Pro-Am – 118 Entries
Gold: Just Another Pretty Face, Denver Beer Co., Denver, CO Brewmaster: Jason Buehler and Denver Beer Company Brewing Team AHA Member: Doug Thiel
Silver: Lichtenhainer, Black Bottle Brewery, Fort Collins, CO Brewmaster: Black Bottle Scuba Squad, AHA Member: Daniel Tomkins
Bronze: Eluxansis, Odell Brewing Co., Fort Collins, CO Brewmaster: Odell Brew Team, AHA Member: Mark Boelman