John I. Haas, Inc. and Barth-Haas Group Announce Innovative Bittering Hop Product FLEX
|
Two of the world's most innovative hop growers and suppliers have been researching new ways of developing hops and its use in beer. John I. Haas, Inc. and the Barth-Haas Group have announced its new innovative bittering hop product named FLEX. After years of intensive R&D, this new 100% all-natural hop product is now available for worldwide sale and distribution.
Here are additional details on FLEX from the press release…
FLEX is a 100% all-natural hop product crafted to be pourable at room temperature, and to provide brewing flexibility and improved brew house efficiency. Even though it's made using sophisticated processing technology, FLEX is actually just like fresh-squeezed hops. It's convenient, easy to dose and typically offers brewers better than 10% increase in alpha acids utilization, when compared to hop pellets.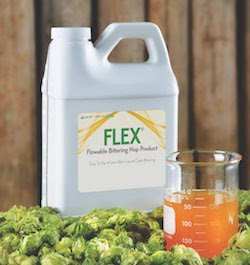 "Wort that's bittered with FLEX provides a very clean canvas for aroma hops" said Virgil McDonald, Head Brewmaster at the John I. Haas Innovations Brewery. "We've been working closely with a number of brewers on FLEX, and the beers we've tasted have this great bitterness that is really clean and bright when you compare it to most other bittering alternatives."
A critically important aspect of FLEX is improving process utilization. Whole hops and hop pellets are mostly vegetal material, which acts like a sponge and can result in significant wort loss, especially in today's hop-forward IPAs. FLEX is a pourable liquid, so there's no process loss, no waste handling or disposal of spent hops. And unlike CO2 extracts, FLEX doesn't need to be preheated or pre-mixed with other liquids before it's added to the kettle.
"As the craft brewing industry grows more competitive, the demand for more profitable and sustainable brewing practices has increased," said Dr. Alex Byelashov, Vice President of Innovations at John I. Haas. "FLEX is a simple-to-use product that was developed by listening to brewers and understanding what they need to improve quality and efficiency."

"Brewing great beer is our passion and our commitment," said Tim Matthews, Head of Brewing Operations at Oskar Blues Brewing Company. "We're also focused on bringing greater efficiency into our entire brewing and production processes. FLEX enables us to deliver on our brewing and business-related goals. It's a great product."
Continually striving to provide innovative new products in the hops industry, John I. Haas and the Barth-Haas Group are excited to be able to offer FLEX to brewers worldwide. To learn more about the benefits and advantages of brewing with FLEX, contact Roy Johnson or visit johnihaas.com.
About John I. Haas 
Haas is a leading vertically integrated hop grower, supplier, and breeder, with a world-class innovations center and research brewery located in North America. As a member of the Barth-Haas Group, Haas has the global reach to offer the products, tools, services and supply assurance needed to brew successful beers. www.johnihaas.com
About Barth-Haas Group 
Barth-Haas Group is the world's leading supplier of hops, hop products, and services. The Group is family owned and is active on all continents. With offices in Germany, the United States, Australia, China and the United Kingdom, the Barth-Haas Group meets the needs of brewers, large and small, around the globe. www.BarthHaasGroup.com