6th Annual Boones Ferry Autumn Ale Fest Returns November 3, 2018
|
McMenamins celebrates to Fall season with its 6th Annual Boones Ferry Autumn Ale Fest. Held each year at the McMenamins Old Church & Pub, just south of Portland in Wilsonville, this annual fall seasonal beer festival is family friendly and includes craft beer, cider, live music and a Women in Brewing panel.
The 2018 Boones Ferry Autumn Ale Fest will take place on Saturday, November 3, 2018, from 11:00am-10:00pm. There will be brewery tours from 1:00-5:00pm, Spirits and Wine tasting from 2:00-6:00pm and live music from Garcia Birthday Band beginning at 7:00pm and going until 10:00pm.
In addition to these festivities there will be two history presentations, including one on Women in Brewing, who's panel includes movers and shakers in the McMenamins beer scene along with a slideshow about Walt Morey: Oregon Author.
Here's a preview of the beer and cider list.
Boones Ferry Autumn Ale Fest Beer List:
Ancestry Brewing – Hazy Pale Fall Pale Ale 5.60%
Bent Shovel Brewing – International Waters Rum Barrel-Aged American Strong Ale 8.50%
Breakside Brewery – Amateur Hour Red IPA 6.30%
Cornelius Pass Roadhouse Brewery- Black Barrel Barrel-Aged Imperial Oatmeal Stout 8%
Culmination Brewing- Bier De Garde
Edgefield Brewery – Peach Pie Berliner Weisse with peaches and rum-soaked cinnamon sticks 6.32%
Fort George Brewery – Magnanimous IPA 7%
High Street Brewery
John Barleycorns Brewery Coco Porter 5.55%
Level Beer – Vienna Lager
pFriem Family Brewers – Rauch Helles 4.80%
SunRiver Brewing – Shred Head Winter Warmer 7.40%
Thompson Brewery – Oregon Night Boysenberry Ale with Tequila-soaked Peppers 5.68%
Vanguard Brewing – Blackberry LPR Imperial Stout 8.50%
Wayfinder Beer – Time Spiral Munich Dunkel 5.50%
Wilsonville Brewery – Blood on the Hops Double IPA 9.03%
Boones Ferry Autumn Ale Fest Cider List:
Anthem Cider – Anthem Honeycrisp Cider 5.50%
AVID Cider Co. – Vanilla Bean Pear 6.20%
Bauman's Cider Oregon Cranberry Cider 6.70%
Edgefield Cider
Portland Cider Company – Pumpkin Spice Spiced Cider 5.50%
Nectar Creek Mead – Top Bar Coffee Session Mead 6.50%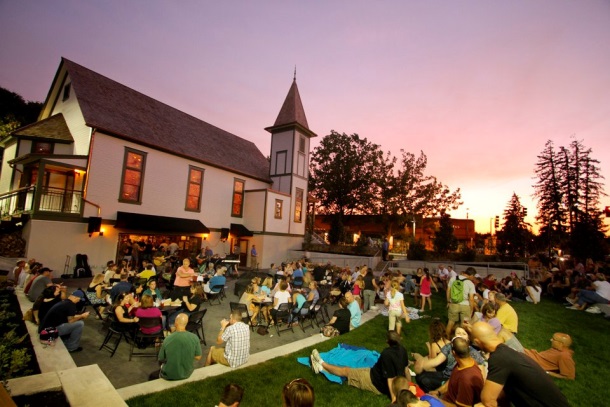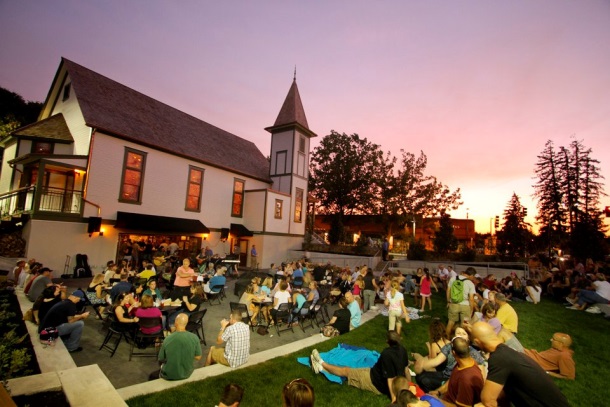 Walt Morey: Oregon Author
Old Church, 11am, free, un-moderated slideshow. Guests are welcome to come and go as they please.
Walt Morey (1907-1992) was one of the iconic writers who dominated children's literature in Oregon during the last decades of the 20th century.
Morey represented a different facet of the Northwest experience, bringing the voice of the working stiff to his writing. He was the big, broad-shouldered guy who earned his living outdoors, in the woods, on the ranches, aboard the fishing boats, placing him firmly in the literary tradition of Stewart Holbrook and Jack London.
Women in Brewing: A Discussion with McMenamins Employees
Old Church, 1:00-2:30pm., free, followed by audience Q&A
Panel: Lee Hedgmon, former brewer at Ground Breaker Brewing; distiller at McMenamins Cornelius Pass Distillery, Jen Kent, head brewer at McMenamins Thompson House Brewery, Jessica Standley, administration for McMenamins Breweries
Moderator: Kerry Conroy, McMenamins historian
Entry into the 6th Annual Boones Ferry Autumn Ale Fest is free but to drink the festival's beers one must pay a $22.00 fee that includes a tasting glass and 12 tokens. Additional tokens are $1.50 per token.
McMenamins Old Church & Pub
30340 SW Boones Ferry Road
Wilsonville, OR 97070