10th Annual FredFest Returns to Hair of the Dog Brewing Co.
|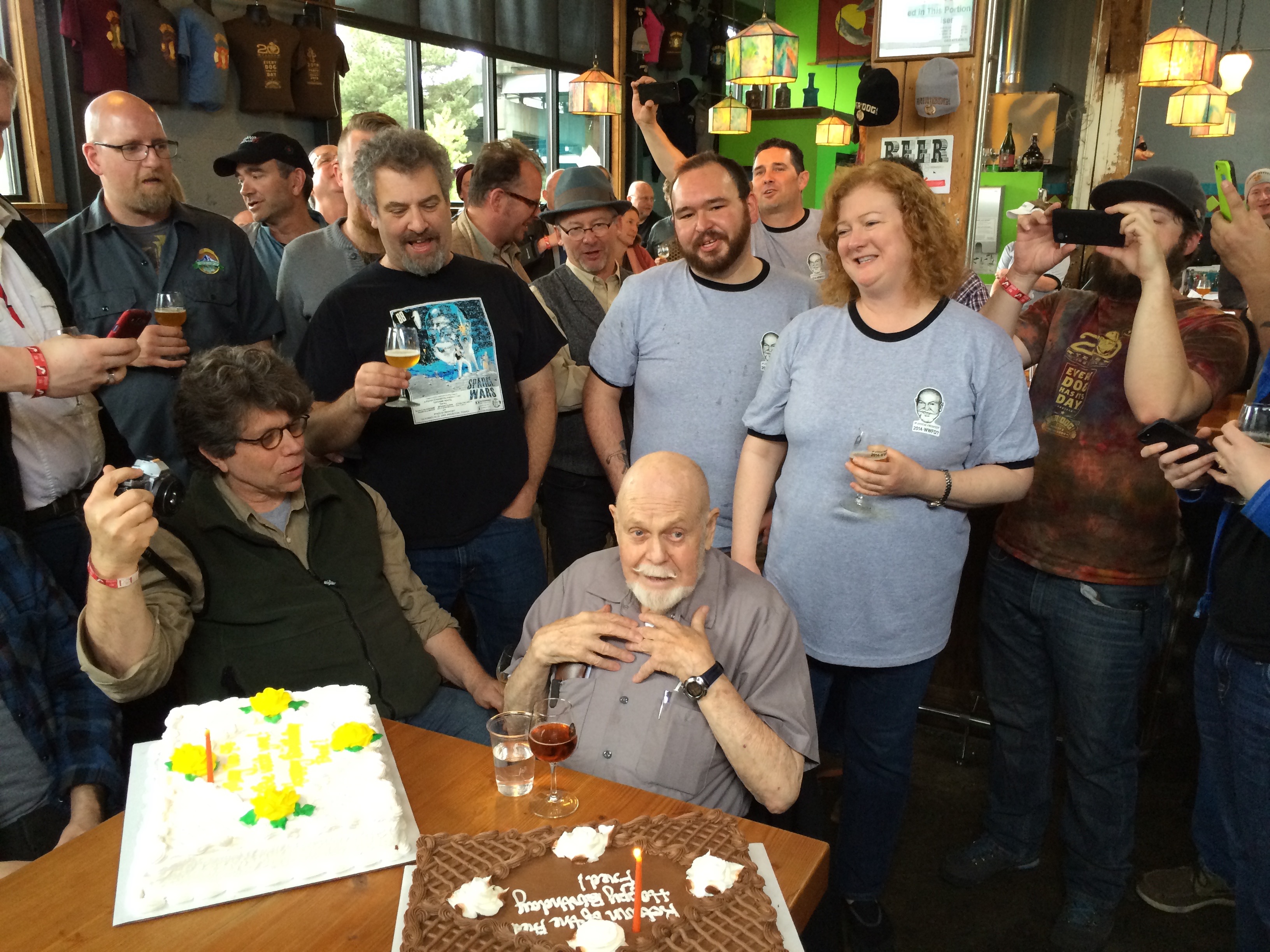 One of the original beer writers, Fred Eckhardt, will be celebrating his 89th Birthday in a few weeks. Yes, we are under two weeks away from the 10th Annual FredFest that will take place on Sunday, May 3rd, 2015 from 1:00 to 5:00pm at Hair of the Dog Brewing Co.
The origins of Fred Fest began 10 years ago when Eckhardt was set to turn 80 years old. It was a surprise party for him that gained more traction every year since. Fred Fest has now become a significant fundraiser for the nonprofit organizations that Fred Fest selects each year and for 2015 the charity is the Oregon Zoo Foundation.
This annual event will celebrate the 89th birthday of Fred Eckhardt, the Dean of American Beer Writers. Eckhardt is the man that was writing about homebrewing years before it was even legal to do so. He has given so much to what we now take for granted in today's craft beer world. It's now time to celebrate his birthday along with donating to his great charities.
Fred Fest is all volunteer-driven, which means that 100 percent of this year's net proceeds from Fred Fest will be donated to those charitable organizations.  Dubbed "the littlest big-beer festival in the world — or at least in Portland," Fred Fest has raised tens of thousands of dollars for Eckhardt's selected nonprofits in the past nine years of its existence. Last year alone the event raised $13,000. This makes attending Fred Fest all the better!
Attendees will be treated not only to a rare assortment of hand-selected beers, but also light fare cooked in and with beer and of course birthday cake and a round of "Happy Birthday", just for Fred. Cheeses, chocolate, candy and even cereal will be offered in abundance so attendees can experience some of Fred's famed beer-and-food pairings.
As always, all proceeds from Fred Fest and any related auctions/raffles will go to a charity of Fred's choice that is the Oregon Zoo Foundation. Organizers are also building a fund in remembrance of Michael Olsen, a Hair of the Dog employee who was tragically shot and killed on the streets of Portland last year.
"Our goal is to provide scholarships for kids to go to summer camps at the Zoo, hoping to instill a love of animals and nature in them, just like Mikey had," said festival co-founder and Hair of the Dog owner/brewmaster Alan Sprints.had.
Best of all, 100% of Fred Fest ticket sales go to the charity, Hair of the Dog generously covers all expenses for the event.
Over 20 breweries will be featured at the 10th Annual Fred Fest including many breweries that are not normally available here in Oregon. Sprints has worked hard to secure these gems from across the United States and the rest of the world.
Some of this year's highly sought after beers include:
10 BBL – Peanut Butter Imperial Porter & Russian Imperial Stout with Raspberry Sour
Alesmith – Old Ale & Speedway Stout
Against the Grain – Kamen Knuddeln
Bear Republic – Fredalicious Pinot Tart (sour blend)
Breakside – Old Golden Ale (Barrel-Aged)
Cascade – Shrieking Violet 2013
Chuckanut – Kolsch & Dunkel
Crooked Stave – Port Barrel Aged Nightmare on Brett
Ecliptic – White Asteroid Imperial Wit IPA (collab with Stone)
Firestone Walker – Stickee Monkee
Golden Valley – Barrel Aged Atlas Elevator Dopplebock
Grassroots – Convival Saurez
Hair of the Dog Brewing – Lila Tov
Hill Farmstead – Anna & Arthur
Hopworks Urban Brewing – Pan Galactic Gargle Blaster
O'dells – Friek & Amuste
Sixpoint – Barrel Aged Signal IPA (Bourbon Barrel Aged Rauch IPA)
Stone Brewing – Bourbon Barrel Aged Arrogant Bastard
The Bruery – Old Tart w/ Cherries & Freckle
Three Floyds – Toppless Wytch & Zombie Dust
Trinity – Koelorado  (1 yr old koelschip) & 100% bouckeart brett (bouckeartii) saison
Upright – Small World Saison
Check for updates to the beer list by checking back here or the Hair of the Dog website along with the festival website at FredFestPDX.com.
Tickets are $65, includes a commemorative glass, beer food buffet, and a special selection of beers. Tickets can be ordered here. A designated Driver ticket is $30 and only includes food and soft drinks. Guests must be 21 and over to attend and no tickets will be mailed, there will be a will call list at the door by group. A maximum of 8 tickets may be purchased. All people in your party must come together.
For those interested in volunteering at this year's Fred Fest, volunteer opportunities are currently available. Click here to volunteer now!
Since Fred Fest features some very big beers, please consider taking the Portland Streetcar, TriMet Bus or Taxi. There will also be bike parking available.
Now begs the timeless question…What Would Fred Drink? (WWFD?) Happy Birthday Fred!
Hair of the Dog Brewing Co.
61 SE Yamhill Street
Portland, OR 97214