2016 Washington Cask Beer Festival
|
(Seattle, WA) March 2, 2016– Washington Brewers Guild will present its annual Washington Cask Beer Festival at the Seattle Center Exhibition Hall on Saturday, March 19. The event is one of the longest-running and largest beer festivals that focus exclusively on cask-conditioned beer.
Once feared it might become an antiquated art on its way out, cask-conditioned beer is still cherished, and even gaining popularity here in Washington State thanks to continuing efforts by many brewers and pubs committed to keeping cask beer flowing. Cask-conditioned beer is unfiltered and unpasteurized beer that still contains live yeast. It finishes secondary fermentation once the beer is transferred to a "cask" where it is naturally conditioned and carbonated without artificially introducing CO2. Beer is then served straight from the cask by gravity or a hand pump at cellar temperature (50-55F). Result is a smooth mouthfeel and fuller flavors thanks to lower carbonation and warmer temperatures.
Here are some of the beers that will be available at this year's Cask Festival:
Dry-hopped to the max
It's no secret that we love hoppy beers at the Cask Festival. Many brewers decided to add even more hoppiness to their beers by dry-hopping them to the max. Anacortes Brewery dry-hopped both of their IPA's while Hale's Ales Brewery (extra) dry-hopped their Supergoose Double IPA and Maritime Pacific Brewing dry-hopped their Hop Surge Triple IPA.
UK Classics 
Cask-conditioned beer originated in England centuries ago. Some brewers chose to pay homage to the roots by brewing classic English style beers including Knuckle Boom ESB by Beardslee Public House, English Brown Ale by Paradise Creek Brewery, and 2-Bit Bitter by NW Peaks Brewery.
Beer + Fruits
Brewing beer with fruits is quite common but the choices of fruits for this year's Cask Festival are decidedly sunny and tropical while we anxiously wait for the arrival of spring. Try Peach Sour by Silver City Brewery and Peach Berliner Weisse by Schooner Exact Brewing, Treasure Island Pale Ale with passionfruit by McMenamins, and Grapefruit IPA by Mac & Jack's Brewing and Grapefruit Keller-Kolsch Radler by Bainbridge Island Brewing.
Oatmeal Stouts 
There are many beer styles that are suitable for cask-conditioning and Oatmeal Stout is definitely one of them. Its smooth mouthfeel is accentuated and roasty chocolate, coffee notes come through nicely. Try Yardam by Island Hoppin' Brewing, Built for Comfort Stout by Rainy Daze Brewing and Over and Out Oatmeal Stout by Fish Brewing, and Rooftop Brewing's version.
People's Choice Winners
Apple-Cinnamon ESB, a Cask Festival People's Choice Award reigning champion by Diamond Knot Brewing will once make an appearance at the event. This beer won the first place for the second session in 2015 and has won more People's Choice Awards than any other beer in the festival history. North Sound Brewing's Cheeky Monkey Brown Ale which won the second place for both sessions last year will also return.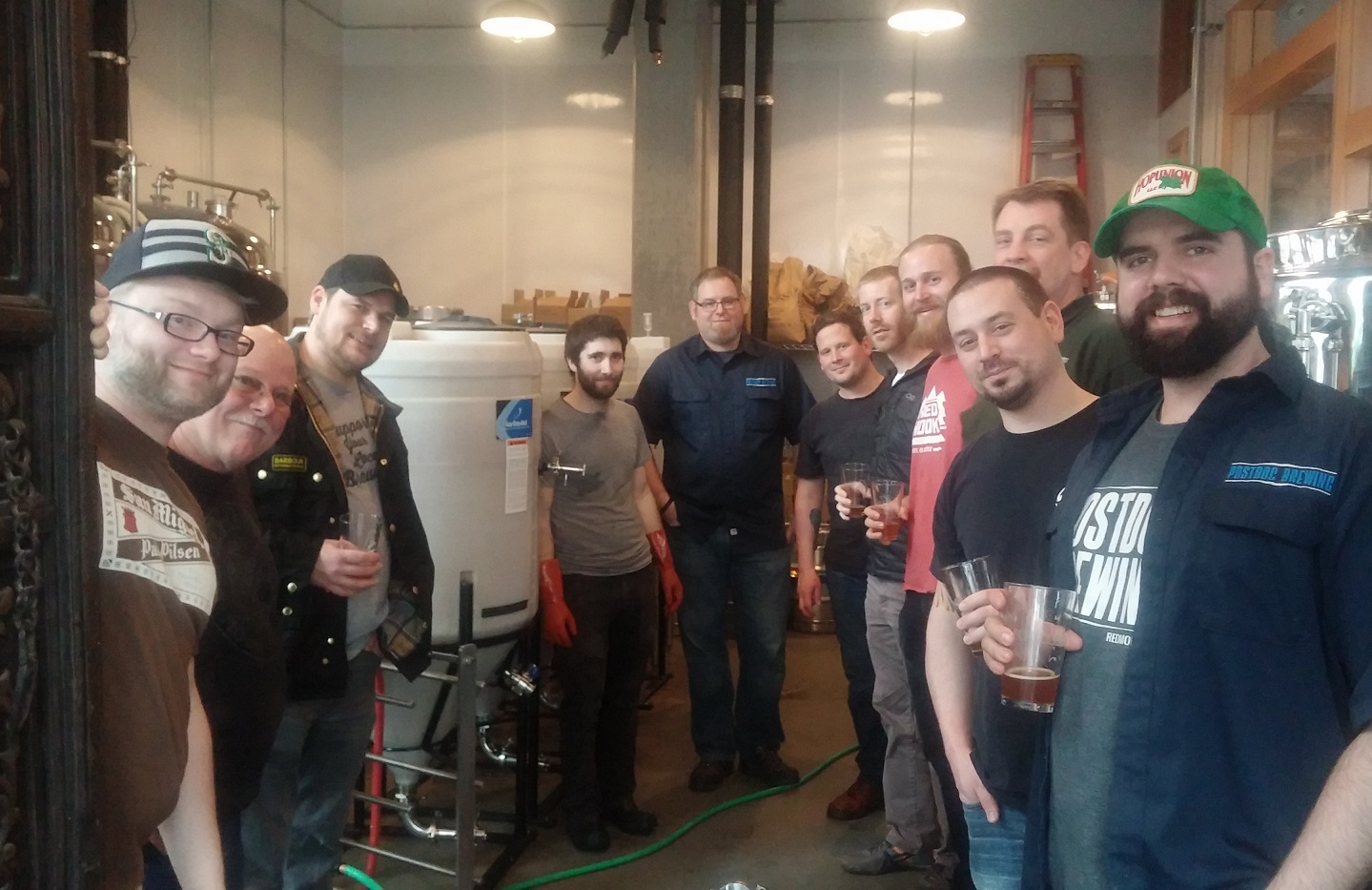 This year's Herbert's Legendary Cask Festival Ale was brewed at newly re-branded Mollusk Brewery. Herbert's is a collaborative beer that is brewed every year at a different host brewery in honor of Bert Grant, a Northwest craft beer icon. It is a tradition that truly exemplifies the spirit of the Washington brewing community and has been treasured by many Cask Fest enthusiasts. This year's Herbert's was brewed with Washington grown and processed malt, and each participating brewery was asked to bring a pound of their favorite hop. The result is a medium bodied Pale Ale with an intense bouquet of hops from around the world.  The beer will make its debut prior to the Cask Festival at the release party hosted by The Latona Pub (6423 Latona Ave NE, Seattle, www.3pubs.com) on Wednesday, March 16.
The Cask Festival will host two sessions; from noon to 4pm and 6pm to 10pm on Saturday, March 19 at the Seattle Center Exhibition Hall. Admission is $40 in advance or $45 at the door, if tickets are still available. This event may sell out so advance purchase is recommended. Separate tickets are required for each session. Admission includes a commemorative tasting glass and up to 25 sample tastes. Tickets are available online at www.washingtonbrewersguild.org. This is a 21-and-over-only event.
2016 Washington Cask Beer Festival
Participating Breweries
7 Seas Brewing– Gig Harbor
TBA
American Brewing– Edmonds
Gin Botanical Saison (Saison)
Blood Orange Blonde (Blonde)
Mosaic Monkey (Pale Ale)
Anacortes Brewery– Anacortes
Anacortes IPA (IPA)
Scarlet Letter IPA (IPA)
Bainbridge Island Brewing– Bainbridge Island
Grapefruit Keller-Kolsch Radler (Radler)
Battle Point Stout (Stout)
Eagle Harbor IPA (IPA)
Beardslee Public House– Bothell
Four Ginger IPA (IPA)
Knuckle Boom ESB (ESB)
Bellevue Brewing– Bellevue
Scotch Ale with Chocolate Almonds & Rye Whiskey Soaked Oak Chips—First session only
Pineapple IPA (IPA)—First session only
Scotch Ale with Almonds & Wasabi—Second session only
Cascadian Dark Ale (Black IPA)—Second session only
Big Time Brewery– Seattle
Whiny the Complainer (Imperial IPA)
Citra S.M.A.S.H. IPA (IPA)
Buck Mulligan Dry Irish Stout (Stout)
Black Raven Brewing– Redmond
White Wine Barrel & Brett Aged Belgian Golden
Grandfather Raven (Imperial Stout)
Wisdom Seeker (Double IPA)
Boundary Bay Brewery– Bellingham
Cedar Dust (IPA)
Cabin Fever (Winter Warmer)
Ramblin' Rose ESB (ESB)
Cloudburst Brewing– Seattle
An IPA, duh
Probably not an IPA
Quite possibly another IPA
Diamond Knot Brewing– Mukilteo
Apple Cinnamon ESB (ESB)
Belgian Blonde Ale (Belgian Blonde)—First session only
Tangerine Rose Knot Red (Red Ale) —Second session only
Dirty Bucket Brewery– Woodinville
Naughty Autie (ESB)
Sicyne (IPA)
Dirty Confessions (Belgian Quadruple)
Elliott Bay Brewing– Burien/Seattle
Dry-Hopped Saison (Saison)
Lake City Anniversary Ale #4 (Saison)
In Like a Lion Spring Pale Ale (Pale Ale)
Elysian Brewing– Seattle
Dayglow (IPA)
The Wise ESB (ESB)
Ambrosia Maibock (Maibock)
Saison Poivre (Belgian Farmhouse Ale)
Fish Brewing– Olympia
Double Hodgson's Imperial IPA (Imperial IPA)
Over and out oatmeal stout (Oatmeal Stout)
Beyond the Pale (Pale Ale)
Maple Bacon Porter (Porter)
Flying Bike Cooperative Brewery– Seattle
Pale Hoppy Thing (American Pale Ale)
Bike Rye'd Saison (Rye Saison)
Fremont Brewing– Seattle
Interurban IPA with Turmeric, Rosemary and Orange (IPA)
Interurban IPA with Pak and Spruce Needles
Fernet Inspired 1st Nail
Kentucky to Scotland
Georgetown Brewing– Seattle
Gusto Crema
Bodhizafa (IPA)
Lily Double IPA (Double IPA)
Hale's Ales Brewery– Seattle
Cask Extra Dry-hopped Supergoose IPA (Double IPA)
Cask Andele Supergoose IPA (Double IPA)
Cask Sidekick ASA (American Session Ale)
Cask Whiskey Barrel Aged Shed Stout (Stout)
Harmon Brewing– Tacoma
Don't Fear the Ghost-Scorpion-Reaper (IPA)
Cask Fest 2016 Chocolate Johnnie Stryker Stout (Stout)
Duck Face Sour Raspberry Blonde (Blonde Ale)
Lukes Cask-O-Nuts Hazelnut Mocha Bitter Brown
Hellbent Brewing– Seattle
Citra IPA (IPA)
Lavender Saison (Saison)
IPA (IPA)
Hi-Fi Brewing– Redmond
Sex Bob-omb (Sour Ale)
Sitar IPA (IPA)
Dobro (Amber)
Matcha Green Tea Citrus Pale Ale (Pale Ale)
Island Hoppin' Brewery– Eastsound
Rosario Hopscotch (Amber)
Yardarm (Oatmeal Stout)
Mac & Jack's Brewing– Redmond
Bourbon CDA (CDA)
Grapefruit IPA (IPA)
Toffee Porter (Porter)
Machine House Brewery– Seattle
Porter (Porter)
Barleywine (Barleywine)
Bramling Cross IPA (IPA)
Maritime Pacific Brewing– Seattle
Barrel Aged Salmon Bay Bitter (ESB)
Hop Surge Triple IPA (Triple IPA)
McMenamin's Breweries– Seattle
Treasure Island (Pale Ale)
Thunder Ryed (Red Ale)
Campfire Smoked Session Ale
Mollusk Brewery– Seattle
Herbert's Legendary Cask Fest Ale (Pale Ale)
Naked City Brewery– Seattle
Dry Hopped Crossfire IPA (IPA)
Mint Chocolate Porter (Porter)
Barrel Aged Dark Cherry
North Sound Brewing– Mount Vernon
Mango Infused 101 IPA (Imperial IPA)
Double Nut Cheeky Monkey (Imperial Brown Ale)
NW Peaks Brewery– Seattle
Ingall's Ginger with Jalapeno Lime (Pale Ale)
Callenger IPA (IPA)
2-Bit Bitter (ESB)
Old Stove Brewing– Seattle
Dry-hopped Inaugural IPA (IPA)
Grapefruit Citra NW Wheat
Paradise Creek Brewery– Pullman
Blood Orange IPA (IPA)
Oaked Scottish (Scottish Export)
Dry-hopped Berliner Weisse (Berliner Weisse)
English Brown Ale (Northern English Brown)
Pike Brewing– Seattle
Pike Octopus Ink Black IPA (Black IPA)
Pike Space Needle Golden IPA (IPA)
Postdoc Brewing– Redmond
Barrel-aged Alpha Factor IPA with Brett (IPA)
Wee Heavy (Wee Heavy)
Postdoc Porter (Porter)
Rainy Daze Brewing– Silverdale
Rainy Rye IPA (IPA)
Built For Comfort Stout (Oatmeal Stout)
Sunrise Coffee Porter (Porter)
Ram Restaurant & Brewery– Seattle
Paradisi Pale (Pale Ale)
Sir Mash-a-lot Stout (Stout)
Rabbit Punch (Red Ale)
Redhook Ale Brewery– Woodinville
Bourbon Barrel Blackhook (Porter)
Double Dry Hopped Longhammer (IPA)
Rooftop Brewing– Seattle
Ladro Sul Tetto (Pale Ale)—First session only
Oatmeal Stout (Oatmeal Stout)—First session only
Bourbon Oak Belgian Quad (Quad)—Second session only
Mosaic Single Hop IPA (IPA)—Second session only
Schooner Exact Brewing– Seattle
Cask Peach Berliner Weisse (Berliner Weisse)
Double Dry Hopped Hopvine IPA (IPA)
Silver City Brewery– Bremerton/Silverdale
Nice Day IPA (IPA)
Imperial Stout (Imperial Stout)
Bourbon Barrel Fat Scotch (Scotch Ale)
Bourbon Barrel Old Scrooge—Limited quantity. Arrive early!
Peach Sour (Sour) —Limited quantity. Arrive early!
Two Beers Brewing– Seattle
Wonderland Trail IPA (IPA)
Basil Mint Cider (Hard Cider)
Walking Man Brewing– Stevenson
Big Black Homo Erectus (CDA)
WABL Beer*
*Available to WABL members only.
2016 Washington Cask Beer Festival
DATE
Saturday, March 19, 2016
Session 1: Noon-4pm
Session 2: 6-10pm
Doors open 15 minutes before each session begins. Taps close 30 minutes before each session ends.
LOCATION 
Seattle Center Exhibition Hall
299 Mercer Street, Seattle, WA  98109
ADMISSION   
$40 advance tickets or $45 at the door, if still available
Admission includes a commemorative tasting glass and up to 25 sample tastes.
Designated driver admission is $5 and available at the door only.
Separate ticket required for each session.
21 and over only. Non-refundable. No Dogs allowed.
Tickets are on sale online at www.washingtonbrewersguild.org. This event may sell out so advance ticket purchase is strongly recommended.
BEER     
Washington Cask Beer Festival is a major highlight of the Pacific Northwest beer festival scene. It's a rare opportunity to sample over 100 mostly exclusive or limited release cask-conditioned beers from 40+ Washington breweries. To stay true to the tradition of cask-conditioned beer the Festival requires brewers to naturally condition the beer in a firkin or other vessels without artificially introducing CO2. All beers will be poured by gravity or via a beer engine and the result is smooth ale with a thick creamy head that brings out subtle, nuanced flavors.
Also featured at the event is the Herbert's Legendary Cask Festival Ale, a special cask beer brewed collectively by the Washington brewers in honor of Bert Grant, a legendary Washington beer icon. This year's Herbert's was brewed at Mollusk Brewery in Seattle.
FOOD 
Athena's Food Truck—Greek gyros & falafels
Brave Horse Tavern— House-made pretzels and mustards
Brewmaster's Bakery—Granola and other baked goods made with spent grain from WA breweries.
Dante's Inferno Dogs—Assortment of hot dogs
Mt. Townsend Creamery—Artisan cheese and salami skewers
Sockeye Catering—Fresh local oysters
BENEFICIARY 
Washington Brewers Guild is a non-profit organization whose mission is to build a community of Washington State brewers, advance their common interests through the legislative process and promote the quality and value of their beers.
ADDITIONAL INFORMATION:
Web site: www.washingtonbrewersguild.org
Facebook: www.facebook.com/Washington-Brewers-Guild-103016361260