Bend Brewfest Announces Beer List + XTap List
|
Now in its 15th year one of Oregon's most relaxed and enjoyable beer festivals, Bend Brewfest returns to the Les Schwab Amphitheater in Bend later this week from August 10-12, 2017. Hosted by Bend's Old Mill District, the 2017 Bend Brewfest will pour over 200 different beers over the course of its three days with hours each day from Noon-11:00pm.
This year's fest will see a slight change as the Bend Brewfest is usually held the third weekend of August. But with this year's unusual Solar Eclipse that will pass directly overhead of Central Oregon a week later on August 21st, organizers did the correct thing and moved Bend Brewfest up one week.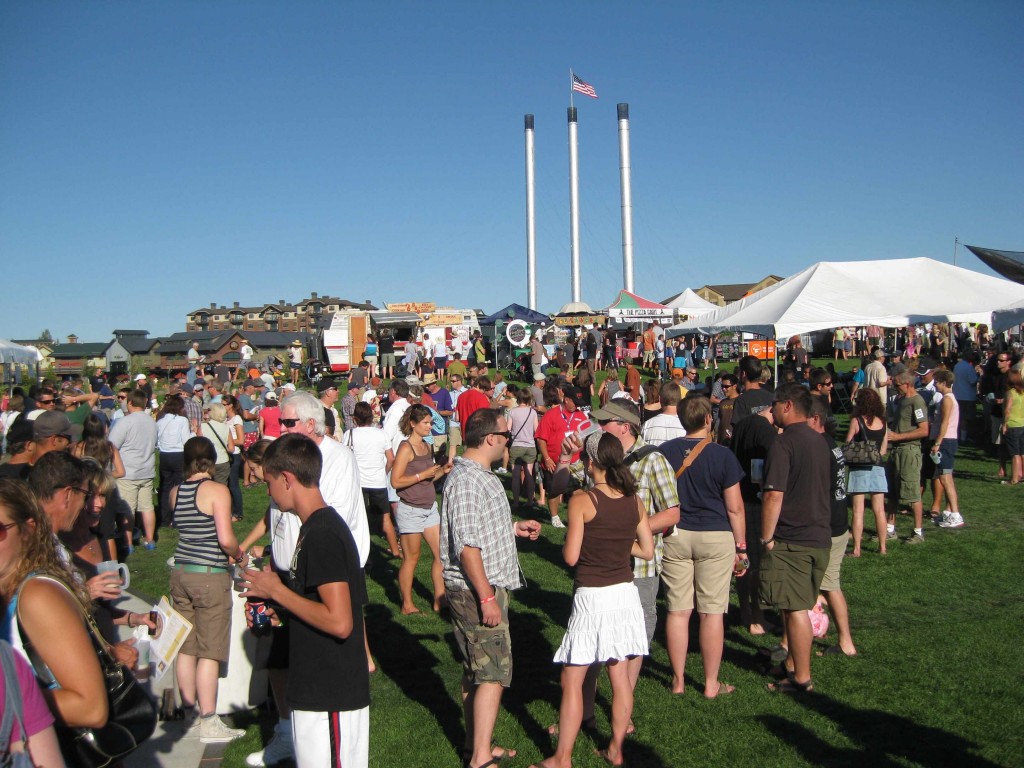 With over 200 beers and ciders pouring throughout the three day event there is sure to be a perfect summer beverage for any fan of craft beer. Participating breweries include ones both large and small. There will be large brewers usch as 10 Barrel, Deschutes, Lagunitas and Sierra Nevada, as will regional favorites like Crux, pFriem, Fremont and Hopworks Urban Brewery. For those looking for something new there will be even smaller breweries such as Sedition Brewing out of The Dalles, Oregon; Ashtown Brewing from Longview, Washington; and Incline Cider Company based out of Auburn, Washington.
Another highlight of the Bend Brewfest is its XTap Tent. Here participating breweries will show off some of its rare, exclusive beers. There will be approximately 40 breweries and cideries participating in the XTap. Choices range from big, bold barrel-aged beers to sour and wild farmhouse ales and more. The complete list of XTap beers and the times that they'll be pouring are listed further down in this article.
Admission into the Bend Brewfest is free but a one-time purchase of a souvenir mug is required for tasting. Mugs start at $20 and include five tasting tokens. Additional tasting tokens can be purchased for $5 for five tokens. One token equals a 4-ounce taste. Families are welcome during the day but the Bend Brewfest is 21 and over after 5:00pm. And make sure to leave your furry friends at home as dogs are not allowed.
2017 Bend Brew Fest Beer List:
(XTap beers are designated with an XT)
10 Barrel Brewing Company
Out Of Office
Raspberry Crush
Ace Cider
Ace Pineapple
Space Blood Orange
Anchor Brewing Company
Blackberry Daze IPA
Blood Orange Blonde
Anderson Valley Brewing Company 
Ee Tah! IPA
G&T Gose
XT: Wild Turkey Bourbon Barrel Aged Salted Caramel Porter 
Anthem Cider
Anthem Pear
Anthem Tea
XT: Blind Tiger: Bourbon Barrel-Aged 
Ashtown Brewing Company
Bridge Breaker IIPA
Cherry Berliner Weisse
XT: Burbon Barrel Aged Belgian Dark Strong 
Atlas Cider Co
Apricot Cider
Pineapple-Mango Cider
XT: Dragonfruit 
Backwoods Brewing Company
Blueberry Wheat
Scaler Single Hop IPA
Ballast Point Brewing
Bonito
Unfiltered Sculpin
XT: Sour Wench 
Bear Republic Brewing Company
Hop Shovel
El Oso
Belching Beaver Brewing Company
Pineapple Coconut IPA
Peanut Butter Milk Stout
Bellevue Brewing
Bellevue Brewing Bohemian Pilsner
Bellevue Brewing WTA Tangerine Pale Ale
Bend Brewing Co.
Annex IPA
Razz Tafari
Boneyard Beer
Incredible Pulp Blood Orange Extra Pale
Skin 'N Bones ISA
XT: Gooze Cruze 
Breakside Brewery
Passionfruit Sout Ale
Wanderlust
Bridge 99 Brewery 
Wizard Falls IPA
Pioneer Porter
Buoy Beer Company
Buoy Helles Lager
Buoy NW Red Ale
XT: Benedict Cumberbatch 
Burnside Brewing
Lime Kolsch
Sweet Heat
XT: Barrel Aged White Out – 2012 
Caldera Brewing Company
Caldera Toasted Coconut Chocolate Porter
Caldera Mother Pucker Raspberry Sour
XT: Caldera Bourbon Barrel Aged Mogli 
Cascade Lakes Brewing Company 
Cherry Blonde
Drop The M.I.C.
Claim 52 Brewing
Claim 52 Kolsch
Fluffy
XT: We Smoked It All 
Coin Toss Brewing
Nine Eyes IPA
Half Penny Lager
ColdFire Brewing
NW Ale
German Pilsner
Craft Kitchen And Brewery
Old Mill Lager
The Hops Made Me Do It
XT: 9th Plague Imperial Russian Stout 
Crux Fermentation Project
Half Hitch IIPA
PCT Porter
Deschutes Brewery
Passion Fruit IPA
Deschutes Black Raspberry Sour
XT: Deschutes Brewery Black Butte XXVII 
Doc Fields Cider
Chipotle Pineapple
Strawberry Kiwi Cider
Double Mountain Brewery
Hop Lion IPA
Double Mountain Pilsner
XT: Double Mountain Peche Mode 
Ecliptic Brewing
Ecliptic+Melvin Space Ghost Golden Session Barleywine
Zenith Grapefruit Gose
Evasion 
Hophoria
Mosaic Saison
XT: Imperial Stout 
Everybody's Brewing 
Hoppy AF
Sprinkles Hibiscus Sour Red Ale
Ex Novo Brewing Company
ISO:Session NEIPA
The Most Interesting Lager In The World + Lime
Fort George Brewery 
Quick Wit
3-Way IPA
XT: Matryoshka Stout With Cocoa And Raspberries 
FOTM Brewing Co. 
Big Vern
Mountain Lite
Founders Brewing Company 
Centennial IPA
PC PILS
Fremont Brewing
Summer
Interurban
XT: Coffee Cinnamon B-Bomb 
Full Sail Brewing
Full Sail Hop Shooter
Session Watermelon Wheat
Georgetown Brewing Co.
Bodhizafa IPA
L.A. Woman Crystal Kolsch
Gigantic
SOLID!
Whole In The Head
XT: Pipewrench Gin Barrel Aged IPA 
Gilgamesh Brewing
Hoot Attack ISA
Classic Lager
GoodLife Brewing Co.
Pineapple Sweet As!
Secret Stash 004
XT: Aprinaut 
Green Flash Brewing Company
Green Flash GFB
Green Flash Soul Style IPA
Hop Valley
Hop Valley Solid Baby IPA
Hop Valley Divine Shine
XT: Hop Valley Imperial IPA 
Hopworks Urban Brewery 
Ferocious Citrus IPA
Wave Train Amber Ale
Incline Cider Company
The Explorer Hopped Cider
The Scout Marionberry Cider
XT: Compass Rosé 
Klamath Basin Brewing Co.
Helles Lager
Chocolate Coffee Stout
Kobold Brewing
Crooked Fate IPA
3rd Street Cred Red Ale
XT: Lawful Evil Merciless Russian Imperial Stout 
Lagunitas Brewing Company 
12th Of Never
Little Sumpin' Extra
XT: Dark Swan 
Lompoc Brewing
Lompocker Hoppy Kolsch
Pamplemousse Citrus IPA
XT: LSD 
Lost Coast Brewery
Watermelon Wheat
Apricot Wheat
Melvin Brewing
Hubert
Citradamus
Monkless Belgian Ales
Peppercorn Imperial Wit
Capitulation
XT: Pour Pour Pitiful Me (Belgian Quad) 
Ninkasi
Tripel
Pacific Rain
Oakshire Brewing
Sun Made Blackberry
Citrafonix
XT: Gose To 11 
Oblivion Brewing Company
Road Ryder Red
Backside IPA
XT: Strong Oblivious Blonde Barrel Aged 
Ochoco Brewing Company 
Steens Pilsner
Show Me The Honey Wheat
Old St. Francis School Brewery
Jam Session ISA
Kaleidoscope IPA
Old Town Brewing
When Life Gives You Lemongrass
Summer Of '74
Ordnance Brewing
RX – Rye, Extra Pale Ale
Bloops – Blueberry Wheat
XT: Radagast 
Pelican Brewing Company
Citricumulus
Five Fin Pilsner
XT: Kentucky Pelican 
PFriem Family Brewers
Kolsch
Juicy IPA
XT: Kumquat Farmhouse Ale 
Plank Town
Blue Pool
Tripp Sommer
Red Tank Cider
CHOPS!
Mountain Raspberry
XT: Pinata Party 
Reverend Nat's Hard Cider
Revival Hard Apple
The Passion
XT: Bodhisattva Of Compassion 
RiverBend Brewing
RiverHawk IPA
300 Days Of Sun Pale Ale
XT: Rum Away With Me 
Rogue Ales
Paradise Pucker
Rogue Farms Honey Kolsch
Sam Bond's Brewing 
Pre-Klassic Kolsch
Accelerator ISA
Santiam Brewing
Pirate Stout
Blue Heff
XT: Jean Pêche 
Schilling Cider
Grapefruit And Chill
London Dry
Sedition Brewing Company
Natural Born Keller
Rye IPA
Shade Tree Brewing
LJ's NW Pale
Ferrari Red
XT: Corvette Strong Ale 
Sierra Nevada Brewing Co.
Oktoberfest
Know Good I.P.A.
Silver Moon Brewing
Chapter 2 Casual Ale
Mango Daze Mango Pale Ale
XT: Salty Bog Cranberry Gose 
Sunriver Brewing Co.
Level Up Citrus Double IPA
Czech Pilsner
XT: El Rey 
The Oregon Mead & Cider Co.
Passionfruit Pineapple
Cucumber Watermelon Sour
Three Creeks Brewing Co.
Helles Canyon Lager
Five Pine Chocolate Porter
XT: Whiskey Barrel Aged Stampede Strong Ale 
Tumalo Cider Co
Tangerine Coconut
Ginger Barrel
Two Kilts Brewing Co.
Juice Pop
PB&J Porter
Uptown Brewing
Dirty Shepard
Hero IPA
Vagabond Brewing
Into The Wild
Mango'd Outpost Pale
XT: Fancy As Funk 
Walking Man Brewing
Cherry Stout
White Walker
XT: Jaywalker Imperial Stout 
Widmer Brothers Brewing
Hefe Berry Lime
PDX Pilsner
Wild Ride Brewing
Nut Crusher Peanut Butter Porter
Hoptagious Imperial IPA
XT: Bourbon Barrel Aged Brain Bucket Ale 
WildCraft Cider Works
Pioneer Perry
Strawberry Spruce
Wolf Tree Brewery 
Spruce Tip Ale
Pom El Hefe
XT: King Of The Forest Oud Bruin 
Worthy Brewing
Easy Day Kolsch
Kama Citrus IPA
Listed below is the XTap schedule of beers and ciders that will be tapped at specific times each of the three days of Bend Brewfest. Each brewery participating in the Bend Brewfest will have two distinct beers on tap throughout all three days of the event, and has the additional option of participating in the XTap. Beers that qualify for the XTap are low production, specialty and/or experimental flavors. We purchase only a small amount of each XTap flavor and schedule to tap that keg when a representative can be present in the Brewtality Tent (where the XTap is located). Here is an opportunity to meet the brewers behind theses special offerings and sample some rare and limited beers.
As with any festival some last minute changes can take place so it is always best to check the chalkboard at the Brewtality Tent when you arrive at the venue to get the most up to date schedule for the day's XTap offerings.
Thursday, August 10, 2017
Cascade Brewing TBA – Cascade Brewing – 12:00
Cascade Brewing TBA – Cascade Brewing – 12:00
Burbon Barrel Aged Belgian Dark Strong – Ashtown – 12:30
King of the Forest Oud Bruin – Wolf Tree – 1:00
Pipewrench Gin Barrel Aged IPA – Gigantic – 1:30
Benedict Cumberbatch – Buoy – 2:00
Rolling Thunder Russian Imperial Stout – Rogue – 2:30
Fancy As Funk – Vagabond – 3:00
We Smoked It All – Claim 52 – 3:30
Coffee Cinnamon B-Bomb – Fremont – 4:00
Matryoshka Stout with Cocoa and Raspberries – Fort George – 4:30
Dragonfruit – Atlas Cider – 5:00
Radagast – Ordnance – 5:30
Bodhisattva of Compassion – Reverend Nat's – 6:00
Corvette Strong Ale – Shade Tree – 6:30
Gose to 11 – Oakshire – 7:00
Friday, August 11, 2017
Cascade Brewing TBA – Cascade Brewing – 12:00
Cascade Brewing TBA – Cascade Brewing – 12:00
El Rey – Sunriver – 12:30
Caldera Bourbon Barrel Aged Mogli – Caldera – 1:00
Barrel Aged White out 2012 – Burnside – 1:30
Lawful Evil Merciless Russian Imperial Stout – Kobold – 2:00
Blind Tiger: Bourbon Barrel-Aged – Anthem Cider – 2:30
Black Butte XXVII – Deschutes – 3:00
Imperial IPA – Hop Valley – 3:30
Wild Turkey Bourbon Barrel Aged Salted Caramel Porter – Anderson Valley – 4:00
Aprinaut – GoodLife – 4:30
Rum Away with Me – Riverbend – 5:00
Compass Rose – Incline Cider – 5:30
LSD – Lompoc – 6:00
Salty Bog Cranberry Gose – Silver Moon – 6:30
Imperial Stout – Evasion – 7:00
Saturday, August 12, 2017
Cascade Brewing TBA – Cascade Brewing – 12:00
Cascade Brewing TBA – Cascade Brewing – 12:00
Bourbon Barrel Aged Brain Bucket Ale – Wild Ride – 12:30
Peche Mode – Double Mountain – 1:00
Gooze Cruze – Boneyard – 1:30
Sour Wench – Ballast Poin – t2:00
Dark Swan – Lagunitas – 2:30
Pour Pour Pitiful Me (Belgian Quad) – Monkless – 3:00
9th Plague Imperial Russian Stout – Craft Kitchen – 3:30
Kumquat Farmhouse Ale – pFriem – 4:00
Kentucky Pelican – Pelican – 4:30
Jean Peche – Santiam – 5:00
Jaywalker Imperial Stout – Walking Man – 5:30
Strong Oblivious Blonde Barrel Aged – Oblivion – 6:00
Pinata Party – Red Tank – 6:30
Whiskey Barrel Aged Stampede Strong Ale – Three Creeks – 7:00
This year's charity beneficiaries for the Bend Brewfest are Deschutes River Conservancy, Big Brothers Big Sisters of Central Oregon, NeighborImpact and the Bend Fire Community Assistance Program. Money raised at the event will go to the nonprofit organizations to help them achieve their missions.
Bend Brewfest Dates & Times:
Thursday, August 10 – Noon to 11 p.m.
Friday, August 11 – Noon to 11 p.m.
Saturday, August 12 – Noon to 11 p.m.
Les Schwab Amphitheater
344 SW Shevlin Hixon Drive
Bend, OR 97702