Cascade Brewing Presents its 9th annual Sour Fruit Fest
|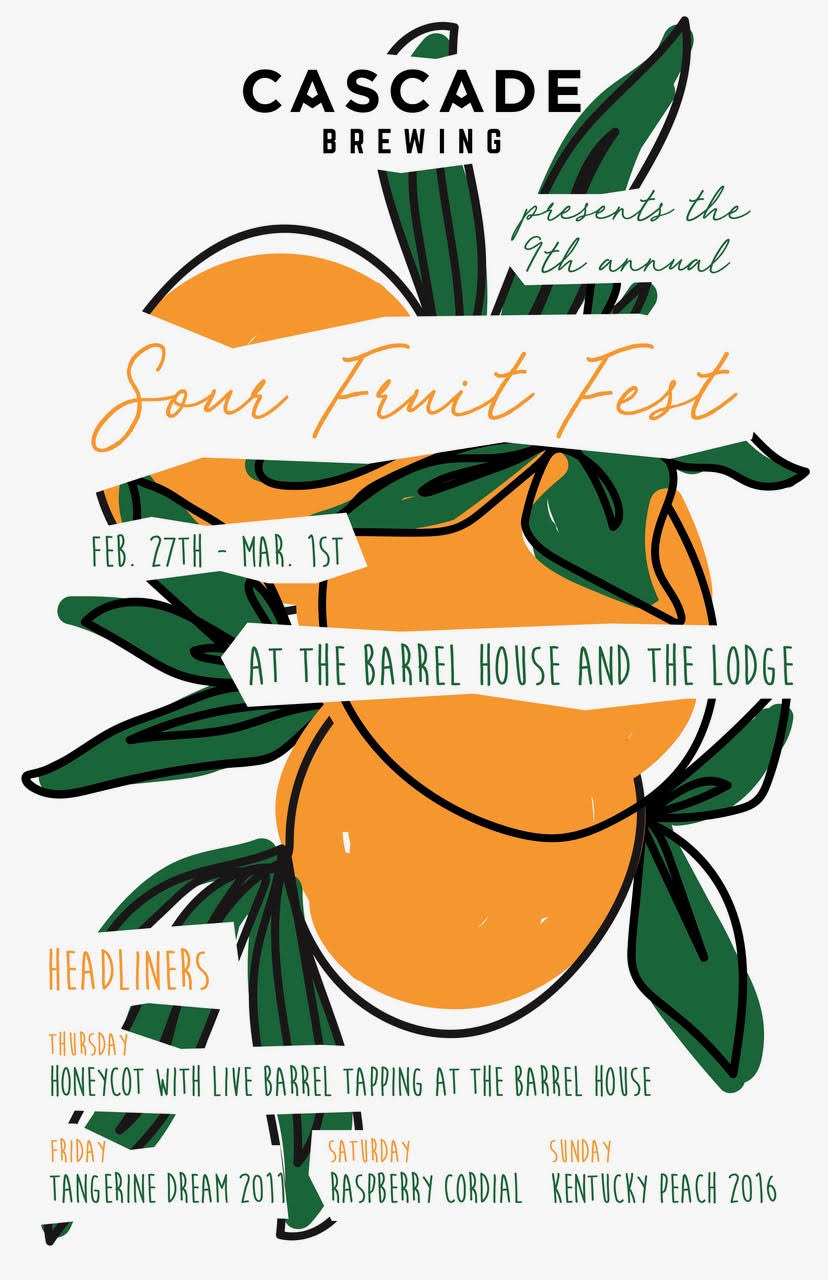 PORTLAND, Ore. (Feb. 17, 2020) – Cascade Brewing is renowned for blending Northwest sour beers with a variety of fresh fruits from the local region. The brewery annually celebrates its creative efforts with a Sour Fruit Fest that serves dozens of complex fruity blends from Cascade's cellar. This year's 9th annual Sour Fruit Fest will take place Feb. 27 through March 1 at the Cascade Brewing Barrel House at 939 SE Belmont St. and at The Lodge at Cascade Brewing at 7424 SW Beaverton Hillsdale Hwy.
The 9th annual Sour Fruit Fest will feature more than three-dozen exclusive Cascade sour fruit beers on rotation throughout the week, with at least 24 sour beers on tap each day at the Barrel House, and 18 at The Lodge. The event takes place from open to close daily Thursday through Sunday at both locations. Admission is free, beer tasting costs additional.
The following beers will headline each day at both pubs: Honeycot on Thursday, Tangerine Dream 2011 on Friday, Raspberry Cordial on Saturday, and Kentucky Peach 2016 on Sunday. The event will kick off with a live barrel tapping at the Barrel House on Thursday, Feb. 27 at 6 p.m.
Throughout the week, fans can look forward to tasting dozens of other sour fruit beers, including Belmont Street Bramble, Blue Autumn, Cerise Nouveau 2019, Cherry Bourbonic 2014, Chêne des Fous 2017, Elderberry Blast, Figaro 2012, Fruitopian Noyaux, Kentucky Peach 2019 Nitro, Nectarine Dream, Northwest Nectar, Notorious BOG, Noyaux 2011, One Way or Another 2016, Oregon Berry, Oregon's Own, Shiro Plum, and Sour Marion Bros 1UP.
On Friday, Feb. 28, the brewery will release its second ever canned sour offering. Gose Roselle is a Gose-style ale aged in oak barrels for up to 10 months before infusing with roselle hibiscus, fresh Meyer lemon zest, ground coriander and Oregon coast sea salt. Gose Roselle will be available on draft and in cans at both pubs and in cans only through Cascade's distribution network.
Vintage bottles will be available for sale at the event, as well as Sour Fruit Fest themed merchandise. Learn more at www.cascadebrewing.com and follow @CascadeBrewing on social media for real time updates on the tapping schedule.