Ecliptic Brewing Celebrates 5th Anniversary with 5 Beers for 5 Years Series of Beers
|

Leading up to its 5th anniversary in October, Ecliptic Brewing will be celebrating as it is set to release five very special collaboration beers. These beers will be the focal point of the 2019 Cosmic Collaboration Series, aptly named 5 Beers for 5 Years.
Using his lifelong connections in the brewing universe, John Harris, Ecliptic Brewing's Owner and Brewmaster, enlisted some well-known and highly regarded brewers to celebrate his brewery's fifth year around the sun.
"I'm very excited to celebrate five years in business by creating beers with Brooklyn Brewery, Firestone Walker, Breakside Brewery, Bell's Brewery, and Russian River Brewing Company," said Harris in a statement. "The collaborations will celebrate old and new brewing styles and will be available in 500ml bottles and draft."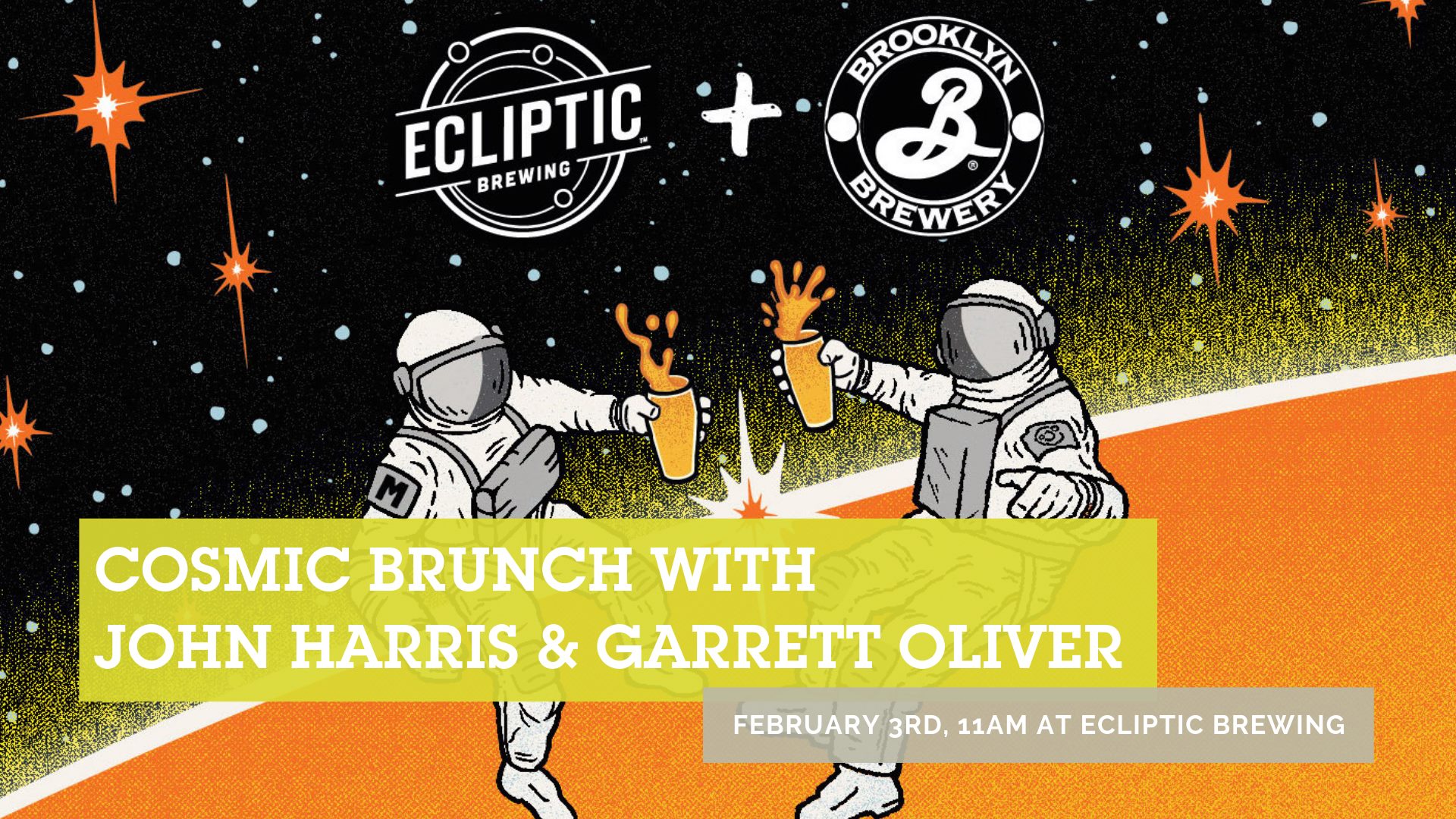 The 5 Beers for 5 Years series will kick off the first weekend of February. After a Saturday evening prelude at The Upper Lip on February 2nd, Ecliptic Brewing and Brooklyn Brewery will officially release its collaboration beer, Tangerine Farmhouse Ale at its Cosmic Brunch on February 3rd. The Sunday beer brunch will take place at Ecliptic Brewing and will feature both Harris and Brooklyn Brewery's Brewmaster Garrett Oliver in attendance. Attendees will enjoy five courses from Ecliptic Brewing Chef Michael Molitor with pairings from each of the breweries and signed bottles of the collaboration to take home. For tickets and more information, visit here.
Brunch Menu:
First Course: Michelada with Octopus, Shrimp, Cauliflower Escabeche
Second Course: Potato Paillasson, Smoked Sturgeon, Caviar
Third Course: Citrus Salad with Winter Chicories
Fourth Course: Hangtown Fry, Tasso Ham Omelet, Fried Oysters, Herbed Crème Fraiche
Fifth Course: Goat Cheese Crepe, Candy Cap Mushroom Ice Cream, Huckleberries, Black Pepper
Tangerine Farmhouse Ale will be followed up every other month with a new collaboration beer that are all part of the 5 Beers for 5 Years Series. Below is a list of all five beers that is followed by each location that will be part of select beer release celebrations. Each of these places will be tapping every new beer as they are released and celebrating with the Ecliptic crew!
Ecliptic Brewing 5 Beers for 5 Years Cosmic Collaboration Lineup
Ecliptic Brewing + Brooklyn Brewery: Tangerine Farmhouse Ale (February)
Ecliptic Brewing + Firestone Walker Brewing Co.: Galactica Hazy Double IPA with #692, Idaho 7 and Kasmir (April)
Ecliptic Brewing + Breakside Brewery: Nectarine Sour Ale (June)
Ecliptic Brewing + Bell's Brewery: Juicy IPA (August)
Ecliptic Brewing + Russian River Brewing Company: Hoppy Belgian Strong Golden Ale (October)
5 Beers for 5 Years Release Event Locations
Portland: The Upper Lip – Saturday, February 2nd (5:00-7:00pm)
Eugene: The Bier Stein
Bend: The Brown Owl
Grants Pass: Oregon Pizza & Pour Authority
Camas: Growler USA
Lynnwood: Special Brews
Spokane: The Lantern Taphouse
Tacoma: Peaks and Pints
Bellingham: Overflow Taps