Gigantic Brewing and Anarcho Pro Wrestling Present BARRCADE '23
|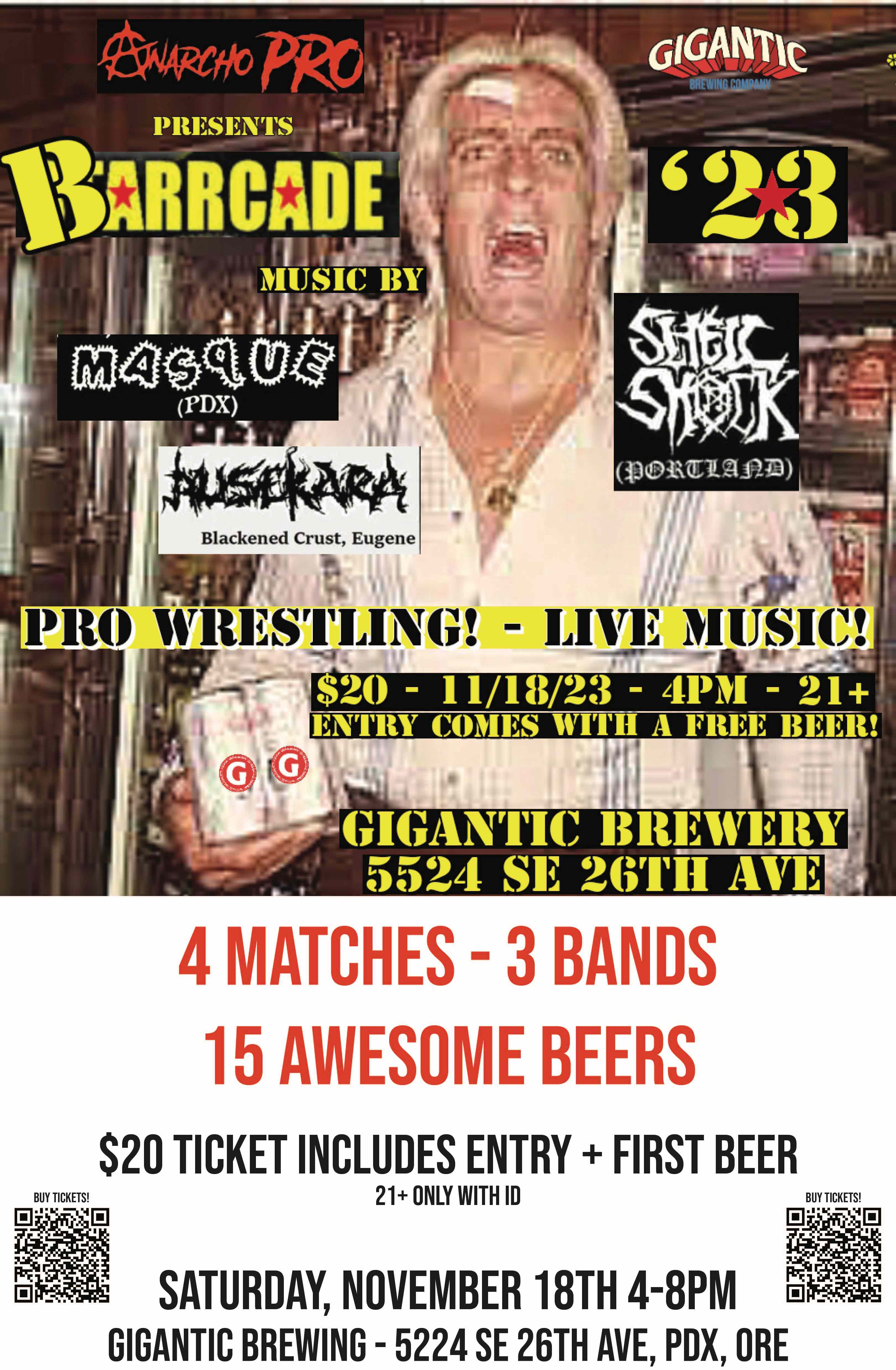 Portland, OR, November 5, 2023 – After an immensely successful first event in September, wrestling is back with a bang! Prepare to be enthralled by an electrifying fusion of wrestling prowess, live music, and exquisite craft beer as Gigantic Brewing partners with Anarcho Pro Wrestling to bring you BARRCADE '23! Brace yourself for an unforgettable evening packed with excitement, entertainment, and top-notch performances.
**The Ultimate Wrestling Showdown**
Gear up for an adrenaline-fueled night as the Barrel Room at Gigantic Brewing transforms into a thrilling battleground, hosting not one, not two, but FOUR action-packed wrestling matches. Witness a collision of local wrestling talents and national sensations in an intense display of athleticism and showmanship, promising a spectacle that will leave you on the edge of your seat.
**Live Music to Set the Stage Ablaze**
BARRCADE '23 isn't just about the wrestling; it's a celebration of the arts in all its forms. Experience the pulse-pounding rhythms and infectious melodies of three handpicked, sensational bands who will ignite the stage with their electrifying live performances.
**Craft Beer Galore for the Ultimate Experience**
Indulge in the unparalleled craft beer selection at Gigantic Brewing, perfectly complementing the thrilling atmosphere of BARRCADE '23. Immerse yourself in the world of top-tier brews that will elevate your experience as you cheer on your favorite wrestlers and rock out to the live music.
**Secure Your Spot**
Mark your calendars for the most explosive event of the year! Tickets for BARRCADE '23 are now on sale – $20 for General Admission (21+ ONLY). Each ticket includes event entry and your first beer to kick off the excitement. Secure your spot early and be a part of this unforgettable extravaganza.
Get your tickets online at https://www.giganticbrewing.com/products/anarcho-pro-wrestling-gigantic-brewing-present-barrcade or in person at any of Gigantic Brewing's three locations. Act fast as tickets are expected to sell out.
Join us for an unforgettable, adrenaline-fueled evening at BARRCADE '23! Save the date for Saturday, November 18, from 4-8 pm at Gigantic Brewing, 5224 SE 26th Ave, Portland, OR 97202.
Stay updated with the latest information and highlights by following our Instagram posts at https://www.instagram.com/giganticbrewing and https://www.instagram.com/anarchoprowrestling.