Holiday Ales, Hemp Ales, and Anniversaries at The Commons and Cascade Brewing – Beer Events For The First Week Of December
|
Holiday ales, hemp ales, and anniversaries at The Commons and Cascade Brewing; all of the craft beer events for the first week of December.
21st Annual Holiday Ale Festival
Through 5 p.m. Sunday Dec. 4, Pioneer Courthouse Square; $35 includes glass and 12 tix.
Oregon's premiere winter ale festival features special beers from dozens of regional brewers.
À Tout Le Monde Beer Release
4 p.m. Thursday Dec. 1, C-Bar, 2880 SE Gladstone St.;
Dave Mustaine launched an exclusive Megadeth beer in partnership with Unibroue, one of the most highly awarded breweries in North America. Its beers have earned over 296 international medals to date. À Tout Le Monde is a Belgian style Saison Ale made in Quebec.
Epic Beer & Cheese Pairing
5-8 p.m. Thursday Dec. 1, Chill N Fill, 5315 N. Lombard St.; $17 for four tasters and cheese pairings.
Start off the Holiday Season with a beer and cheese pairing featuring Epic Brewing and Steve's Cheese. Epic's Big Bad Baptist Imperial Stout, Brainless On Cherries Belgian Style Ale, Los Locos Mexican Style Lager and The Mosaic IPA will be paired with specialty cheeses selected by Steve from Steve's Cheese. In addition, Epic Brewing reps will be handing out Epic Brewing gear.
Three Bad Baptists
6-8 p.m. Thursday Dec. 1, 23rd Avenue Bottle Shop. 2290 NW Thurman St.; all ages ok, 21 and over to sample.
They'll be tapping Epic's Big Bad Baptist, Double Barrel Baptist and Big Bad Baptista. The three beers will be available on draft all weekend, or until the kegs blow, in 10oz tulip glasses of sample all three big, bad beers on a taster tray.
Big Bad Baptist
One Big Bad Imperial Stout with Cocoa nibs and Coffee beans. Each season's release uses a different dark roasted coffee.
Double Barrel Big Bad Baptist
Double Barrel Big Bad Baptist is the cream of the crop with only the choicest barrels selected for the blend, barrel-aged single-origin coffee and artisanal cacao nibs.
Big Bad Baptista
Big Bad Baptista is inspired by traditional Mexican coffee, Café de Olla, which is served with cinnamon and piloncillo, an unrefined sugar. The Cinnamon adds another layer of complexity and accentuates the earthy character of Mexican Coffee, and captures the essence of a place and its culture. Big Bad Baptista is a combination of Vanilla, Cinnamon, Mexican coffee and Solstice Chocolate cacao nibs. Luxurious with a pleasant warming sensation from the cinnamon and alcohol.
Weed Week/Oregon's First CBD-Infused Beer
4 – 8 p.m. Friday Dec. 2, EastBurn, 1800 E Burnside St.
Coalition Brewing is releasing Oregon's first commercially produced hemp beer, a West Coast IPA infused with CBD (cannabidiol) celebrating the union of hops and cannabis. These two plants, in addition to their related genetics, produce similar organic aromatic compounds known as terpenes. This beer will contain NO THC (the psychoactive element found in marijuana), but will contain an active dose of Cannabidiol, commonly known as CBD. While not psychoactive, CBD are renowned for their calming properties and various medicinal applications. The Coalition crew has been working closely with the local community to underline the harmony and synergy of the Pacific NW craft brewing and cannabis industries. In addition to the agricultural similarities, craft brewing and cannabis share focus on community, innovation and a positive impact to the local economy. They offer a sneak peek of this beer as part of Portland's inaugural Weed Week, which includes a panel discussion on the relationship of Hops and Cannabis.
The Commons Fifth Anniversary Party
Noon-close, Saturday Dec 3, The Commons Brewing Co., 630 SE Belmont St.;
The Commons brewery started in founder Mike Wright's garage as one-barrel Beetje Brewing and soon enough became evolved Portland's best-loved and most innovative breweries. They're celebrating five years — the wood anniversary in the scheme of such things — with some Gin-, Bourbon, Brandy, Wine and Nocino barrel aged beers.
Returning favorites:
Bourbon Little Brother
Belgian Dark Strong Ale partially aged in fresh bourbon barrels for 6 months.
Clarabelle
Award winning Gin-barrel aged farmhouse ale with Brettanomyces & local peaches. this is the last keg on the planet…
2015 Maybelle
Farmhouse ale with Brettanomyces Bruxellensis and Drie aged in white wine barrels. also the last keg on the planet…
Khthonios
Stout with lactobacillus and Brettanomyces aged in wine and aquavit barrels.
Unconquerable Sun
Our 4th Anniversary Imperial Stout aged in Bourbon barrels with apple brandy soaked hazelnuts.
New beers:
Brandy Stock Ale
Strong dark ale aged in grape brandy barrels for a year.
Nocino Pumpernickel Rye Saison
Dark farmhouse ale with Little T Baker rye bread, cardamom and caraway aged in Stone Barn Brandyworks Nocino (Italian green walnut liqueur) barrels.
Viognier Grissette
Barrel aged table biere with Brettanomyces and Viognier wine juice.
Citrus Grissette
Table biere with Brettanomyces, finished with zest and juice from fresh lemons and limes.
Baerlic WoodWorker Holiday Market
11a.m.-8 p.m. Saturday, Dec. 3, Baerlic Brewing Co & Taproom, 2235 SE 11th Ave.; All ages OK.
Every winter Baerlic Brewing Co. brews Old Blood & Guts American Barleywine and stows it away in bourbon barrels celebrate the interaction between the beer and the wood. This evolution of liquid and solid, is the foundation for Baerlic's ongoing WoodWorker Beer Series. It's also the inspiration for The WoodWorker Holiday Market, a celebration of all things inspired, made and evolving from nature's most honest material—wood. Shop ware from 17 wood artisan vendors: 33 Books Co, 7023 Drums, Ash WoodFired Pizza, Barnwell Co., Bengston WoodWorks, Blue Spruce Toolworks, Briar Rose Creamery, Forest Found Handmade, Fraga Farms Wreaths, Greenstate Sugaring, OakOpeners.com, Papa Don's Toys, This Fine Day, Tiff_Wood, Water Avenue Coffee, Wolf Apothecary, and Xylem Jewelry.
Mr. Wonderful World to Come
6 – 10 p.m. Saturday Dec. 3, Gigantic Brewing Co., 5224 SE 26th Ave.;
This is the first in a series of shows at Gigantic featuring artists in their first United States exhibitions
curated by Hellion Gallery. "Mr Wonderful world to come" comprises new works from Japanese artist SAL — a series of graphite drawings and oil paintings depicting a world of burning houses, cars and snowy landscapes filled with surreal characters. SAL's website www.ilooli.net
Cascade Brewing 18th Anniversary Party
Tuesday Dec. 6- Sunday Dec. 11, Cascade Brewing Barrel House, 939 SE Belmont St.; Raccoon Lodge & Brew Pub, 7424 SW Beaverton Hillsdale Hwy.; No cover charge.
The anniversary lineup will kick off with a special Tap It Tuesday live barrel tapping at the Barrel House on Dec. 6 at 6 p.m. with the release of the 2015 blend of its rare Pater project. Released once every two to three years, Pater is a cuvée of sour reds, imperial reds, blonds, triples and quads aged up to three years with Bing and sour pie cherries; it features some of the oldest and rarest barrels from Cascade's sour cellar. During the week, they'll be tapping a number of rare vintage draft beers, including The Bourbonic Plague 2009, Kriek 2009, Sang Royal 2009, Vlad the Imp Aler 2009 and Apricot 2010 in four-ounce pours, and prices will vary depending on the product.
Also: 750ml bottles for sale at the Barrel House beginning Dec. 6 at Noon, including, Apricot 2012 & 2013; Bourbonic Plague 2011; Cerise Noveau 2013; Elderberry 2013; Figaro 2012 & 2013; Foudre #1 2013; Kriek 2008, 2012, 2013, & 2014; Manhattan 2013; Noyaux 2013; Sang Noir 2012; Sang Royal 2012; Strawberry 2013 & 2014; Tangerine Dream 2011; The Vine 2012 & 2013; and Vlad the Imp Aler 2011.
First Zoigl-Wort
4-7 p.m. Saturday Dec. 2, Zoiglhaus Brewing Co., 5716 SE 92nd Ave; $35 for 5 gallons of cooled, aerated wort RSVP required at 971-339-2374.
Zoiglhaus continues a centuries-old German tradition where the citizens of a Zoigl town brewed wort in the communal brewery, took the wort home, added yeast, fermented the wort to beer, then sold the beer out of their homes.While you can't legally sell beer out of your home, you can do the next best thing: fill up your carboy with freshly brewed wort at Zoiglhaus, take it and a fresh can of yeast home with you to ferment your own beer. Add dry hops, extra flavorings, or leave it as is. It's up to you. When the beer is done, you can share it with family or friends in the Zoigl spirit. Zoiglhaus will brew the first trial batch of ZPA, a hop-focused Pale Ale brewed with all-German ingredients. The from this brew will be available for purchase between 4 pm and 7 pm. r drop by the brewery to sign up for this event. And on January 7 2017, Zoiglhaus will host the first Zoigl-Wort to Bierfest with a party. All of the participants are welcome to bring in samples of their brew to share with the Zoiglhaus brew staff (apparently they like tasting beer…) as well as the other home brewers.
Mele Kalikimaka
6-8 p.m. Tuesday Dec. 6, Imperial Bottle Shop & Taproom, 3090 SE Division St.;
Kick off the holiday season Hawaiian-style with Pono Brewing and Musubi. Pono Brewing Co.'s beers and culture are inspired by the Pacific Islands and the Imperial crew will be pouring Pono's Pineapple Express Kölsch and Tropical Thunder IPA. (wear an Aloha shirt and get a buck off  imperial pints of either) Musubi recently opened down the street from the Imperial on Division, and they make musubi, otherwise known as onigiri: an unseasoned rice ball (unlike the sweet vinegar seasoning of sushi) with some kind of savory layer, wrapped in a sheet of nori. The combination of sushi grade rice and creative, homemade fillings wrapped in umami-rich seaweed will pair beautifully with Pono's tropical brews.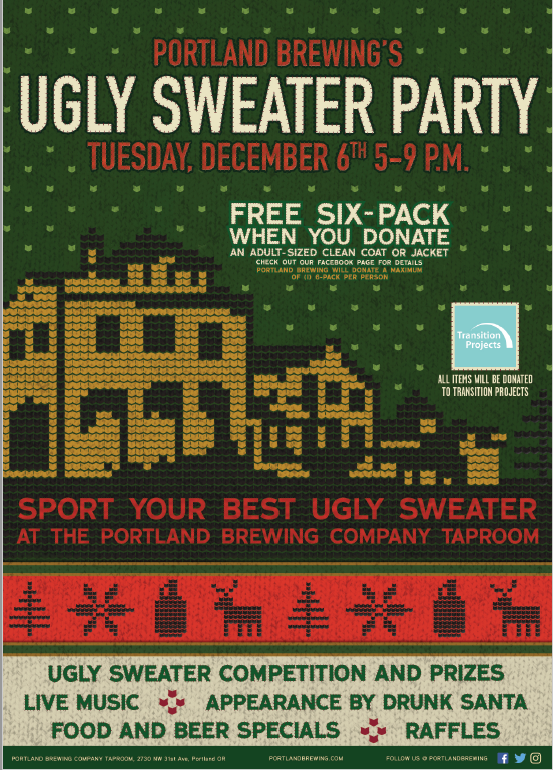 Ugly Sweater Party
5-9 p.m. Tuesday Dec. 6, Portland Brewing Taproom, 2730 NW 31st Ave.;
December is here, and it's time to brighten up the Dark Month with Portland Brewing's Annual Ugly Sweater Party. Donate an adult-sized coat or jacket to a good cause, and get a free six-pack. And don't forget to wear your ugliest holiday sweater — extra points if it lights up, makes reindeer noises or plays "The Little Drummer Boy"! — for the ugly sweater competition. Also: live music, raffles, and an appearance by Drunk Santa.