Saraveza Celebrates its 10th Anniversary On Saturday
|
Ten years ago when Sarah Pederson opened Saraveza, a homage to her Northern Wisconsin roots, she created special tavern that has become a second home to many locals. Through the tavern's ten years there have been a few minor changes but its love of bring people together over great beer has remained constant.
On Saturday, October 20th Saraveza will host its daylong 10th Anniversary celebration that will culminate with its 10th Annual Industry Toast at 10:00pm. This year's toast will see Sarah and Saraveza staff toast its patrons with Russian River's Consecration served alongside SugarPimp Vanilla Almond sour cream cake with butter cream.
"This annual tradition, in its 10th year, is a moment of pause where customers are invited to raise a glass to the industry, the customers and the beverage that makes this beer world go around." – Sarah Pederson
Prior to the industry toast, Saraveza has big day with a handful of collaboration beers brewed just for the tavern's 10th anniversary. Saraveza will be releasing the Ex Novo Brewing/Saraveza collaboration, Bang On The Drum, a West Coat IPA, in 16oz cans. In addition to this beer Saraveza will be pouring other collaboration beers made with Culmination Brewing, Ecliptic Brewing, Upright Brewing and Wayfinder Beer. And just for its anniversary there will be special bottle scores in the vintage coolers.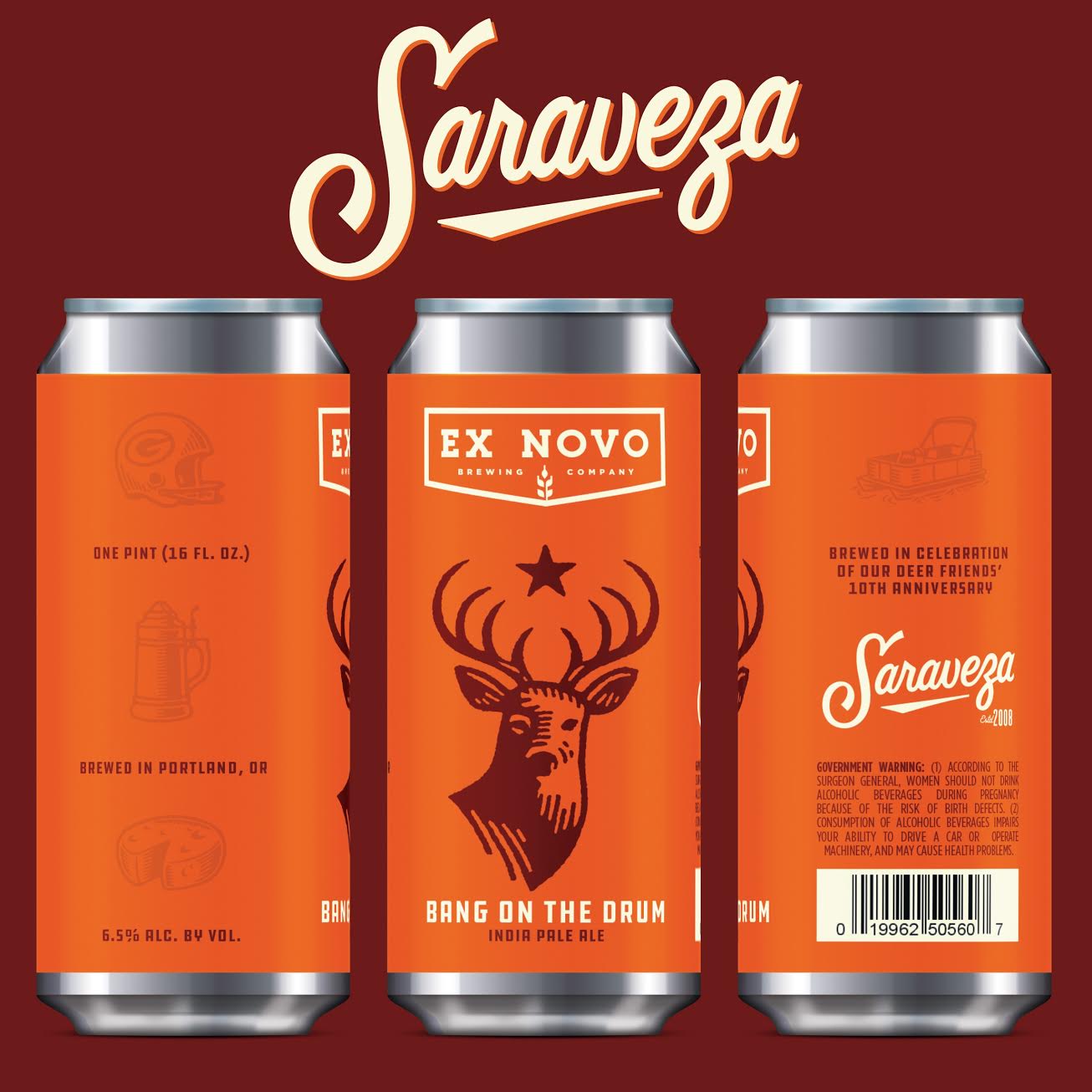 Here's a sneak peek of the draft list for Saturday with beer descriptions and stories provided by Sarah!
Saraveza 10 Year Anniversary Draft List:
Breakside "Wisco" Cream Ale / Saraveza House Beer, 5.5%
Proud to call this our house beer.  (Thanks for the years of support Breakside!)  It's a smooth refresher like New Glarus's "Spotted Cow" but with a Pacific NW twist!
Wayfinder & Saraveza "Red e Café Vienna Lager," 5.7%
A slightly malty lager infused with almost two lbs of Red e Café's Ethiopian roast per keg.  For the past ten years, our neighbor Red e Café has kept the Saraveza crew properly caffeinated with their meticulously roasted brews.
Royale "You Betcha" Old Fashioned Inspired BBA Saison, 9.8%
In honor of Wisconsin's state cocktail, the Old Fashioned, Royale created "You Betcha" for Saraveza.  This blend of saison and tripel aged with cherries in a George Dickel Tennessee Whiskey barrel was finished with freshly zested Valencia oranges. You'll find "You Betcha" on tap at every Packer game this season.
Tilquin Oude Gueze, 6%
Yes, please and thank you.  And this tap gets a special shout out to our beer buddies, Brewpublic.com, who also celebrates their 10th Anniversary this weekend.  It's true that on our opening day in 2008, Angelo De Ieso, Brewpublic Founder, walked into Saraveza, had a beer and became our friend. Cheers to you Brewpublic!
WildCraft "Hillbilly Mango" Paw Paw Cider, 6%
This cider was made with Oregon pawpaw fruit, fermented a second time on shredded paw paw for two months and then aged in neutral Tequila bbls for six months.  Saraveza always pours a cider, and WildCraft was an obvious choice as past Saraveza manager and beer buyer, Erika Huston, works for WildCraft in Eugene, OR.  We're pouring WildCraft in honor of Erika and all our past employees.
Ex Novo & Saraveza "Bang On The Drum" IPA, 6.5%
Named after the celebratory war cry sang at Saraveza each time the Packers score a touch down, "Bang On The Drum" is a classic West Coast IPA packed with Mosaic and Citra.
Culmination & Saraveza "A Better Time" IPA, 6.9%
Named after a time a lot of old timers in the industry relish about.  The era when IPAs were clean and crisp.  Ya know, old school, but not malty like super old school.
pFriem "Nectarine" Golden Ale, 6.9%
From pFriem, with love.  Sent to us for Saraveza fans on our special day.  A masterpiece and 2018 Gold medal winner of the World Beer Cup, this Belgian Golden Ale is aged in Sauvignon Blanc bbls with perfectly ripened nectarines.  Damn pFriem.
Ecliptic & Saraveza "10x Around the Sun" Schwarz, 5%
Schwarzbier is one of Sarah's go to-styles.   We dry hopped it for a little PNW twist.  Ecliptic and Saraveza share birthdays, so on your first sip be sure to give a nod to our long time friends and fellow Libras.
Upright & Saraveza "Cereveza", 7%
This is Upright's "Ives" that spent some time in the barrel with Black Pearl dark cherries.  Thanks to the Upright crew and Saraveza manager, Todd, for dreaming up this radiant concoction.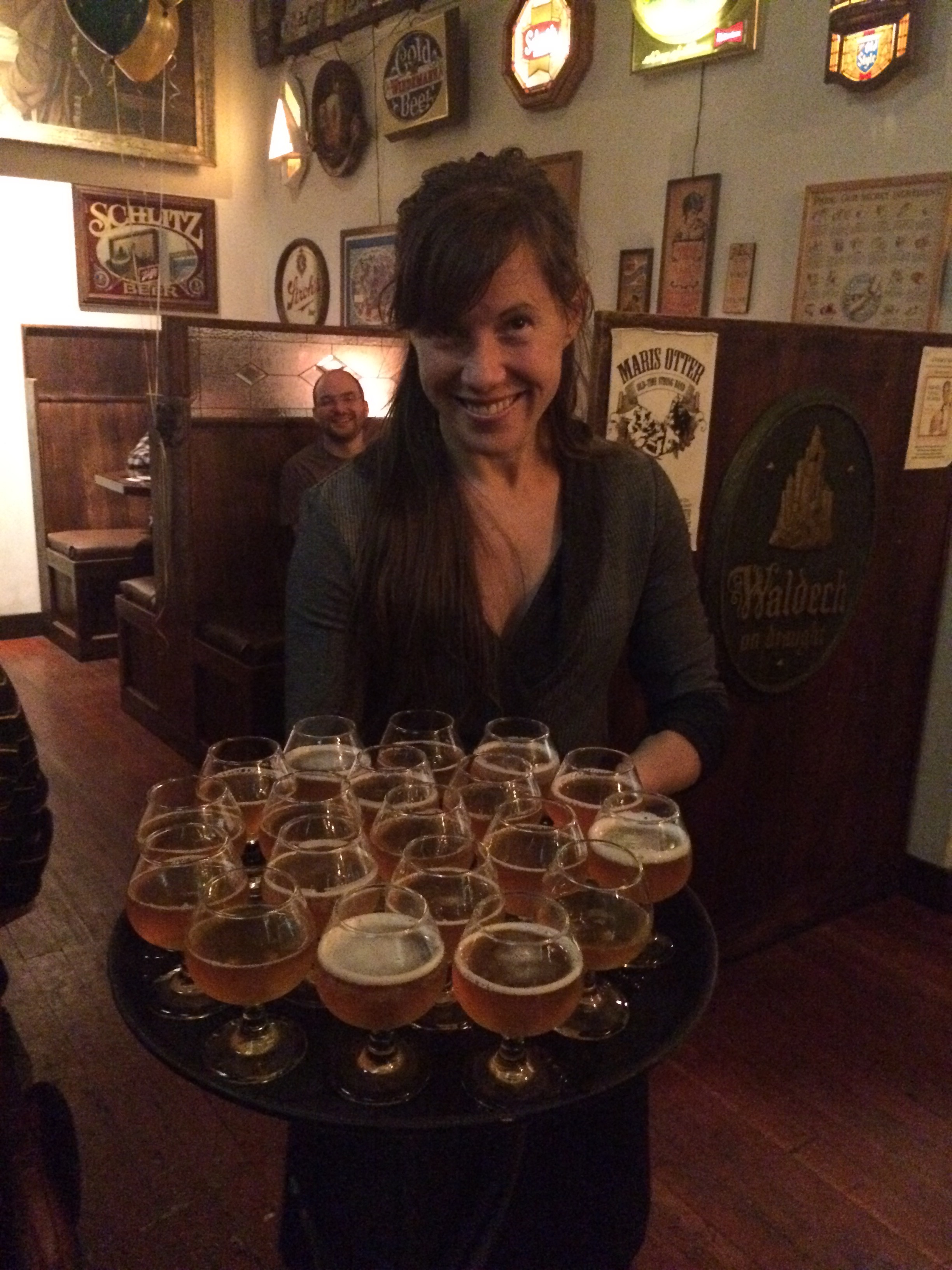 Saturday will be a busy day for us as BREWPUBLIC will be celebrating our 10th anniversary at our KillerBeerFest at Bailey's Taproom. However, we will make sure to take the MAX Yellow Line to the Killingsworth stop to visit Saraveza to join in on festivities.
Saraveza's 10th Anniversary celebration will take place from 11:00am-11:30pm on Saturday, October 20, 2018.Congratulation on 10 great years with many more to come!
Saraveza
1004 N Killingsworth St.
Portland, OR 97217