5th Annual Molalla Brew Fest
|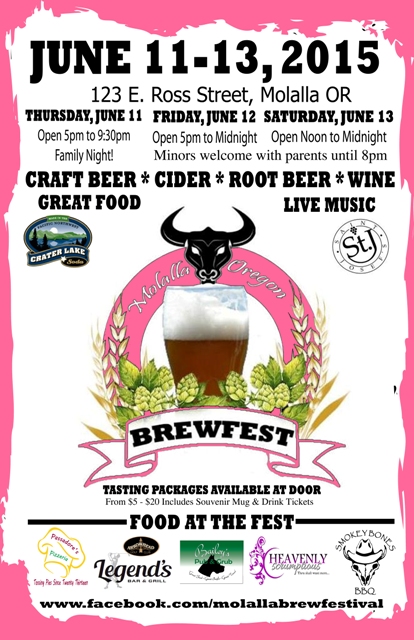 The 5th Annual Molalla Brew Fest returns from June 11th to 13th in the heart of downtown Molalla. Celebrating the craft beer industry in and around the Pacific Northwest, the Molalla Brew Fest will feature over 30 taps, wine, hard cider, draft root beer, food concessions and great local bands.
The festival hours are 5pm to 9pm on Thursday, June 11th. 5pm to Midnight on Friday, June 12th and Noon to Midnight on Saturday, June 13th. Minors are allowed with a parent at all times on Thursday night and until 8pm on Friday and Saturday.
Thursday night is family friendly. Admission is free for kids and adult packages start at $5. Free Crater Lake Root Beer samples for everyone and kids meals available from BBQ vendor Smokey Bones. Other food is available from Passadore's Pizza, Legend's Bar & Grill, Bailey's Pub and Heavenly Scrumptious. Rae Gordon is the featured musician from 6pm to 9pm.
Tasting packages will be available inside the event tent from Thursday through Saturday. Cost of entry on Friday and Saturday is $20 and includes a commemorative mug and tasting tickets. There is also a designated driver program that allows patrons to purchase a $5.00 stadium cup that will be filled for free during their time at the festival with Crater Lake Soda Root Beer or bottled water.
Fantastic local talent will take the stage at Molalla Brew Fest this year. Brew Fest stage schedule is as follows:
Thursday, June 11, 2015
6pm to 9pm – Rae Gordon Band
Friday, June 12, 2015
5:30pm to 8:30pm – Fortune Takes Time
8:30pm to 11:30pm – Brass Tacks
Saturday, June 13, 2015
3:00pm to 5:30pm – Jessie Leigh
5:30pm to 8:30pm – Brass Tacks
8:30pm to 11:30pm – Crush
To keep up to date on all of the happenings at the 5th Annual Molalla Brew Fest, visit their Facebook Page.
Molalla Brew Fest
123 E. Ross Street
Molalla, OR