The Weekend in Oregon Beer – July 15, 2022
|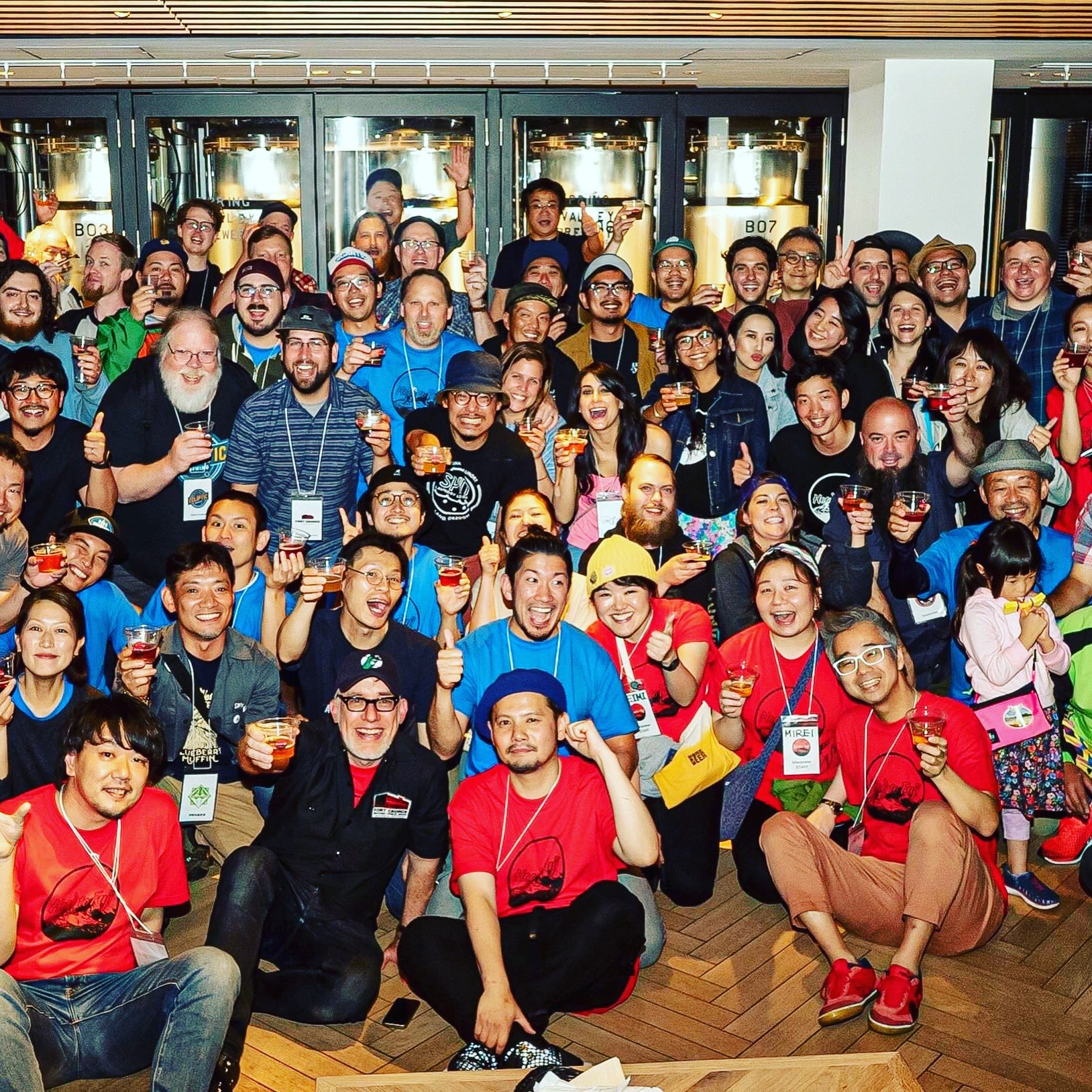 The warm weather is bringing together some great beer events throughout the state of Oregon this weekend. There are events taking place across Lincoln City, Eugene, Bend and of course Portland.
Beach, bacon and beers will come together in Lincoln City while the World Athletics Championships Oregon 22 take place in Eugene with a weeklong riverfront festival featuring beers from Ninkasi Brewing. If you're out in Bend, look for Fort George taking over the taps at Growler Guys.
In Portland, Living Haüs Beer Co. will host its Grand Opening today, both Montavilla Brew Works and Loyal Legion are celebrating seven years in business while Proper Pint Taproom celebrates five years.
But the highlight of the weekend is Fuji To Hood that brings together twenty Japanese and Oregon breweries on a cross Pacific beer fest taking place at Culmination Brewing on Saturday.
Here's a rundown on all of the beery events taking place this weekend across the Beaver State…

EUGENE RIVERFRONT FESTIVAL
FRIDAY JULY 15 – SUNDAY JULY 24
WEEKEND HOURS – 12:00 -10:00PM
All are welcome for this fun, free event of food, music, art, a livestream of World Athletics Championships Oregon22 events at Hayward Field, entertainment and culture from Oregon and around the world.  Featuring a dozen local food vendors and a beer garden where you can buy the Ninkasi line of canned cocktails, a half dozen Ninkasi beers, Oakshire Amber, cider, seltzer and wine.
Eugene Riverfront Festival, Entrances are at the corner of 5th St. and Mill St., with additional entrances along the Ruth Bascom Riverbank Path.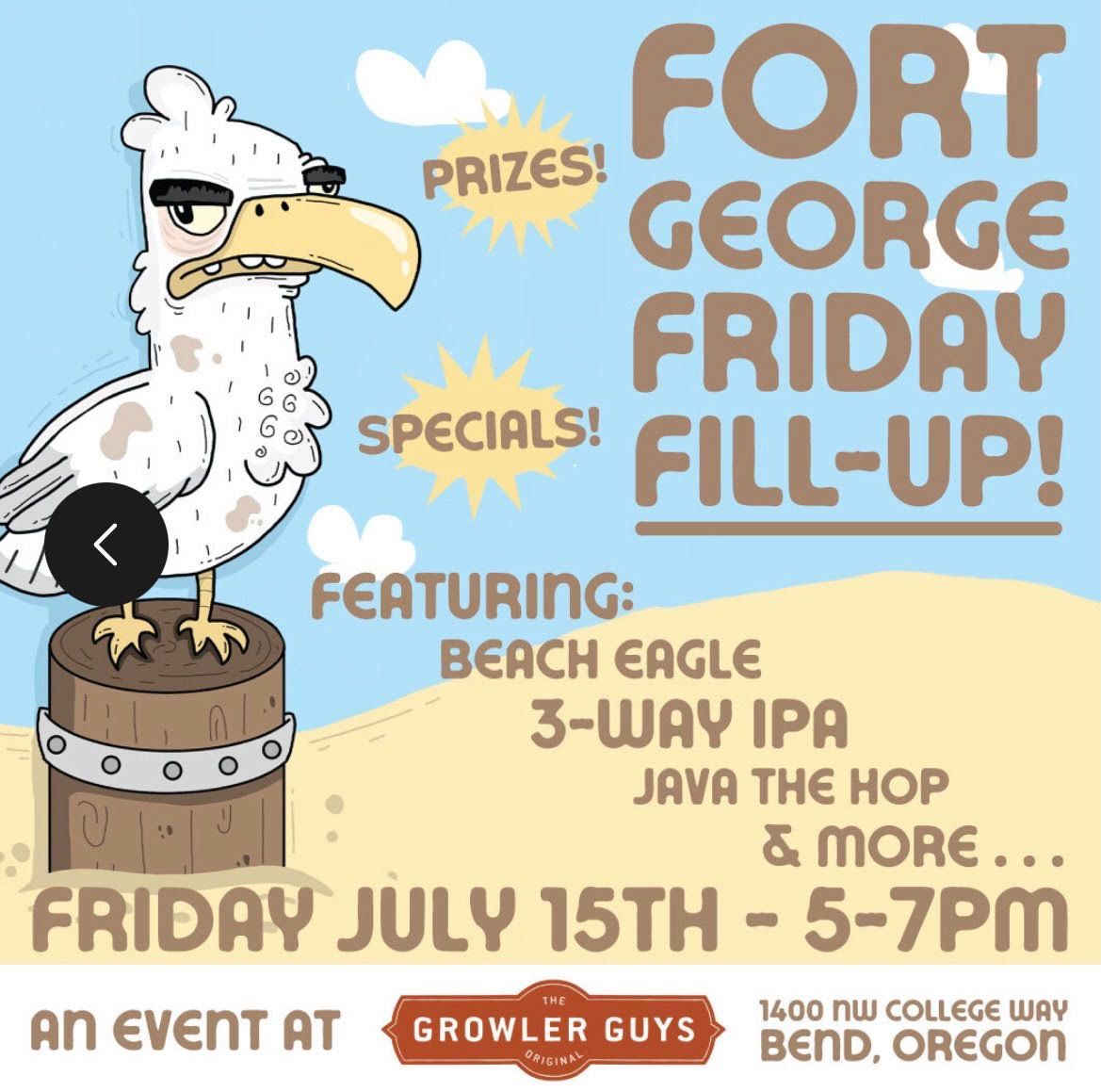 GROWLER GUYS FORT GEORGE FILL UP FRIDAY
FRIDAY JULY 15 –  5:00-7:00PM
Friday is a buy 3 get 1 FREE on all the Fort George beers and Drew Worden from Fort George Brewery will be there giving away prizes via some kind of beer rep raffle scheme.  Look for the following beers on tap and maybe try some of the following: Beach Eagle Lager, 3-Way IPA 2022 (Both the Hazy East Coast & diaphenous West Coast versions), Java the Hop, BY X FG Triple IPA Collab and Cavatica Stout
Growler Guys – 1400 NW College Way – Bend, OR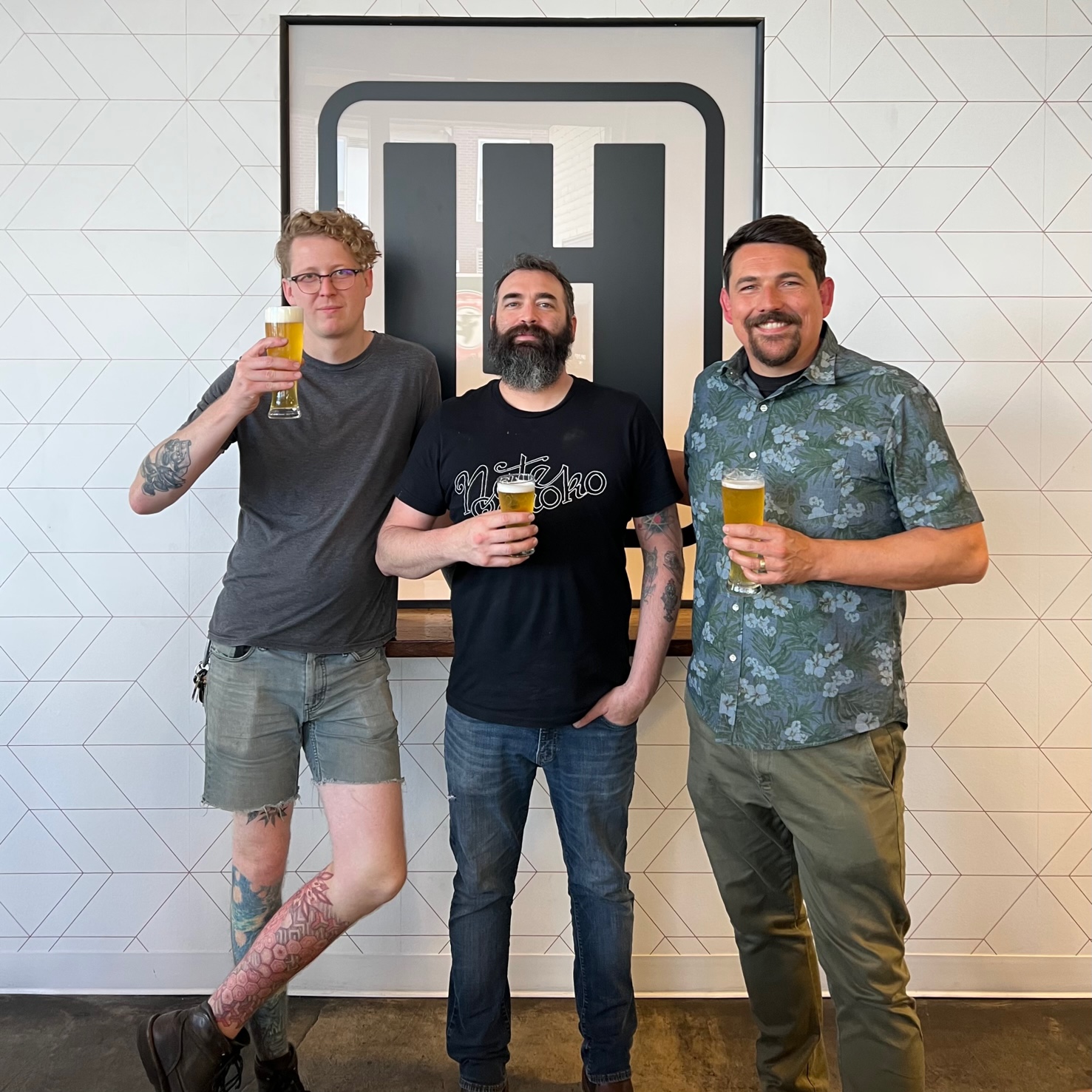 LIVING HAUS BEER CO. GRAND OPENING
FRIDAY JULY 15 + SATURDAY JULY 16 Noon-11:00PM
Led by a trio of Oregon brewery vets – Mat Sandoval, Conrad Andrus, and Gavin Lord – this is their official grand opening today where they will have six new beers made in house and a couple of collab beers made with a few brewing buds. There will be DJs spinning music on Friday and Saturday from 7:00-10:00pm and a food menu from Afuri and Tanaka Katsu Sandwiches.
Moving forward, its hours of operation are 3:00-10:00pm Monday – Thursday, Noon-11:00pm Friday – Saturday, and Noon-8:00pm Sunday
Living Haus Beer Co. – 628 SE Belmont St. – Portland OR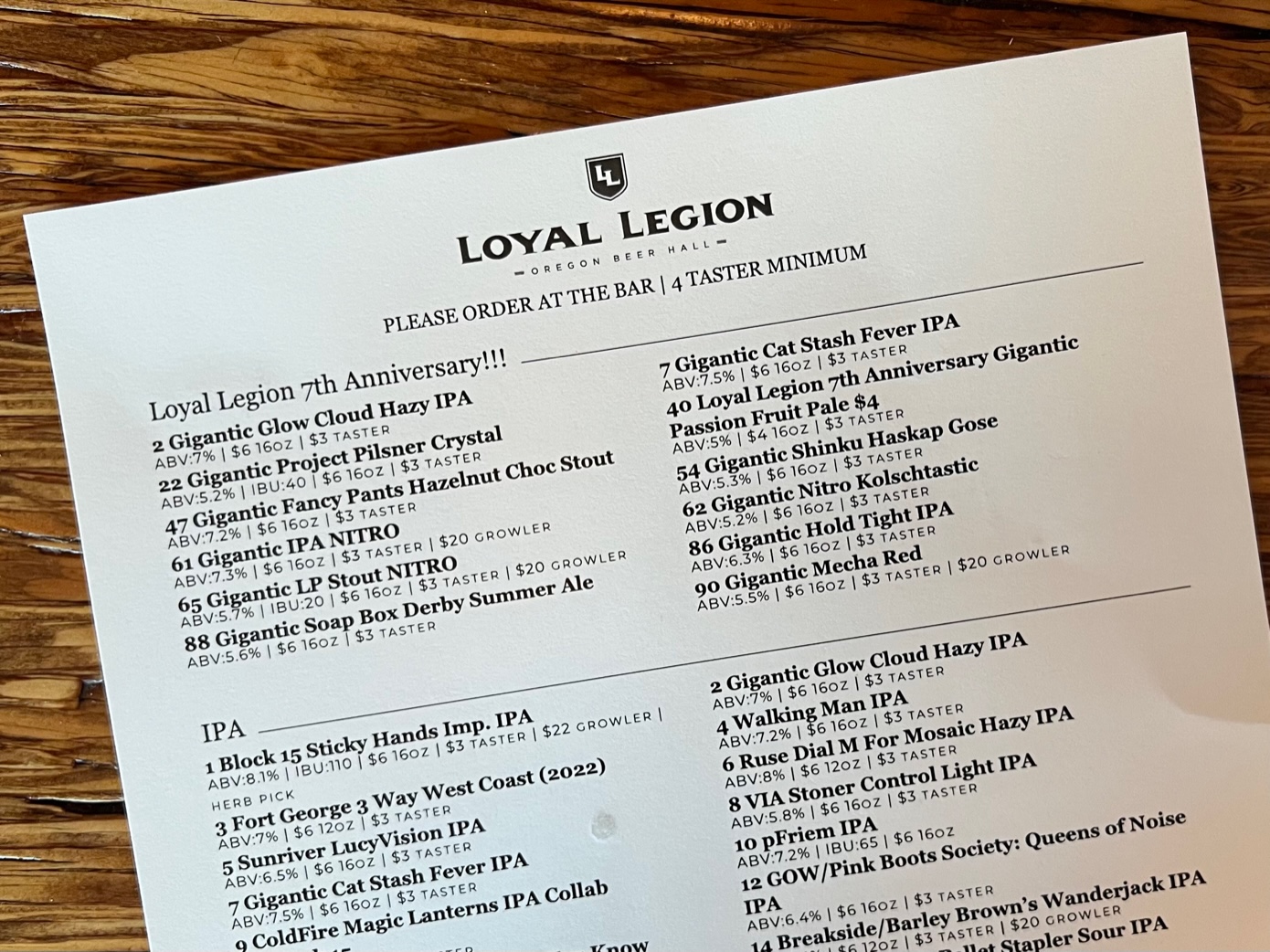 LOYAL LEGION PDX 7TH ANNIVERSARY 
FRIDAY JULY 15 AND SATURDAY JULY 16, 12:00PM-2:00AM 
SUNDAY JULY 17 – 12:00PM-12:00AM
The team at Loyal Legion have partnered with Gigantic Brewing Company to create an exclusive Loyal Legion 7th Anniversary collab beer called Passion Pale, where they have combined the alluring aroma and flavor of passion fruit puree with the tropical and citrusy hop aromas and flavors from copious amounts of Citra and Strata hops in this new Summer Pale Ale.  It's going to be big; it's going to be huge, it's gonna be well gigantic.  Look for an additional dozen or so Gigantic beers plus the following $7 specials, beer and shot, anniversary cocktail and a $7 food combo.
Loyal Legion SE PDX – 710 SE 6th Ave – Portland, OR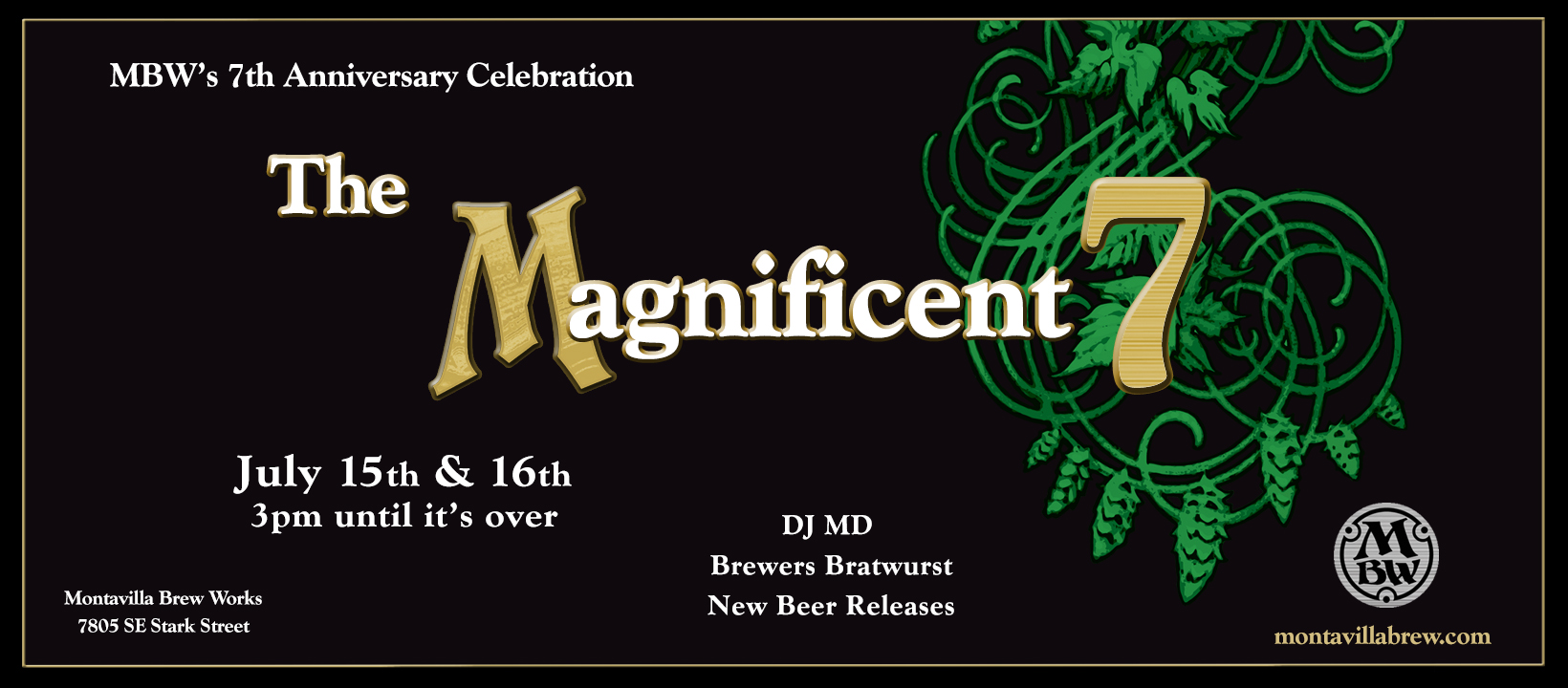 MONTAVILLA BREW WORKS MAGNIFICENT 7TH ANNIVERSARY
FRIDAY JULY 15 AND SATURDAY JULY 16 – 3:00-9:00PM
Michael Kora and company celebrate their Copper anniversary with two days of festivities, two new beer releases available on tap and to go, DJ MD will be in the house spinning some choice vinyl from his epic collection (not just Epic records) with brewers bratwursts available for purchase while supplies last but you will need to leave the minors  at home because this party is 21+ only.  Below is some info from the MBW Brew Team on these 2 new beers:
7th Anniversary Beer #1 – "El Gato Blanco" – Affectionately dedicated to the brewer's white fluffball kitty who is featured on the label, this lager is clean, bright, snappy and very crushable.  "El Gato Blanco" is 5.2% ABV, 20 IBU and is featured as this year's summer seasonal lager beer.
7th Anniversary Beer #2 – "Expressway" Detroit-Style IPA collab beer with Alex Ganum of Upright Brewing Co.  What makes this beer a "Detroit-style" IPA? This special one-off beer was brewed by two brewers born and raised in the Detroit area and contains Michigan-grown hops. The label on the to go cans is a recreation of a 1970's transportation map of southeastern Michigan which any Michigander will immediately recognize; as just about every family vehicle contained one of these back in the day! "Expressway" is a light, bright, tropical fruity, super clean and easy-drinking IPA. 6.5% ABV, 50 IBU.
Montavilla Brew Works – 7805 SE Stark St – Portland, OR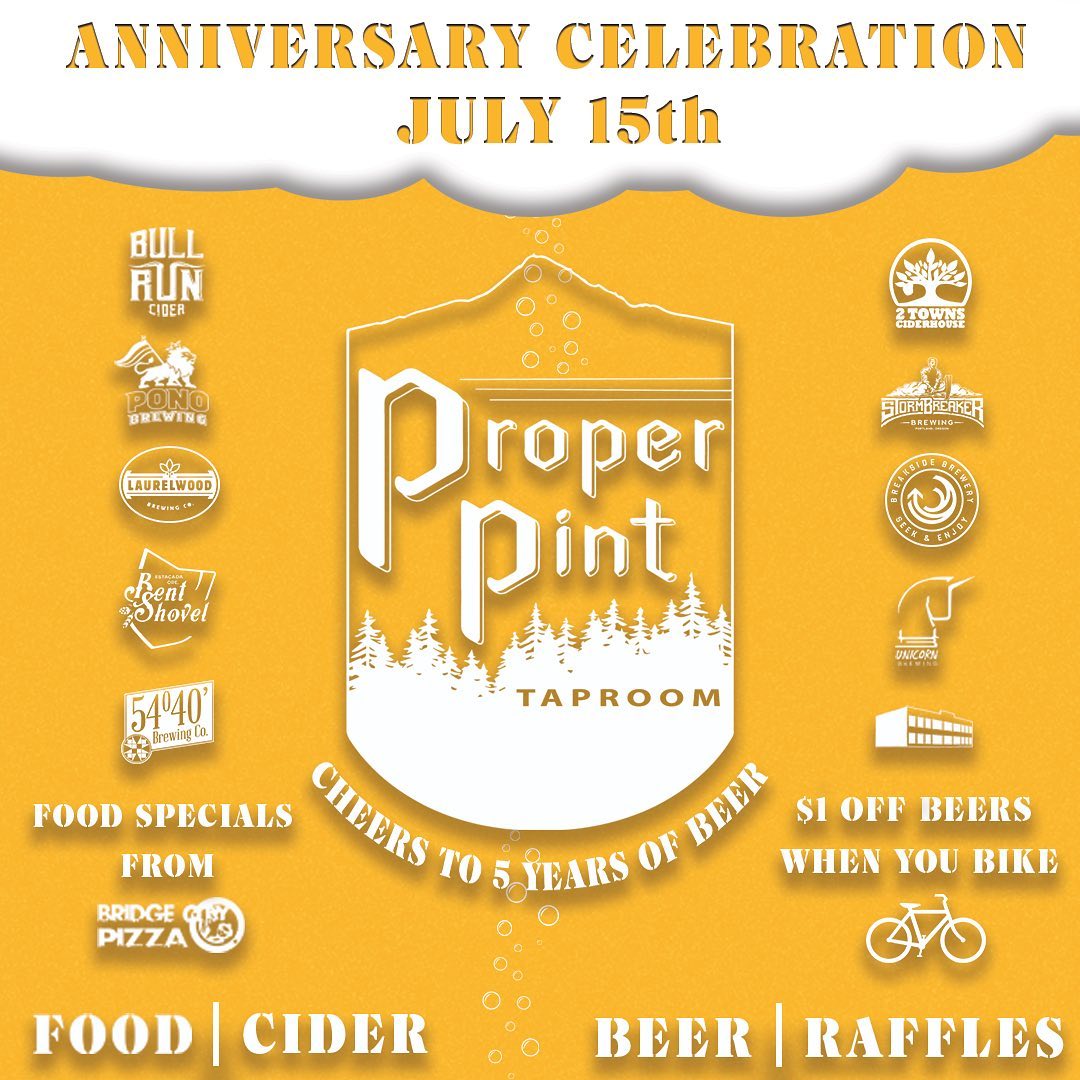 PROPER PINT TAPROOM TURNS 5! 
FRIDAY JULY 15 – 12:00-11:00PM
Come celebrate Proper Pints Wood Anniversary at this Woodstock neighborhood fave where minors are allowed till 7pm. There will be food available from Bridge City Pizza, raffle prizes, and $1 off beers if you bike to the event.
Proper Pint Taproom – 5965 SE 52nd Ave – Portland, OR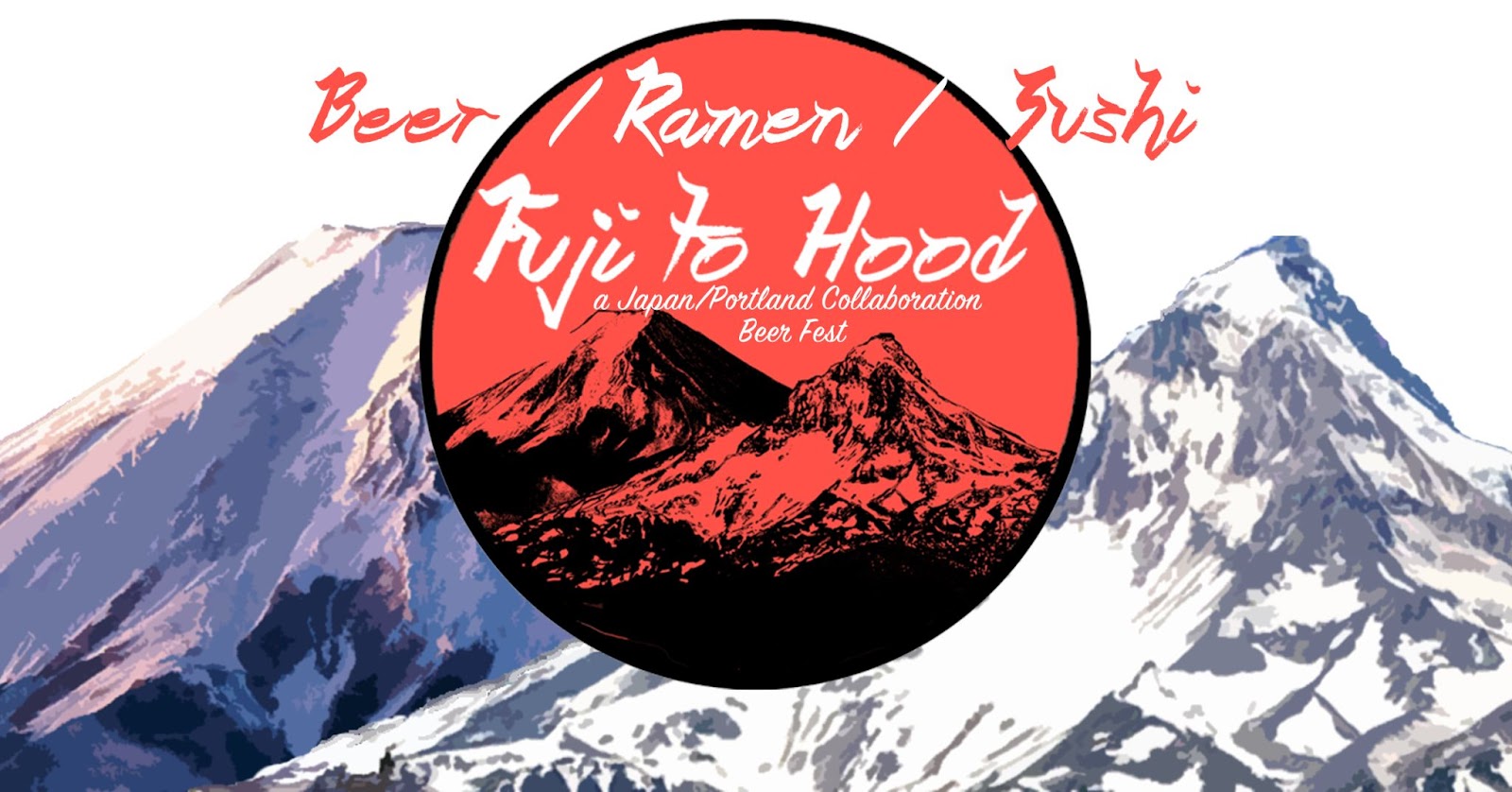 FUJI TO HOOD – JAPAN/OREGON COLLABORATION BEER FESTIVAL
SATURDAY, JULY 16 – 12:00PM-9:00PM
Returning to Portland in 2022 this year, Fuji to Hood raises the bar with 18 brewery collaborations, 1 cidery collab, and the fest's first ever distillery collaboration for a total of 20 beverages not including additional samplings from SakeOne and Culmination Brewing. Organizers expect 14-15 brewery teams from Japan and over 24 ambassadors flying into Portland to attend the festival and a brewers field trip.
This all-ages friendly event presents a casual, fun environment, with custom drinkware, Taiko drummers, creative local Japanese food makers, and one-off special beverages. Some of the proceeds from this event will benefit the Japan-American Society of Oregon. Hosted by Culmination Brewing, the Fuji to Hood beer festival takes place at The Bindery Annex building as well as the surrounding community lot and NE Oregon St. Advanced tickets recommended.
Festival Food Provided By:
Culmination Brewing's kitchen HarBQ will be serving bao tacos with house smoked meats and fried chicharrones with furikake
Aimsir Distilling (one of the collaboration partners) will be serving their regular menu at the Emerald Room as well as Japanese inspired food specials.
Yokai Musubi with Japanese rice balls mixed, filled, or topped with a variety of ingredients.
Umi Organic serving award-winning organic cold noodle ramen and yakisoba pan.
Oregon / Japan Collaborations on tap for the fest:
Gose/Fruit Beers
Breakside Brewery + Ise Kadoya – Ube Blackberry Wheat
Wheat Ale w/ Ube and Blackberry
Cascade Brewing + Rise & Win – Makkoli Gose
Inspired by Makgeolli, the oldest alcoholic beverage in Korea, Makkoli Gose is a sour gose ale aged in an oak foudre with Unshiu Mikan (mandarin orange peel), jasmine flowers, and Koji rice. This collaboration features flavors and aromas of dried citrus peel and jasmine flowers with a clean finish.
Fort George Brewery + Black Tide – Coast to Coast Gose
Oregon & Japanese Seaweed Gose featuring Wakame seaweed from Japan and Dulse seaweed from Oregon.  It will be a lightly tart gose with the salinity coming from the seaweed.  There will be a light fruitiness from the Lorien and Loral hops which are grown in the Willamette valley.
Gigantic Brewing + North Island – Haskap Gose
Haskap Gose with Shiso added in a firkin.
Ruse Brewing + Spring Valley – Sudachi-Ume Smoothie Tart Ale
A smoothie sour style beer brewed with Japanese Plum and Japanese Lime 4.5% abv
Von Ebert Brewing + Shonan Beer – Yuzu Tart
Acid forward wheat ale with Yuzu and Centennial.  5.5% ABV, 5 IBUs.
Hazy IPA Beers:
Ecliptic Brewing + Y. Market – Space Forest Kuromoji Wood Hazy IPA
A hazy IPA with the addition of Kuromoji Wood/Oil
Great Notion Brewing + Son of Smith – Fermentation Geeks
Tart Apple Hazy IPA brewed with Son of the Smith Cascade hops and Apple Juice. Fermented with a thiol boosting yeast strain called Tropics. Dry hopped with Ekuanot, Citra and Phantasm. ABV: 7.0%
SteepleJack Brewing + Minoh Beer – (name TBD)
Hazy IPA with Sansho Pepper
Threshold Brewing + Far Yeast – Purple Sunshine
An elegantly hopped and hazy IPA brewed with traditional Japanese sweet Amacha tea sourced from Hydrangea plants – or in Kanji, purple sunflower. Its aromatic Honshu-grown leaves are first sun-dried, fermented and then fully steeped, exuding a natural sweetness and astringency. Those coupled with the beer's soft malt base and bright, fruit-forward hops give way to an accentuated and gorgeously layered hazy. 6.5% ABV
India Pale Ale Variants
Boneyard Brewery + Heiwa Craft – Yuzu IPA
Citrus forward IPA hopped with Chinook, Simcoe, Cascade, Citra and Mosaic to complement Yuzu juice going in during fermentation.6.3% ABV, 60 IBU
Ex Novo Brewing + Uchu Brewing – Japanese Pine IPA
West Coast IPA w/ Japanese Pine. Utilizing Japanese pine w/ Idaho 7 and Centennial hops.  Earth and spice from the pine combine with citrus from the Idaho 7 for an aroma reminiscent of deep forest.  A subtle amount of Centennial layers more citrus and pine underneath.  ABV: 7.0% IBU: 75
Migration Brewing + West Coast Brewing – Wasabi Cold IPA
This Cold IPA exhibits zesty, tropical & stone fruit aromas from New Zealand Wakatu and Nectaron hops, before being cold steeped on 20 pounds freshly ground wasabi rhizome.  The wasabi provides pungent floral & spice aromatics that gently compliment the assertive dry hopping regiment, creating a one of a kind drinking experience.
Lager/Traditional Beers:
Culmination Brewing + Nara Brewing – Hojicha Cream
In Nara, they have a traditional Japanese beverage called "Daranisuke" . It has been made for about 1,300 years, and the main ingredient is Kihada leaf. Dharani Kihada Hojicha Cream is a nitro cream made with a toasted green tea blend from Japan, a hint of vanilla bean and served from a nitro faucet
Hair of the Dog Brewing + Yokosuka – Shiitake Imperial Brown Ale
Level Beer + Repubrew – Rice lager (name TBD)
Brewed with amino acid from Japanese fish and citrus
Little Beast Brewing + Harvest Moon – Ocha no Jikan
Lager with Japanese Hoshigaki (dried persimmon) and green tea
Upright Brewing + Fujisakura Kogen – Katsuobushi Schwarzbier
Katsuobushi Schwarzbier is a dark lager made with umami-rich bonito, a classic Japanese preparation that involves cooking, smoking, fermenting, and drying skipjack tuna. An addition of smoked malt, a signature of Fujizakura, yields a richly aromatic nose that contrasts a surprisingly light body and otherwise soft and delicate profile. 4.9%
COST: GA tickets $30 – $33.85 with fees – Includes a collectible branded Fuji to Hood glass and 10-4 oz drink tickets.
VIP tix $40 – $44.47 with fees – Early entry ahead of the crowds at 11am,  plus 2 extra drink tickets (12 total). Includes a collectible branded Fuji to Hood glass.
Additional drink tickets will be available for $2.50 each for each 4 oz. pour and food at an additional cost, priced per item.
Culmination Brewing – 2117 NE Oregon St – Portland, OR
BEACH, BACON AND BREWFEST
SATURDAY JULY 16 – 12:00PM-6:00PM
The 6th Annual Beach, Bacon and Brewfest in Lincoln City, Oregon is back with Sunnyvalley Bacon as the exclusive bacon sponsor and Bigfoot Beverages as the exclusive Distributor sponsor. This year the Lincoln City Chamber of Commerce is in partnership to organize the charity cooking teams. Tasting enthusiasts will enjoy samplings of numerous microbrews and Ciders. On Saturday, July 16, charity cooking teams will be competing and serving up "bacon bits" for you to enjoy. All bacon bit proceeds go to the various charities. All of this fun, food and beer is only $25 a ticket for those 21 and over. Your entry includes $5 in free slot play, beer tastings, live music and the opportunity to purchase $1 bacon bits for tastings.  Designated driver tickets are $15 and the event is 21+ only.
Breweries from all over Oregon are serving up tastes of beer and cider. Breweries scheduled to attend are: Arch Rock, Avid Cider, Bauman's Cider, Breakside Brewery, Ecliptic Brewing, Laurelwood Brewing Co., Monkless Belgian Ales, Ninkasi Brewing, Oakshire Brewing, Pelican Brewery, Portland Cider Company and Three Creeks Brewing.
Chinook Winds Casino Resort – 1777 NW 44th St. – Lincoln City, OR