Three Creeks Brewing Celebrates Its 10th Anniversary
|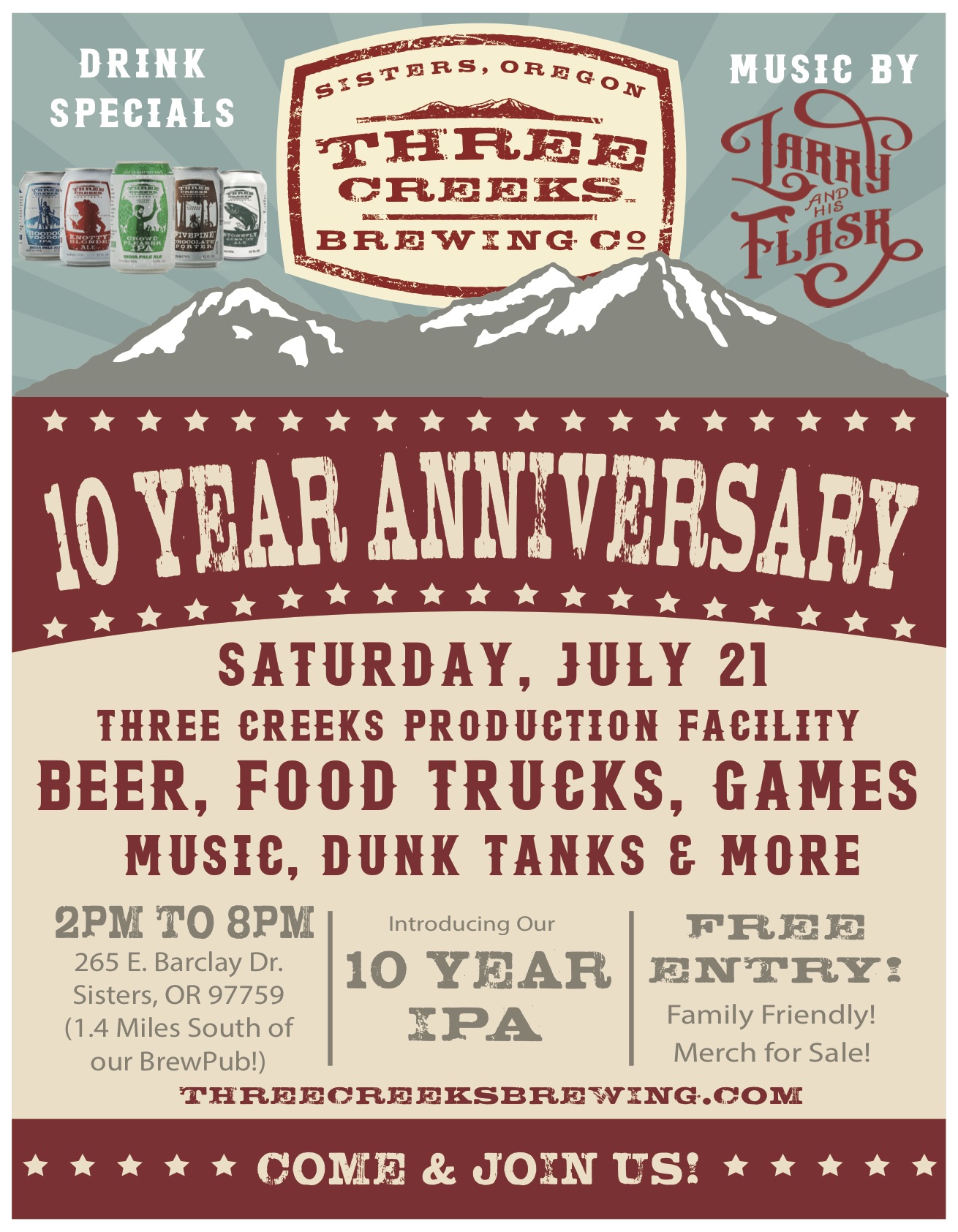 It has been 10 years since Wade Underwood opened the doors to his brewery in Sisters, Oregon. Since this time Three Creeks Brewing has expanded and grown to become a large player in the regions craft beer industry. To celebrate this milestone, Three Creeks Brewing will host its 10th Anniversary on Saturday, July 21st at its production brewery about 1.5 miles from the original brewpub in Sisters.
The daylong carnival will take place from 2:00-8:00pm and admission is free and open to all ages. There will be dunk tanks, bounce house, obstacle courses, and more! Larry and His Flask will provide some live music beginning at 4:00pm. Three Creeks will also be bringing in a few local food vendors that includes Shredtown, Schatz Pretzels, and Jerk Kings.
Here's a history on the brewery that Ashley Woody, the Marketing Manager at Three Creeks Brewing put together for us…
2008 was a daunting year for business owners everywhere. But Wade Underwood didn't look at it like that. He had a passion for the outdoors and a love for craft beer. After being in Central Oregon and watching craft breweries come out of Bend, he saw a wide open opportunity.
That same year, located just at the foothills of the Sisters mountains, where the purest water in the world comes from, Wade decided then and there that he would open what would soon become Three Creeks Brewing Company.
Three Creeks Brewing Co. started as a 10BBL system in a brewpub with a full restaurant. The locals loved it and the tourists made it a pitstop passing between the valley and Bend. But they weren't stopping just for the food.
The beer had something special about it. Was it the water? Was it the love that the brewer's put into their craft? Or was it the feel of a warm hometown brewery in an old livery stable?
Whatever it was, Thee Creeks was growing, and it was growing fast! After 7 years, the small 10BBL facility couldn't keep up with the demand, so Wade and team decided to open an additional production facility a mile and a half up the road. 
The 30BBL brewhouse at the new production facility features a tasting room, open every Friday and Saturday throughout the summer. Our roster of great beers was getting bigger and our wall of awards was getting fuller. Our 10BBL system was still pumping out specialty beers and the additional production facility allowed us to expand our already successful year round beers. Currently, we are putting out more beers than we ever have!
And just a few months ago, just shy of our 10 year anniversary, our 30BBL brewhouse recently added on 2 new uni-tanks, allowing us to increase our production by 40%!
After 10 years, we are now being distributed throughout all of Oregon, throughout Washington, Idaho, and soon to be California. We have won the most prestigious awards that the beer industry has to offer, from several wins at the Great American Beer Fest, to our most recent successes at the World Beer Cup.
It is because of you, the beer lovers, the business owners that continue to support us, the locals that hold up our arms, and the tourists wanting to try something new, that we are here to tell the story. So we want to celebrate YOU!
After 3 years of getting settled into our new brewing facility, we have decided to turn our front lot into a place for locals and visitors alike to sit back, enjoy a beer and hang out. We will be hosting our 10 Year Anniversary at this spot, so you can be right here with us at the foothills of the mountains with the great view, here in Sisters where it all began.
Saturday, July 21st, Three Creeks Brewing Company is celebrating our 10th Anniversary! Join us for a carnival-like atmosphere with dunk tanks, bounce house obstacle courses, and more! We will have games, live music by Larry and His Flask, food trucks, and of course, beer showcasing 10 years of greatness! Bring your friends, bring your families! Admission is free.
The food vendors listed include Shredtown, Schatz Pretzels, and more. Live music by the incredible, Larry and His Flask! All day drink specials. Come join us and CHEERS TO 10 YEARS!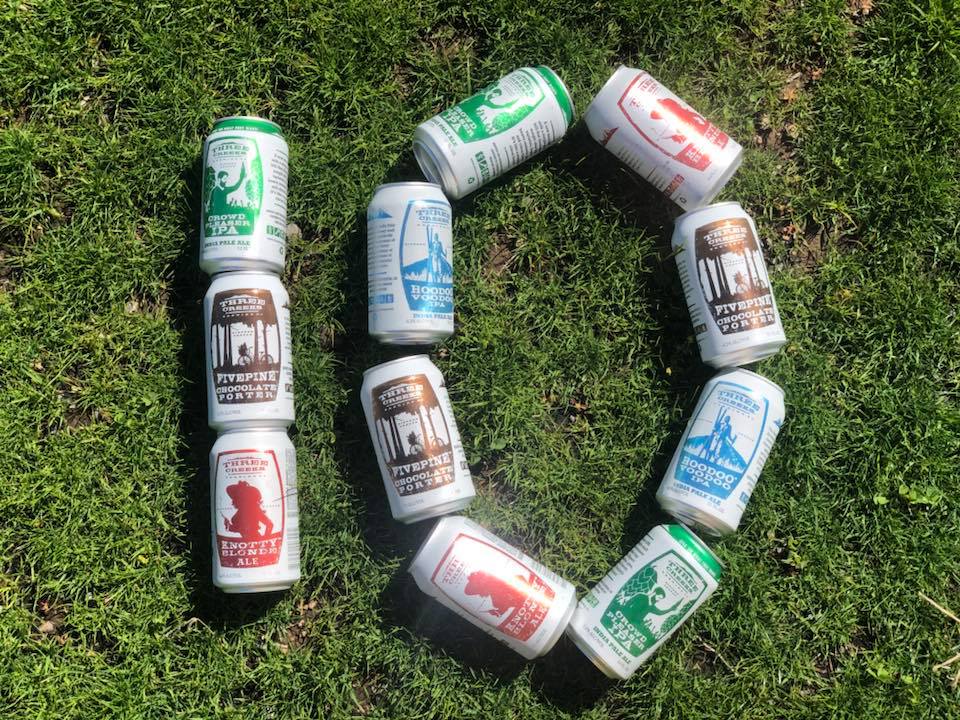 Three Creeks Brewing – Production Facility
265 E Barclay Drive
Sisters, OR 97759