Weekend In Beer – Beginning July 7, 2023
|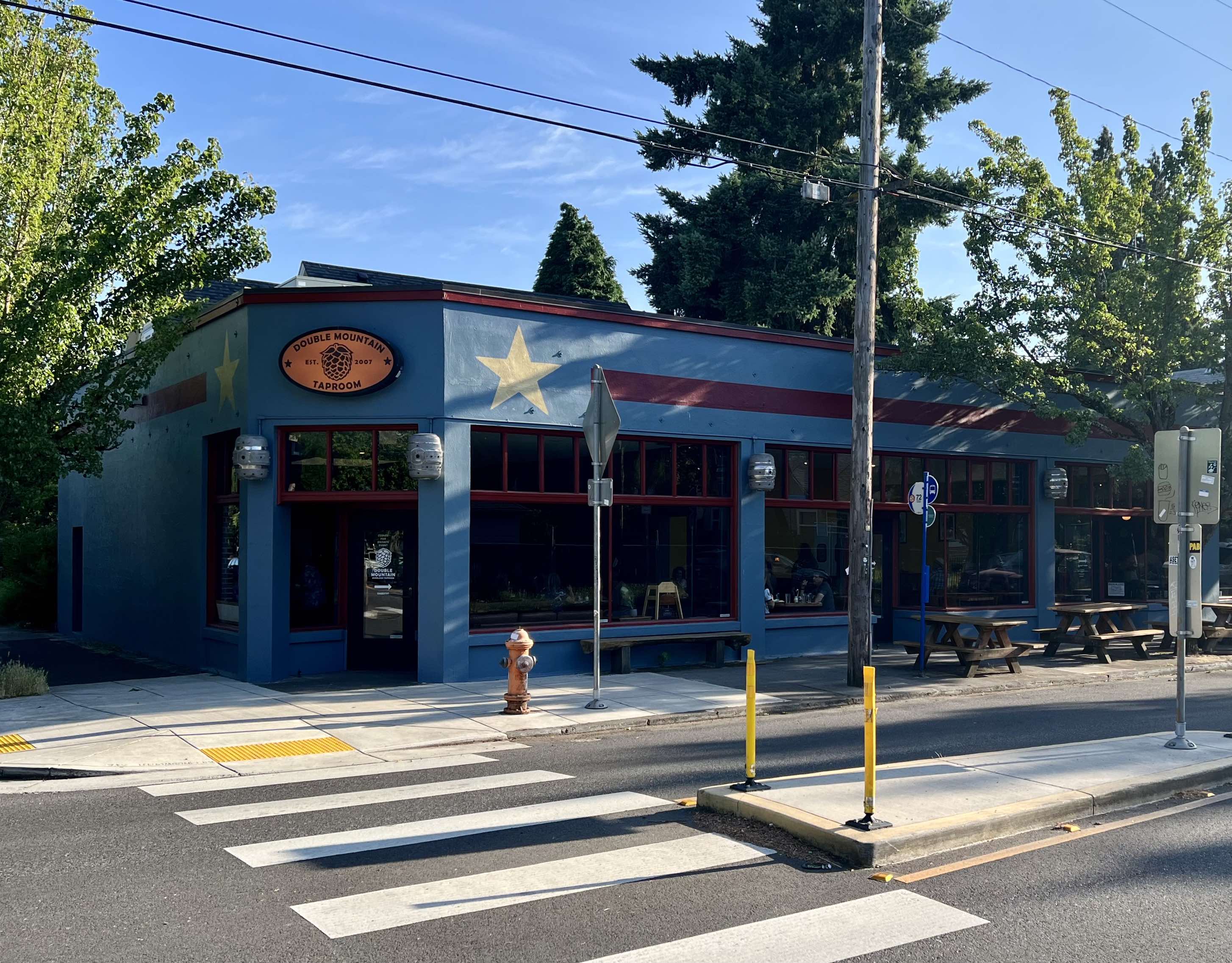 After being announced in late March, the forthcoming Double Mountain Overlook Taproom will open its doors on Saturday, July 8 at 11:00am! Double Mountain's Brewmaster and Founder, Matt Swihart, will give a speech and officially christen the bar shortly after the taproom opens tomorrow.
Double Mountain has taken over the former home of a Lucky Labrador Brewing Taproom that officially closed its doors in December 2022. This is the third outpost for Double Mountain, and its second in Portland, Oregon. Since taking over the space, the Double Mountain team has spruced up the building, giving it a new paint job that brings the look and feel that's expected from the Hood River based brewery. They have also done some noticeable work inside that has definitely cleaned up the place and given it a much more inviting presence.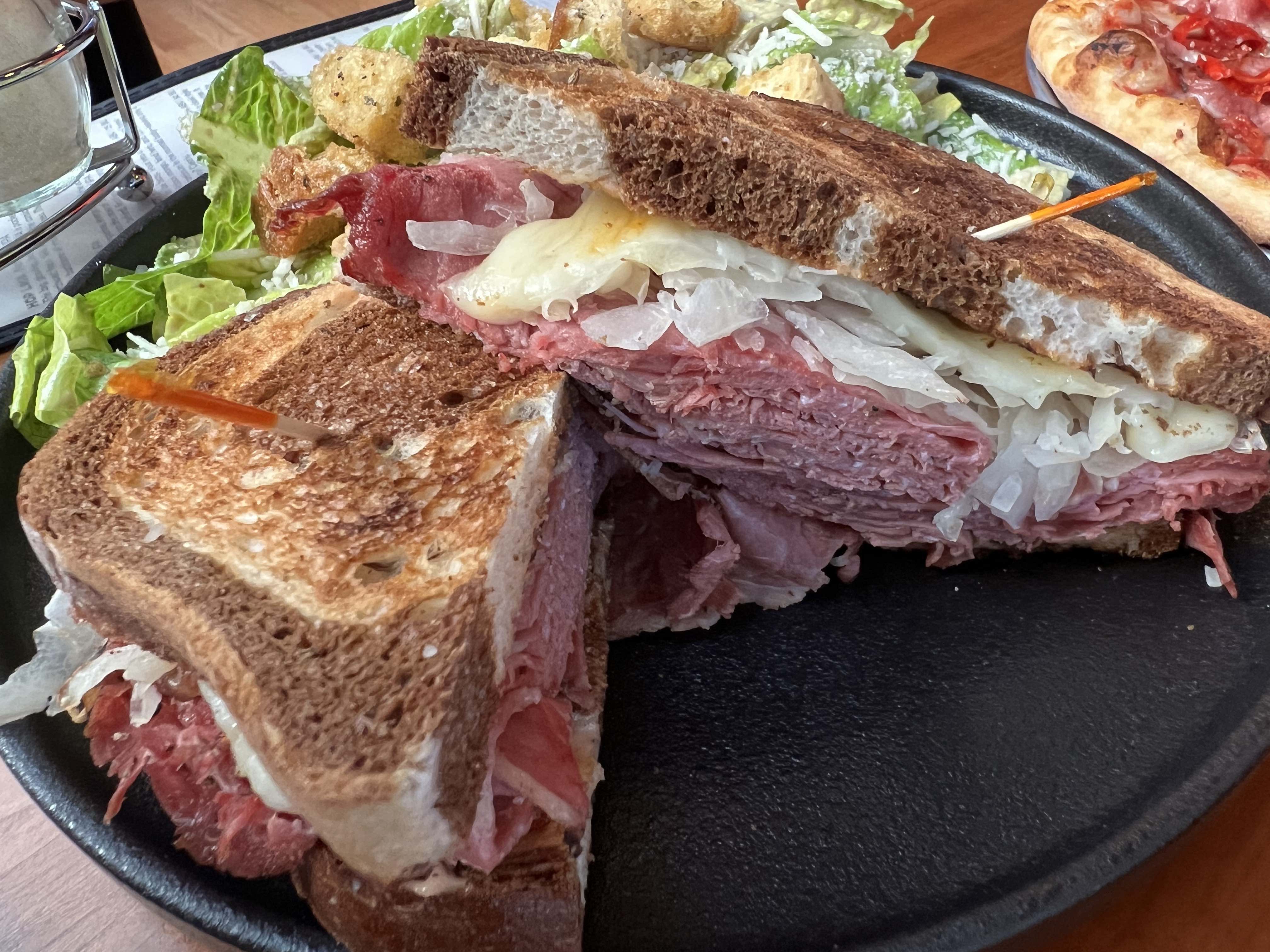 The food menu is very similar to what is offered at the Double Mountain Woodstock Taproom in Southeast Portland. There are plenty of choices of appetizers, salads, sandwiches and of course their famous pizza! These items all pair nicely with the plentiful choices of Double Mountain beer and cider on tap, as well as a few cocktails and wine.
Double Mountain Overlook Taproom is located at 1700 N Killingsworth St. and will be open seven days per week beginning at 11:00am. It is conveniently located a few blocks from the MAX Yellow Line and directly on the 72 Bus line.
Here's a look at a few other fun beer events taking place across the state of Oregon over the next week.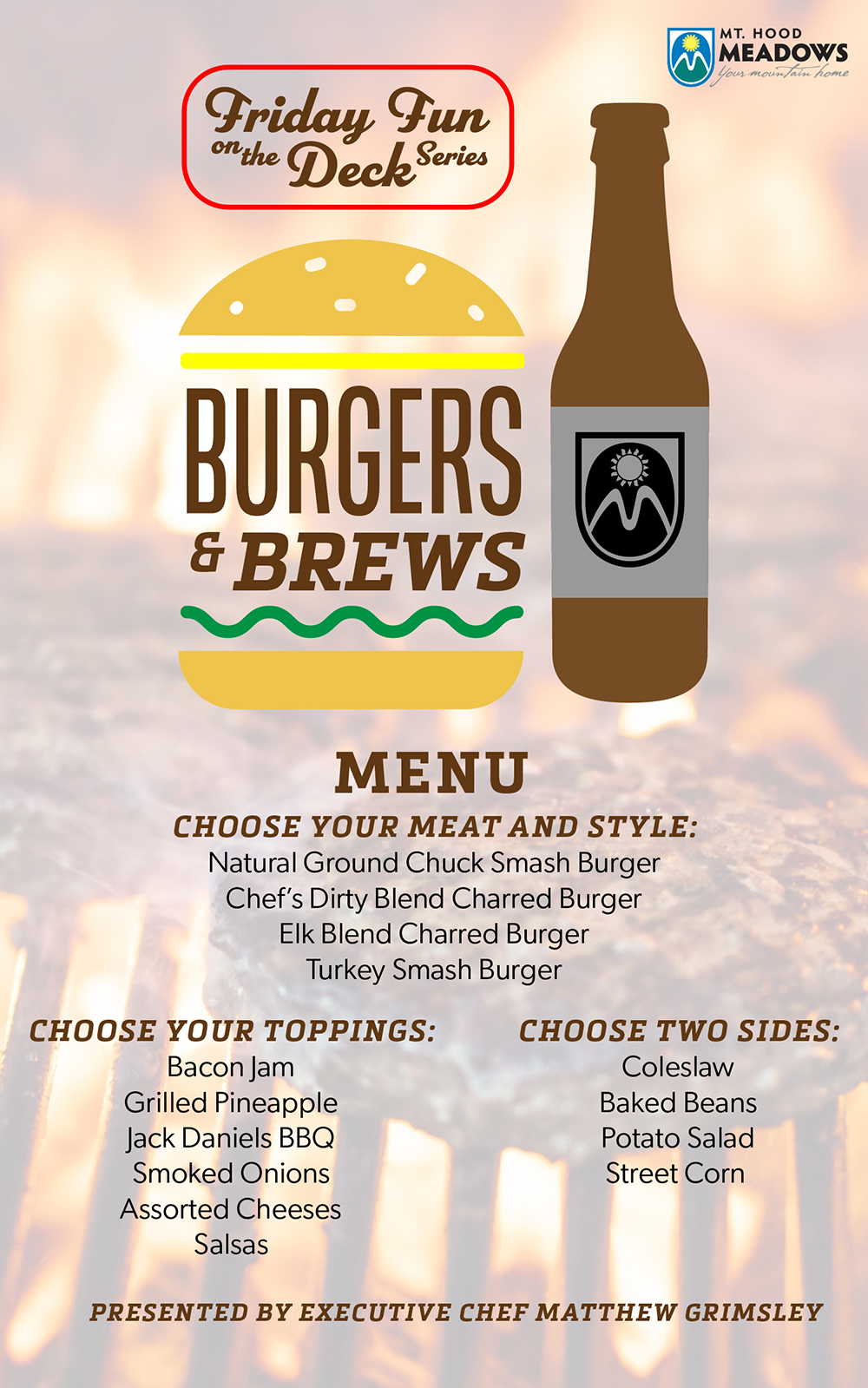 Burgers & Brews
Friday, July 7 – 4:00-6:00pm
Mt. Hood Meadows is enticing folks to head to the mountain this summer with a handful of beer-filled events. Tonight the ski resort hosts Burgers & Brews on its Paradise Sun Deck. At Burgers & Brews, Mt. Hood Meadows' grillmasters will be serving up delicious, juicy burgers with some fun twists, a variety of sides, and of course, beer! Chow down, take in the mountain view, and enjoy live music by Jenny Lee, who'll be performing from 4:30-6:30pm.
Feel free to show up day-of and get your tickets then, but you'll save some money if you purchase online in advance by clicking here! Tickets are $15/adult, $11/child (12 and under) when purchased online in advance; $16/adult, $12/child when purchased at the door.
Mt. Hood Meadows – 14040 Highway 35 – Mt. Hood, OR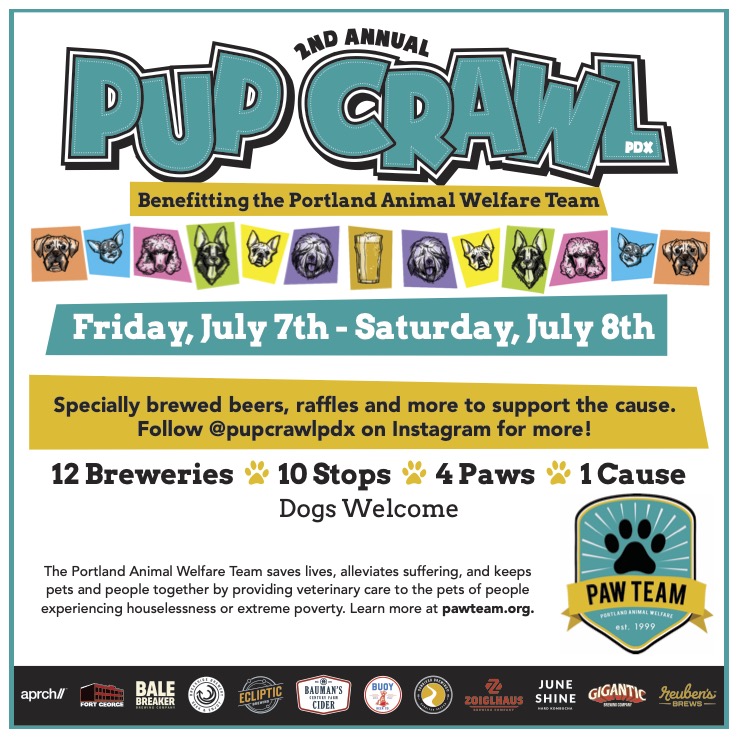 2nd Annual Pup Crawl
Friday, July 7 – Saturday, July 8
The 2nd Annual Pup Crawl returns to beer taprooms across the Portland area on Friday, July 7 and Saturday, July 8. Pup Crawl is a charitable event that benefits the Portland Animal Welfare (PAW) Team. This is an organization dedicated to saving lives, alleviating suffering, and keeping pets and people together by providing veterinary care to the pets of individuals experiencing houselessness or extreme poverty.
Returning for its second year, this one will be bigger and better than last year, featuring exclusive beers, raffles, and a pet supply drive. This unique event is the perfect blend of fun and philanthropy, allowing attendees to enjoy delicious drinks while making a positive impact on the lives of pets and their owners in need.
The Pup Crawl will take place at various locations throughout the Portland metro area, bringing the paw-ty to a neighborhood near you!
Here is the schedule of participating venues:
Loyal Legion SE: Friday, July 7th, 5:00 PM – 7:00 PM
John's Multnomah: Saturday, July 8th, 1:00 PM – 3:00 PM
John's Beaverton: Saturday, July 8th, 1:00 PM – 3:00 PM
John's Powell: Saturday, July 8th, 1:00 PM – 3:00 PM
Tiny Bubble Room: Saturday, July 8th, 1:00 PM – 3:00 PM
Belmont Station: Saturday, July 8th, 3:00 PM – 5:00 PM
Chill 'n Fill: Saturday, July 8th, 3:00 PM – 5:00 PM
Nebulous: Saturday, July 8th, 3:00 PM – 5:00 PM
Loyal Legion SW: Saturday, July 8th, 3:00 PM – 5:00 PM
Room 122: Saturday, July 8th, 6:00 PM – 8:00 PM
The 2nd Annual Pup Crawl is proud to feature a fantastic lineup of participating brands, including Aprch CBD, Bauman's Cider, Breakside, Bale Breaker, Fort George, Buoy, Ecliptic, Zoiglhaus, Gigantic, Sunriver, Reuben's Brews, and JuneShine Kombucha. Attendees will have the opportunity to sample exclusive brews from these renowned brands, ensuring a delightful experience for all beverage enthusiasts.
In addition to the festivities, the Pup Crawl will also host a pet supply drive to benefit the PAW Team. To support this cause, attendees are encouraged to bring new and gently used pet supplies and pet food for dogs or cats. Both unopened and open/torn bags of food will be accepted. However, please note that any food past one year of expiration, CBD treats or supplements, retractable leashes, shock collars, electric collars, or prong collars will not be accepted.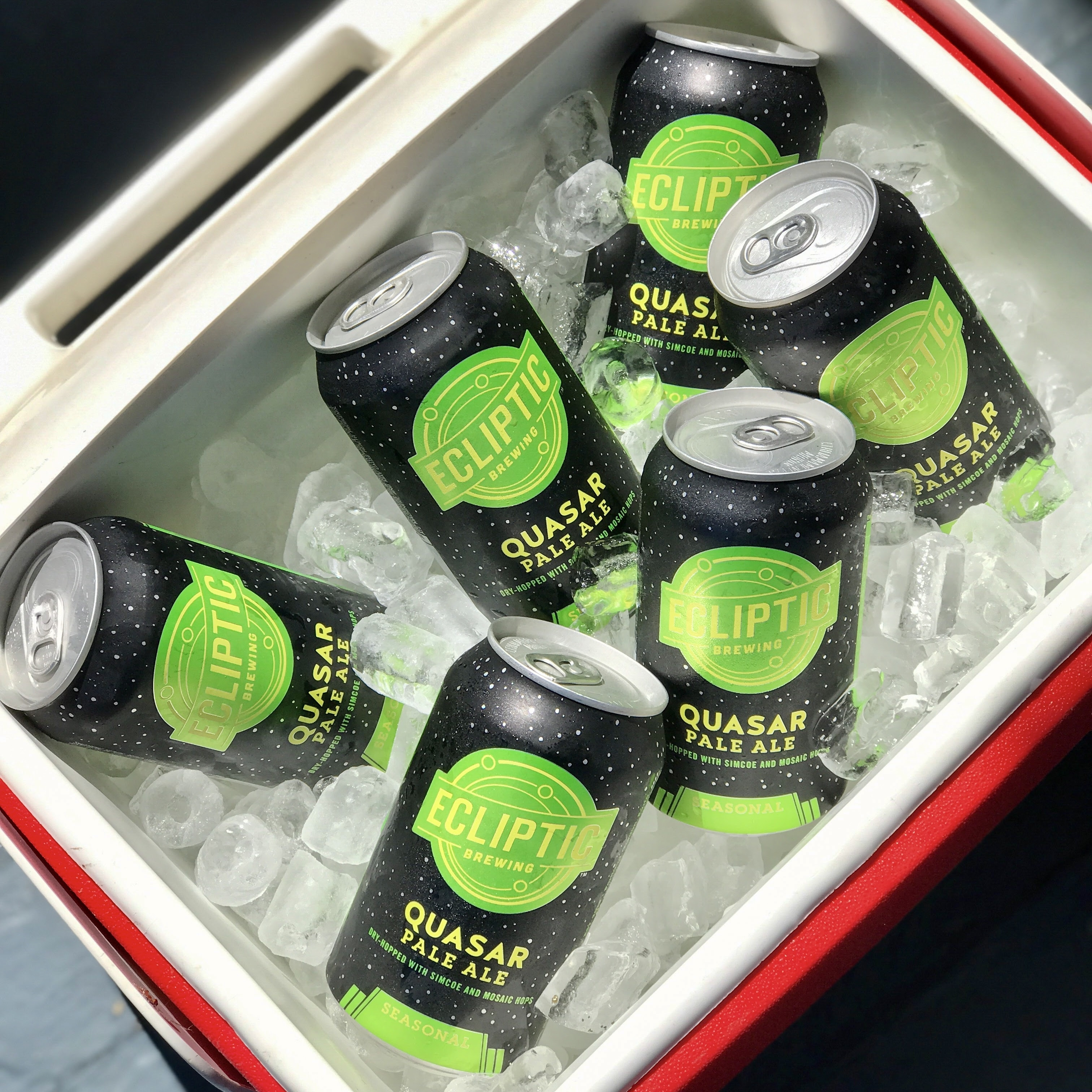 Quasar Pale Ale Day
Saturday, July 8 – Noon-10:00pm
It's a special day for Quasar Pale Ale lovers, as Ecliptic Brewing has brewed a limited edition run of this classic beer. If you have never tried this beer, now is your chance to try one of our Owner and Brewmaster John Harris' favorite Ecliptic beers to date. Quasar Pale Ale is brewed with Simcoe and Mosaic hops that gives this beer a huge, fresh, tropical hop aroma.
To celebrate, Ecliptic is dedicating Saturday, July 8th to all things Quasar Pale Ale! Enjoy$5 pints of Quasar Pale Ale and $35 cases of Quasar Pale Ale. The following deals at both Ecliptic locations (note: Moon Room is opening late at 7:30pm due to a private event):
Ecliptic Brewing Mothership – 525 N Cook St – Portland, OR
Ecliptic Brewing Moon Room – 930 SE Oak St – Portland, OR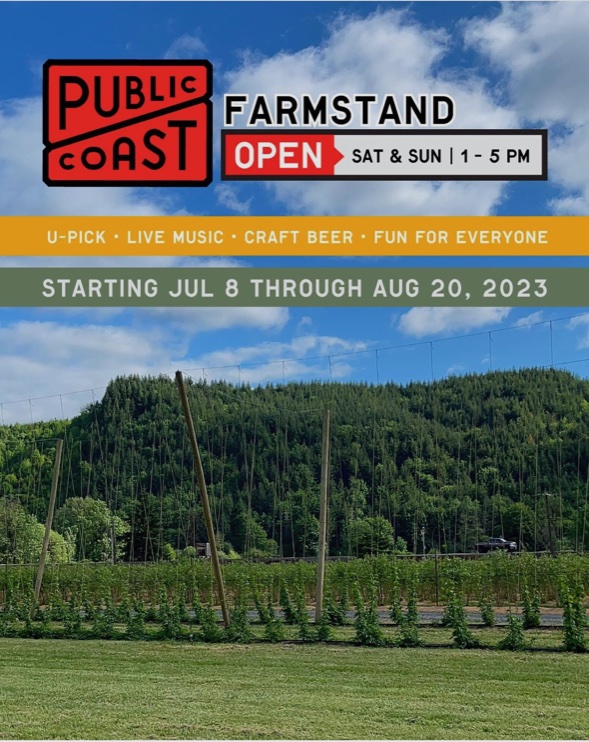 Public Coast Farmstand Grand Re-Opening
Saturday, July 8 – 1:00-5:00pm
Cannon Beach's Public Coast Brewing has an operating farm in Banks, Oregon and the farm will be re-opening this weekend to the public. The Farmstand will be selling fresh fruit, Public Coast beers and more!
Also taking place this summer is a live music series. Public Coast Farmstand will be hosting live music every Saturday and Sunday from 2:00-4:00pm. This Saturday, Steve Hale will be performing and on Sunday look for Michele Van Kleef.
The Public Coast Farmstand will be open every Saturday and Sunday from 1:00-5:00pm through August 20th.
Public Coast Farm – 22330 NW Fischer Rd – Banks, OR
Mt. Hood Meadows Summer Brew Fest
Saturday, July 9 – Sunday, July 9 – 2:00-5:00pm
After Friday night's Burger & Brews event, Mt. Hood Meadows is back at it hosting its Summer Brew Fest on Saturday and Sunday. Swing by the eastside of Mt. Hood to enjoy locally crafted beers and some tasty offerings from its Culinary Team while taking in the beautiful views of Mt. Hood!
Featured brewers include: Double Mountain, Everybody's Brewing, Ferment, Full Sail, Migration, pFriem and Thunder Island. There will also be games for the kids, scenic chair rides, live music, hiking for the whole family and delicious food for everyone! Make sure to purchase online in advance to save some money.
The Makers Market will also be happening out on the deck on Saturday so you can shop from some amazing local artisans! There will also be live music on July 8 (Scot and Rebecca Duo) and on July 9 (Willy & Nelson); both will be performing on the Sahale Lodge Deck from 2:00-5:00pm.
Admission to the Beer Garden is $16 in advance, $19 at the door, and includes a mug and 4 drink tickets. We also have a Brew Fest Buffet Package that includes both the Buffet (menu below) and admission to the Brew Fest. Price of the package is $39 in advance, $43 at the door. To purchase tickets, click here.
Mt. Hood Meadows – 14040 Highway 35 – Mt. Hood, OR
15th Annual Puckerfest
Sunday, July 10 – Friday, July 14
Five days of the sourest and face puckering beers returns to Belmont Station next week when Puckerfest takes place for its 15th year. The Station will be featuring different breweries, ranging from down the street to around the world, each showcase its best tart, sour, funky, and wild beers, or ciders!
Belmont Station will be dedicating 15 of its taps to Puckerfest. Here's a peek at the beer list that is still coming together!
The Ale Apothecary – Sahalie
de Garde – Necatrince
Fonta Flora – Big Shove Fruited Lambic
Casey Brewing – Ghost Note Peach
Tilquin – Quetsche
EPIC – Brainless On Raspberries NITRO
Russian River – Consecration 2020
RAR – Not For Kids
Oregon City – Pink Lemonade
Beachwood – Rose Splendor
Little Beast – Pomme Sour 2017
Upright – Special Herbs
Untitled Art Florida Seltzer: Rocket Pop
Baird & Dewar – Farmhouse
The Rare Barrel – Poptropica
Jester King – SPON 3 Year Blend
Cascade – Honey Teacot 2018
Great Notion – Double Blueberry Cheesecake
Weldwerks – Cotton Candy Sour
Mortalis – Gemini Starburst
Funky Fauna – Moonstar
In addition to these beers, be on the lookout for beers from Cantion, pFriem Family Brewers, Russian River, Block 15 Brewing and more!
Belmont Station – 4500 SE Stark – Portland, OR