Weekend in Beer – Beginning September 28, 2023
|
The Fall season has surely arrived here in the Pacific Northwest but this weekend is looking nice. With forecasts of sun and temps in the mid-70s, its going to be an excellent opportunity to get outside and enjoy some delicious beers.
Things kick off today with Dogtoberfest at Hopworks Brewery, fresh hops galore at Room 122  and Uptown Beer Co. and a beer dinner with Alesong Brewing & Blending at Zupan's Markets. When Friday rolls around, Vice Beer in Vancouver, Washington will be celebrating its one year anniversary with plenty of beer and tasty food.
If your looking to get outside, the Oregon Zoo will host its Fall Beer and Cider Festival on Friday and Saturday evenings. Also taking place on Friday and Saturday is the 19th Annual Portland Fresh Hops Festival at Oaks Park. Widmer Brothers Brewing will host its Oktofest at a new location on Saturday as it takes over the Rose Quarter at the Moda Center for a day of Okto Festive Ale, food, and live music.
To learn all about these events and more, scroll down to view our top picks for the Weekend in Beer!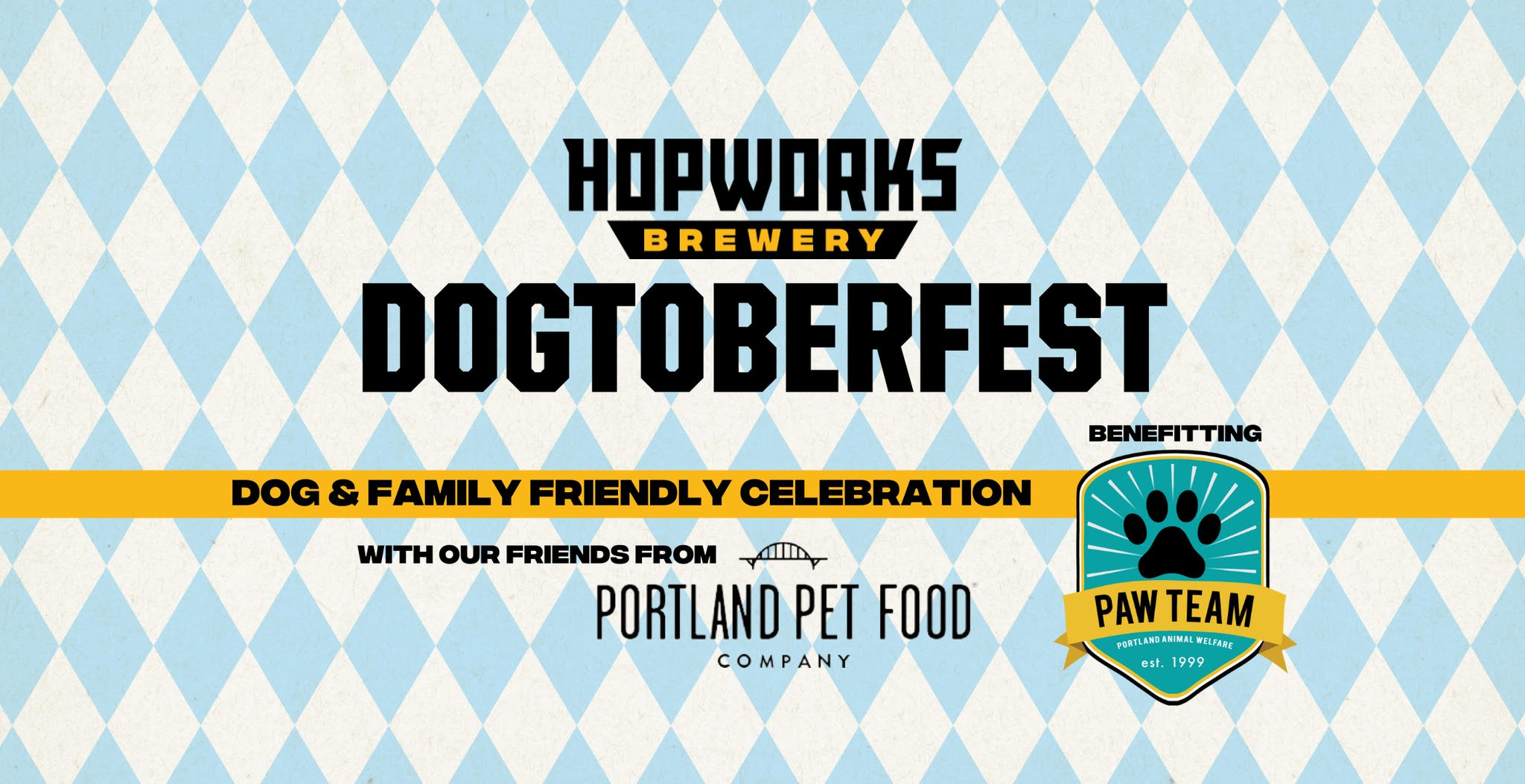 Hopworks Dogtoberfest
Thursday, September 28 – 4:00-7:00pm
For this year's Oktoberfest celebration, Hopworks Brewery is set to host Dogtoberfest, a dog and family friendly Oktoberfest celebration that benefits Portland Animal Welfare (PAW) Team.
The three hour celebration will feature a few new Hopworks beers, food, and plenty of fury friends! The beneficiary, PAW Team, is a Portland based nonprofit providing free veterinary care and pet supplies for folks experiencing houselessness or extreme poverty.
Support the PAW Team by either purchasing a $5 raffle ticket to enter to win a Hopworks gift card and Portland Pet Food swag, or by bringing in new or gently used pet supplies to refill the PAW Team's Pet Supply Bank. All raffle proceeds will be donated to PAW Team.
Dogtoberfest Details:
Tapping Hopworks Oktoberfest + Fresh Hop Overland IPA brews
Food specials and a limited time Classic Lemon Radler beer cocktail
DOG BEER* FOR YOUR DOGGO (*contains no alcohol)
Free dog biscuit samples from Portland Pet Food
Swag and dog toy giveaways (while supplies last)
$5 raffle tickets that benefit the Portland Animal Welfare (PAW) Team
Donations of new or gently used pet supplies will be accepted for the PAW Team's Pet Supply Bank
Food and drink specials will carry through the weekend!
Hopworks Brewery – 2944 SE Powell Blvd – Portland, OR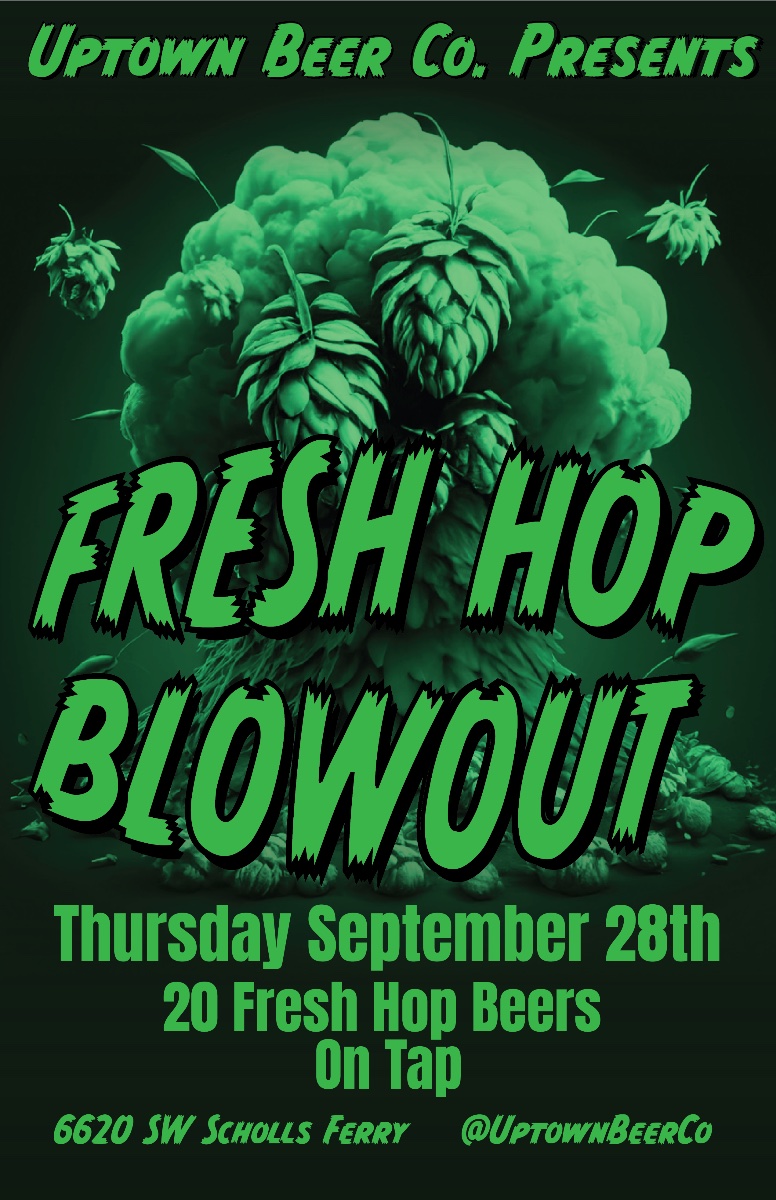 Uptown Beer Fresh Hop Blowout
Thursday, September 28
Fresh hops reign supreme at Uptown Beer Co. For tonight's Fresh Hop Blowout, the beer bar will have over 20 Fresh Hop beers on tap, giveaways and coolers full of cans to go!
Uptown Beer Co. – 6620 SW Scholls Ferry Rd. – Portland, OR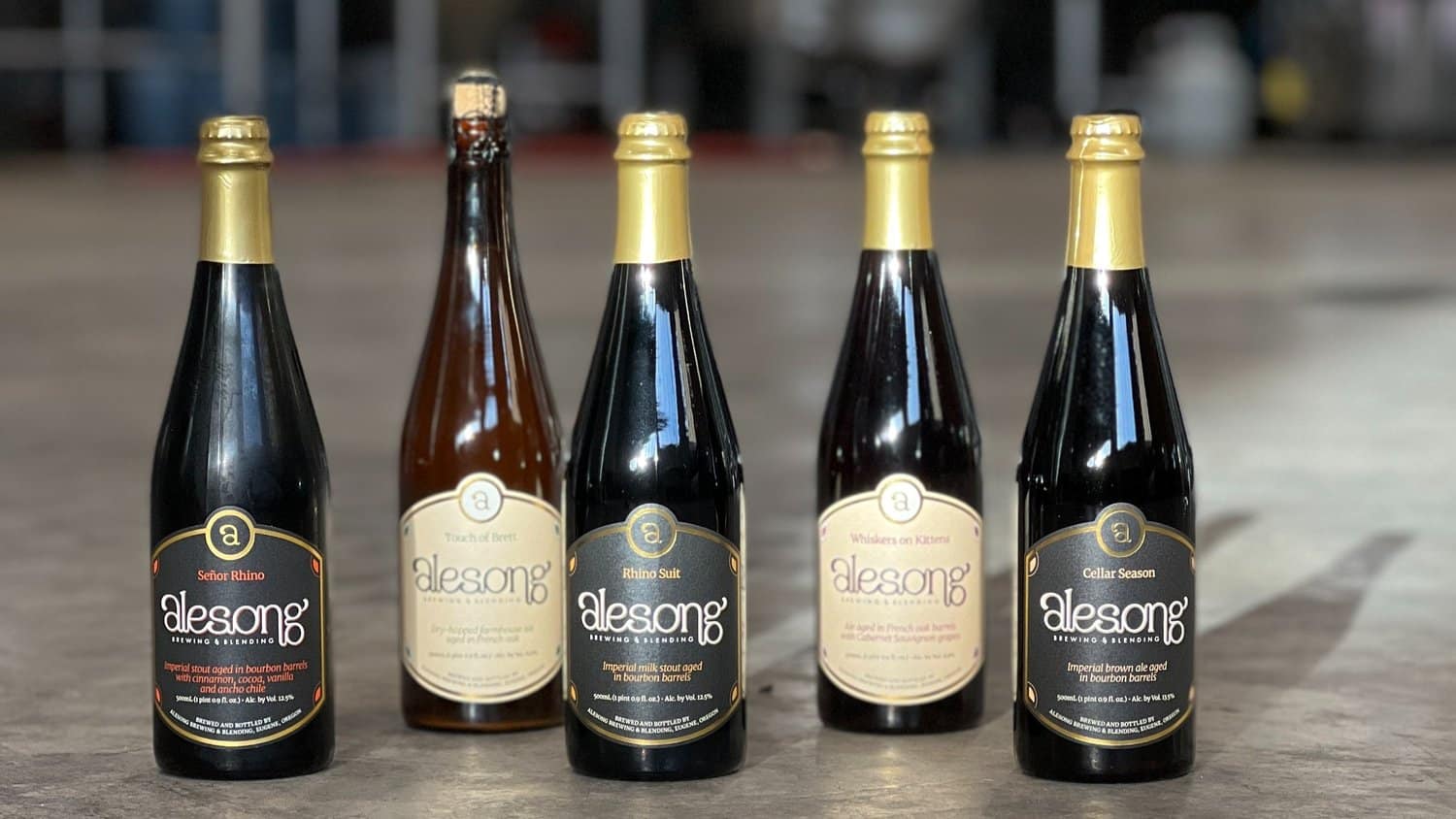 Alesong Beer Dinner
Thursday, September 28 – 6:00pm
Zupan's Markets' Chef John Eisenhart has partnered with Alesong Brewing's co-founder Matt Van Wyk on this forthcoming four-course beer dinner that will be complimented by six beers from Alesong. The beers that will be showcased are Farmhouse Saisons, Fruited Sours and Barrel aged spirit beers.
MENU:
Goat Cheese Cromesquis, braised fig compote
Robiola Timbale, Baby Kale, Spiced Delicata Squash and Rye
Barbecue Pork Shoulder, Lemon Fregula and Garnet Yams
Grilled Peach Tart with Salted Caramel Ice Cream
BEERS:
Farmhouse Fusion
Rolling Mist
Valley Preserves
Whiskers on Kittens
Kentucky Kilt
Mocha Rhino Suit
Advance tickets for this dinner are priced at $95 and can be purchased by clicking here.
Zupan's Markets – Burnside – 2340 W Burnside – Portland, OR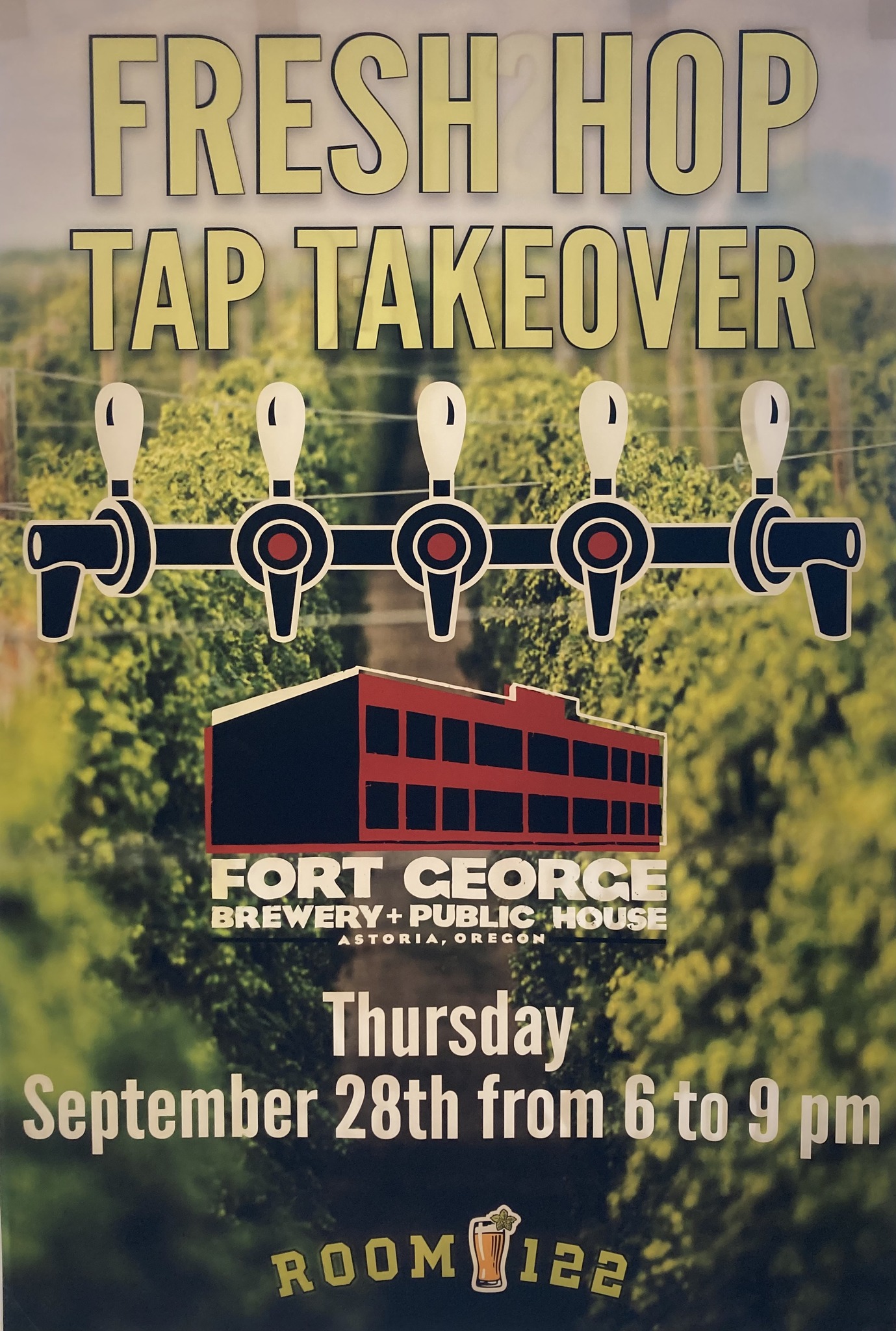 Fort George Fresh Hop Tap Takeover
Thursday, September 28 – 6:00-9:00pm
This hop harvest has been one that has seen plenty of fresh hop beers on tap at Room 122. Tonight will showcase the fresh hops from Fort George Brewery. Plus, Pizza Nelly will be serving up its hand-tossed pizza during this three hour window.
Room 122 – 14274 SE Allen Blvd. – Beaverton, OR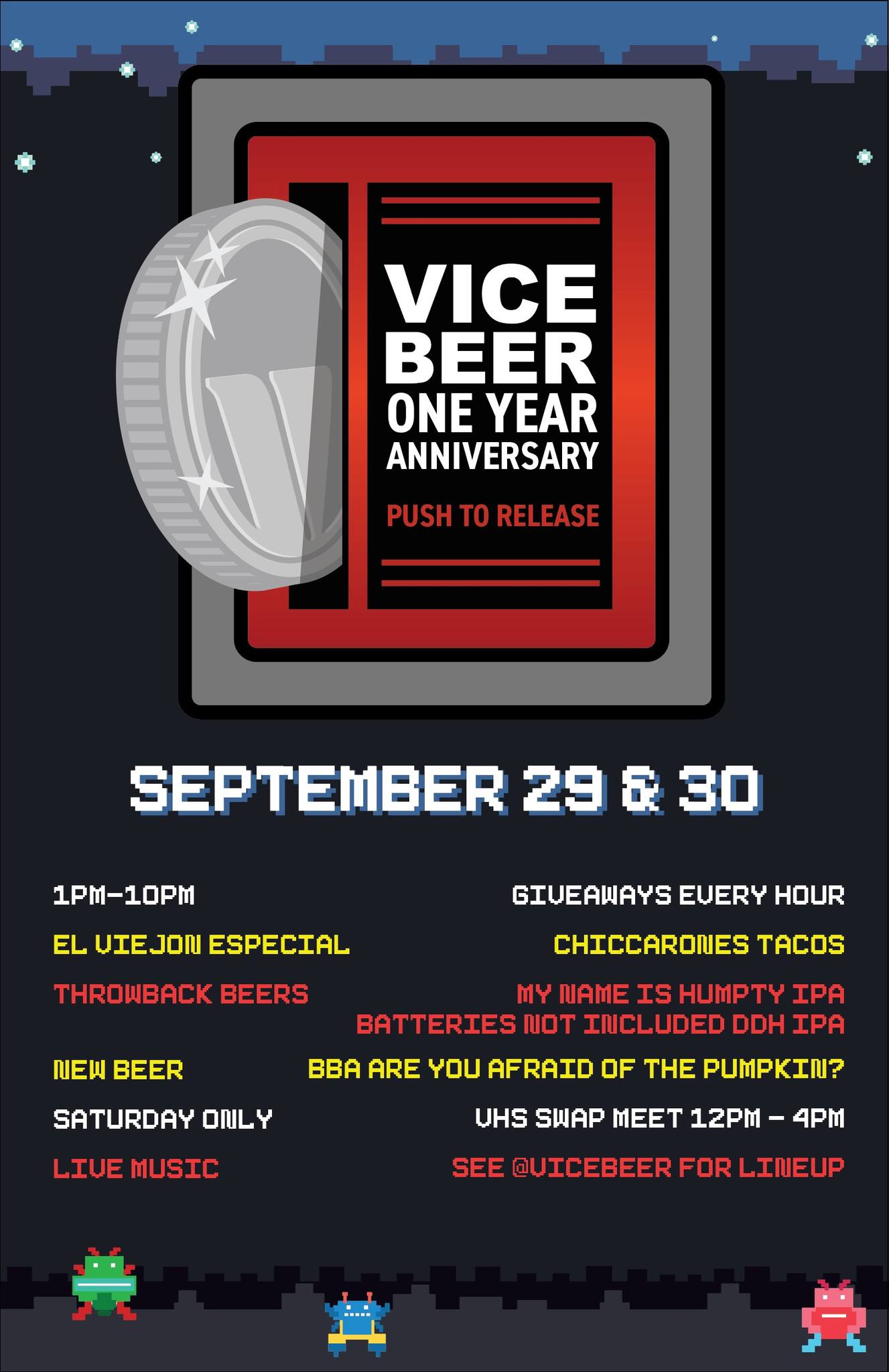 Vice Beer One Year Anniversary
Friday, September 29 – Saturday, September 30 – 1:00-10:00pm
Celebrate one year of Vice Beer with the release of three beers on Friday, including the return of My Name is Humpty IPA and Batteries Not Included! Joining these two beers wil be Are You Afraid of the Pumpkin, a Bourbon and Port Barrel-Aged Pumpkin Pie Imperial Stout! In addition to the beers, there will be giveaways from Vice Beer and El Viejon every hour on the hour all day!
Then on Saturday, Vice Beer will host a VHS swap meet with a dozen vendors displaying and playing rare tapes!
Vice Beer – 705 SE Park Crest – Vancouver, WA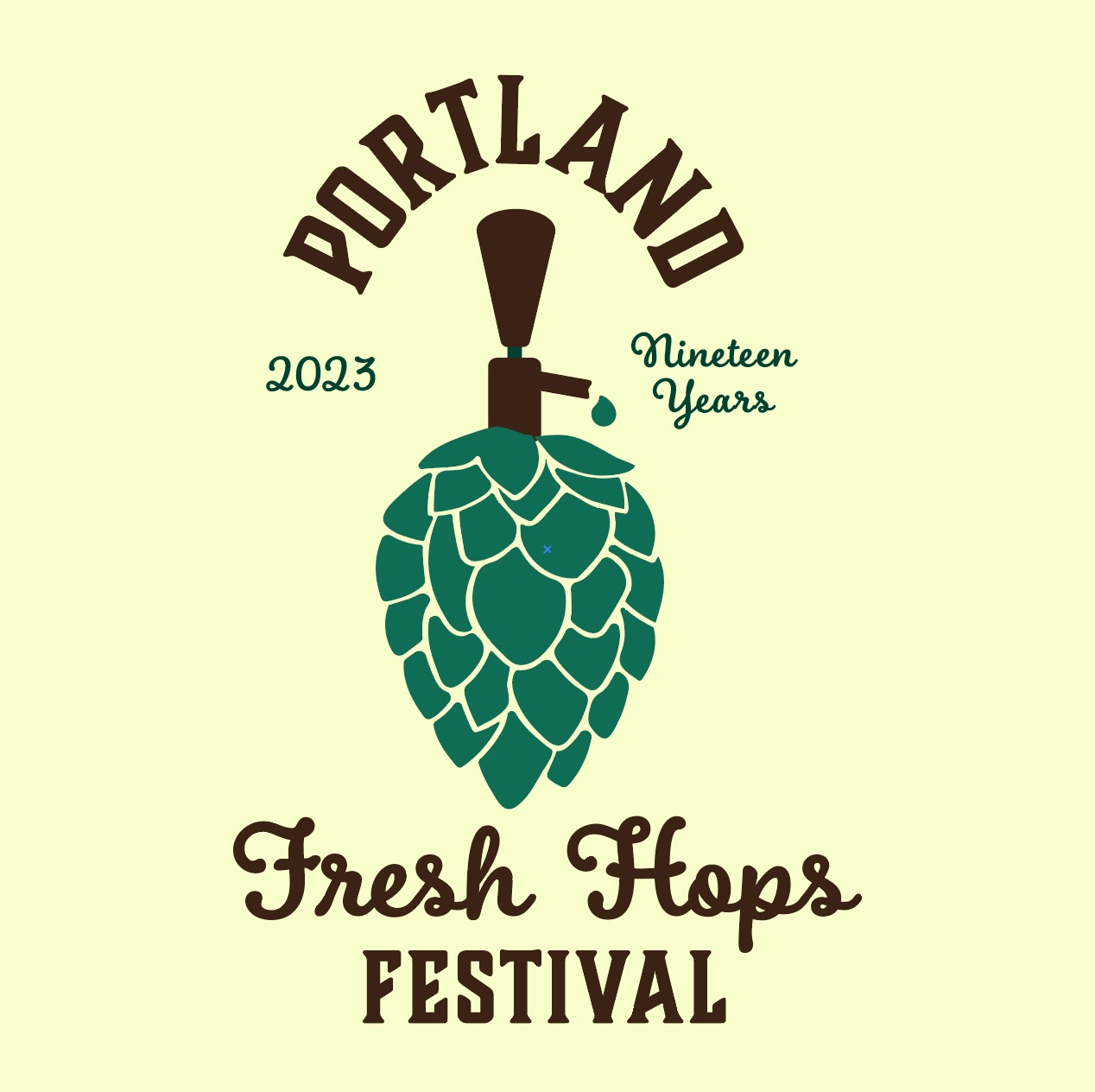 Portland Fresh Hops Festival
Friday, September 29 – Saturday, September 30
Now in its 19th year, the Portland Fresh Hops Festival, hosted by the Oregon Brewers Guild returns to the Oaks Amusement Park on Friday and Saturday. The annual fall event features beers brewed with freshly harvested hops. It's not to say that each beer is only brewed with fresh hops, but at least part of the beer's hop bill uses some of Oregon's favorite agricultural product!
Festival hours are 4:00-8:00pm on Friday, September 29th and Noon-8:00pm on Saturday, September 30th. Tickets are now on-sale with an Early Bird Ticket Special of 20% off that runs through Sunday, September 10th. This price of $20.00 ($23.53 after fees) includes an event glass and five 4-ounce pours. Additional drink tickets that can be purchased at the event are stated to cost $2 each for a 4-ounce pour. To purchase advance ticket, click here.
You can find additional information, as well as pricing and the routinely updated list of participating breweries via the Oregon Brewers Guild website at https://www.oregoncraftbeer.org/pdx-fresh-hops-festival. Proceeds from the event  benefit the nonprofit Guild's efforts to promote and protect the Oregon craft beer industry.
Oaks Amusement Park – 7805 SE Oaks Park Way – Portland, OR
Oregon Zoo Fall Beer & Cider Festival
Friday, September 29 – Saturday, September 30 – 5:00-9:30pm
Oregon Zoo Fall Beer and Cider Festival brings together over 40 of the Pacific Northwest's best breweries and cider houses for a two-night 21+ event. Plus, delicious local food carts and dinner options will be available throughout the zoo.
Entry is $55 for imbibers and $25 for non-drinkers To purchase tickets, click here.
Oregon Zoo – 4001 SW Canyon Rd – Portland, OR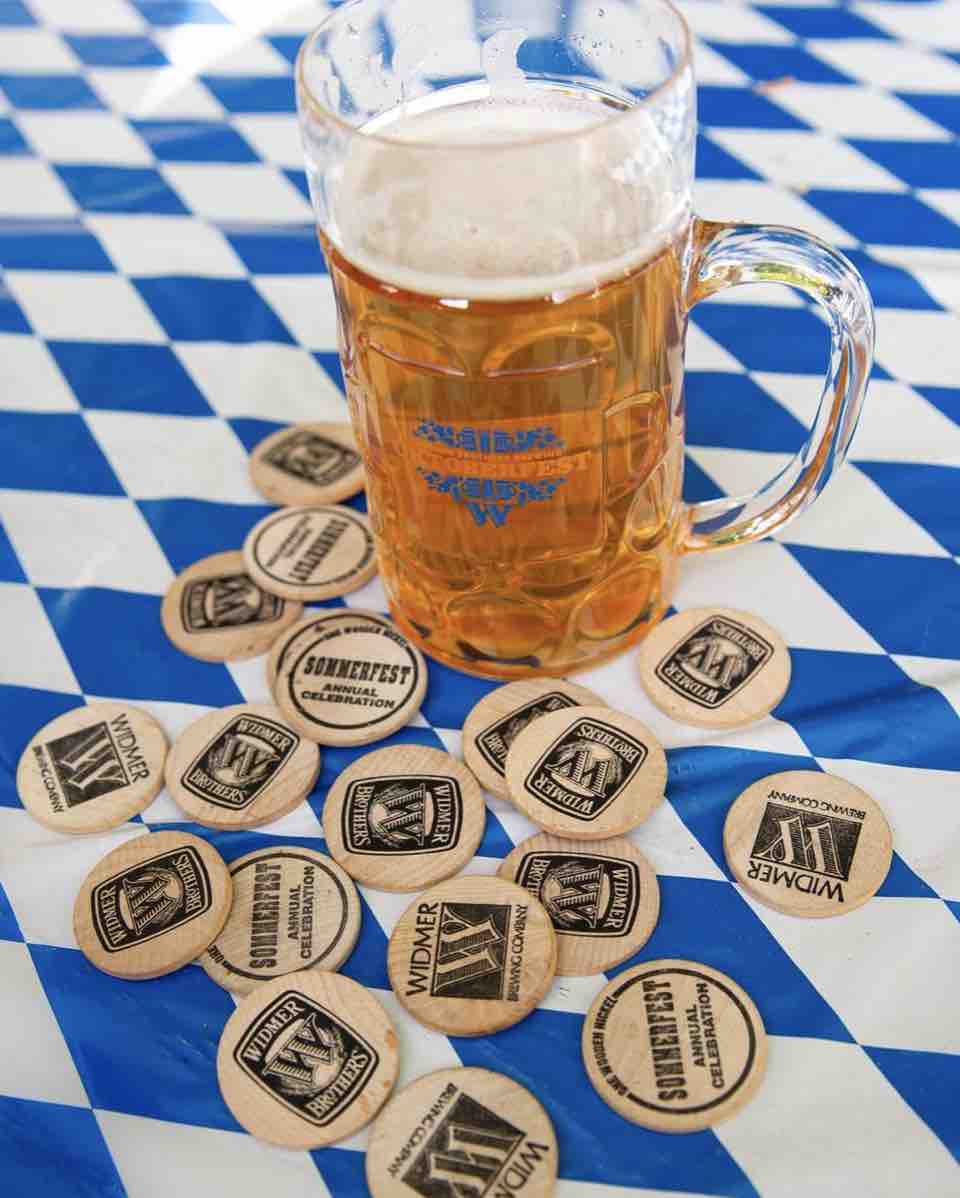 Widmer Oktofest
Saturday, September 30 – 11:00am-8:00pm
For 19 years, Widmer Brothers Brewing has been hosting an Oktoberfest celebration that brings all of Portlanders together and this year is no exception. The 19th Annual Widmer Brothers Brewing Oktofest will take place at a new home in Portland's Rose Quarter right outside the Moda Center. Attendees can expect tasty food, live music and mugs of Okto Festive Ale as well as other selections from Widmer Brothers.
This year's Oktofest music lineup includes:
Laryssa Birdseye: Noon-1:30pm
Hayley Lynn: 1:50-3:20pm
Hiroki: 3:40-5:10pm
Fox and Bones: 5:30-7pm
Admission into Oktofest is free, but to partake in an Okto or any other Widmer Beer or Square Mile Cider, an Oktofest Commemorative Mug is necessary along with beer tokens. To get your drink on, Widmer is offering a few ticket options and can be purchase in advance by clicking here.
Rose Quarter – 1 N Center Court – Portland, OR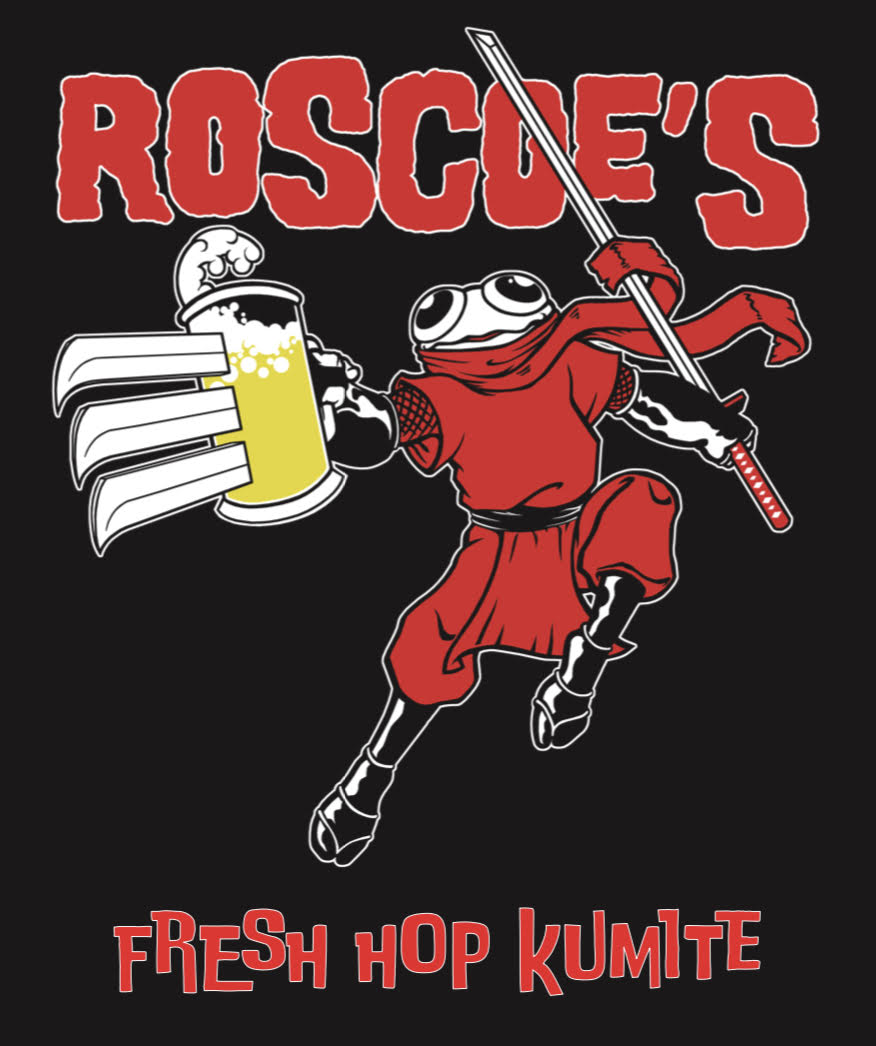 Roscoe's Fresh Hop Kumite
Saturday, September 30 11:00am-6:00pm
Roscoe's is adding a new, one day event during its Fresh Hop Summit. Debuting on Saturday will be Fresh Hop Kumite. Over the course of seven hours, Fresh Hop Kumite will allow fresh hop fans to blind taste eight different fresh hop heavyweights.
Fresh Hop Kumite will be a multi-round, tournament style blind tasting, with the bracket mounted on the wall.  It will feature 8 specially selected Fresh Hop IPAs in Round 1. Then there will be just four in Round 2 with the finals in Round 3. You can jump in begin voting at any point, but the rounds will be scheduled as follows:
Round 1 – 11AM til 3PM (all 8 beers)
Round 2 – 3PM til 5PM  (4 Surviving beers)
Round 3 – 5PM til 6PM Final Face-off
The victor will be then be declared at 6:00pm to relish in all of the glory!!
During Fresh Hop Kumite, there will be a total of 15 Fresh hop beers on tap during the event – 8 for the blind tasting and 7 additional options. There will also be special Kumite T-Shirts available for just $6 during the event while Jean-Claude Van Damme movies will be playing all day long.  To participate, it will set you back $30 and will provide taster trays for all three rounds that equates to fourteen 5-ounce tasters!
Roscoe's – 8105 SE Stark St. – Portland, OR
Freeland Spirits 5 Year Anniversary Party
Saturday, September 30 – Noon-8:00pm
Five years ago, Freeland Spirits opened its doors in Northwest Portland within one block of the Montgomery Park building. For its 5 Year Anniversary Party, the distiller will have live music spinning from local DJ's, BBQ by Pat E Mac's, specialty cocktails, corn hole, jell-o shots, and more!
The event is all ages and will be taking over the parking lot. Therefore you can park next door in On Point's parking lot or on the street. Better yet, take TriMet as Freeland Spirits is located on the #15 and #77 bus lines.
Freeland Spirits – 2671 NW Vaughn – Portland, OR
Uptown Beer Oktopalooza
Saturday, September 30 – 6:00-9:00pm
Come join Oregon Chorale's Portland Beer Choir for drinking songs, German beer, sausages and more!
Beer Choir is a national singing movement founded by composer Michael Engelhardt in 2015. If you like beer, and you like singing, you'll love Beer Choir. All are welcome to join in with the proprietary Beer Choir Hymnal, a songbook of 40 drinking song classics, original works, and favorite melodies updated with irreverent lyrics.
This isn't like your traditional choir – if you show up the night of a Beer Choir event, you are the choir! No singing experienced required, just come and sing, drink, and laugh together!
Uptown Beer Co. – 6620 SW Scholls Ferry Rd. – Portland, OR