Caldera Brewing Donates To National Cancer Institute Moonshot Initiative
|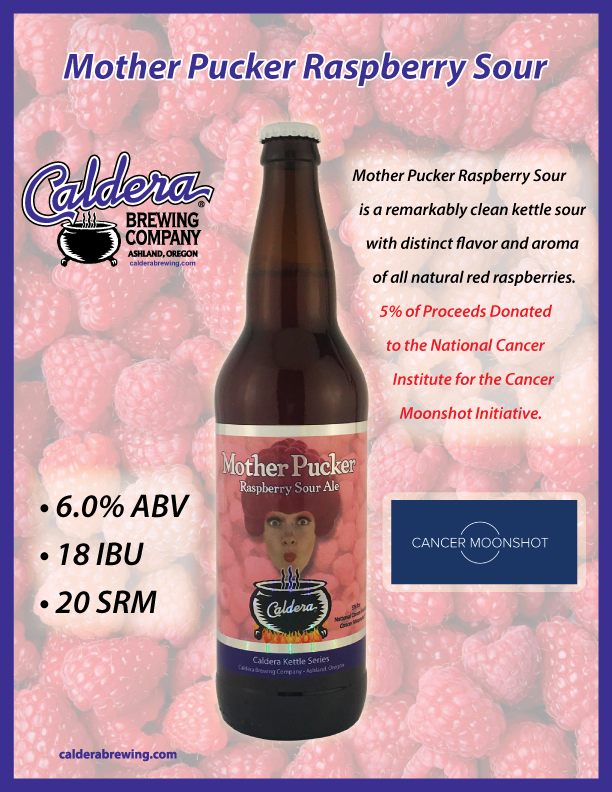 Last year Caldera Brewing launched its Mother Pucker Raspberry Sour. The Ashland brewer decided to donate 5% of its proceeds from the sale of this beer to the National Cancer Institute Moonshot Initiative.
Caldera Brewing is now cutting a check for $603 to the National Cancer Institute Moonshot Initiative. "It is not a lot of money, but we launched Mother Pucker Raspberry Sour half way through 2017" states Jim Mills, owner of Caldera Brewing Company, in a news release. "We donate 5% of our proceeds from the sales of Mother Pucker to the initiative. Seems like everybody knows of someone with cancer. It is 2018 and we should be able to find cancer cures."
Mother Pucker Raspberry Sour is a kettle sour beer that offers prominent raspberry flavors and aromas. It sits at 6% ABV and 18 IBUs.
The Cancer Moonshot is focused on accelerating cancer research aims to make more therapies available to more patients, while also improving our ability to prevent cancer and detect it at an early stage. Congress passed the 21st Century Cures Act in December 2016 authorizing $1.8 billion in funding for the Cancer Moonshot over 7 years. An initial $300 million has been appropriated in fiscal year (FY) 2017 to fund Moonshot initiatives.