Binary Brewing Opens Today in Beaverton, Oregon
|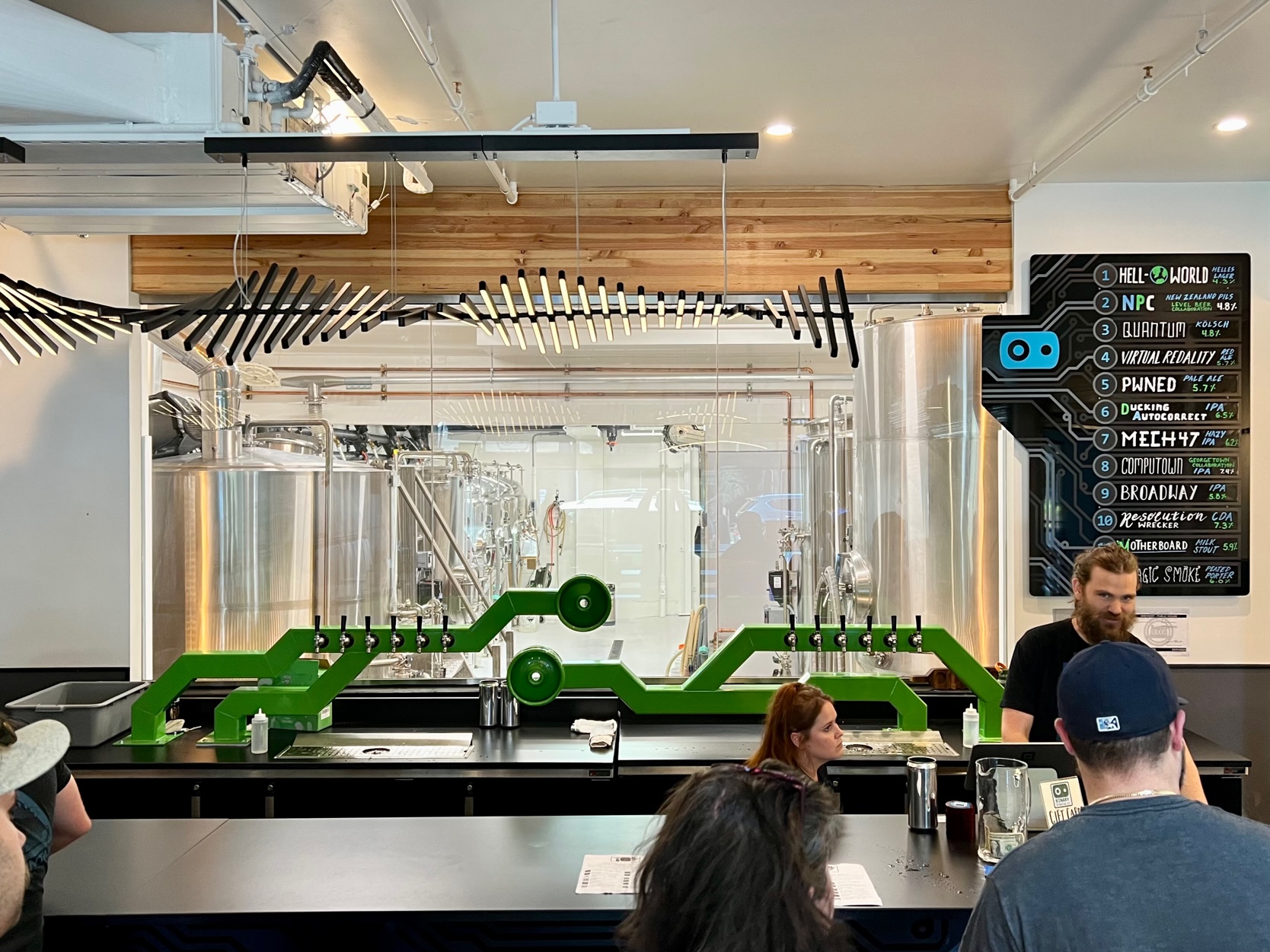 What was to originally open a year ago, Binary Brewing is set to finally open its doors to the public today in downtown Beaverton. Beginning at 5:00pm, 12 beers will be on tap alongside a full food menu from Megabites, its in-house restaurant operation.
In February 2021, Binary Brewing announced that they'd be taking over the former Beaverton Bakery location with a goal of opening in Summer 2021. Well permitting and a few others business related setbacks derailed this opening but the day is finally here to welcome in guests.
This move brings Binary Brewing's operations from it sister company, Uptown Beer Co., to downtown Beaverton. Inside this 100+ year old building is a new brewhouse, restaurant and plenty of space to stretch out for a beer and a bite. With this opening, Binary will join Cooper Mountain Ale Works as Beaverton's only operating breweries with hopefully additional ones in the near future.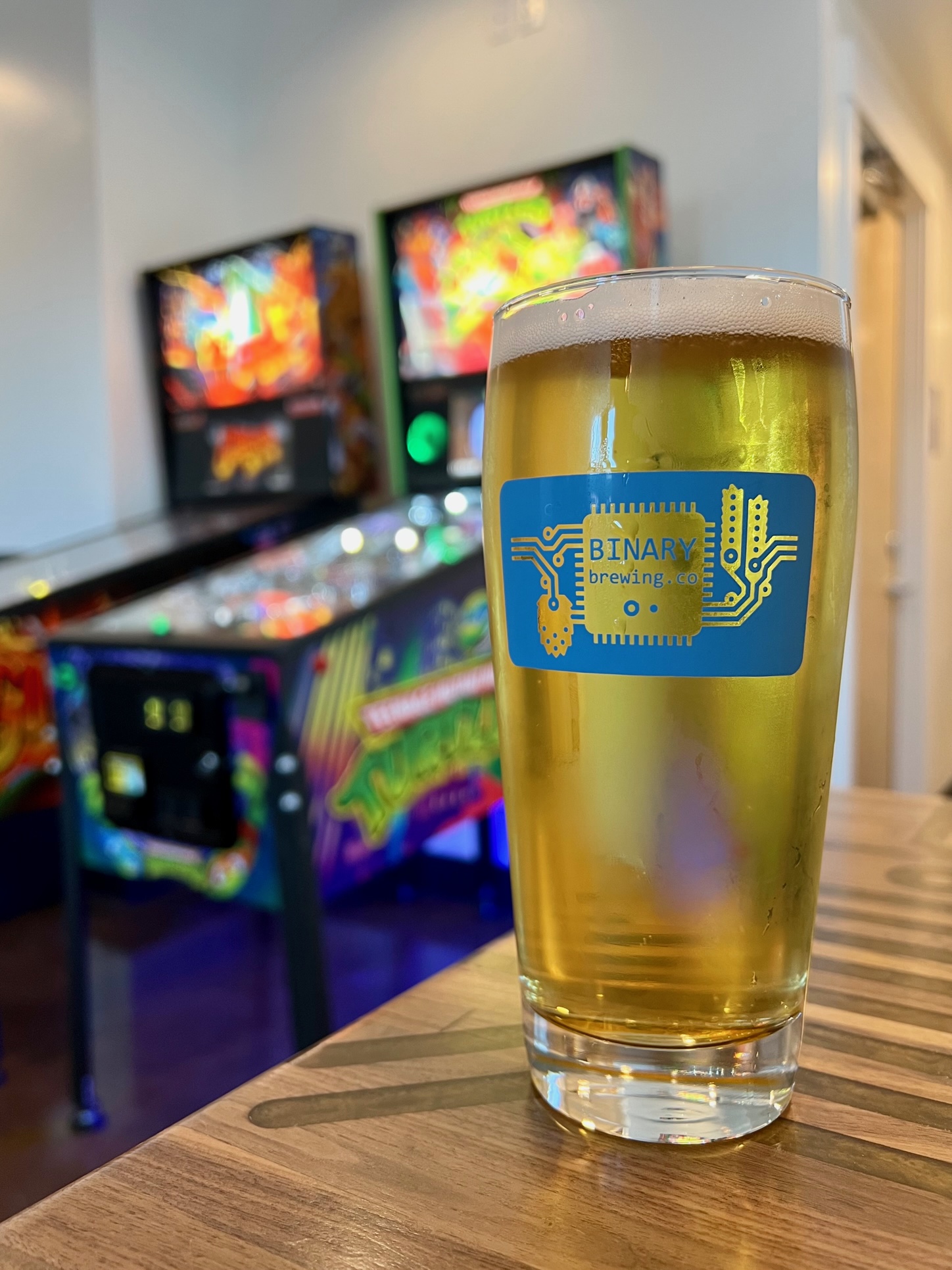 This little strip of SW Broadway in Beaverton is beginning to be revitalized with a few new businesses opening up as of late. Binary Brewing is next door to Rudy's Barbershop and See See Motor Coffee. Then a few blocks away sits Loyal Legion, Ex Novo and at some point the forthcoming Breakside Brewery – Beaverton Taproom.
The brewing operations are led by Binary Brewing co-owner Roger Wood. He will bring his skills he learned on the archaic 7-barrel brewhouse to the new and modern 10-barrel brewhouse located in view behind the bar. So far, this new brewhouse is paying dividends in improved beer quality as we noticed during our visit.
When it comes to the old brewing equipment, it'll likely be repurposed. "We still have the equipment but not sure what we'll do with it," said Josh Johnson, co-owner of Binary Brewing and Uptown Beer. "Once Roger began brewing on this new system he doesn't want to go back."
At its opening later today, Binary Brewing will have 12 beers on tap, two of which were brewed on-site. Eight of the others were brewed on the old system  inside Uptown Beer Co. and two others are collaboration beers brewed at Level Beer and Georgetown Brewing. In the near future, there are a few additional collaborations coming to Binary, all brewed at the collaborating brewery. These collaborations will be mixed in with new beers coming out of Binary.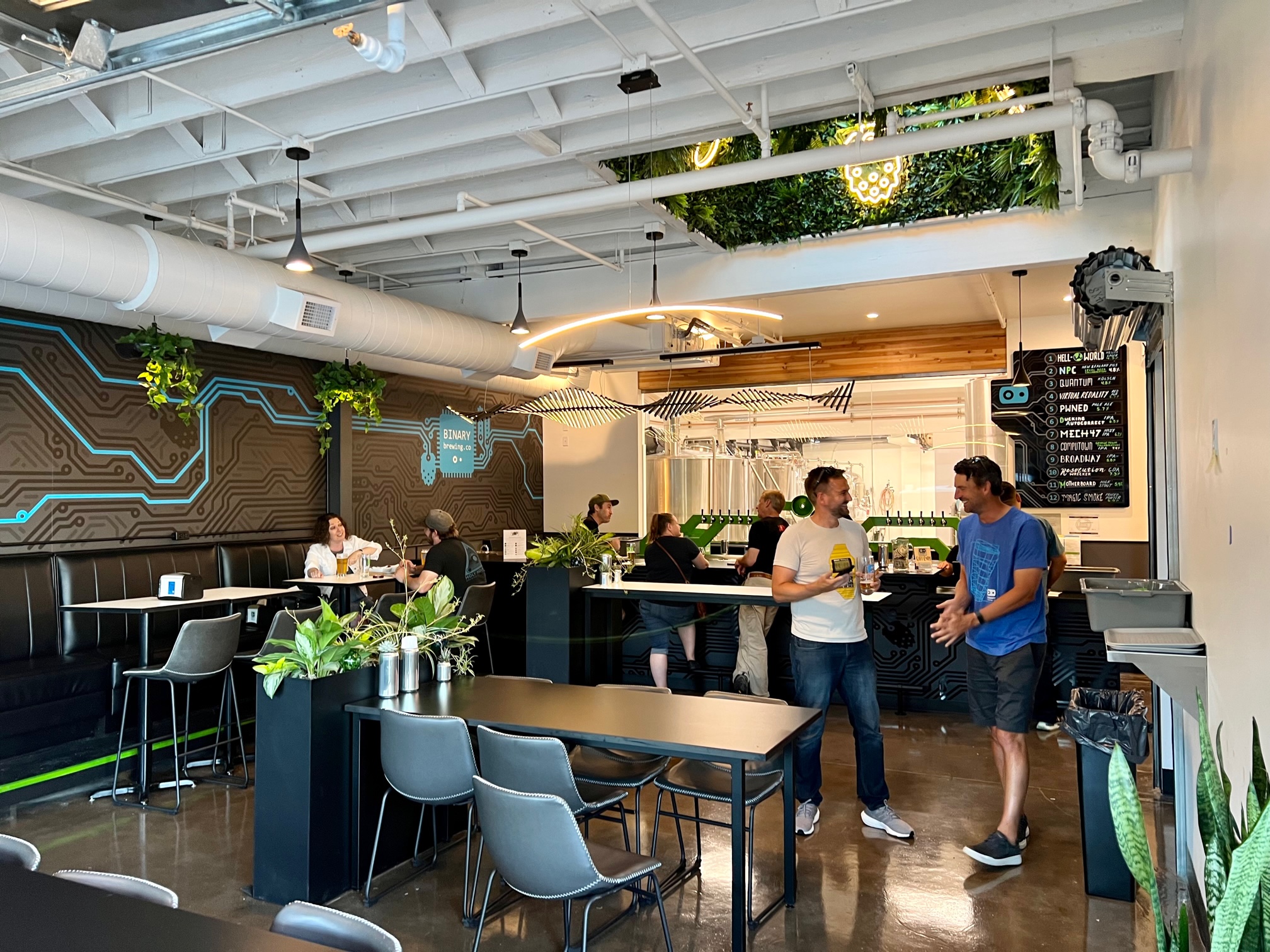 Of the two new beers brewed on-site, Binary is serving Hell-O World, a Helles Later at 4.5% ABV and Broadway IPA, a NW IPA at 5.8% ABV. Of the two, we enjoyed the Broadway IPA as it's a straight forward IPA that's easy drinking. This one paired nicely with our meal! Hell-O World is a bit on the sweeter side of a lager for our tastes. Given it was one of the first beers brewed on the system it's a fine lager, that's a nice improvement from lagers brewed at its former brewhouse.
Binary Brewing Opening Tap List:
Hell-O World Helles Lager
NPC New Zealand Pils (brewed in collaboration with Level Beer)
Quantum Kölsch
Virtual Redality Red Ale
PWNED Pale Ale
Ducking Autocorrect IPA
Mech 47 Hazy IPA
Computown IPA (brewed in collaboration with Georgetown Brewing)
Broadway IPA
Resoultion Wrecker CDA
Motherboard Milk Stout
Magic Smoke Peated Porter
The taproom will serve its beers in pints, 1/2 pints and a five-beer taster tray. Once fully up and running at its new brewery, Binary Brewing will begin supplying its distributor, Running Man Distributing, with its beers for better distribution around the Portland metro area.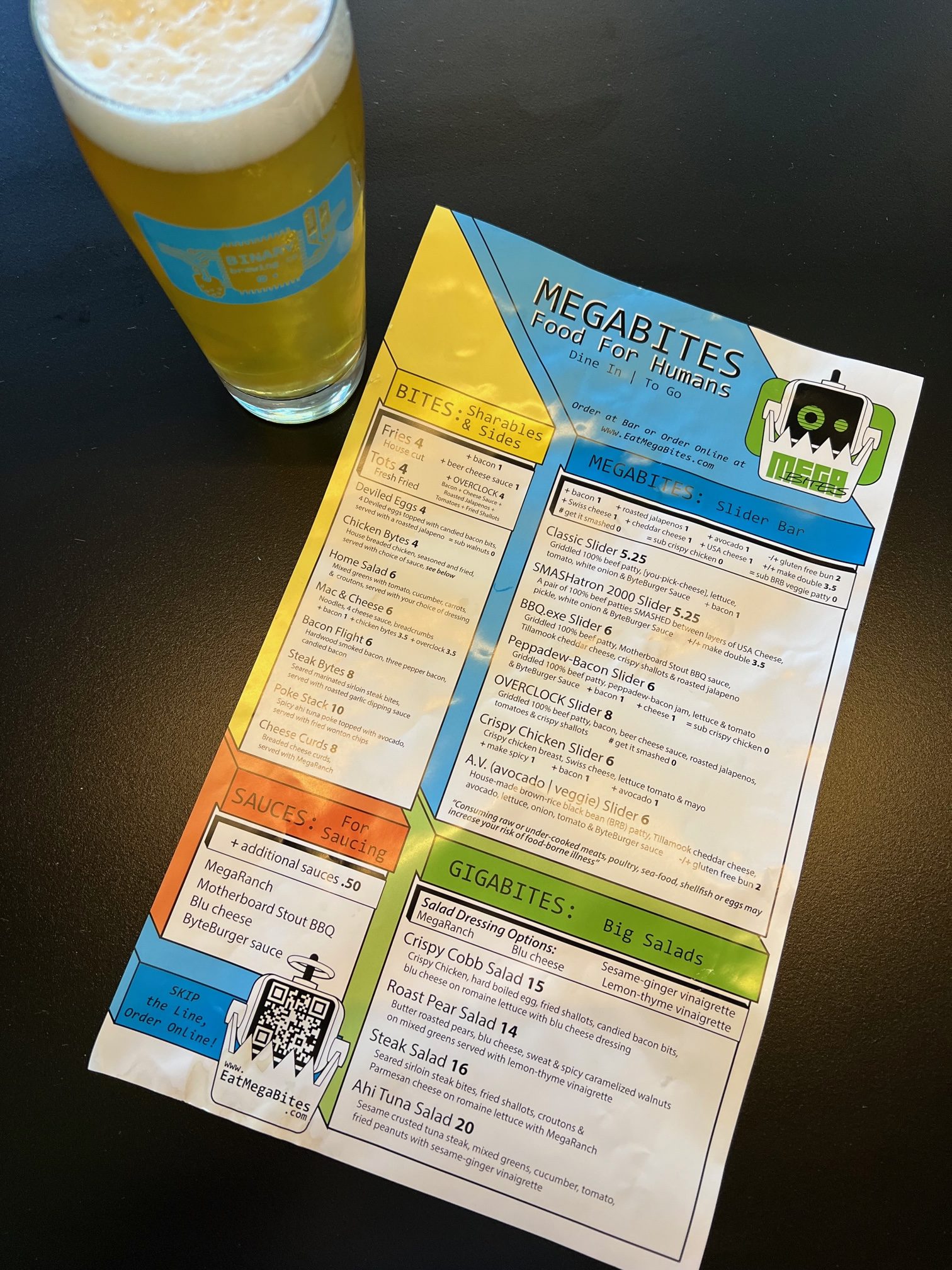 The in-house restaurant, appropriately named Megabites, is operated by Matt Reimer whose resume includes Bollywood Theater and Lompoc Oaks Bottom. It's the time he spent at Lompoc is where he met Josh as the had previously worked there. From speaking to Stuart Faris, co-owner of Binary Brewing and Uptown Beer, we learned that Matt will be creating the entire menu from scratch, sans the buns and tater tots. But in the future, the plan is to bake the buns in house as well!
Megabites' menu features a handful of slider options, including a veggie one, four various salads and plenty of small bites. During our visit we perused our way through the sliders and a couple of small plate options.
Ordering is done at the bar. We went with a SMASHatrom 2000 Slider and A.V. (avocado/veggie) Slider. Of the two, our top choice was the A.V. Slider that featured a house-made brown-rice and black bean patty that's topped with Tillamook Cheddar, avocado, onion, lettuce and tomato, plus a drizzle of ByteBurger sauce.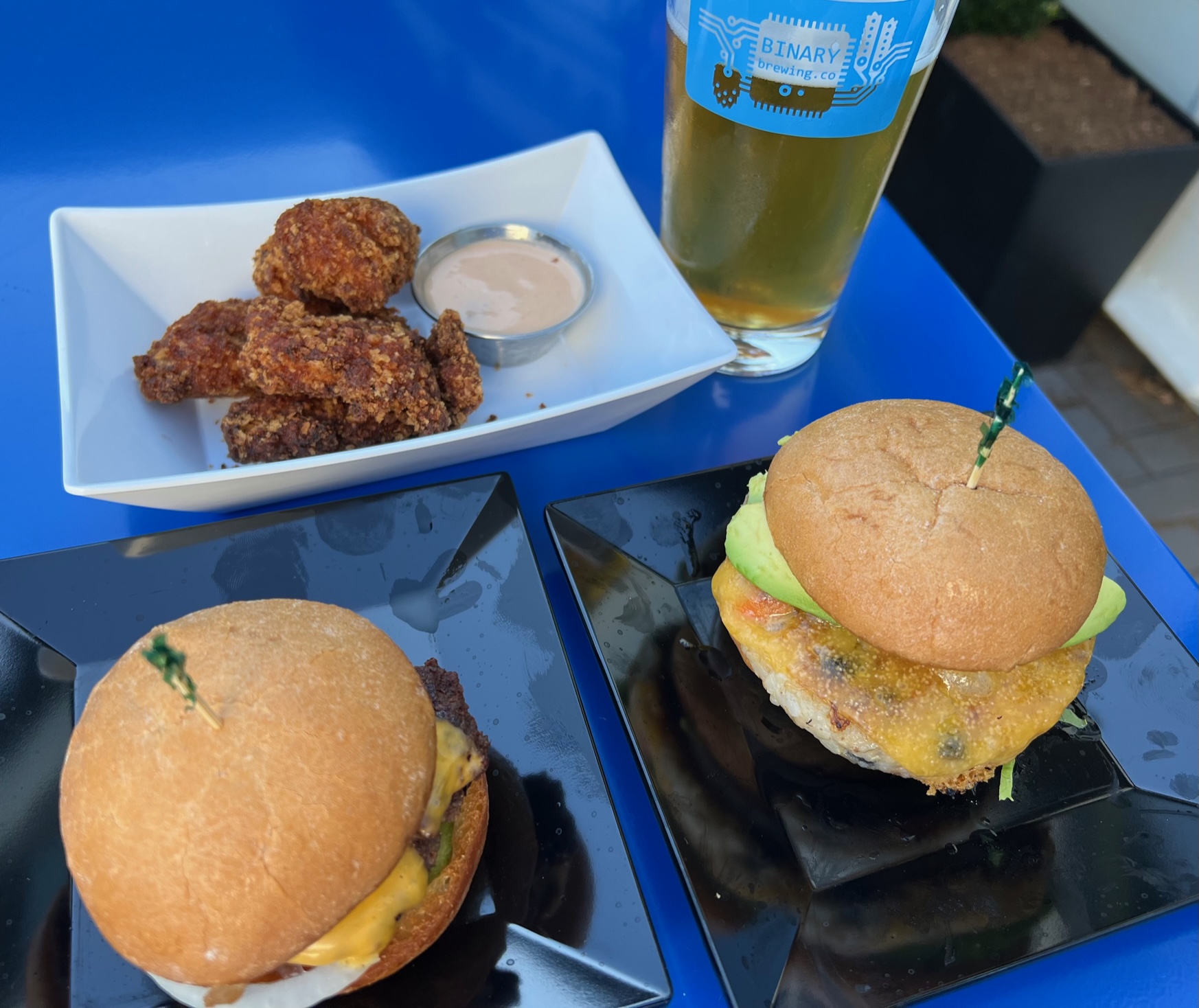 In addition to the two sliders, we ordered Chicken Bytes and sampled a few of Megabites' Cheese Curds. It's a huge plus to see cheese curds on a menu that's all made in house. No SYSCO curds here! The breading is light and tasty with the full focus on the curd. Well done!
In addition to the beer and food options, there's a couple of pinball machines ready to take your quarters! Look for both machines, Godzilla and Teenage Mutant Ninja Turtles, in the adjacent indoor dining room with well-designed tabletops of a circuit board just to the right of the bar.
Going forward, hours for Binary Brewing will be 3:00-10:00pm Monday – Wednesday and Noon-10:00pm Thursday – Sunday. All ages are welcome and dogs are allowed on the front patio.
To stay up to date on all things Binary Brewing follow the brewery on Facebook and Instagram or visit their website at binarybrewing.co.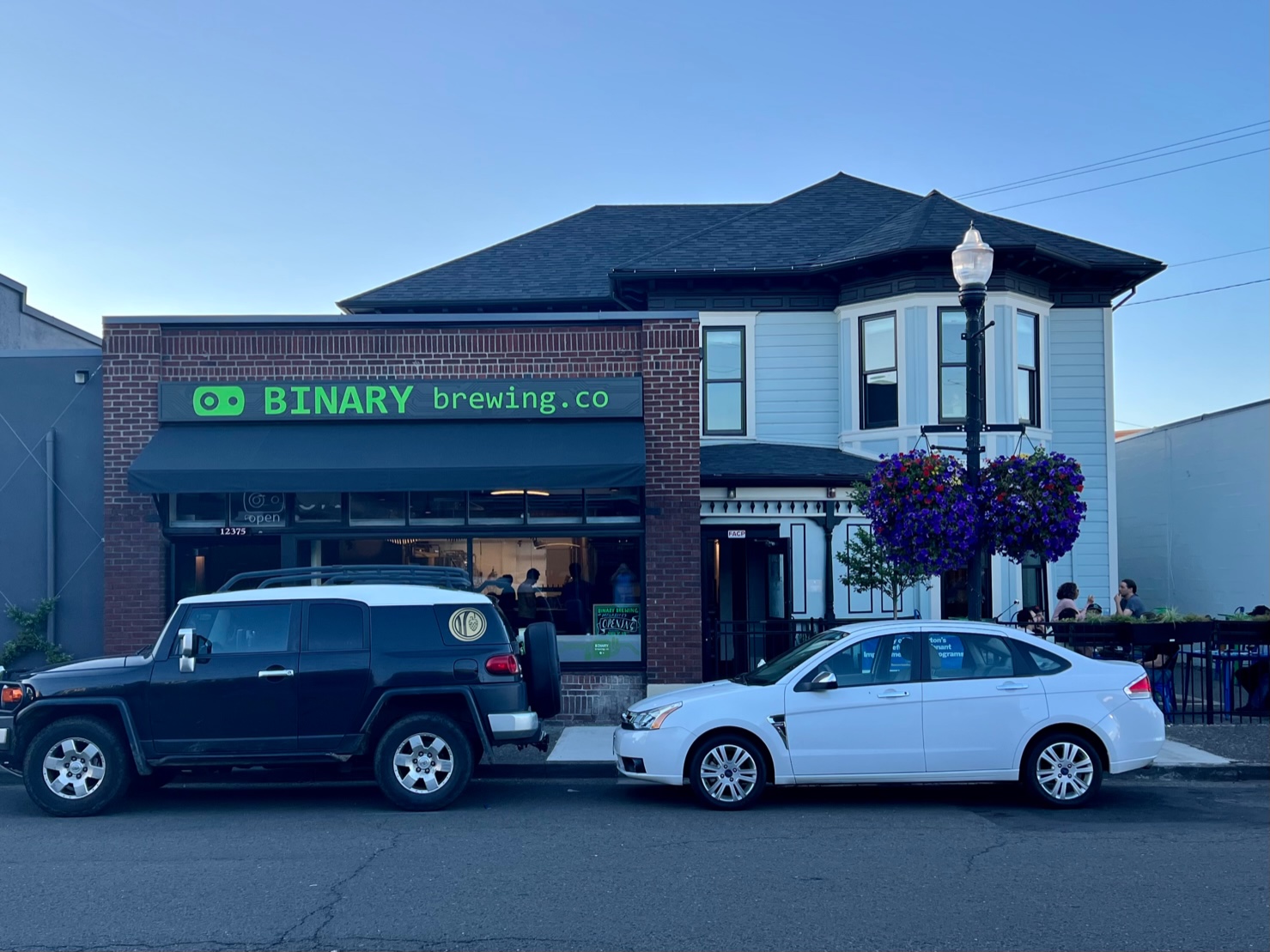 Binary Brewing & Megabites
12345 SW Broadway
Beaverton, OR 97005