Everybody's Brewing Refreshes is Branding
|
With nearly 15 years under its belt, all with the same branding, Everybody's Brewing has refreshed its image. This new, refreshed branding was unveiled on Saturday, March 4th at the brewery in White Salmon, Washington.
Founded in 2008 by Doug Ellenberger and Christine Ellenberger, Everybody's Brewing has gone though some changes during this run. The most notable took place in 2018 when the brewery relocated to a brand-new building a few doors to the east on the main drag in White Salmon.
Now five years after the relocation, Everybody's Brewing has spruced up its packaging and brand imaging. The full overhaul of
their visual identity will be rolled out across all facets of the business, including packaged products, interior design, and online presence. The launch of the rebrand coincides with the release of four new year-round 12oz cans, and two new seasonal 16oz cans.
"We'll still be the same Everybody's," said Everybody's Co-Owner Doug Ellenberger. "but we recognize the importance of keeping our branding fun and relevant. The market has changed a lot in the 14 years since we opened, and we're keeping up with those changes. We feel the new branding will appeal both to our day-one customers, and folks that haven't yet thought to give us a try. We take a lot of pride in the quality of our beer, and we are also really proud of our new look."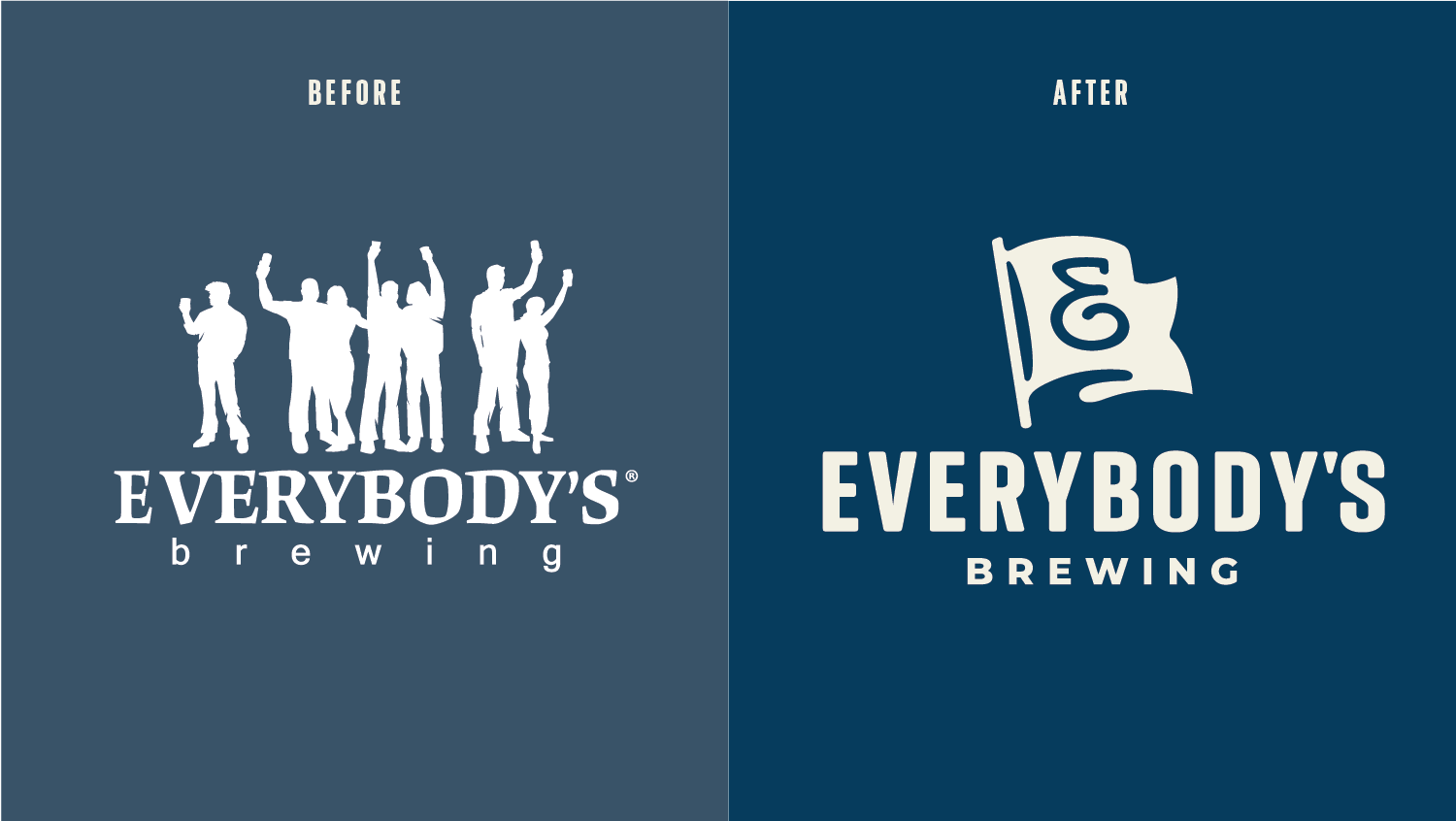 The former branding, designed in 2008, featured a logo of people standing together with beers in hand – a very literal interpretation of "Everybody's". Over the years, the logo remained the same while aspects of artwork on their cans slowly, continuously evolved. This slow evolution allowed the company to grow, but they found the products becoming less cohesive over time. The new branding is not only an effort to tighten up their look, but a chance for the company to define and re-iterate who "Everybody's Brewing" is, and what they stand for.
"We kicked off this project by exploring the mission and voice of our company, which was a really exciting aspect of the process for us." Says Co-Owner Christine Ellenberger, "It was a chance to sit down and say 'Okay, we know who we are, but how do we better define that share it with people?' In the end, the most important thing was that we stay true to our core values: inclusivity, quality, fun, and community."
The new branding has a clean, but retro feel, and maintains the playful aspect that Everybody's is known for. This can be exemplified by 12oz cans of their new "Co-Pilot Pilsner", featuring a joyful, animated dog hanging out the side of a classic pickup truck window.
Their new logo is a flag with an emblazoned "E", and new slogan boldly states, "Beer For All." Ellenberger noted it's importance, "The flag was kind of an ironic play; traditionally, they're used to stake claim or ownership someone or something specific, but our flag stakes claim for everybody. We truly believe that craft beer is a community staple, one that everyone should be able to enjoy. Our new slogan drives that home. We make beer for everybody."
Below are some images of the new can artwork, alongside a brief description of the beers. There are some longtime fan favorites and a few new offerings.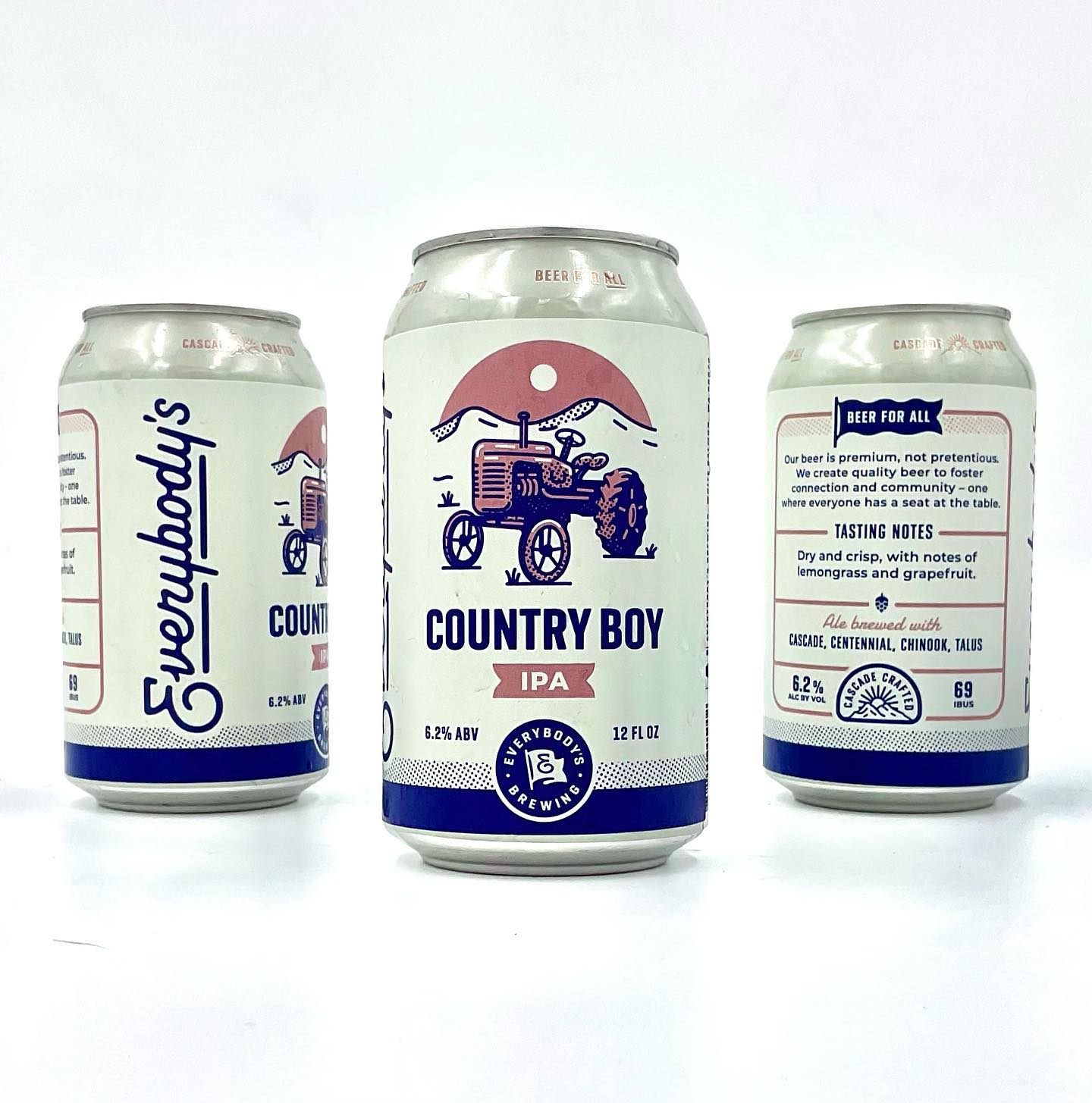 Country Boy IPA
Dry and crips, with notes of lemongrass and grapefruit.
6.2% ABV / 69 IBUs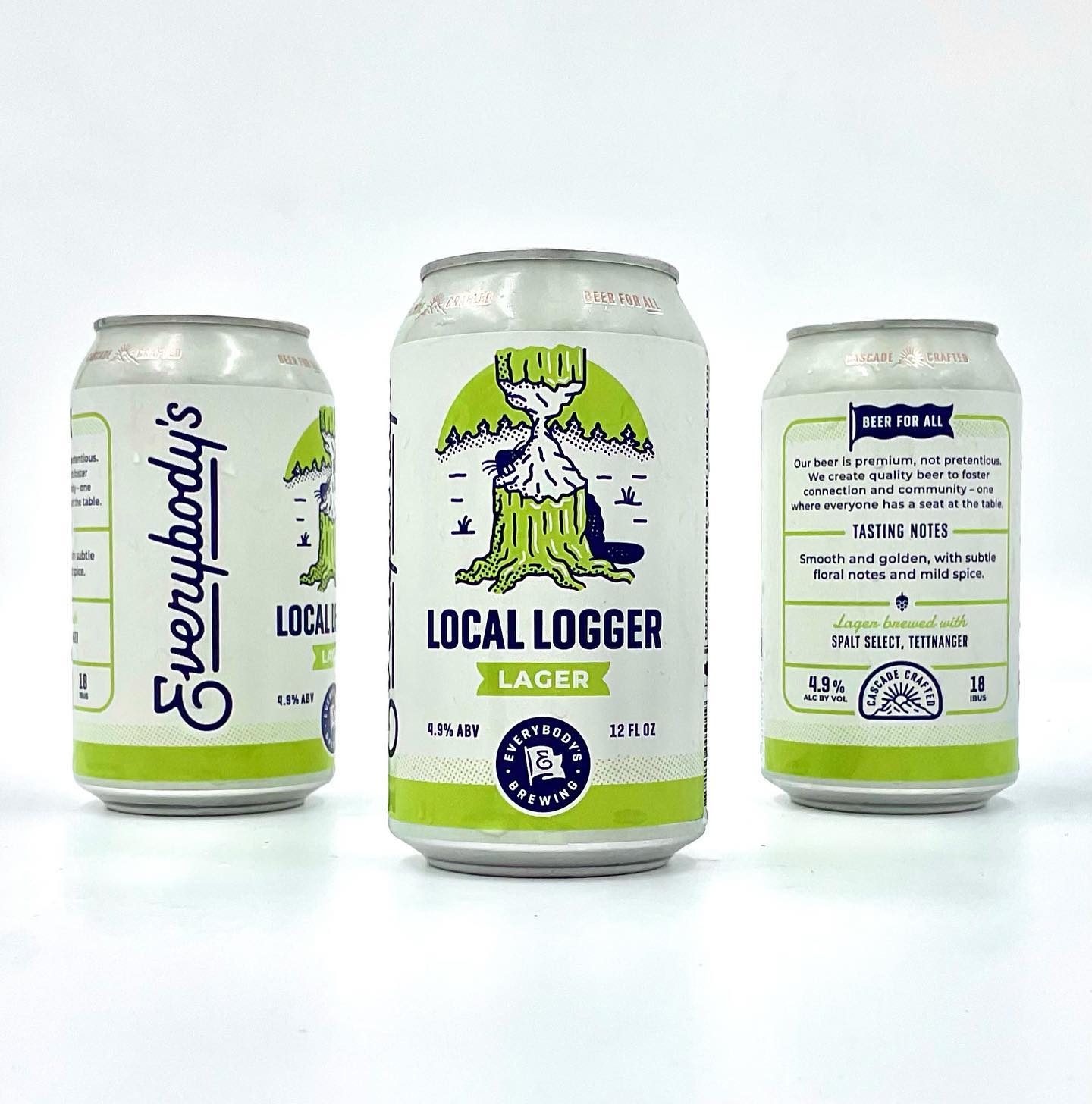 Local Logger Lager
Smooth and golden, with subtle floral notes and mild spice.
4.9% ABV / 18 IBUs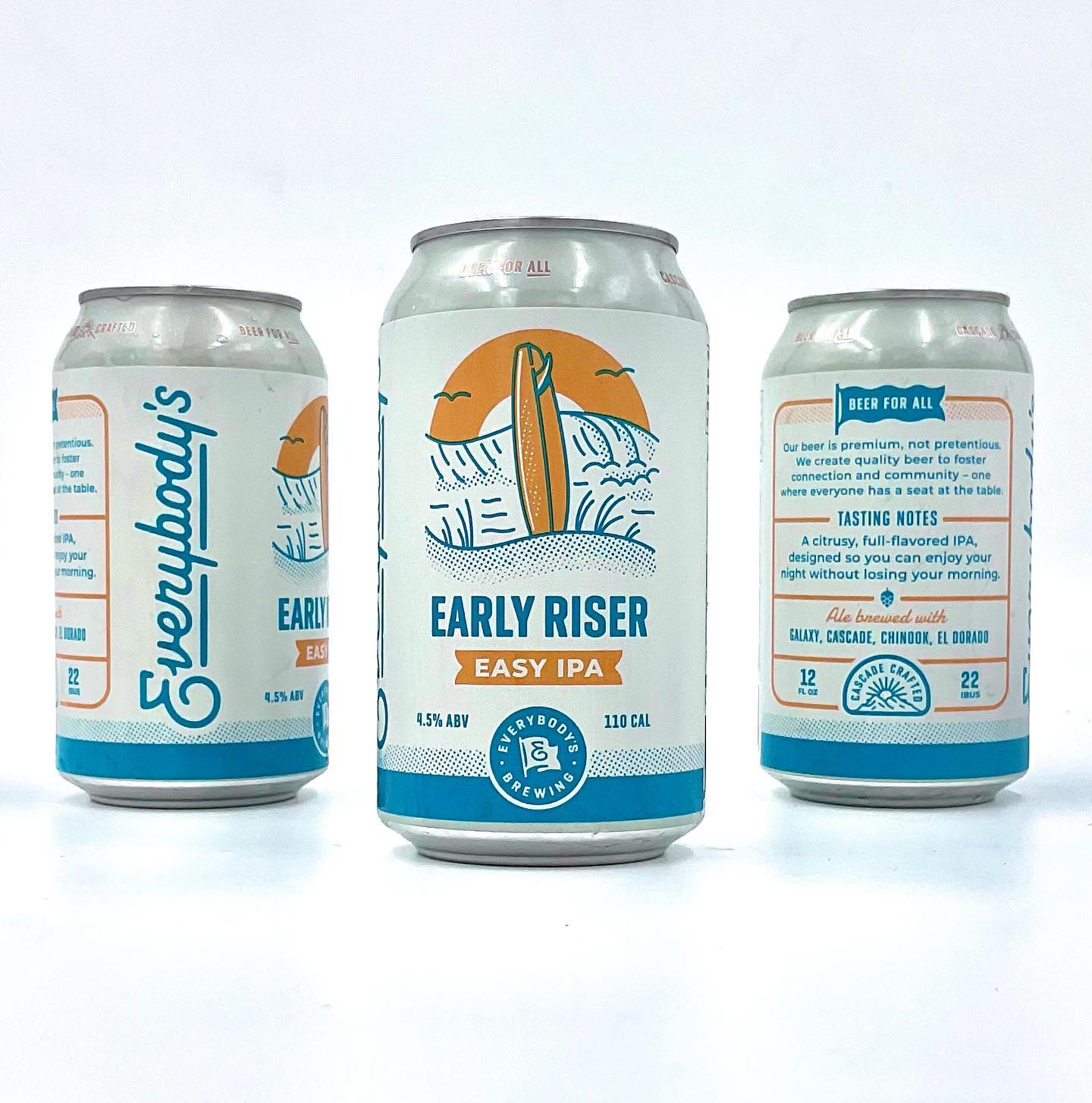 Early Riser Easy IPA
A citrusy, full-flavored IPA, designed so you can enjoy your night without losing your morning.
4.5% ABV / 22 IBUs / 110 Calories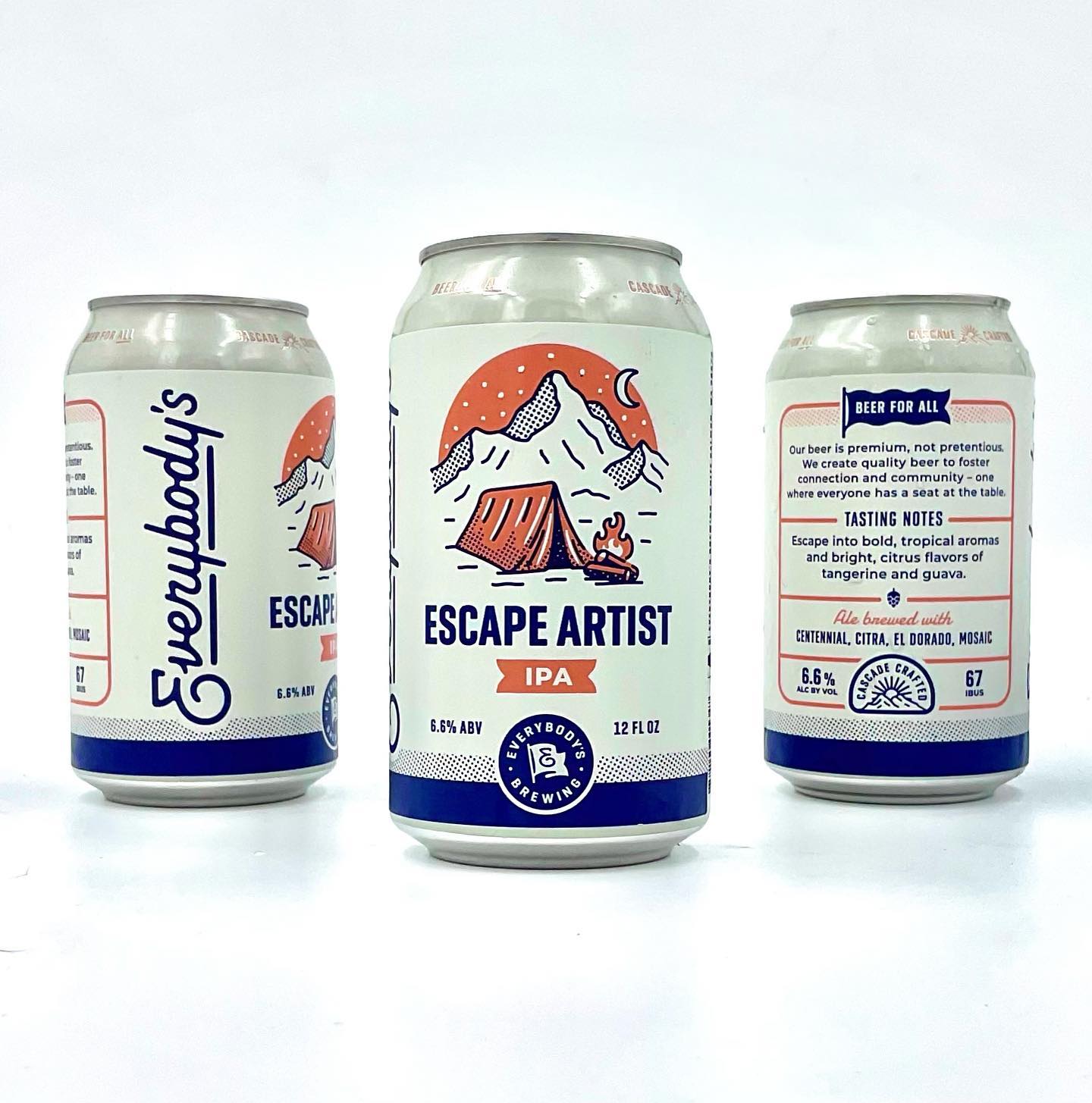 Escape Artist IPA
Escape into bold, tropical aromas and bright, citrus flavors of tangerine and guava.
6.6% ABV / 67 IBUs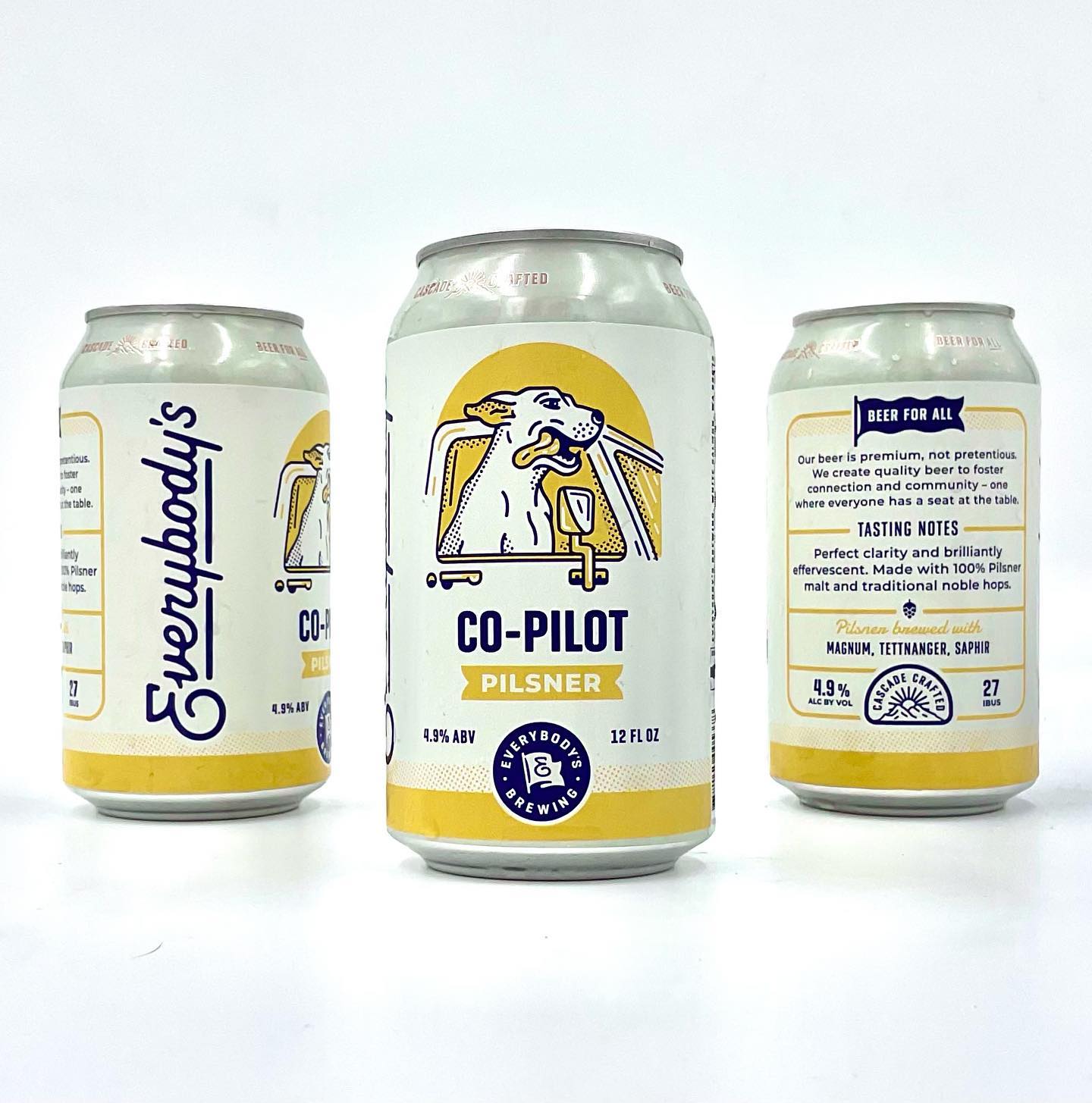 Co-Pilot Pilsner
Perfect clarity and brilliantly effervescent. Made with 100% Pilsner malt and traditional noble hops.
4.9% ABV / 27 IBUs
Everybody's will continue the celebration of their rollout, and your first chance to buy the new cans, at the following events:
Portland, OR: Thursday, March 9 – Belmont Station – 5:00-8:00pm
Vancouver, WA: Friday, March 10 – Ben's Bottle Shop – 3:00-6:00pm
Tacoma, WA: Tuesday, March 14 – Peaks and Pints – 5:00-8:00pm
Everybody's Brewing is located in the heart of White Salmon at 177 E Jewett Blvd. To learn more, visit everybodysbrewing.com.