Great Notion Brewing Ripe IPA Will Be Available at Portland Trail Blazers Games
|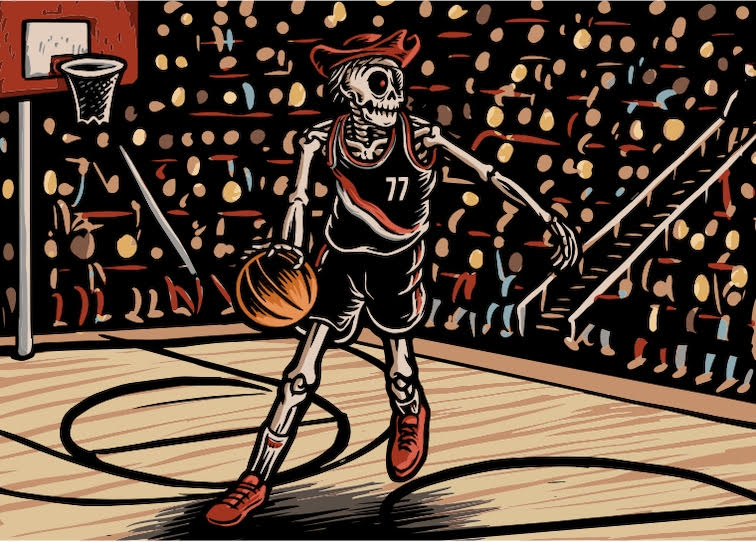 Portland's popular Great Notion Brewing has just signed a multi-year partnership with the Portland Trail Blazers. This new deal will see Great Notion's Ripe IPA served inside the Moda Center during Trail Blazers games.
The partnership brings a new Moda Center-exclusive Ripe IPA beer can label. It'll feature the brewery's skeleton character Moss gracing the label playing basketball on cans all season-long at the Moda Center.
"We're huge fans of Rip City, and we're stoked to partner with the Blazers and share our Ripe IPA with fans," said Great Notion co-founder and CEO Paul Reiter, in a press release. "Like the Blazers, we've taken the lead on using cutting-edge technology to create an awesome fan experience. For example, we're the only brewery in the world to have a really dope mobile app that allows customers to buy our beer through shipping or local delivery, plus have our own video game and other hidden easter eggs."
The unique partnership also includes co-branded merchandise with GN's skeleton Moss, including new hats, tee shirts and crewneck sweatshirts.   Furthermore, Great Notion customers have the potential to receive access to exclusive discounts on tickets to Blazers games.
"Our goal is to Keep Beer Fun," continues Reiter, in the press release. "We do this by continuing to introduce innovative flavors and beer styles to our fans, as well as in the marketing.  Partnering with the Blazers takes this fun and excitement to a whole new level."
"Great Notion is a staple in Portland beers and a perfect fit as a partner with the Trail Blazers," said Chris McGowan, President and CEO of the Trail Blazers and Rose Quarter, in a press release. "Their one-of-a-kind brand identity merged with our Pacific Northwest-rooted Trail Blazers brand will not only bring Rip City fans great beer, but a partnership like you've never seen."
Great Notion will be kicking off the partnership at the brewery's NW 28th Portland location on September 19, from 1-4 PM where they will be showcasing Ripe IPA in the exclusive Moda Center-labeled cans.