Firestone Walker Tweaks Its Luponic Distortion Series For Release No. 10
|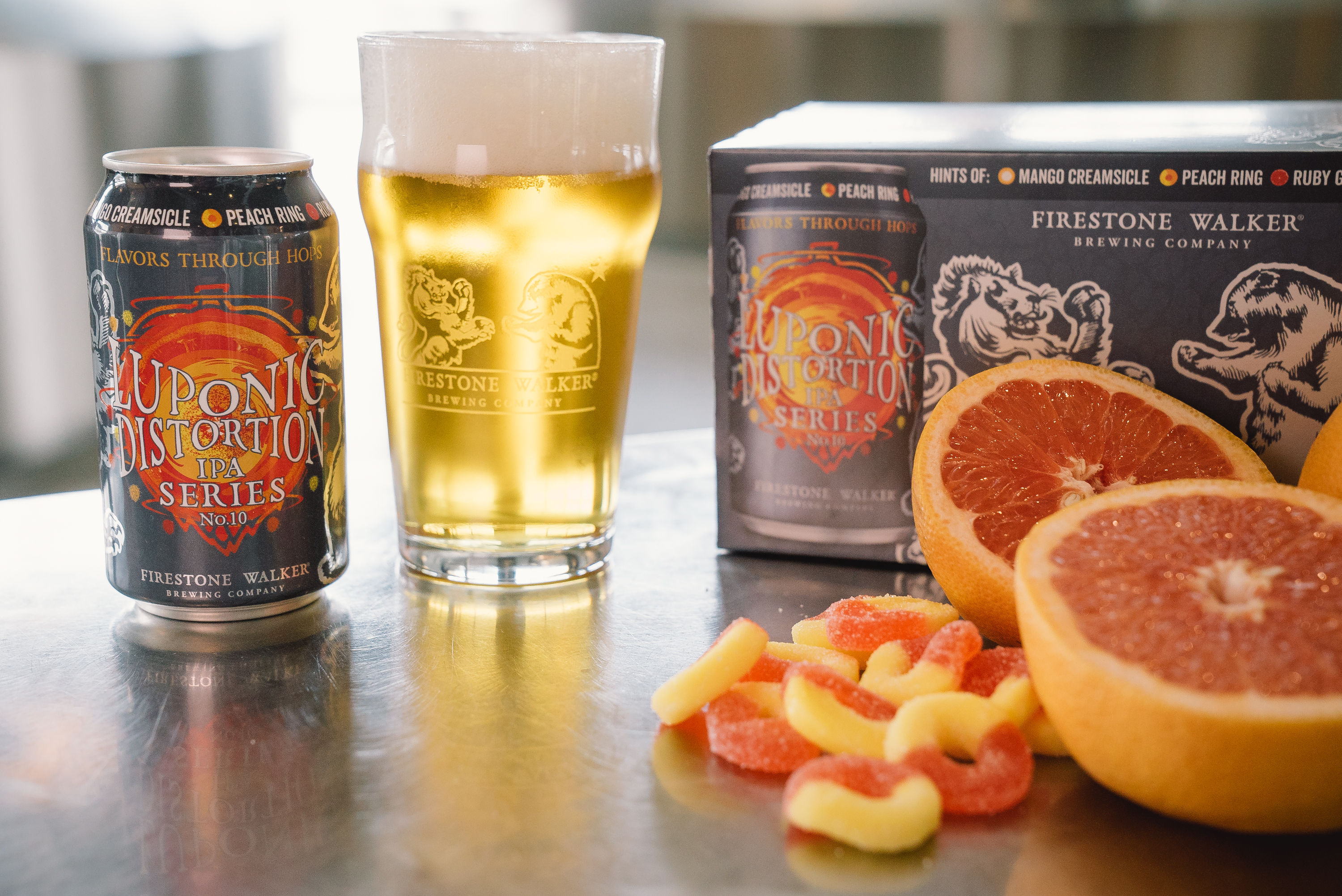 As Firestone Walker Brewing releases its 10th edition of its rotating IPA series called Luponic Distortion, a few tweaks to the revolving IPA have been made.
When Luponic Distortion IPA Series No. 10 hits the marketplace, the beer will have a brand new look and a slightly altered name. The series of rotating IPAs has removed the name Revolution from the packaging to avoid consumer confusion and with this changed the look of the labels on the 12-ounce cans. What stays the same is a new IPA now released about every 120 days, down from its original every 90 days, that features new hops with brand new flavors!
Luponic Distortion No. 10 will begin shipping to all Firestone Walker markets beginning this week.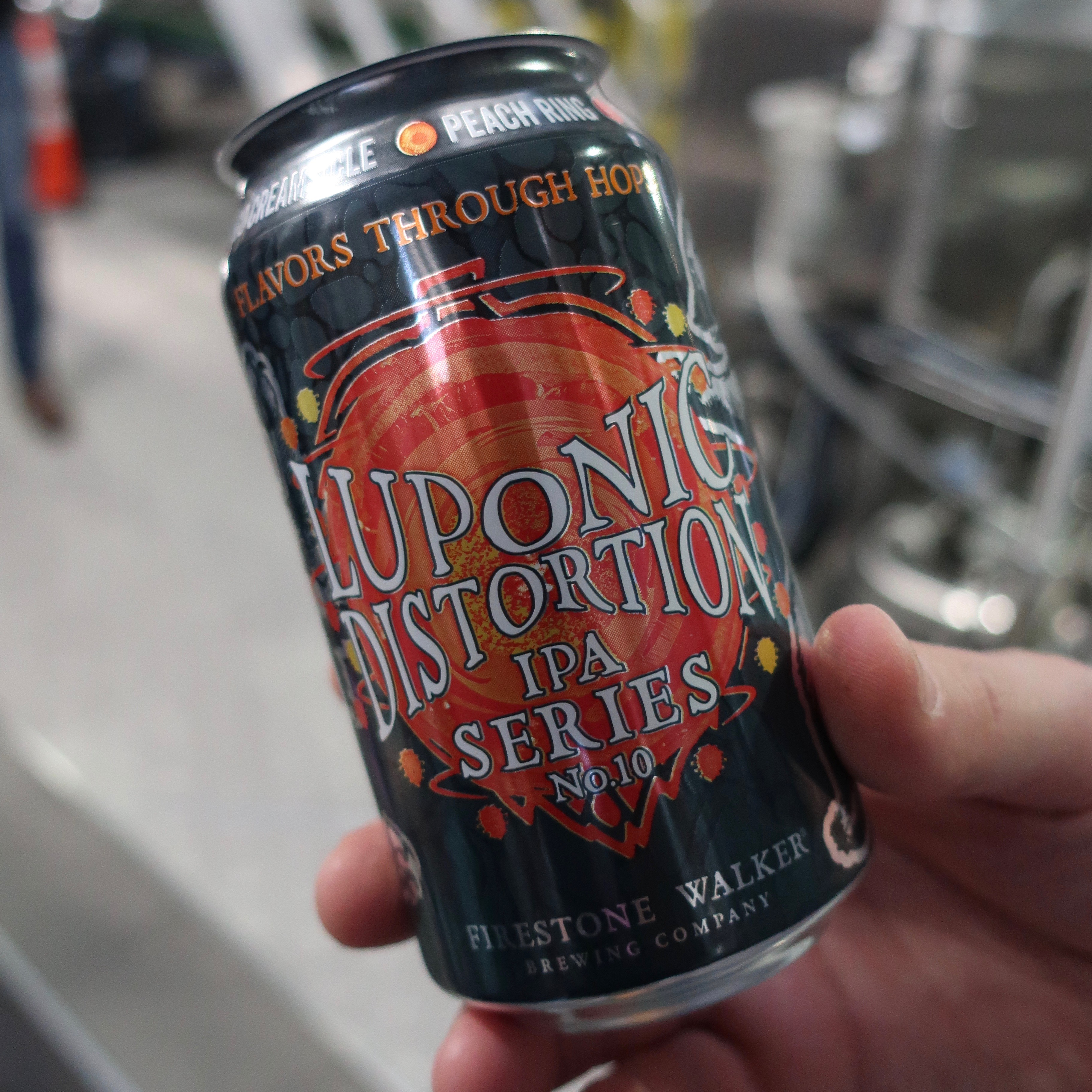 Here are additional details from Firestone Walker's press release…
"For the milestone 10th release of Luponic Distortion, we are magnifying what this series is all about," said Brewmaster Matt Brynildson. "This latest release features a cross-continental hop blend that just pops with amazing fruit flavors, and it comes with a fresh package reminding everyone that these flavors are derived solely through hops."
Luponic Distortion is not a single beer, but rather an ongoing series of beers that rotate roughly every 120 days. While the base beer always remains the same, each release features a different hop blend built around new and experimental hops, designed to showcase the growing possibilities of pure hop aromas and flavors without any assist from fruit or other adjuncts.
Hops That Pop
Luponic Distortion No. 10 features a blend of seven hops, led by three cultivars from the Pacific Northwest, Germany and Australia. Collectively, these hops combine to present fruity aromas and flavors of mango creamsicle, peach ring and ruby grapefruit.
"Luponic Distortion No. 10 exemplifies everything we've learned so far about hop blending," Brynildson said. "It's not just about getting specific flavors from a specific hop, but also how you can blend and distort these hops together to amplify different qualities."
He added, "The hops that are coming out of the experimental fields are mindbending in terms of the aromas and flavors they are delivering. What we've learned by making nine iterations of Luponic Distortion is that people are really loving the hops with these New World tropical characters—and these are the hops that are also exciting us as brewers."
For this reason, Luponic Distortion No. 10 is a sign of things to come for the series.
"While we're still going to evolve this beer using a bunch of different hops, we're tightening the stylistic bandwidth and focusing on these emerging hops that really pop with different fruit flavors," Brynildson said. "In that sense, No. 10 is the start of a new chapter for Luponic Distortion."
A Fresh New Look 
Release No. 10 also marks a new look for the Luponic Distortion series. Gone are the green color motif and "revolution" numbers, replaced by bright new hues, a new hop burst icon and simpler "series" numbers. The words "Flavors Through Hops" are also boldly proclaimed.
"Despite the success of Luponic Distortion, we found that some consumers were still confused by it—they didn't understand that it rotated, they weren't sure of the style of the beer, and they didn't realize that you could get these amazing fruit flavors without adding actual fruit to the beer," said David Macon, Firestone Walker's vice president of sales and marketing. "This new package solves all of that, and I think people are going to love the look."