Gigantic Brewing Releases 2023 MASSIVE! Barleywine and Most Most Premium Imperial Stout
|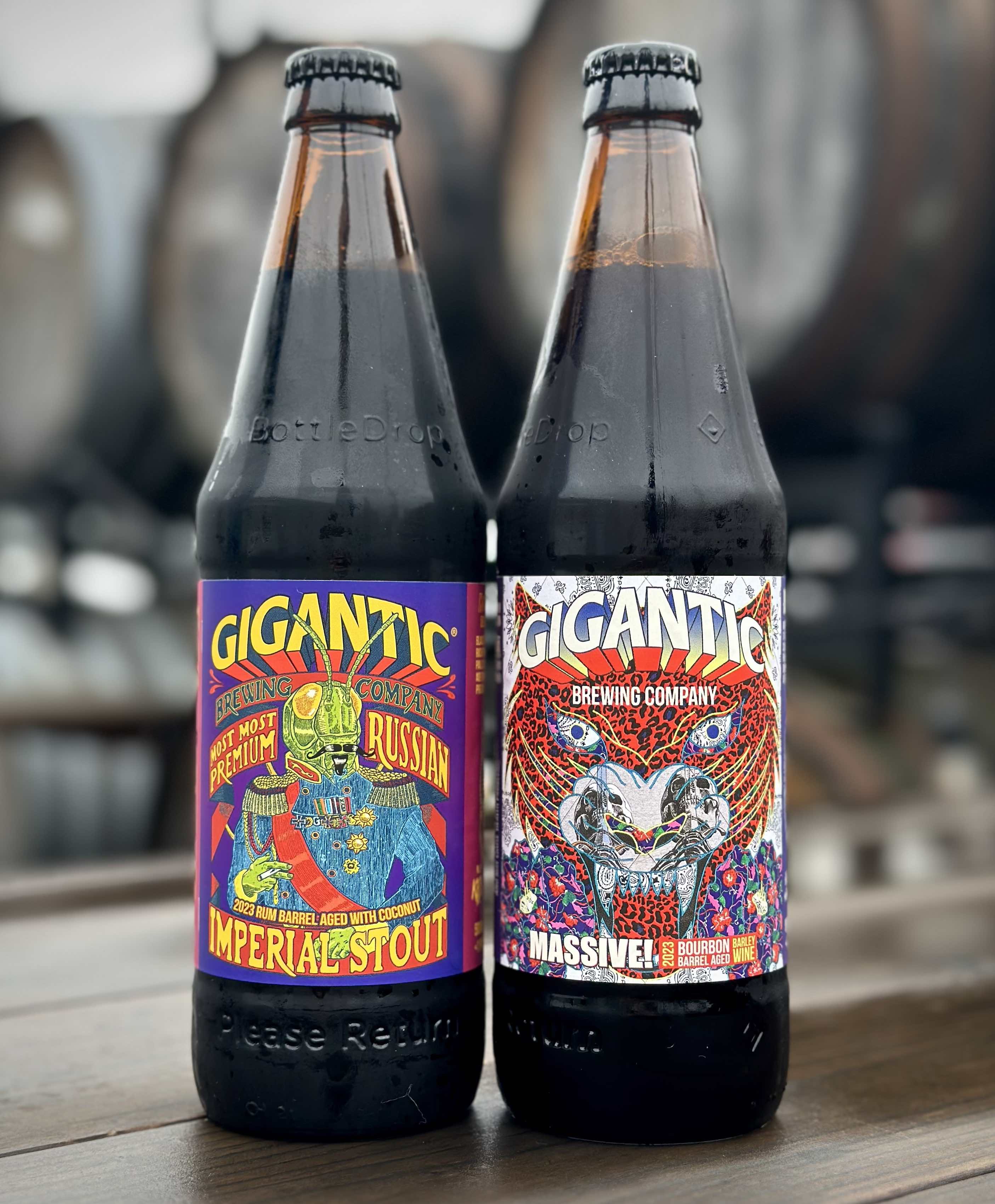 Today, Gigantic Brewing releases two of its most popular barrel-aged beers. Both 2023 MASSIVE! Bourbon Barrel Aged and 2023 Most Most Premium Rum Barrel and Coconut Imperial Stout will be available on draft and in 500mL bottles at all three Gigantic Brewing locations today, November 17th. Both beers will also make its way to many of the local bottle shops around the Portland metro area.
When both barrel-aged beers go on tap today, Gigantic Brewing will be tapping previous year vintages that will be rotated throughout the upcoming holiday season. Plus, Gigantic will be adding a limited quantity of its 2022 releases, aged to perfection in its chilled cellar. This includes 2022 MASSIVE! Irish Whiskey, Islay Scotch, Rum, and Rye barrel-aged variants, as well as the 2022 Most Most Premium Mezcal and Scotch barrel-aged editions.
2023 MASSIVE! Bourbon Barrel Aged
Prepare your taste buds for a journey into richness and intensity. Brewed with Skagit Pilot Pale and Pils Malts, this barleywine boasts a deep ruby color and a flavor profile that's been meticulously crafted through an 8-hour boil. Aged in select bourbon barrels for nearly 2 years, MASSIVE! invites you to savor its complexities now or witness its evolution after years of patient aging.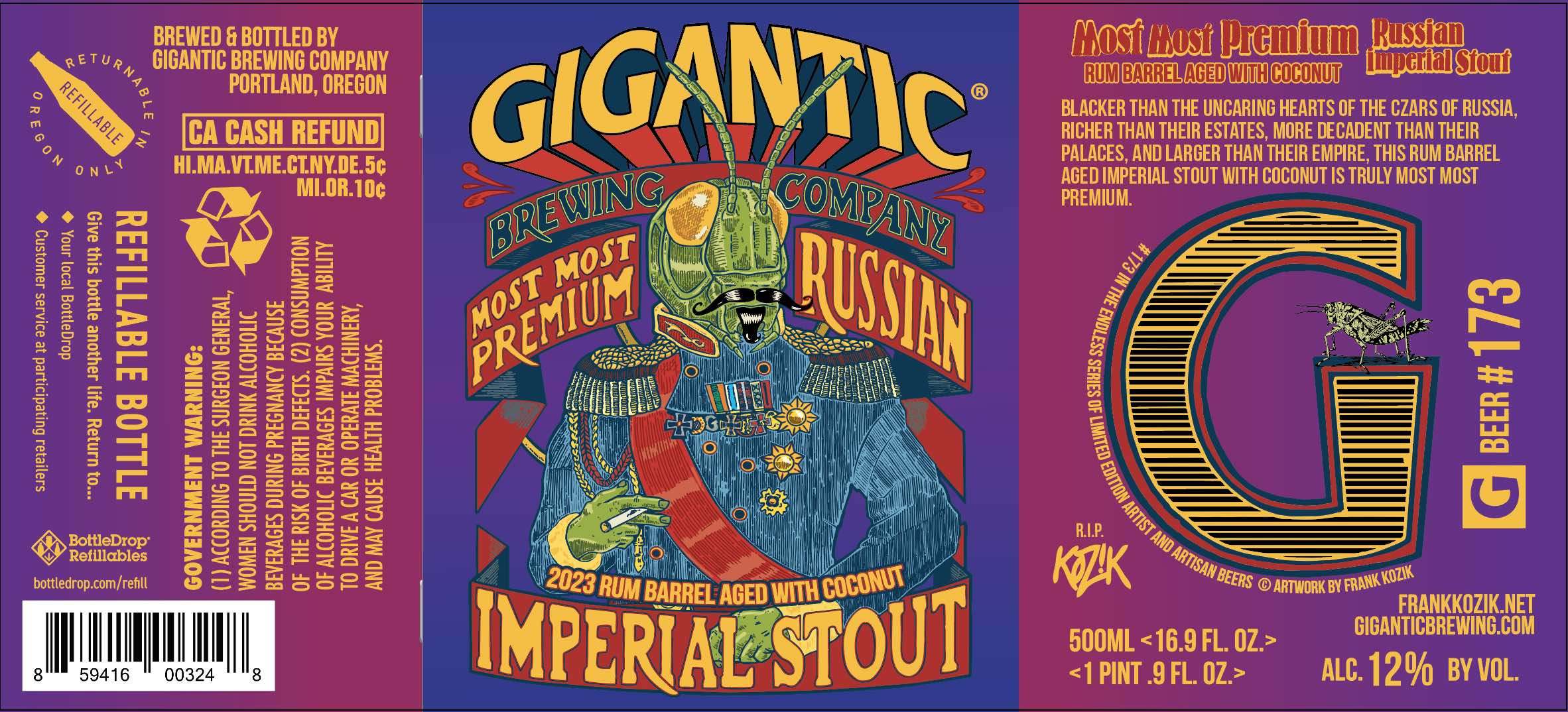 2023 Most Most Premium Rum Barrel and Coconut Imperial Stout
Darker than the uncaring hearts of the czars of Russia and richer than their estates, we first aged this year's Most Most Premium Imperial Stout for over two years in rum barrels, then added luscious coconut to create a beer experience that is truly an embodiment of decadence.
When it comes to the label designs on each of these beers, Gigantic Brewing reached out to a few artists. The MASSIVE! label, a creation of artist Ben Venom. Renowned for his textile-based artwork, Ben stitches together a tapestry of rebellion and nostalgia, weaving heavy metal and pop culture into the very fabric of his creations. Drawing on his background in fine arts and love for all things subversive, Venom transforms humble materials like vintage band t-shirts and discarded denim into fierce, larger-than-life quilts that defy convention.
Meanwhile, the Most Most Premium label was designed by the late Frank Kozik. Best known for his revolutionary poster art that defined the alternative music scene in the '90s, Kozik has seamlessly blended elements of surrealism, satire, and psychedelia to create a body of work that is as diverse as it is captivating. From his roots in the punk rock ethos to his forays into vinyl toy design, Kozik's portfolio is a kaleidoscope of bold colors, irreverent characters, and a sharp wit that challenges the status quo.
Gigantic Brewery & Champagne Lounge – 5224 SE 26th Ave – Portland, OR
Gigantic Hawthorne Pub – 4343 SE Hawthorne – Portland, OR
Gigantic Robot Room – 6935 NE Glisan St – Portland, OR