Migration Brewing Collaborates with Backwoods Brewing on Brew of the Gods IPA
|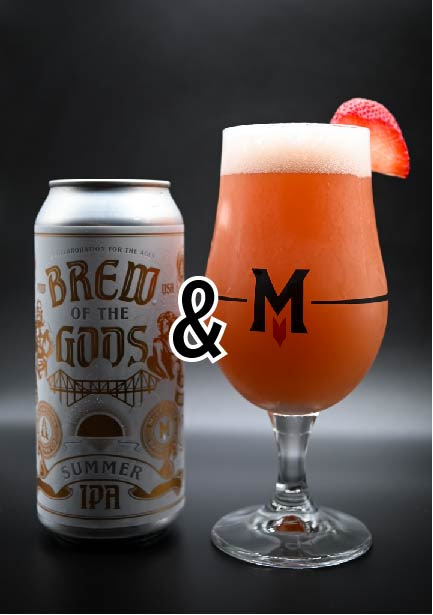 Two new beers are on the way from Migration Brewing. Brew of the Gods Summer IPA is a collaboration with Backwoods Brewing, while Summertime Sour is a draft only fruited kettle sour beer.
Taking its name from Bridge of the Gods, the iconic bridge that connects Oregon to Washington, Brew of the Gods Summer IPA, is the perfect summer quencher. Brewed with Backwoods Brewing that's located up the mountain from the Bridge of the Gods, this new IPA is light in body that's complimented by Enigma hops from Australia. The IPA features hints of tropical fruit and white wine-like character similar to Sauvignon Blanc. Additionally, Idaho 7 hops were used, showcasing dank and pineapple fruit notes. Brew of the Gods Summer IPA sits at 5.3% ABV and 87 IBUs.
Summertime Sour is a kettle sour beer that incorporates an abundance of fresh Oregon fruit. Since its strawberry season, this is the fruit of choice for Summertime Sour. But to counterpoint the sweetness of the strawberries, Migration adds a bit of rhubarb for added tartness that normally works great with strawberries. Summertime Sour sits at 5.0% ABV and 10 IBUs.
Look for Brew of the Gods in 16oz cans and on draft and Summertime Sour on draft this month at Migration Brewing locations across Portland.