Pelican Brewing Releases Two New Year-Round IPAs
|
Out on Oregon's Coast, Pelican Brewing has added two new IPAs to its year-round beer offerings. Updrift IPA pays respect to the what is being coined the Updrifters of the Northern Oregon Coast and the other, Cape Crasher IPA is inspired by the rugged yet lush surroundings of the coast.
With the launch of Updrift IPA, Pelican Brewing led with a new campaign that celebrates its home on the rugged shore of Oregon's North Coast, alongside its fellow adventure-seekers who thrive there. This new Updrift Campaign pays homage to that sense of place and a flock of locals coined Updrifters who do as their heart desires.
"Adventure is our purpose and beer is our passion—it's what gets us up in the morning and stirs us to do more and explore this place we call home," says Jim Prinzing, CEO, Pelican Brewing Company, in a statement. "The North Coast is rich with adventure to experience and we wanted to honor the stories of the people and beer that make this place so special."
The Updrift Campaign follows five passionate locals who wake up every day in a place that reminds them that amazing is possible. Pelican's Updrifters include the surfing couple of Al Ciske and Sandy Smith; doryman Joe Hay; Pelican brewer Cat Wiest; and local adventurer Jarett Juarez. Learn more about these and other Updrifters by clicking here.
"We needed a companion, a beer that matches our adventurist spirit—a beer that is equally refreshing and unexpected as the environment we're surrounded by in Pacific City. So, we brewed Updrift with this intention as we do with every beer we imagine," says Darron Welch, founding brewmaster, Pelican Brewing Company, in a statement. "We thought of it all—the where, who, when, how will this beer be enjoyed. Then we designed the ingredients to reach the experience goal. We knew Updrift needed to be refreshing, medium lean in texture, and have a crisp finish to quench your thirst after ascending Cape Lookout or after a surf session."
Updrift IPA Description
Drifting against the current, Updrift moves against the grain of predictable flavor, bringing a bright clean hop aroma chock full of tropical, stone fruit and zesty citrus. Underpinned by a foundation of toasty malt, the punchy assertive hops rise upward in a crescendo of flavor, leading to a clean hoppy finish. Atop the dune, the trail or after catching the big wave, bring Updrift on your next adventure and ascend the crest of hop character!
Malt: Two-row malt, Dextrin Malt, Flaked Barley
Hops: Magnum hops, Galaxy hops, Citra Hops, El Dorado hops
ABV: 7.1%
IBU: 70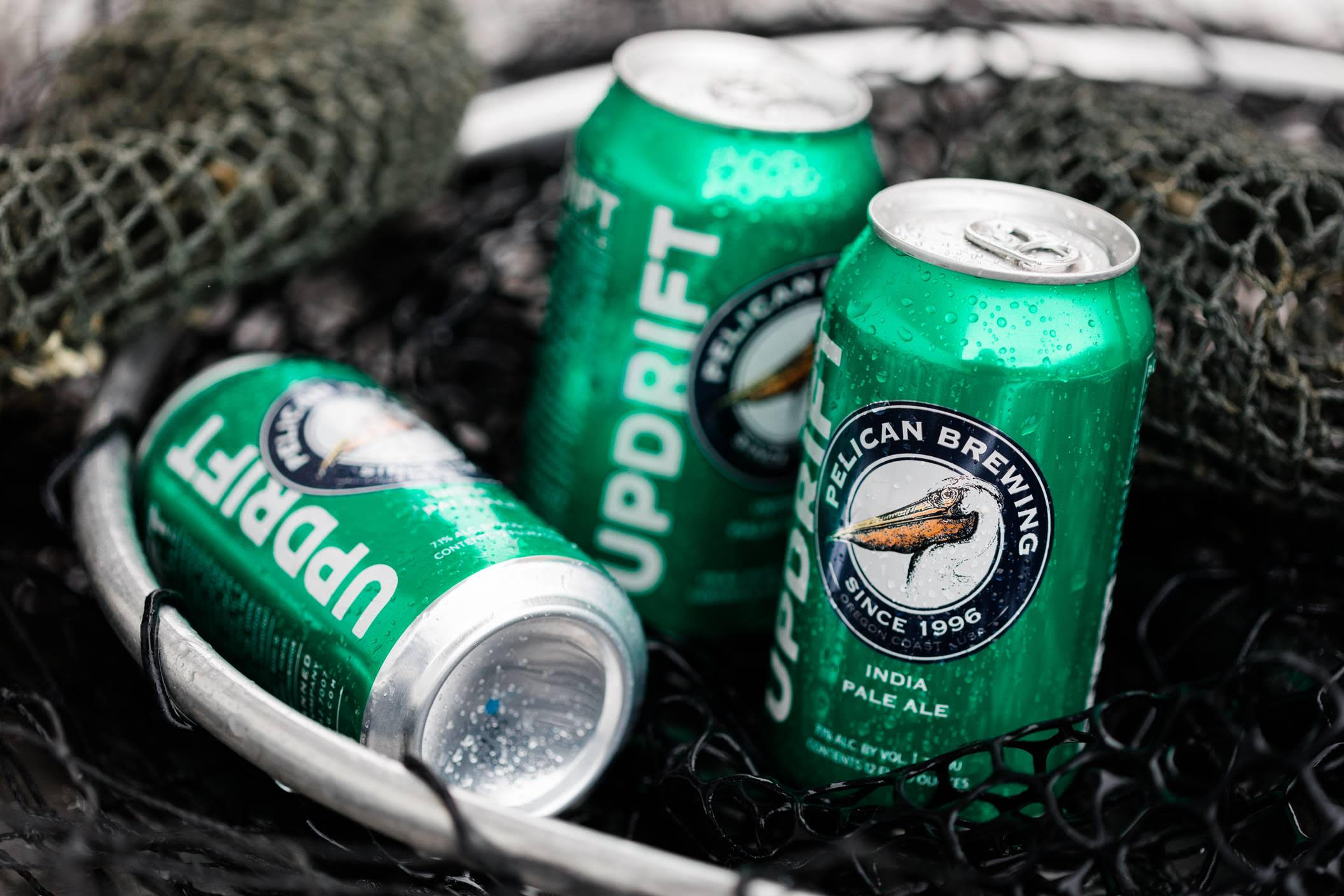 With the release of Cape Crasher IPA, Pelican Brewing is excited for its fans to try this new bold yet drinkable IPA that offers a powerful wave of hop flavor followed by a clean and refreshing finish.
"Whether you're watching the waves crash on the beach or tending your BBQ all day, we wanted to create an IPA that is very drinkable and balanced, but still has a big, bold hop aroma," says Dan Grissom, R&D Brewer at Pelican Brewing Company, in a statement. "Inspired by our rugged, lush landscape and unpredictable weather, Cape Crasher showcases sweet pine, floral and zesty tangerine hop character to create a truly balanced IPA."
Cape Crasher IPA Description
While we give a lot of credit to sunshine on the coast, the true Pacific Northwesterners appreciate a good storm. Crashing waves and bold IPA truly bring out the best in each other. With a pronounced hop flavor of tangerine, citrus zest and sweet pine swirling over a malty foundation, Cape Crasher brings robust flavors crashing across the palate. Inspired by the pounding waves that crest our iconic Cape Kiwanda, Cape Crasher delivers powerful waves of flavor. Join us and raise a glass to the next storm that Mother Nature – or life itself – throws at you, wherever you may be.
Malt: Two row malt, Munich malt, Goldpils malt
Hops: Idaho 7 hops, Centennial hops, Mandarina Bavaria hops, Magnum hops
ABV: 6.8%
IBU: 60
Updrift IPA is available year-round in 12 oz. cans, 6-packs, mixed IPA 12-packs, and on-tap at Pelican brewpubs and the brewery's distribution footprint. Cape Crasher IPA is available year-round in 12 oz. bottles, six-packs, and on draft at Pelican brewpubs and the brewery's distribution footprint.