Wolves & People Farmhouse Brewery Launches Sketchbook Series with NELS
|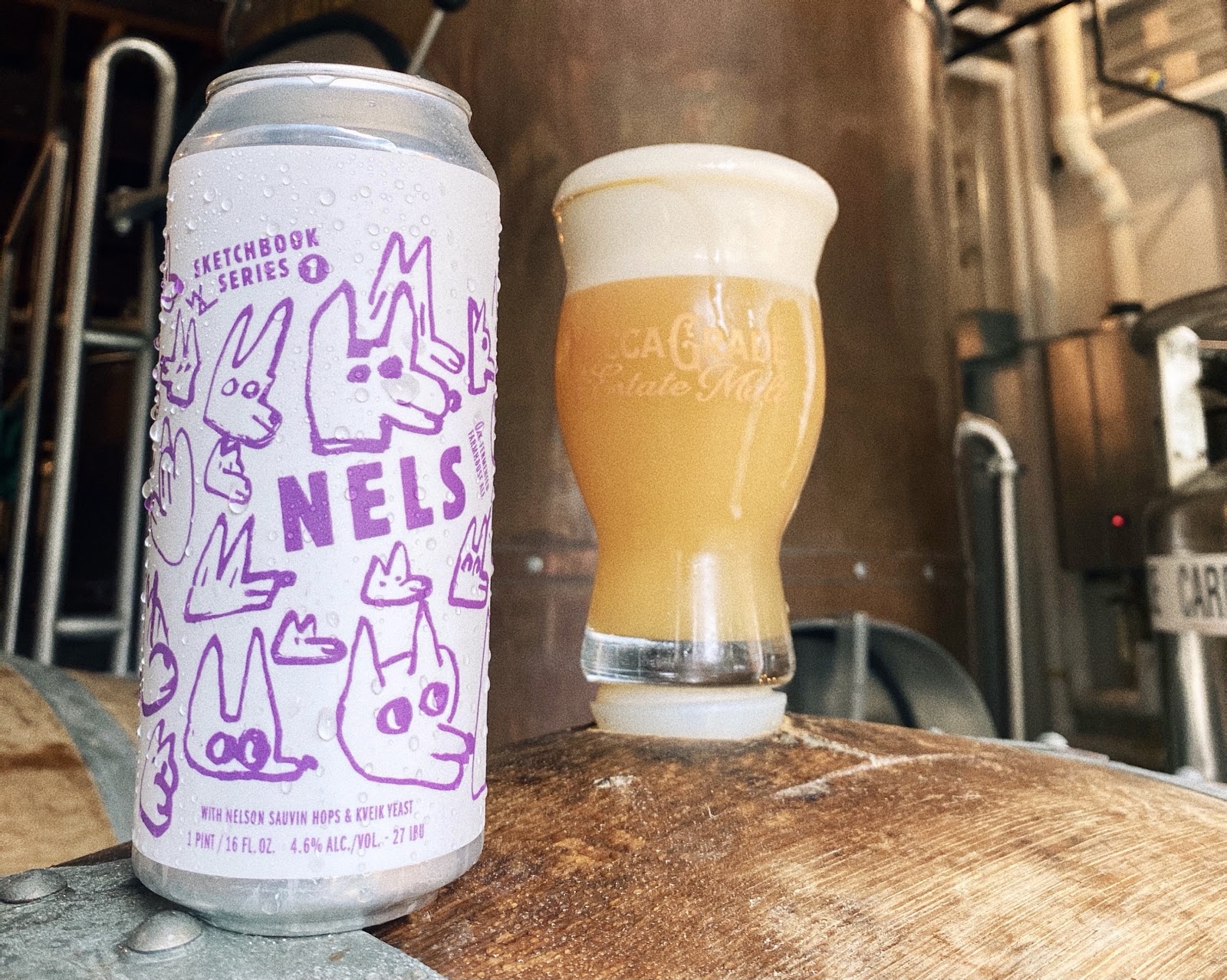 As Wolves & People Farmhouse Brewery enters its fifth year of brewing, the Newberg brewery announces a new beer series with label artwork created by Portland illustrator Jason Sturgill. This new Sketchbook Series will feature beers brewed with proven recipes, occasional barrel-aged rarities, and other farmhouse formulas that have graduated from the taps to 4-packs.
The Sketchbook Series kicked off earlier this weekend with NELS, a hoppy, refreshing farmhouse ale at 4/6% ABV. This new beer is available in 4-pack, 16 oz. cans at $16.00. at the brewery and around the state via Portland's Upstanding Distribution (formerly Shelton Brothers Oregon) after Monday, January 25.
Here are additional details from the brewery's press release.
Using top quality Oregon barley from Mecca Grade Estate Malt, the farm's pure well water, lushly aromatic Nelson Sauvin hops, and an all-oak fermentation with juicy Norwegian farmhouse yeasts in white oak puncheons formerly used for Oregon-grown white wines, NELS wafts aromas of citrus and creamsicle. On the palate the beer is well-balanced with a delicate pop of white grape and a rounded malt presence and quenching hop character. Future Sketchbook Series beers will run the gamut from barrel-aged, dry-hopped wild and sour ales to stouts, grisette, and myriad other styles both familiar and far-out. "There is no upper number limit planned for the series," says brewery founder Christian DeBenedetti. "That would defeat the purpose, which is to fuel our creativity and dream, to keep exploring."
Turning every can into a canvas, each label will feature a montage of concepts from the sketchbooks of award-winning brewery artist Jason Sturgill. Northwest native Sturgill has worked with an array of clients including Muji and Warby Parker, earning a following on Instagram (here) and accolades including a 2020 Silver medal at the prestigious Society of Illustrators annual awards (NYC) for another of the brewery's most popular offerings, Honeycone IPA. He's designed all of Wolves & People's labels and logos. Whereas many labels he's created have taken months of fine-tuning, Sturgill jumped at the chance to embark on a more spontaneous process, kicking off with a playful array of curiously purple, canine-like characters pulled directly from his hand-illustrated notebook and rendered onto a can. "It feels like a natural place to go, since all of my ideas for the brewery start in a sketchbook," says Sturgill, who counts among his influences renowned Japanese illustrator Ryohei Yanagihara, France's Bernard Chadebec, and contemporary Brit artist James Jarvis. "There's lots of stuff in the sketchbook that I like, but never finds a home. It was fun!"