12 Bridge Ciderworks and Do Good Multnomah Partner to Support Homeless Veterans
|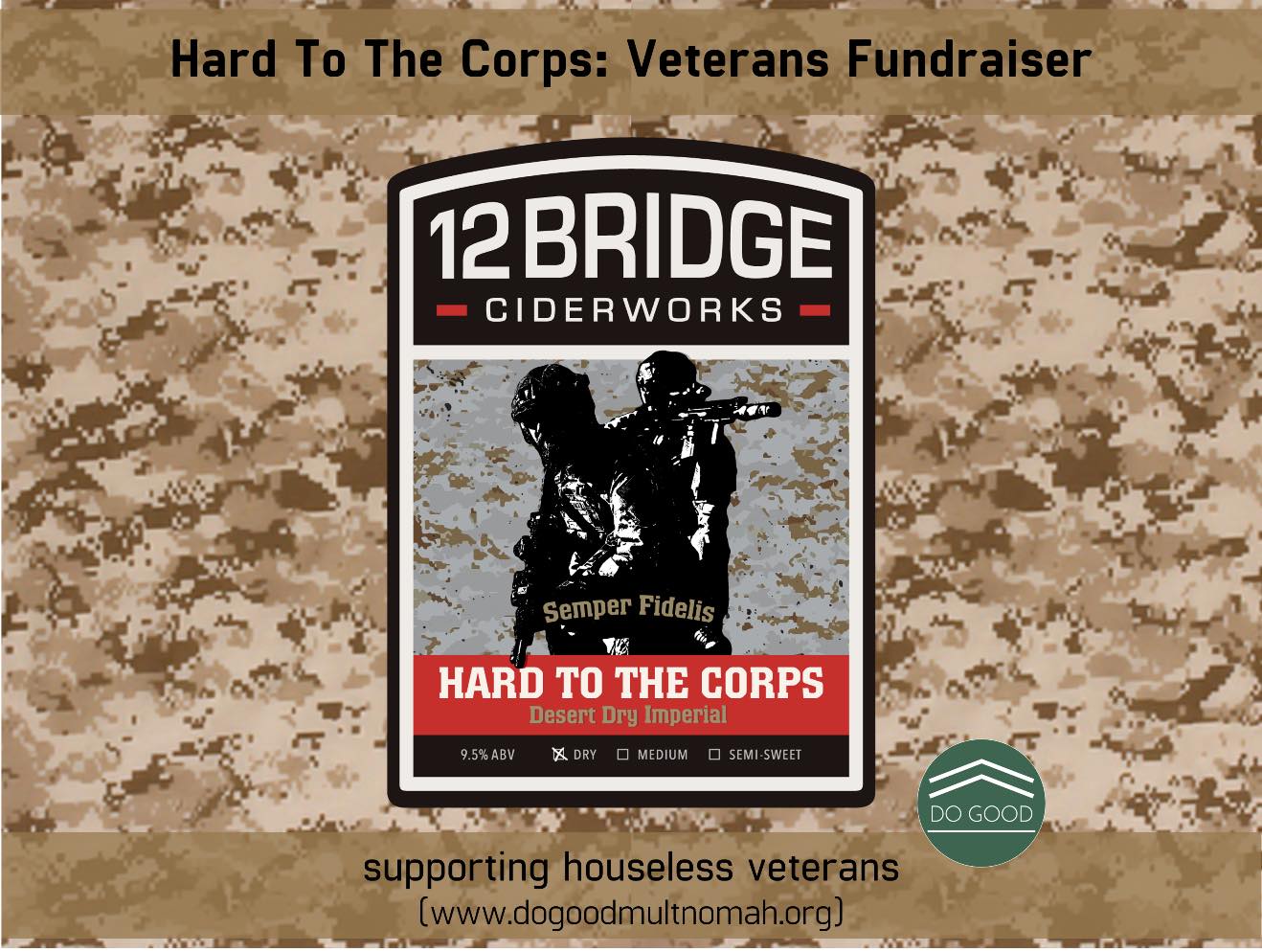 Coming together for the community is 12 Bridge Ciderworks as they partner with Do Good Multnomah on a new cider that assists veterans experiencing homelessness. The new Hard To The Corps: Desert Dry Imperial Cider will honor the upcoming Veterans Day on November 11 and the Marine Corps' Birthday a day earlier.
12 Bridge Ciderworks is locally and veteran owned cidery in Oregon City, Oregon. Its ciders range from dry to low-end semi-sweet, as they prefer to let the cider and fruits come through on their own. Currently, 12 Bridge is self-distributed and services the Portland Metro area and SW Washington.
For the fundraiser, 12 Bridge Ciderworks will release Hard To The Corps: Desert Dry Imperial, its first ever imperial dry apple cider, weighing in at an impressive 9.5% ABV. Hard To The Corps is a unique blend from two separate fermentations, one made with an English ale yeast and the other a white wine yeast. In the end, this cider has a touch of maltiness that beer drinkers crave and an unexpectedly smooth, crisp, clean dry finish that cider enthusiasts love.
The Do Good Multnomah fundraiser will raise funds to assist homeless veterans. 12 Bridge Ciderworks is encouraging participating local area taprooms, bars, and restaurants to serve Hard To The Corps and donate a set amount or percentage based on the amount of cider sold during the month of November. At the 12 Bridge Ciderworks Taproom, it'll be donating $1.00 for every 12oz pour sold along with a donation bucket out on the bar, to allow our customers to make direct cash donations.
Participants will donate directly to Do Good Multnomah, to allow them to provide proper tracking and receipts for the donation. To support participants' efforts, we will have signage made up to help explain the cider and the fundraiser's mission. 12 Bridge Ciderworks will also make donation cans available when they deliver your keg, for those who want to put them out in their establishment to allow customers to make additional cash donations for Do Good Multnomah.
If you want to get involved with this fundraiser or wish to order a keg, please reach out to 12 Bridge Ciderworks at sales@12bridgeciderworks.com or 503-822-0400.
12 Bridge Ciderworks
19376 Molalla Ave. #130
Oregon City, OR 97045