2 Towns Ciderhouse Launches Sidekick Non-Alcoholic Cider
|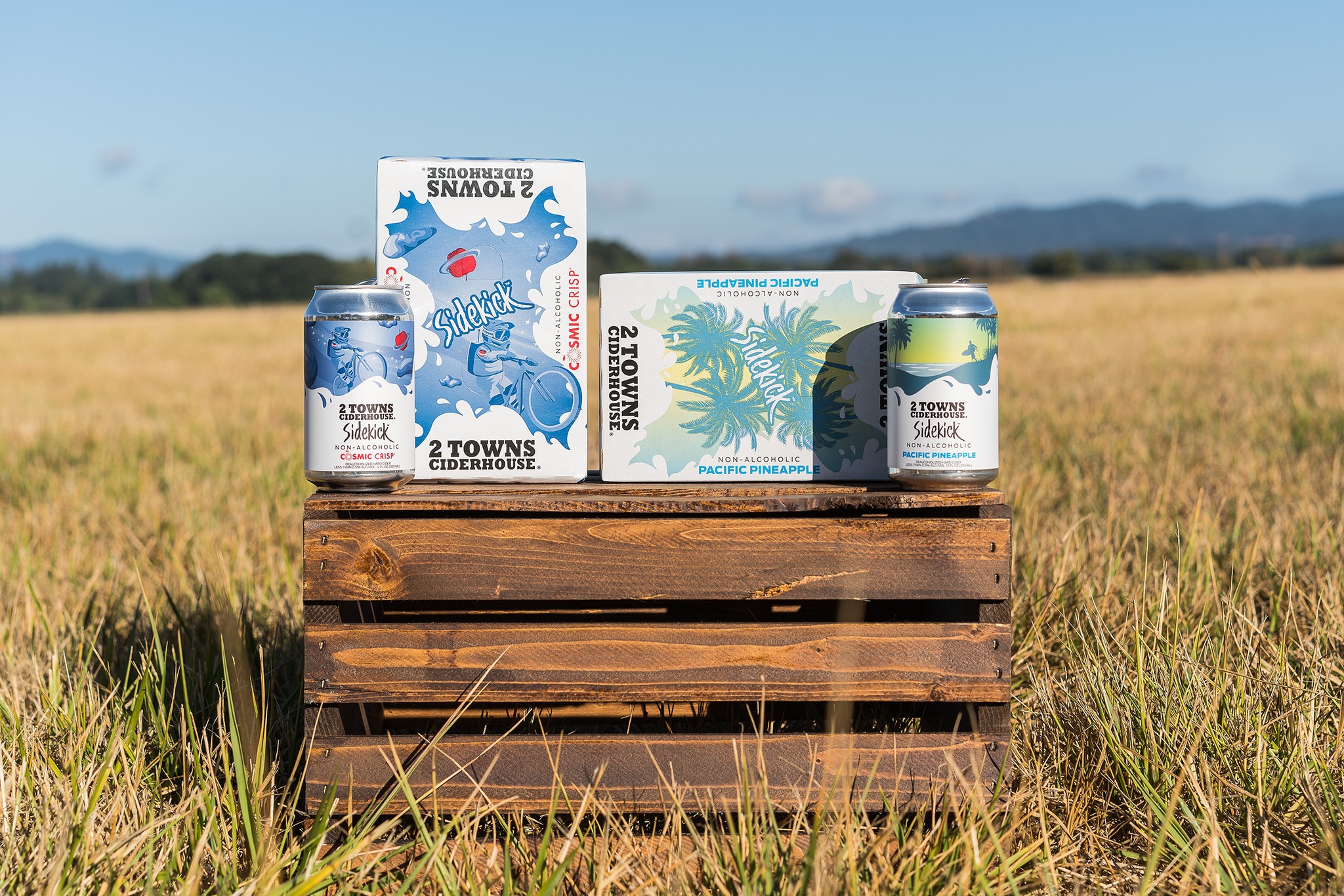 The non-alcoholic beverage segment continues to expand as 2 Towns Ciderhouse is the latest cidermaker to enter this trending beverage category. For the launch of this new line, Sidekick Non-Alcoholic Cider, 2 Towns Ciderhouse debuts Sidekick Non-Alcoholic Cosmic Crisp and Sidekick Non-Alcoholic Pacific Pineapple.
In producing this new NA line of ciders, 2 Towns has taken two of its popular hard ciders – Cosmic Crisp and Pacific Pineapple – and dealcoholized both. This means that both ciders go through the full fermentation process and then they extract the alcohol, leaving less than 0.5% ABV in each can!
Just as their alcohol filled counterparts are made, these two NA offerings are produced with exclusively sourced Northwest apples that results in what is described as flavor-forward craft ciders without the alcohol. Designed to appeal to non-drinkers and those taking drink breaks, the Sidekick line offers cider drinkers new occasions to enjoy their beverage of choice.
Sidekick Non-Alcoholic Cosmic Crisp is crafted with fresh-pressed Cosmic Crisp® apples. A recent GLINTCAP award winner, Sidekick Non-Alcoholic Pacific Pineapple, rolls ripe Costa Rica golden pineapple into fresh-pressed Northwest apples.
"We are excited to further extend our total beverage offerings into the NA space,"  says Lee Larsen, co-founder and CEO. "The NA market is on a spectacular growth trajectory as consumers seek alternatives to alcoholic beverages. With our Sidekick line, we can now offer great tasting craft cider made with whole, quality ingredients to those desiring a non-alcoholic option."
The Cosmic Crisp® apple is the work of 20 years of study and research by Washington State University, resulting in a classically bred hybrid of Enterprise and Honeycrisp apples. The resulting fruit is a large, round, crisp, and super juicy apple that is perfect for snacking, baking, and clearly, cider making. Large, round, crisp and super juicy, these bi-color apples have a rich red that almost sparkles with starburst-like lenticels—which is where the name "Cosmic" comes from.
Sidekick Non-Alcoholic Cosmic Crisp and Sidekick Non-Alcoholic Pacific Pineapple will be distributed in 6-pack, 12oz cans through distributors in Oregon and Washington.