Portland Cider Co. Re-Opens its Clackamas Pub & Restaurant
|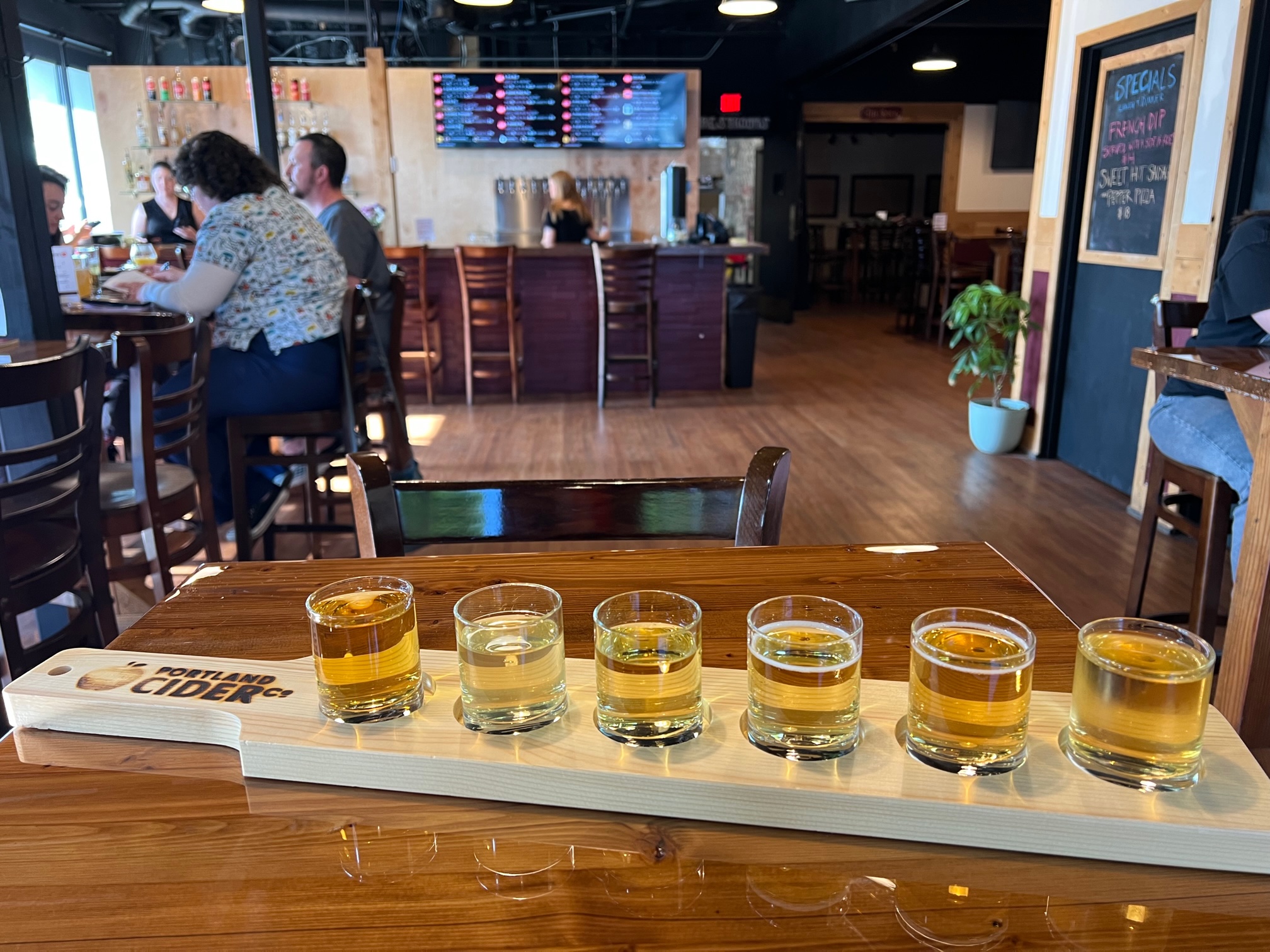 This past January, Portland Cider Co. temporarily closed its Clackamas Pub for a major kitchen remodel to allow itself to become a full-service restaurant and cider house. Now after a few months of renovations, the Portland Cider Co. Clackamas Pub & Restaurant is now back open.
Located in an industrial park along I-205 in Clackamas, Oregon, Portland Cider Co. has been producing cider at this location since 2016. After a few turns off of SE 82nd Drive, you come upon the cidery.
The Portland Cider Co. Clackamas Pub & Restaurant is a hidden gem in suburban Clackamas that make for a great diversion when stuck in traffic on the neighboring interstate highway. There are plenty of table options for small and large parties with bar seating for about six. And if you want to enjoy the great outdoors, there's plentiful patio seating.
Upon our recent arrival, a container of apple chips was delivered to the table. We were a bit confused as we didn't place an order for these but they're complimentary and quite yummy! A great snack while pursuing the cider list and food menu.
The cider list was quite extensive with fourteen taps that are dedicated to its house made cider with a few that are pub exclusives. Our favorite during our visit was Union Jack, a still, dry cider that takes your tastebuds on one nice ride. Not sure how long this one will last so it's wise to make your way over for a visit.
And if cider is not your thing, the pub offers three rotating guest beers. During our visit it featured beers from Gigantic Brewing, Oregon City Brewing and Ground Breaker Brewing. There are also three wines.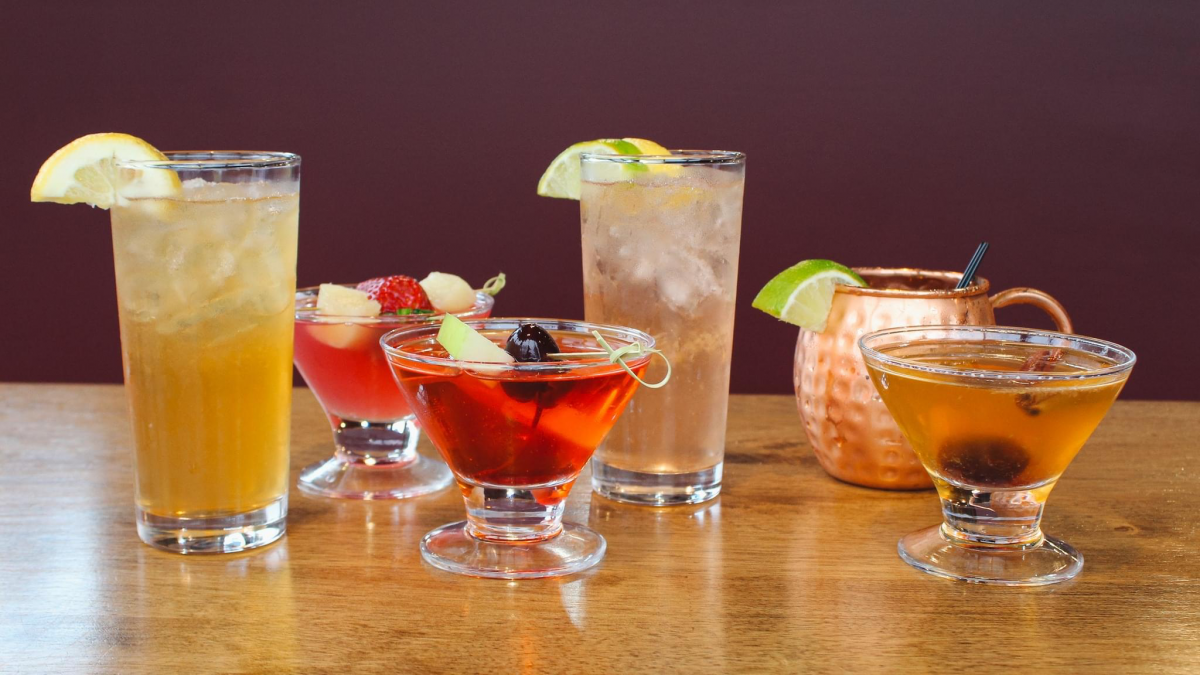 And since the remodel, Portland Cider Co. now has a bar with nine signature cider infused cocktails. Cider always makes for great cocktail making and this menu does not disappoint!
But the real reason for our visit was to check out the food options that are prepared by Executive Chef Vinnie Manna. He began his culinary career in his hometown of Los Angeles, California, where he trained in elite, Michelin-starred kitchens across the city.
"I am so pleased to be working with Jeff, Lynda and the entire Portland Cider team to bring a new kind of experience to the Portland area," said Chef Manna, in a Portland Cider Co blog post. "It's been a pleasure to update a restaurant that has a balance of top-quality food and a friendly, inviting atmosphere that complements the Portland Cider brand. Our goal was to craft a menu that matched the award-winning cider made right here at Clackamas, and I'm proud of what we've created. And it is a luxury to have access to some of the best fresh ingredients in the world, grown within a few miles of the restaurant and harvested hours before being served."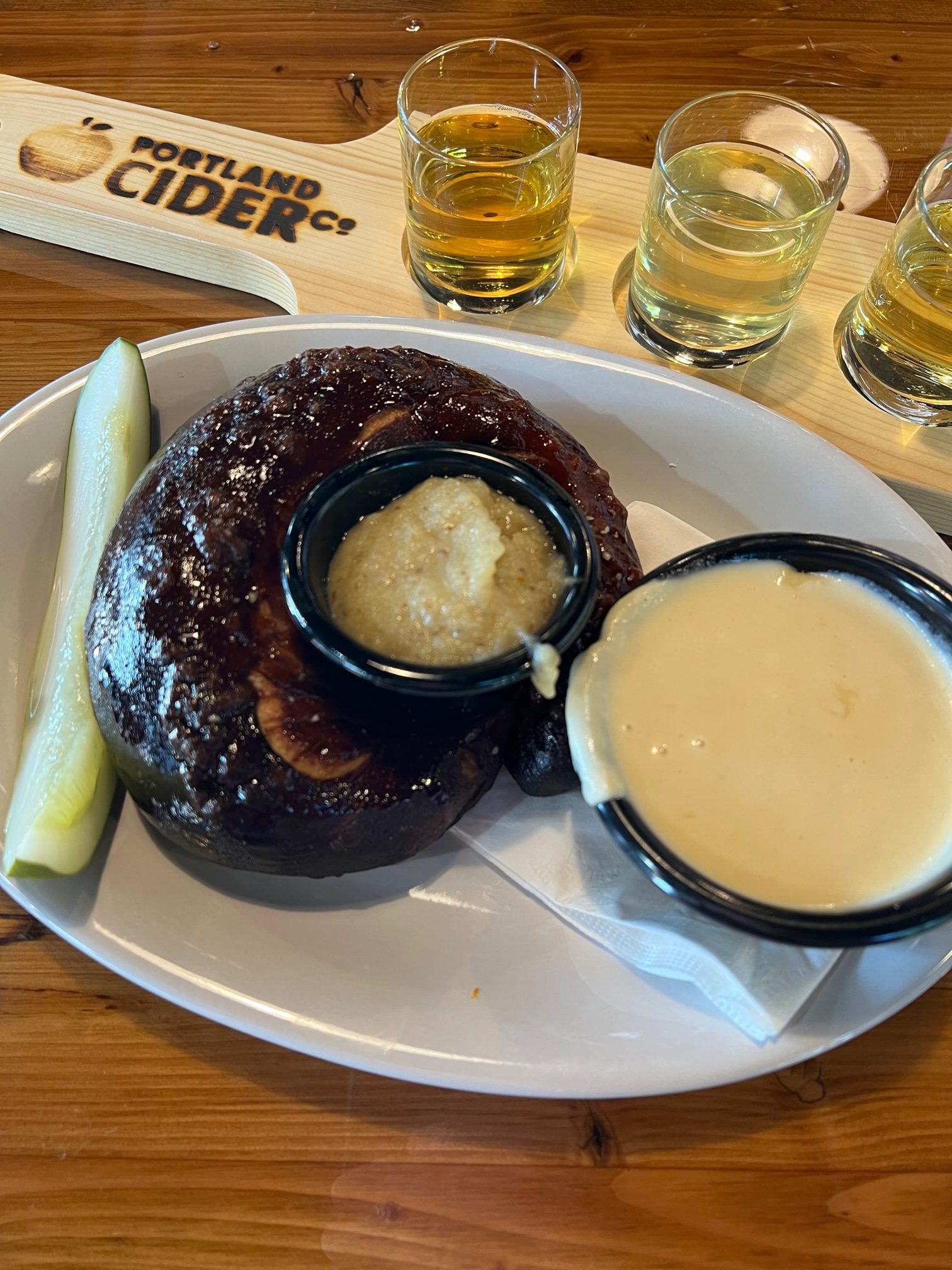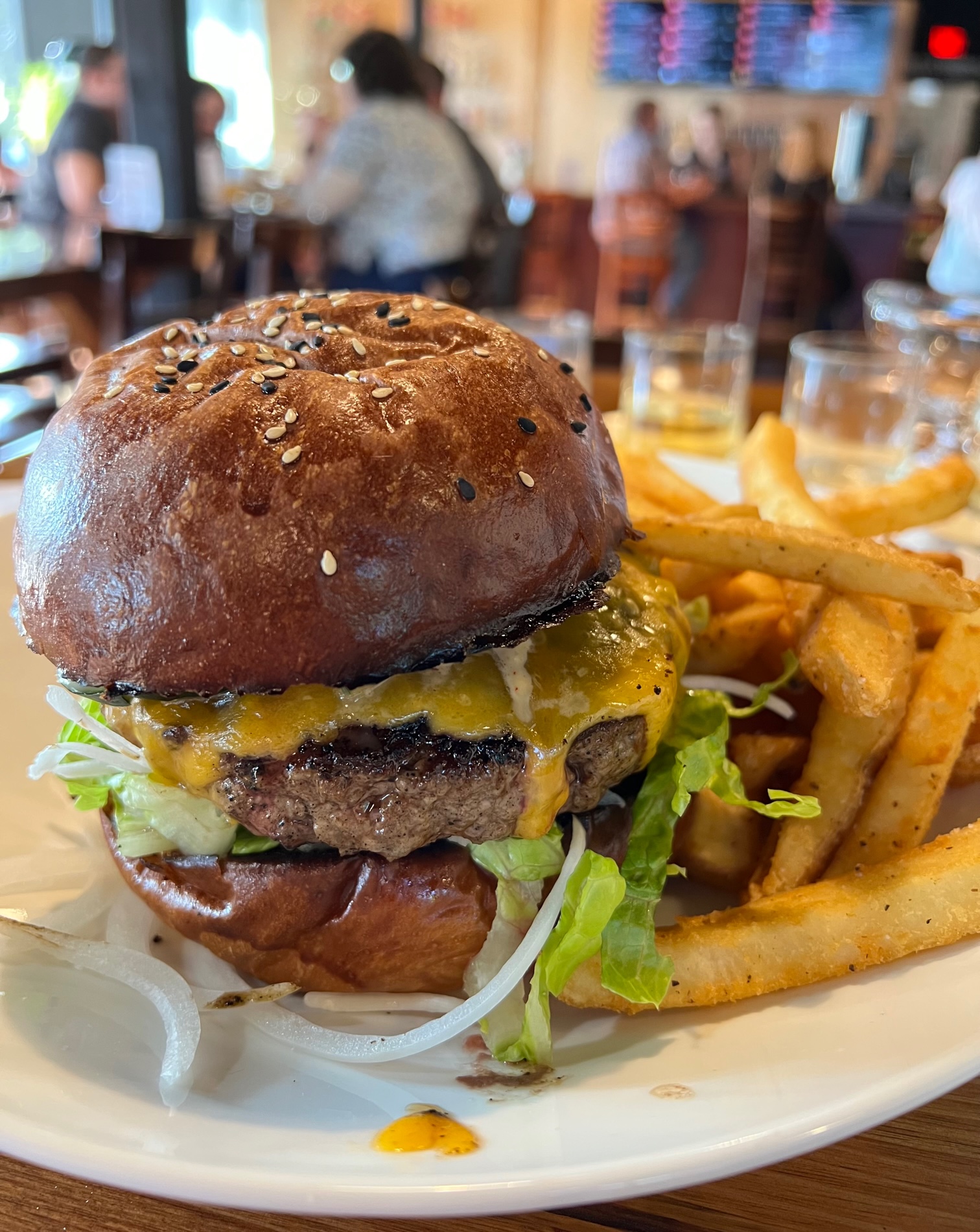 The new menu that Chef Manna has created is diverse as it covers all bases on what is expected at the taproom, but at an elevated experience. With local produce and Northwest ingredients, everything is made in-house from baking the bread and buns to smoking and grinding the meats served.
We had a wonderful meal that started with the Cider Fondue that went into the soon to be famous Old Fashioned Burger. The Cider Fondue arrives with applesauce and a pickle, in addition to the cheese and freshly baked bread. This one is perfect for sharing as there's a lot to be had with this option!
When it comes to The Old Fashioned Burger, be prepared to get a bit messy with the burger. Chef Vinnie grinds the brisket and chuck that is used in this hefty patty atop a made-from-scratch bun. Paired with their delicious fries, this makes for one salacious meal!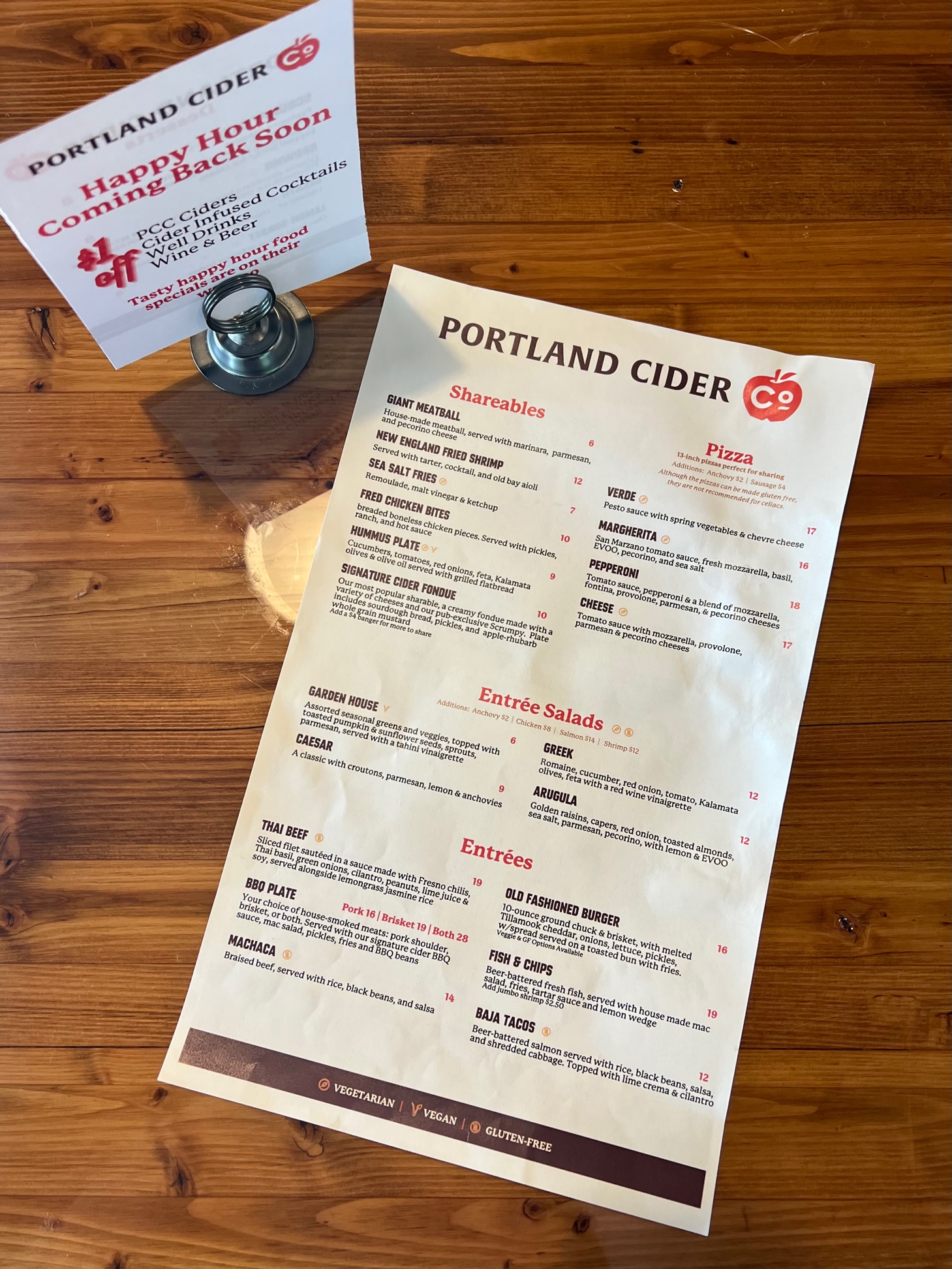 The Clackamas Pub & Restaurant is currently open five days per week from Wednesday – Sunday. Each of these days it opens for lunch at 11:00am and closes at 9:00pm on the weekdays and is open an extra hour on Friday and Saturday. To learn more, visit portlandcider.com/pub.
Portland Cider Co. – Clackamas Pub + Restaurant
8925 SE Jannsen Road – Bldg. F
Clackamas, OR 97015