After 14 Years, Rogue Spirits Matures
|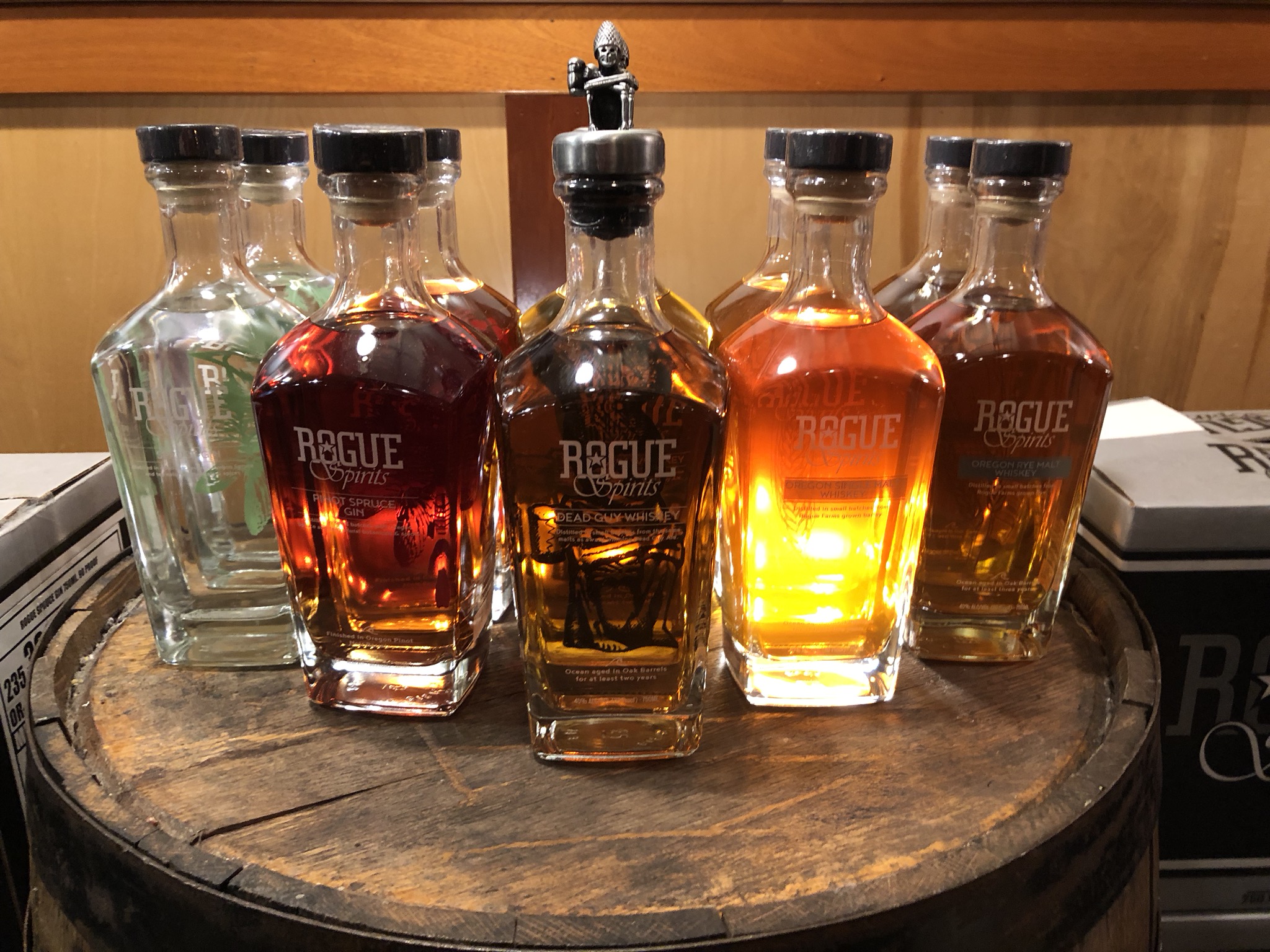 Rogue Spirits is maturing, and producing some really lovely spirits. If you tried them years ago and thought they were nothing special, it is time to give them a revisit. You will likely be pleasantly surprised. The whiskeys are aging, the distilling is more experienced, and all of the bottles are being redesigned to have a more refined and sleek look.
Rogue is a farm to table distillery, growing the majority of their own ingredients on their two farms in Oregon. Whether it is the malt for the whiskey, the English cucumbers used in the gin, Oregon Oak barrels, or a variety of botanicals, almost all the ingredients in their spirits are from their farms in Oregon. In fact, one of their goals for the future is to farm their own barrels!
Jake Holshue is the "Level 10 Spirits Wizard" or master distiller in Newport, for the past two years. Jake hales from Montana, and only has five years distilling experience, but you'd never know it talking to him. He presents himself as very passionate, creative, and willing to take some risks in order to produce the best spirits he can.
Rogue describes their spirits as being ocean aged, meaning the salt, and pressure changes of coastal air, adds its own signature to the whiskey. Apparently, in the old days, ocean aging was done on boats to really bring out the oak flavors. Jake describes the ocean influence as creating whiskey flavors more akin to Scotland, rather than the high temperature swings that occur in Tennessee and Kentucky.
In addition to the new bottle design, Rogue is narrowing their spirits to five core products: Dead Guy Whiskey; Oregon Rye Whiskey; Oregon Single Malt Whiskey; Spruce Gin; and Pinot Spruce Gin. There will be some specialty whiskeys available in the future.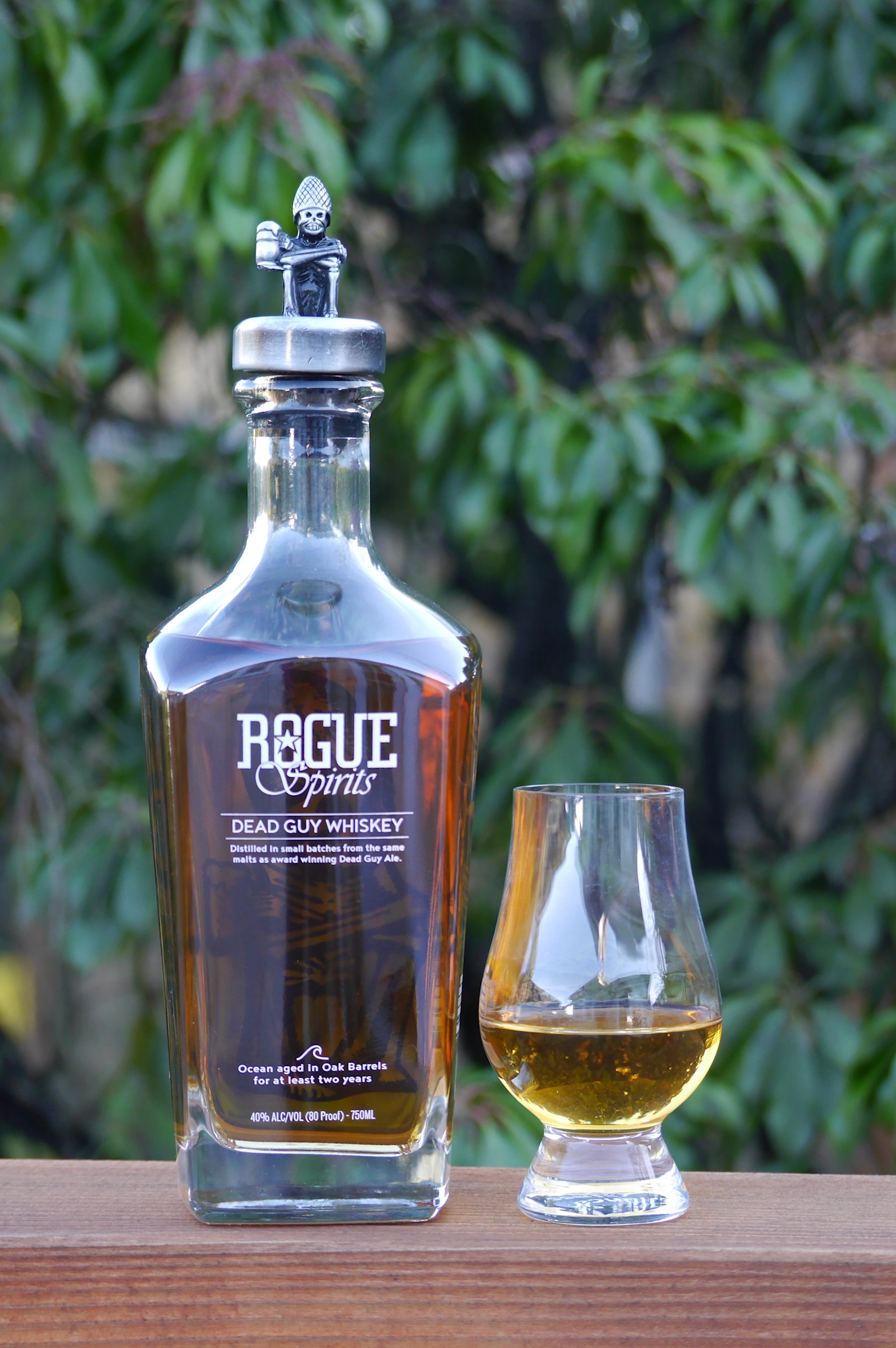 Dead Guy Whiskey is their best selling spirit. It starts as Dead Guy Ale, minus the hops, and then is aged two years. Jake states that it is more accurately aged closer to three years, as it has been tasting better just sitting a little bit longer. 2017 was a good year for a Dead Guy, winning double gold at the San Francisco World Spirits competition and a Master Medal at American Whiskey Masters.
Oregon Rye Whiskey uses a malted grain, which softens the approach from a regular rye whiskey. This 51% rye recipe is fruity on the nose, with an approachable dry and spicy finish. Aged three years, this will be a favorite if you are a rye fan. In 2017, Oregon Rye Whiskey won a gold at American Whiskey Masters, bronze and International Whisky Competition, and Bronze at American Distilling Institute.
Oregon Single Malt Whiskey starts with floral aromas and ends with a bit spice that has a little bite on the finish. Again, the malt is grown on the farm and is smoked in-house, with the sweetness of the malt showing in this whiskey. Aged three and a half years and finished in pinot barrels makes this whiskey special.
Spruce Gin is made with spruce tips, English cucumbers, juniper berries and botanicals from the farm. The nose on this gin is more cucumber than juniper, and is perfect for a fresh, summer cocktail.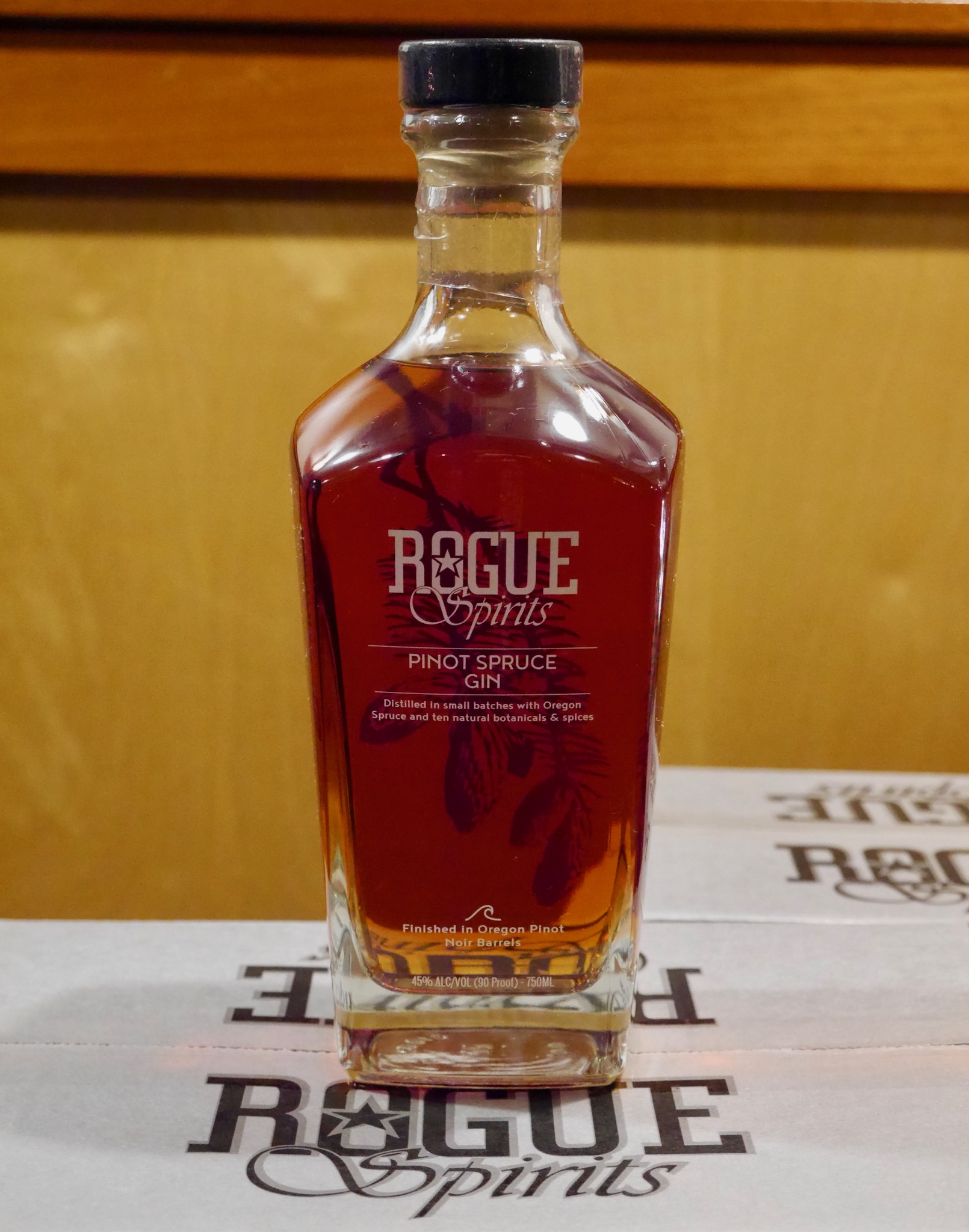 Pinot Spruce Gin is the new name for what used to be called Pink Spruce gin. This is the same exact recipe as Spruce Gin, but aged three to six months in pinot barrels. The short barrel aging, completely changes the taste of the gin, to a more refined sipping gin, closely resembling a whiskey.
Lazarus is a cask strength whiskey not yet available for sale, but one to look out for when it is released sometime in August. This whiskey is a collaboration with Dead Guy whiskey and Rolling Thunder Imperial Stout aged three and a half years, by time of release. This is a complex whiskey which shows creativity and is a fine example of how beer and whiskey work well together, when done right.
Brewpublic had the opportunity to taste all of the above spirits. Favorites were the Oregon Rye, Pinot Spruce Gin, and Lazarus. The farm to table spirits operation is something very unique for a distillery and completely Oregon. Rogue deserves some praise for improving their spirits program, and I look forward to seeing what comes from Rogue in years to come.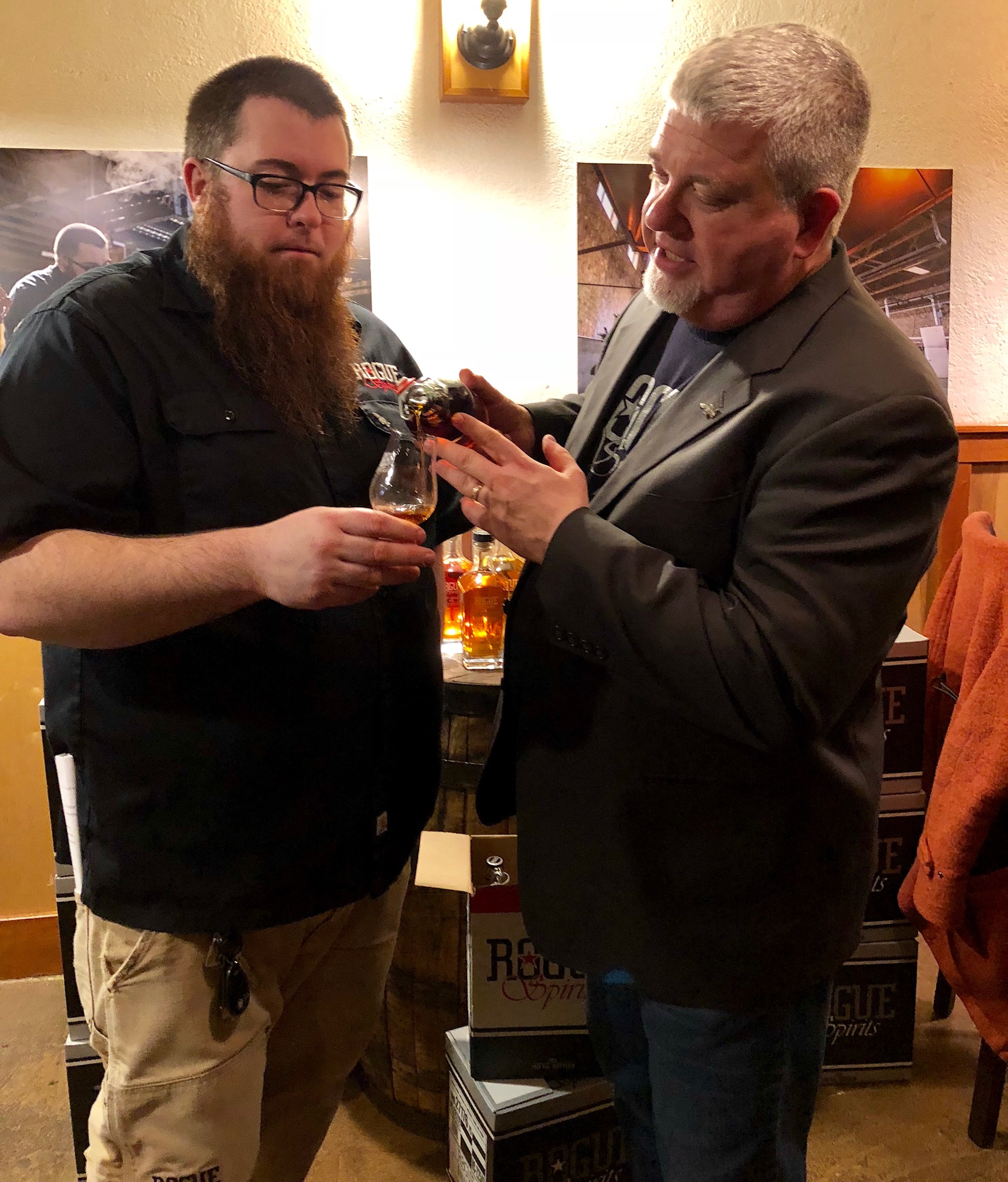 If you live in Oregon, try the spirits in one of their pubs or find in a local liquor store. If you are outside of Oregon, check out rogue.com to find a bottle near you.