Little Beast Brewing Releases Maker Series Collaboration with Salt & Straw and Two Fresh Hop Beers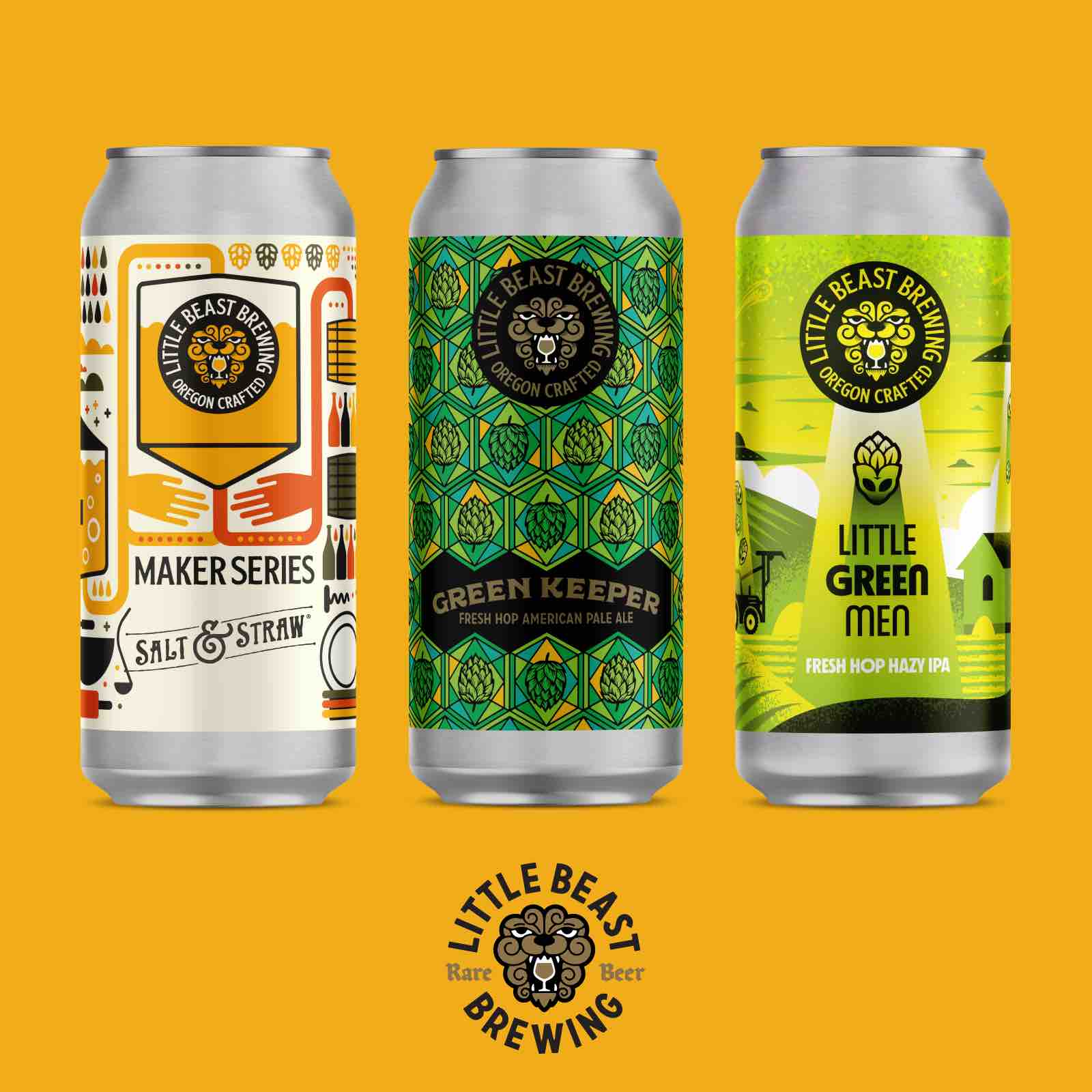 The month of September is a big one for Little Beast Brewing as it releases three specialty beers. During the coming weeks, Little Beast will release its next Maker Series Collaboration, this one with Salt & Straw, and two fresh hop beers!
Salted Malted Chocolate Chip Cookie Dough, a Maker Series collaboration with Portland's Salt & Straw, will debut on Sunday, September 12 with a special beer and ice cream pairing at Little Beast's Beer Garden. Green Keeper Fresh Hop Pale Ale is available now and Little Green Men Fresh Hop Hazy IPA is set to release on September 15.
Here's a rundown on the three beers coming from Little Beast Brewing.
Salted Malted Chocolate Chip Cookie Dough
Salted Malted Chocolate Chip Cookie Dough is a 7% ABV beer that was brewed to mimic the popular Salt & Straw ice cream of the same name. The ice cream gets its maltiness from crystal malt, so Little Beast's founder, Charles Porter, employed English crystal malt to replicate the malty character. Porter also used Singing Dog's double fold vanilla, Skagit Valley Malting's molasses malt, salt, lactose, and Meridian Cacao's cacao nibs in the brew. The beer represents the fifth release in Little Beast's Maker Series—a small-batch series of culinary-inspired beers with whole ingredients—that has included collaborations with Blue Star Donuts and Loretta Jean's pie bakery next door to the brewery's Beer Garden.
The Salt & Straw collaboration releases on Sunday, September 12 in limited quantities of draft and 16oz 4-packs. On Sunday for the release party, from 12:00pm – 5:00pm, Little Beast will serve the beer with a special pairing of Salted Malted Chocolate Chip Cookie Dough ice cream at their year-round Beer Garden on SE Division.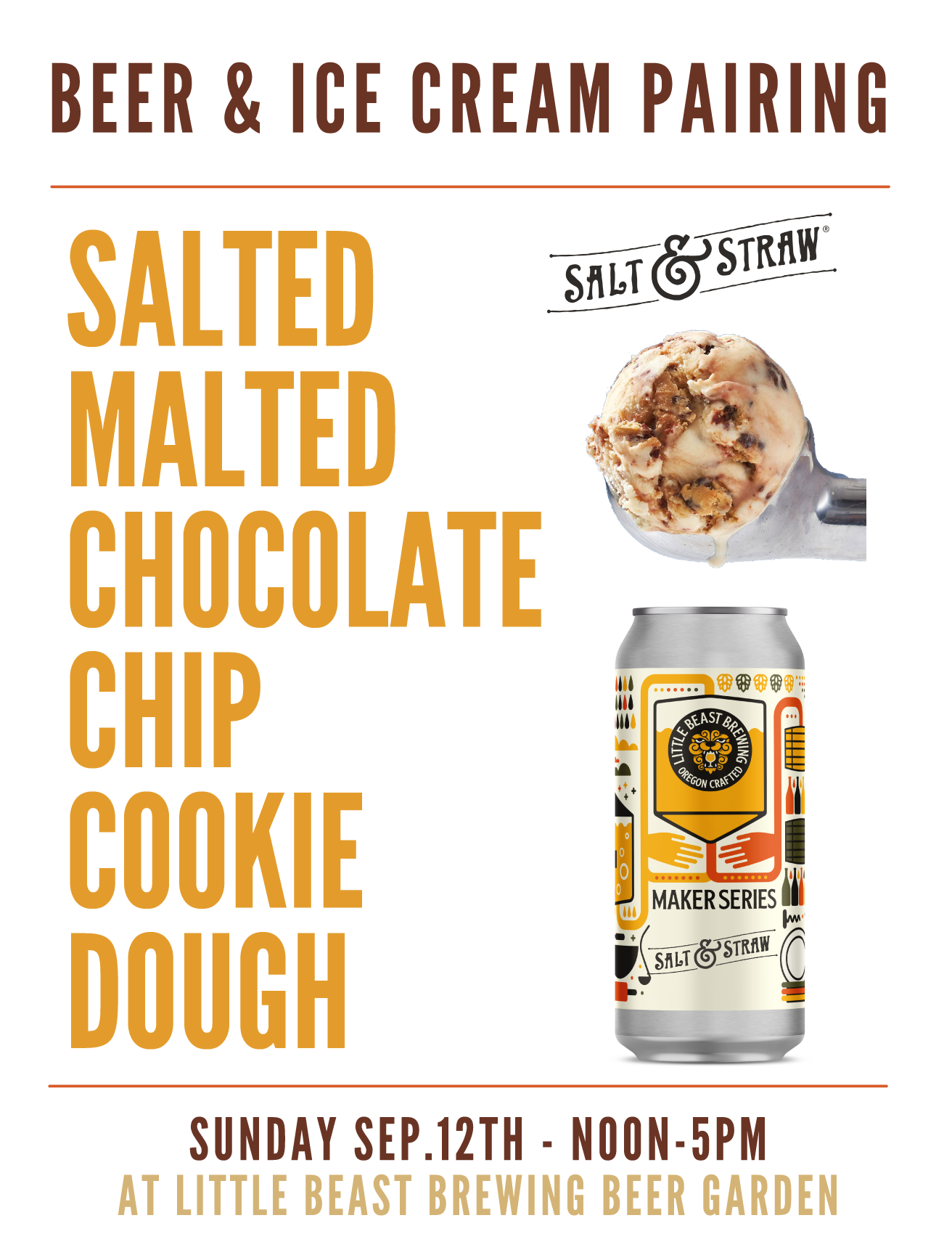 Green Keeper Fresh Hop Pale Ale
Green Keeper, a popular Fresh Hop Pale Ale that debuted last year, has returned with distribution throughout Portland's specialty bottle shops, New Seasons, Whole Foods, and Market of Choice. At 5.2% ABV the beer is piney, with earthy dankness, fruity melon, and punchy bitter orange character thanks to Centennial fresh hops from Crosby Hop Farm in Woodburn.
Little Green Men Fresh Hop Hazy IPA
Little Green Men is a Fresh Hop Hazy IPA showcasing one of the Willamette Valley's long-standing hop farms—Goschie Farms in Silverton. The beer was brewed with Salmon-Safe ingredients from the Goschie estate including wintmalt, a winter barley that's malted at Skagit Valley Malting, and fresh Azacca hops that are added to the fermenter. The beer is available in highly limited 16oz 4-packs, primarily at New Seasons Market. Beer lovers will be able to find the beer on draft at the Fresh Hop Pop Up Beer Festival and the Oregon Brewers Guild PDX Fresh Hop Fest.
Little Beast Brewing Beer Garden
3412 SE Division St.
Portland, OR 97202
About The Author
DJ
D.J. is a Portland, Oregon based writer that spent his formative years in the Midwest. With over 25 years under his belt of drinking beer at festivals across America and the world, he has developed a strong appreciation and understanding of craft beer and the industry that surrounds it. He can be found in any of the great breweries or beer bars that make Portland the best beer city in the world. His writing can also be found in the archives of Northwest Brewing News and can be followed on Twitter and Instagram at @hopapalooza.