The Return of PDX Beer Week
|
PDX Beer Week kicks off today and runs through June 21st. This beer week now in its 5th year will feature an array of beer events across Portland over the course of the next 11 days.
Last week we were treated to a media preview at Bunk Bar – Water Street on what to expect with this year's beer week. While there festival organizers Ezra Johnson-Greenough and Kerry Finsand led a small group of fellow media types through what is coming up for the 2015 edition of PDX Beer Week. The organizers took some questions regarding the purpose of the beer week among a few other topics.
In a city where craft beer is already very popular, Johnson-Greenough opened up the discussion stating that, "PDX Beer Week is a celebration of Portland's beer culture." This is something that makes Portland very unique when it comes to craft beer, our city gets it, its part of the lifestyle here. The state of Oregon has its own entire month dedicated to craft beer when July is Oregon Craft Beer Month. Almost every weekend there is some sort of beer event that takes place, its almost that this city has too many beer events, at least too many to completely keep track of.
Then the discussion turned to the benefactors or PDX Beer Week. This is when we were pleasantly informed from Johnson-Greenough that there are three charities benefiting from PDX Beer Week. Unfortunately, no specific charities were revealed during this preview. When asked about why the beer week is just not set up as nonprofit Johnson-Greenough stated, "Its too cumbersome to be a nonprofit." Regardless, it was a delight to learn that the profits from the beer week events are going to a few charitable organizations. We hope to hear more about these three organizations as the 11-day week progresses. Once we do we will bring this news to you.
What is there to expect for this year's beer week? Many of the same events from years past will return once again along with a few new events to help supplement and attempt to enhance the beer week. Many of these events can be found on the beer week's website at http://pdxbeerweek.com. Once you look past the first four events from the high dollar sponsors each days events are listed in a challenging calendar format. For many of the events, the details are slim to none except for a time and location. More events will be added as the week progresses when additional agreements from more establishments can be reached with the beer week's organizers.
Circling back to last week's media preview we learned a few things about what lies ahead for this year's beer week. New for the 2015 PDX Beer Week is that it feature's a few food items including its very own sandwich from Bunk, ice cream from Salt & Straw, and donut from Blue Star Donuts. There is also a collaborative beer, Back to the Future IPA, from Seattle's Fremont Brewing and Milwaukie's Breakside Brewing that is the "Official Beer" of the beer week. Johnson-Greenough stated, "We want to partner with the best in the industry." All three food choices and beer were a delight to our taste buds.
Starting off with the PDX Beer Week Sandwich from Bunk, this was definitely the highlight of the various food items. The sandwich consists of GoodLife Pass Stout braised brisket and gravy Po Boy. This sandwich is pretty amazing with the spicy sauce that truly enhances the sandwich. Where can one find this sandwich? Well its only available at Bunk Bar on Water Street and Wonder Ballroom. Bunk is also offering Deluxe Queso Dip with the same GoodLife Pass Stout braised brisket, but this is only available at Bunk Bar Wonder.
Next up is the Blue Star Beer Donut. This cake donut was made with Hopworks Urban Brewery IPA and then frosted along with crushed pretzels sprinkled on top. Not too shabby! The Blue Star Donut will be available at all four Blue Star locations during the duration of the beer week. It will also be available at EastBurn tonight for the kickoff and at Belmont Station on Saturday for the two breweries and its tap takeover even.
However, the donut isn't the only dessert item that's attached to the beer week, there's also an ice cream from Salt & Straw with its Honey & Citra Hops Ice Cream. For this cool treat Salt & Straw teamed up with Breakside Brewery to make an ice cream with the brewer's new Tall Guy IPA. When Salt & Straw's Tyler Malek spoke about the ice cream he mentioned that this dessert is, "More gelato than ice cream. It's really, really fruity in a great way." We agree! This frozen concoction is worth seeking out, as it's available all beer week at any of the Salt & Straw locations around town.
Now on to the PDX Beer Week Beer, Back to the Future IPA, this beer was brewed in collaboration with Fremont Brewing and Breakside Brewing in Milwaukie, Oregon. The beer name is quite fitting, as 2015 marks the 30th Anniversary of Marty McFly traveling into the future in the Back to the Future movies. As with last year's PDX Beer Week beer that was brewed at Worthy Brewing in Bend, Oregon, this year's beer is also brewed outside of Portland but much closer in proximity. This year's beer was brewed in neighboring Milwaukie. During last month's Seattle Beer Week, the two breweries brewed a beer that was released during the week. Though not the official Seattle Beer Week beer, that honor went to Silver City Brewing. The Fremont Brewing brewed version was an instant hit that when it was poured at the release party during Seattle Beer Week, the brewery had already ran out of its draft version and had to pour from the bottles.
Both versions are similar except for the use of its newer hop varieties. Fremont used Jarrylo and Equinox hops while Breakside chose Azacca and Ella hops. Having tasted both versions, the Breakside version is much preferred. This beer will be available in 22 oz bottles and draft in the coming weeks. The official launch party will be on Friday, June 12th at Whole Foods in the Pearl District.
We attempted to navigate the beer week's challenging website to come up with our top picks of the beer week:
June 11
Kickoff Party & Pre-Fruit Beer Festival Pig Roast at The EastBurn
The Lions Supper, a Firestone Walker Beer Dinner at Old Salt Marketplace
June 12
Rye Beer Fest at The EastBurn
Southern Washington Staycation at Saraveza
Portland Fruit Beer Festival at Burnside Brewing Co. (through June 14th)
The Lion and The Dragon Firestone Walker Event at Green Dragon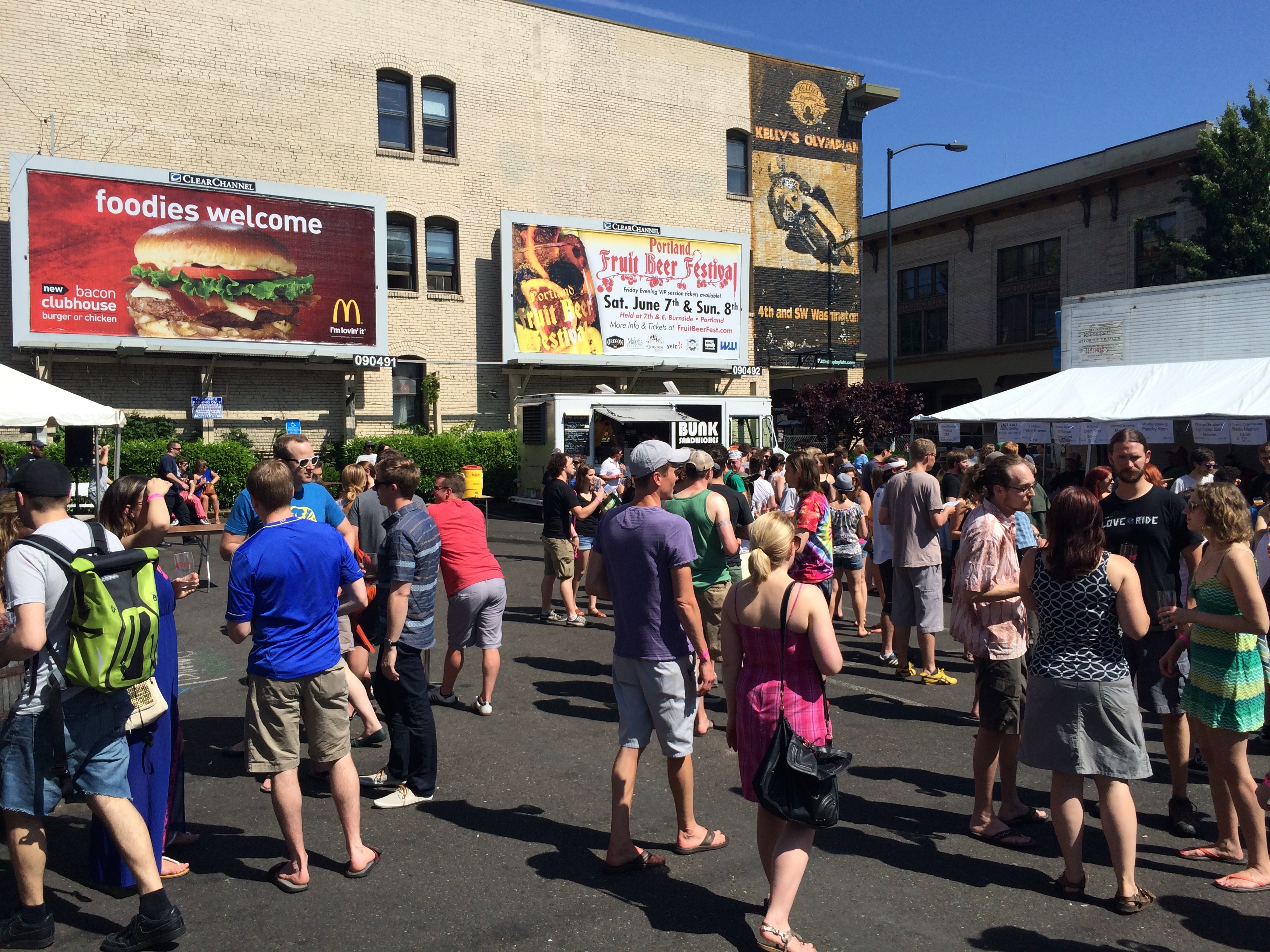 June 13
Breakside/Fremont Tap Takeover & Draft Beer Release at Belmont Station
Bourbon & Bacon Fest featuring Laurelwood Brewing at OMSI
June 14
Brian Yaeger's The Rural Brewer at Hawthorne Hophouse
Battle of the Belgians at Bazi
June 15
Melvin Brewing vs. The World at Roscoe's
Laurelwood Pop-A-Shot Tourney at Spirit of 77
June 16
Lompoc Beer, Whiskey and Cigar Dinner at Radio Room
June 17
3rd Annual Mussels from Brussels at Bazi
Elysian and Friends Present: Posters and Pints For Pups at Produce Row Cafe
Sasquatch Brewing at Carts on Foster
June 18
Breweries in the Gorge Staycation at Saraveza
June 19
Brewery Owners Summit at Roscoe's
Culmination Brewery Grand Opening (through June 20)
June 20
Coalition Brewing 5 Year Anniversary
Eat, Drink, Play Block Party at Whole Foods – Pearl District
June 21
Fathers Day Brewgrass and BBQ at Portland Brewing Company
Portland Beer and Cheese Festival at The Commons Brewery
Here's to celebrating craft beer in the world's best and most mature city for craft beer in the world. Cheers!