Guinness Celebrates 200 Years Of St. Patrick's Day In The United States
|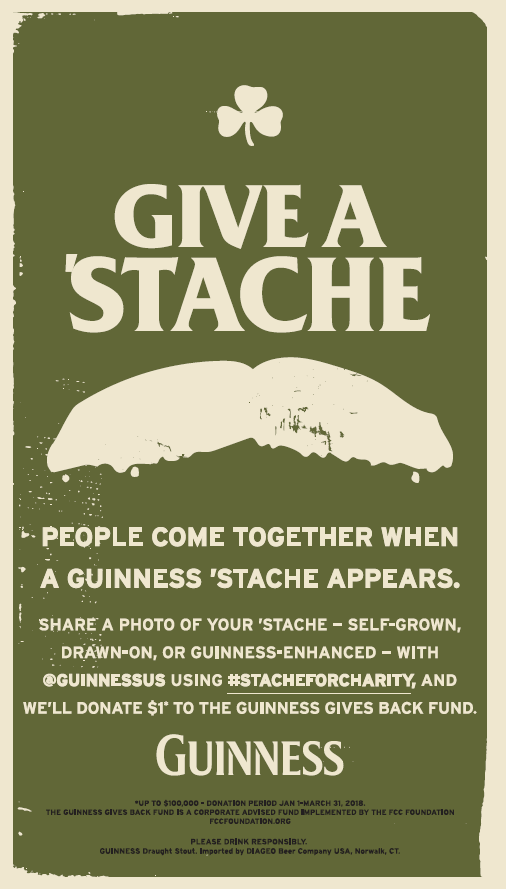 Guinness first arrived in the United States 200 years ago. This upcoming St. Patrick's Day will mark two centuries of Irish Stout traveling across the Atlantic where it first landed in South Carolina. To celebrate this milestone, Guinness is once again celebrating the month of March with Give A 'Stache by donating $1.00 to charity for each adult that dons the Guinness 'Stache. 
Here's additional information from the Guinness press release…
The Guinness brand is encouraging all Americans, 21 years and older, to make a simple pledge (assuming they've already promised to drink responsibly, of course): gather with friends, new or old, toast to the many things we all have in common…and give a 'Stache. Indeed, this St. Patrick's Day, the Guinness 'Stache – that unmistakable hint of foam left behind on the upper lip after the first sip of stout – is back as a symbol of the goodness and the Irish-ness that lives within all of us.
From now through March 31, 2018, when adult beer lovers share photos of their 'Staches – self-grown and groomed, drawn-on, or Guinness-enhanced – on social media (tagging @GuinnessUS and using #StacheForCharity), Guinness will donate $1 (up to $100,000) to the Guinness Gives Back Fund*, which supports nonprofits that contribute to the common good in our communities, including Team Rubicon, a veteran-led disaster response organization.
"Over the past 200 years, so much has changed – yet so much has stayed the same, like people coming together to raise a pint of Guinness with their friends on St. Patrick's Day," said Guinness Brand Director Emma Giles. "We are proud to be part of such an enduring tradition that celebrates Irish heritage and, when it comes down to it, the power of friendship. The Guinness 'Stache is a great way to bring that to life in a fun way for a great cause."
The symbol of the 'Stache will appear alongside Guinness brand activity at bars and restaurants and on social media throughout the St. Patrick's Day season, including in some digital content that pays homage to 200 years of mustaches in America. To spread the word about the bonds a 'Stache can build, the brand is releasing additional digital content that will help us all reflect on the friendships we cherish – and some very recognizable Guinness fans will also get involved in spreading the word.
In addition, it's time for the latest limited-edition Guinness Draught cans, which will hit shelves in time for St. Patrick's Day. The ongoing series celebrates the famed Guinness ad campaigns of the 1930s and '50s. While it doesn't have a mustache, the kinkajou – which we thought was a sloth at first – will be featured on this version.
To keep an eye on everything the Guinness brand is doing and to get in on the 'Stache action, follow @GuinnessUS on Twitter, Instagram and Facebook.
Whether you're making a new friend or meeting an old one, having a Guinness Draught, or ordering up any other Guinness beer this St. Patrick's Day, please respect the beer and drink responsibly.
*The Guinness Gives Back Fund is a corporate donor advised fund administered by Fairfield County's Community Foundation. The Fund's mission is to support local charitable organizations which are classified under Section 501(c)(3) of the Internal Revenue Code that are aligned with the corporate focus areas of Diageo North America, Inc.
About Diageo Beer Company
Diageo Beer Company (formerly Diageo-Guinness USA) is the U.S. beer and flavored malt beverage business of Diageo. Brands within Diageo Beer Company include the iconic Guinness, Harp, Smithwick's and Smirnoff ICE. Diageo is a global company, with its products sold in more than 150 countries worldwide. For more information about Diageo Beer Company, visit at www.diageo.com.
About Team Rubicon
Team Rubicon unites the skills and experiences of military veterans with first responders to rapidly deploy emergency response teams. Team Rubicon is a nonprofit organization offering veterans a chance to continue their service by helping and empowering those afflicted by disasters, and also themselves. Programs and services are made possible by the support of individual donors, corporate partners, and the dedication of volunteers across the country. To join or support Team Rubicon's mission, visithttps://TeamRubiconUSA.org.
About Fairfield County's Community Foundation
Fairfield County's Community Foundation promotes philanthropy as a means to create change in Fairfield County, focusing on innovative and collaborative solutions to critical issues impacting the community. Individuals, families, corporations and organizations can establish charitable funds or contribute to existing funds. The Community Foundation is in compliance with the Council on Foundations' national standards and has awarded over $220 million in grants to nonprofits in Fairfield County and beyond. As a trusted nonprofit partner and thought leader, Fairfield County's Community Foundation brings together community organizers, business experts and philanthropists to solve our region's challenges. Our goal is to create a vital and inclusive community, where every individual has the opportunity to thrive. fccfoundation.org