2020 Great American Beer Festival Goes Virtual with a GABF Passport
|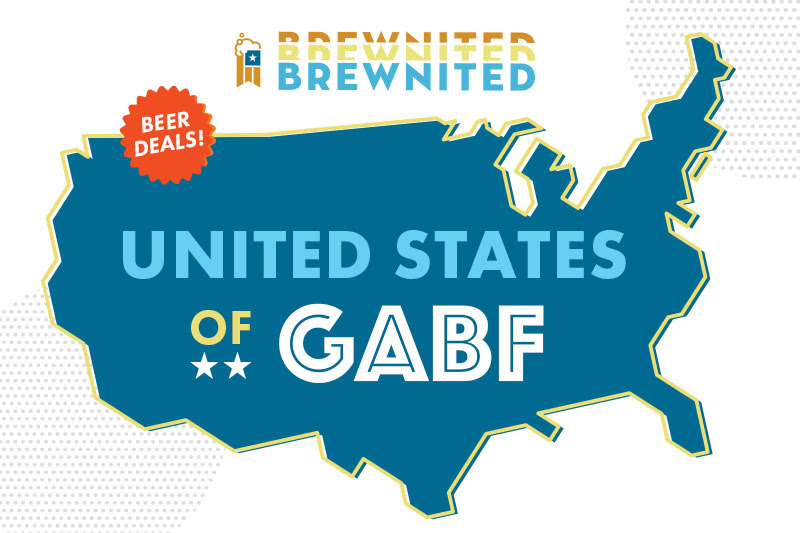 Though the 39th Great American Beer Festival (GABF) was cancelled many months ago, a new virtual event lives on and will take place during a 2-day online experience from October 16-17. To participate, a virtual GABF attendee must purchase a 2020 GABF Passport.  Passport holders will have exclusive access to deals at participating festival breweries nationwide in addition to online content during the virtual festival. GABF Passports cost $20.00 and can be purchased by clicking here.
During this two-day virtual event, GABF passport holders will be able to take in sessions that will cover a variety of topics including tips and tricks to enhance beer knowledge and enjoyment; stories from craft beer luminaries; profiles of breweries and individuals that are transforming their communities; and flavor fusions through beer and food pairings.
The virtual festivities will kick off on Friday, October 16 with the Great American Beer Festival Awards Ceremony beginning at 4:00pm PT. The presentation will be hosted on The Brewing Network and is open to the public. Upon the completion of the GABF Awards Ceremony, the virtual event will begin 6:00pm PT and will continue until 9:00pm. Then on the following day, Saturday's virtual event will take place from 4:45 – 8:30pm PT. Awards ceremony and sessions will be hosted on The Brewing Network. The full schedule can be found by clicking here.
Virtual festival speakers include Ken Grossman (Sierra Nevada Brewing), Natalie and Vinnie Cilurzo (Russian River Brewing Company), Garrett Oliver (Brooklyn Brewery), Gina Marsaglia (Pizza Port) and Tomme Arthur (The Lost Abby), Matt Meadows (New Belgium Brewing Company), Chef Danny Lee (Mandu and CHIKO), Marcus Baskerville (Weathered Souls Brewing Company), Jose D. Beteta, Tamil Maldonado Vega, and Martín D. Vargas (Raíces Brewing Co); among others.
In addition to the virtual event, GABF Passport Holders will also have exclusive access to on-site deals at participating breweries from October 1 – 18. These special deals will be available at 900 small and independent craft breweries from all 50 states. Here is the current list of participating breweries in Oregon and the offer for those with a GABF Passport. To check out all of offers from breweries in other states click here.
| Brewery Name | Passport Exclusive |
| --- | --- |
| | Pass holders will enjoy $1 off all beers on draft at our pubs during the festival dates of 10/1-18. |
| | Blender's Circle Club discounts on all purchases at the Tasting room and receive a complimentary artisan chocolate pairing with a purchase. |
| | BOGO Taster Flight |
| | Discounted Flight of Tasters. One Time Use Only. |
| | Discounted flight of tasters. One Time Use Only. |
| | Discounted flight of tasters. One Time Use Only. |
| | |
| | Discounted tasting flight |
| | Discount on 6pk |
| | Exclusive access to GABF beer discount $1 off pints |
| | One time discounted sample tray per passport holder – $10 for 6 samples and one time 20% off GABF Entry bottles (12 bottle limit) |
| | One time discounted sample tray per passport holder – $10 for 6 samples and one time 20% off GABF Entry bottles (12 bottle limit). |
| | One time discounted sample tray per passport holder – $10 for 6 samples and one time 20% off GABF Entry bottles (12 bottle limit). |
| | Buy one pint, get one pint for $1. Details: – Valid for dine-in only – Please see host to use passport deal – Deal may be used only once per day – If purchasing both pints at once, two people over the age of 21 must be present |
| | Free Taster Flight |
| | 10% off merch or beer to go! GABF Beer Sampler for $8 that includes four GABF entries. (Normal Price: $14). |
| | Discount on Merchandise |
| | 50% off a flight, and then a free 6 oz sample of whatever your favorite is. |
| | 15% off all orders including merch, to-go, and delivery! |
| | 50% off of a Taster Tray Flight |
| | $5 Tasting Flight 20% Discount on Merchandise One time use, Available Oct 1, – Oct 18, 2020, can't be combined with another offer, discount or promotion, is not valid for online purchases or gift cards. The passport must be presented at the time of redemption. |
| | Sisu Beer flight of six- 4 oz. samples for $6 |
| | Sisu Beer flight of six-4 oz. samples for $6 |
| | 20% Discount on Take out 4 packs and Merchandise. Must show passport to bartender. |
| | 20% Discount on Take out 4 packs. Must show passport to bartender. |
| | Discount Flight of Tasters |
| | Build Your Own VEB Beer Sampler 1 500ml Bottle of Mixed-Culture beer or a 4-pack to take-home 1 T-Shirt All for $25 |
| | Build Your Own VEB Beer Sampler 1 500ml Bottle of Mixed-Culture beer or a 4-pack to take-home 1 T-Shirt All for $25 |
| | Free 6 OZ Sample (One Time Use Only) |
| | 15% DISCOUNT ON MERCHANDISE and FLIGHT OF TASTERS |