9th Annual Puckerfest Returns to Belmont Station
|
Its mid-July so this means it's another week of all things sour and tart at Belmont Station as Portland's favorite bottle shop host its 9th Annual Puckerfest. The seven consecutive days of Puckerfest begins today, Tuesday July 14 and concludes on Monday July 20.
Over the past nine years many things have changed at Puckerfest as in its early days many of these wild and sour ales came from overseas. Now many more of our wonderful local breweries have been offering these tart delights and Puckerfest is now filled with these premiere breweries. This year's breweries will include Double Mountain, Cascade Brewing, Upright Brewing, Block 15 Brewery, de Garde Brewing, Breakside Brewery, and more.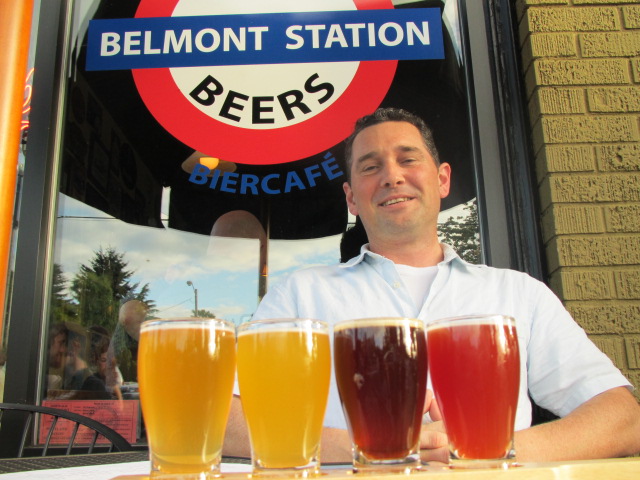 Puckerfest Kickoff & Breakside Passion Fruit Sour Bottle Release Party
Tuesday, July 14 – 4:00 to 7:00pm
Later today Puckerfest gets its week of tartness started when Breakside Brewery arrives in the bottle shop to release this year's Passion Fruit Sour in bottles. The brew crew from Breakside will be on hand to chat, while The Station will be pouring several tasty treats including:
Passion Fruit Sour – Passion Fruit Sour is brewed in the tradition of a classic German Berliner Weisse, and then we add a unique, tropical twist. We use lactic acid-producing bacteria to produce a beer that is light in body, extremely refreshing, and mouth puckering tart. The addition of passion fruit in our lagering tanks gives this beer an inviting stonefruit aroma. 5% ABV
Bellwether – A double wit aged in Old Tom Gin Barrels and a sour wheat made with kaffir lime for complex herbal notes. 8.4% ABV
Bricolage – Classic Belgian yeast, spicy rye malt and tropical American hops meet in this sessionable copper-colored farmhouse ale. Aged and finished with Brettanomyces Bruxellensis and dry hopped just before packaging for an extra punch of hops. 5.8% ABV
Frambosie – Bright pink! Sour raspberry ale with a touch of cinnamon. An elegant and tart beer that is a foray into the challenging territory of high gravity sour ale brewing. 7.3% ABV
Cascade Brewing Tap Takeover

Wednesday, July 15 – 3:00 to ?
The kings of sour, Cascade Brewing, will be invading Belmont Station to present the largest selection of Cascade sours ever assembled outside the Barrel House. This year's tap selections will include a very special sour beer named Mangos Into A Bar that was blended by the staff at Belmont Station and will only be served at Belmont Station for Puckerfest. Here's the taplist for Cascade Brewing.
Frite Gaulois – Sour aged on white cherries, coriander, orange peel, and salt.
Honeycot – Honeycot was a sneak preview of 2014 Apricot project with some modifications by the blending staff. They pulled a portion of the new Apricot blend straight from the tank and added local wildflower honey directly to the barrel for an extra layer of nectarous complexity. Honeycot features flavors of apricot preserves, honeysuckle flowers and raw honeycomb.
Goji Berry – This NW style sour blond ale was finished on organically dried goji berries, a member of the nightshade family. This tart little fruit starts this beer off with slight sweet aromas of citrus, white raisin and graham crackers. Soft and sweet, yet slightly tart, kumquat skin notes and raisins dance on the palate and lead to a finish of soft, tart, sweet citrus and graham cracker notes that linger.
Cocoa Rojo – Sour Red Ale aged on black mission figs and blended with a sour stout
Blackcap Raspberry (2015) – Northwest-style Sour Blonde aged on Black Cap raspberries
Hibiscus Rose
Apple Crisp
The Vine (2013) – This Northwest Style Sour Ale is a blend of soured Triple, Blonde Quad and Golden ales that have been re-fermented with the fresh pressed juice of white wine grapes.
Shrieking Violet (2013) – Sour spiced Quad aged on blueberries
Gin Gimlet – Sour Blond ale aged in an oak wine barrels with lime peel & juniper berries for 14 months
Sang Rouge (2013) – Sour Red Ale
Frankenberry –
Vlad the Imp Aler (2013) – Barrel-aged sour Blonde Quad
Strawberries and Cream – Sour Ale aged on oak with strawberries and bourbon vanilla beans
Blackberry 2014 – Sour Red Ale aged on blackberries
Mangos Into A Bar – Our exclusive Belmont Station 2015 Puckerfest Blend!
Double Mountain Night
Thursday, July 16 – 5:00 to 7:00pm
Some of the most sought after Oregon brewed Krieks will be featured on this day when Double Mountain Brewery returns with Devil's Kriek and Tahoma Kriek, its two different sour cherry ales. But this year will bring the launch of the brewery's latest sour ale bottle release with Peche Mode, the peach infused sour ale. This will also be featured on tap, a definite rare treat!
Out of State Day
Friday, July 17 – Noon to 11:00pm
Get prepared to take a tour of breweries from out of state on this day during Puckerfest. Belmont Station has been properly preparing for this day and will be bringing some true gems from its cellar. For Out of State Day, the breweries will include Russian River and Firestone Walker from California and Crooked Stave and New Belgium from Colorado. This is only the tip of the sour iceberg as additional beers will be added.
Block 15 & de Garde Day

Saturday, July 18 – 3:00 to 5:00pm
After last year's incredibly successful day featuring this dynamic duo of breweries of Block 15 and de Garde, it was only natural to bring them back again. The Station will be pouring several different beers from both breweries, and may have a few special bottles available that day as well!
Here's what Belmont Station will be pouring:
Block 15 7th Anniversary
Block 15 Golden Canary – Sour Golden Ale
Block 15 Framboise Black – Barrel-aged, blended sour Witbier aged on black cap raspberries
Block 15 Belmont Station 15th Anniversary – Dark Sour Ale matured in rare fifteen year old Bourbon casks from Rip Van Winkle Distillery and then blended with select Bourbon barrel Oud Bruins, matured 9 & 24 months
de Garde Citra Hose – Gose inspired ale aged in oak barrels and dry hopped with Citra
de Garde Blu Bu – Berliner inspired ale aged in oak wine barrels with Oregon Blueberries
de Garde Raz Bu – Berliner inspired ale aged in oak wine barrels with Oregon Raspberries
de Garde Citrus Desay – A blend of foeder aged Saison and two year old wine barrel aged saison, blended and conditioned on citrus peel and zest then lightly dry hopped with Mandarina hops
Upright Brewing Day
Sunday, July 19 – 3:00 to 5:00pm
Upright Brewing's Alex Ganum will returns to Belmont Station and will bring some of the gems that his brewery is well known and respected for. Expect to see the following to be poured.
Small World Saison
Saison du Blodget
Fantasia
New, unnamed "Fantasia-esque" brew with Rainier cherries.
The Day (and Night) of Belgian Sours
Monday, July 20 – 5:00 to 7:00pm
To end the week properly Belmont Station will place the original home of sour beers on display with beers from the place where these beers began, Belgium. The closing of Puckerfest will feature some very special beers from Cantillon, Oud Beersel Still Lambic, St. Louis, LambickX Private Domain, and more! Belmont Station's friend and Belgian beer sommelier Luc de Raedemaeker, will be on hand to tell us more about these incredible beers and give us insight into the sour beers of Belgium!
Stay up to date with the 7 days of Puckerfest by checking Belmont Station's website for updates. Now lets prepare to pucker up!
Belmont Station
4500 SE Stark Street
Portland, OR 97215