Brewvana And Belmont Station Anniversaries, Cans From The Commons – Beer Events The Week Of April 6
|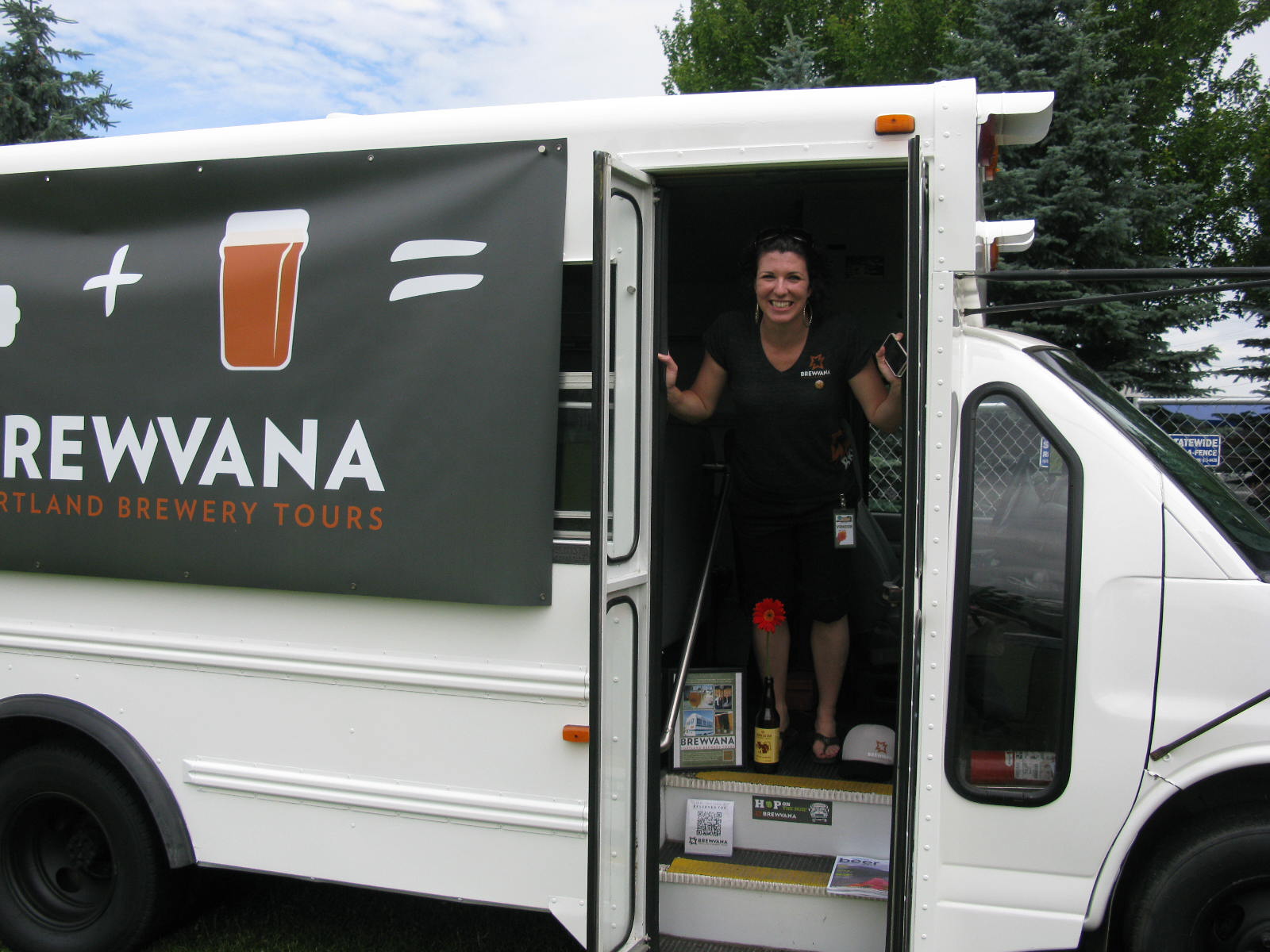 Brewvana turns six years old, Belmont Station continues celebrating its 20th anniversary and first cans from The Commons; all of the beer events for the week of April 6th.
Brewvana's Sixth Anniversary
5-9 p.m. Thursday April 6, Breakside Brewery Northwest, 1570 NW 22nd Ave.; all ages OK.
Portland's favorite beer-tour company celebrates six years with a family friendly evening full of entertainment with a live carving of an ice sculpture and the infamous photo booth. Breakside Brewery beer & food will be available for purchase along with a special anniversary beer brewed by the Brewvana crew. In addition to the photo booth, JForbish Photography will be there to capture all the memories being made as Brewvana toasts another year of sharing the culture and local scenes of Portland.
Lompocker Release Party
4 p.m. Thursday April 6, Lompoc Oaks Bottom Pub, 1621 SE Bybee St.;
The Lompoc crew is releasing their newest beer, Lömpocker – a premium hoppy Kölsch – at a series of release parties including today's at Oak Bottom, April 11 at Hedge House and April 13 at Lompoc Tavern. Stop by any of the gatherings to meet the brewers, taste the beer, and enter swag raffles. Lömpocker, literally meaning "of or relating to Lompoc," is a highly drinkable German style ale with a touch more hops than a traditional Kölsch. Bright golden in color, the 5 percent beer features a delicate, soft maltiness, while Perle and Mandarina Bavaria hops give off a fruity aroma and a lingering hop bitterness.
Brew Hog Blowout Craft Beer Fest
4-10 p.m. Thursday April 6, North 45 Pub, 517 NW 21st Ave.;
Join North 45 for their annual Brew Hog Blowout Craft Beer Fest featuring mug & token style tastings from 24 brewers on the heated, covered outdoor beer patio, The pub's BBQ ribs or house special Louisiana-style sausage will be available at their annual craft beer patio party. Full menu is also available, too, Brewers and beers include:
2 Towns (Maid Marion)
Crux (Gimmie Mo IPA)
Worthy (Stoker Red Ale)
New Belgium (Lips of Faith: Anne Francoise Belgian Trappist)
Gilgamesh (La Moule De L'Amour Saison)
Bridgeport (Deep Cuts IPW)
Backwoods (Gifford Pinchot Pilsner)
pFriem (Hellis Lager)
Crazy Mountain (Wit)
Drinking Horse (Saison)
Ex Novo (Mexican Lager)
Culmination (Pilsner)
Ordnance
10 Barrel (Joe IPA)
Burnside (Ismore IPA)
Elysian (Super Fuzz Blood Orange Ale)
Old Town (Kolsch)
Commons (Farm House Rye)
Ninkasi (Pacific Rain)
Mini-Puckerfest: Belmont Station's 20th, continued
Friday April 7- Sunday April 9, Belmont Station, 4500 SE Belmont St.;
Portland's premiere bottleshop continues its 20th anniversary party with Mini Pucketfest, three days of sour and wild ales in tribute to Belmont's annual weeklong summertime Puckerfest. Limited bottle releases from de Garde and Ale Apothecary and unique drafts from de Garde, Upright, Double Mountain, Block 15, and more. Plus, on April 7, participate in a special Battle of the Belmont Blends competition with Belmont staff-blended sours at Cascade Barrel House — try both and vote for your favorite for braggin' rights among team members.
The Art of Beer: Collage 2 Celebration
6:30 – 9:30 p.m. Friday April 7, The Evergreen, 618 SE Alder St.; $65.
Celebrate one of the world's unique beers – Collage 2, a Deschutes collaboration with Hair Of The Dog Brewing Co. that artfully blends The Abyss, The Stoic, Fred, and Doggie Claws into one delightful, barrel-aged beer mosaic. Deschutes Corporate Executive Chef Jeff Usinowicz collaborated with Hair Of The Dog Executive Chef Chuck Hambley, Greg Higgins and Master Chocolatier Julian Rose of Moonstruck Chocolates to create a menu of items paired with each beer in Collage 2, as well as a Collage 2 pairing. The event also includes a Pacific Wonderland Lager and special charcuterie pairing, and the opportunity to chat with a few of the most innovative chefs and brewers around.
Celebrate The Commons' First Cans
6 p.m. Saturday April 8, BeerMongers, 1125 SE Division St,; 6 p.m. Tuesday April 11, NW IPA, 6350 SE Foster Rd.;
Pay No Attention To This IPA is a bright American IPA is bursting with intense pineapple, tropical fruit and citrus hop notes from Vic Secret, Denali, Citra, and Waimea hops and was brewed at The Commons with their friends at the eagerly awaited Grains of Wrath. It's also the first canned beer from The Commons and first packaged beer from the soon-to-be-opened Grains of Wrath. Commons and Grains of Wrath will be celebrating this collaboration on Saturday at The BeerMongers and Tuesday at NWIPA. Cans and draft will be available at both locations.
The beer will be available at The Commons Tasting Room and in limited quantities at Portland area specialty beer shops and bars. This beer will be canned and kegged on Tuesday, April 4, so come to the release to experience the freshness.
Fourth Annual Hopped Cider Fest
Noon-9 p.m. Saturday April 8, Rev. Nat's Hard Cider, 1813 NE Second Ave.; $25 at the door (no advance tix) includes glass and 7 tokens. 21 and older only, no dogs please.
Rev. Nat has rounded up more than three dozen hopped ciders from around the country including a dozen of his own unique hopped ciders and more from local cider makers. They've close off the street and put up a big tent, so the fest happens rain or not.
Current Rev Nat's tap list
Hallelujah Challenger
Bartlett Galaxy
Bartlett Amarillo
Oaky Revival Mosaic
Shoot the Glass
Sacrilege Sour Cherry with Ella
Sacrilege Sour Cherry with Citra
Chinook dry-hopped Whiskey Sour
Imperial Newtown with Saaz
Dry-hopped Tepache mimosa
Red wine barrel-aged Vinocot (aged on spent grape skins)
Triple-hopped Le Vin de Big Jon