Gigantic Brewing & Von Ebert Collaborate on Enjoy House! IPA
|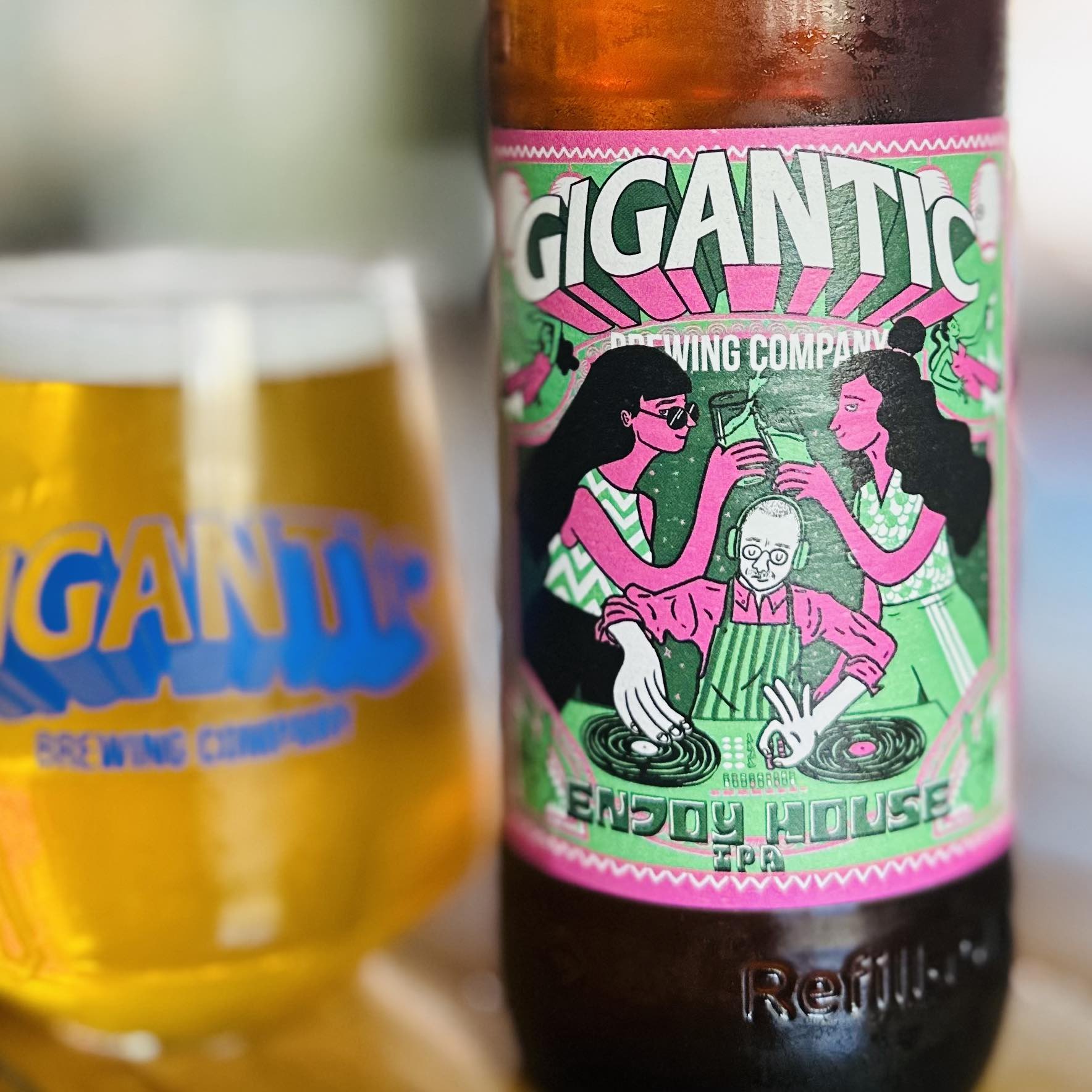 Two Portland breweries have come together on a new summer IPA that was inspired by the Tokyo nightlife. Gigantic Brewing has teamed up with Von Ebert Brewing to create Enjoy House! IPA, a summer IPA featuring tropical flavors of pineapple, mango, and orange zest.
According to the press release, the idea for this beer came from a serendipitous encounter in Tokyo during the Hood to Fuji Beerfest, when the brewmasters from Gigantic and Von Ebert were walking the city looking for their next stop. They saw a second-story window with "Enjoy House!" painted on it that was lit with Christmas lights. They went up the stairs to discover a dive bar decorated with streamers and balloons with cool music and friendly vibes. That late-night experience inspired them to create Enjoy House! IPA.
"We were amazed by the energy of Enjoy House!, purely the vibe and style," said Ben Love. "Most people probably don't notice the second-story bar window in the bright lights of the city, but when we walked in we felt like we'd discovered the raddest local hangout. We wanted to create a beer that would capture that feeling of fun and adventure."
When asked about creating the beer Gigantic Masterbrewer Van Havig said, "Sam Pecoraro – Von Ebert's brewmaster – thought it would be fun to showcase both their and our hand-selected lots of Citra hops in a bright IPA for the summer.  It's always interesting to see what other people are looking for in the hops they purchase, so we both learned a little something about the other.  We chose to dry hop with a Citra/Strata combination because it's something we both really like".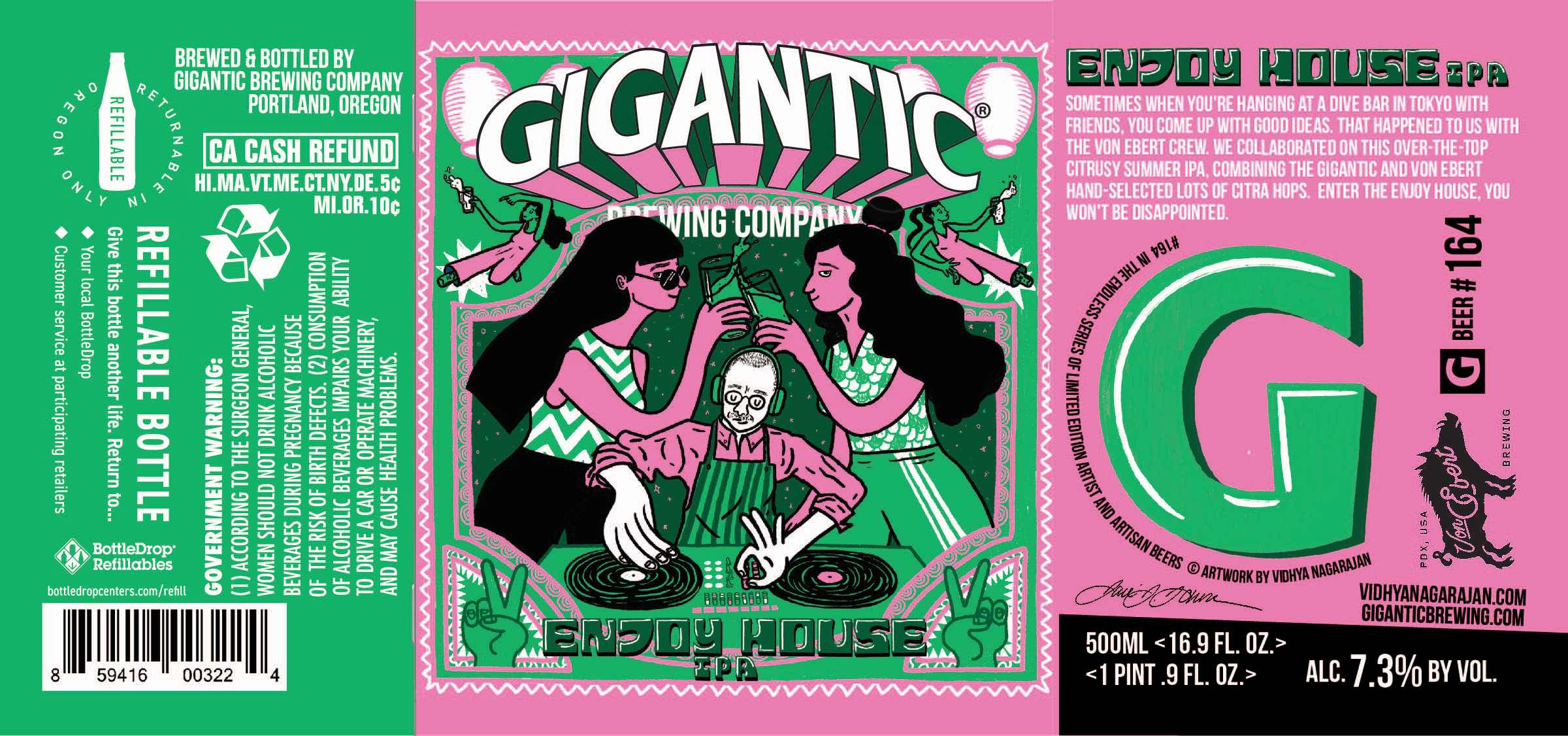 The label artwork for Enjoy House! IPA features art by returning artist Vidhya Nagarajan. She is a talented illustrator and letterer based in New York City. Her work has been featured in various publications and platforms such as the New York Times, Washington Post, NPR, Google, Apple, and many more. She enjoys traveling, cooking, and watching Bollywood movies.
Enjoy House! IPA will be available on draft and in bottle for First Taste Tuesday on Tuesday, June 27th at all three Gigantic locations. This includes The Brewery & Champagne Lounge (5224 SE 26th), Robot Room at Rocket Empire Machine (6935 NE Glisan), and Hawthorne Pub (4344 SE Hawthorne).
Then later this week on Friday, June 30th, Gigantic and Von Ebert will host a Southeast Portland pub crawl to celebrate the release of Enjoy House! IPA. The four-stop crawl begins at 5:00pm at the Gigantic Hawthorne Pub. It'll continue on down SE Belmont to Triple Nickel at 6:00pm, then on to Side Street at 7:00pm and then wrapping up at Bare Bones beginning at 8:00pm.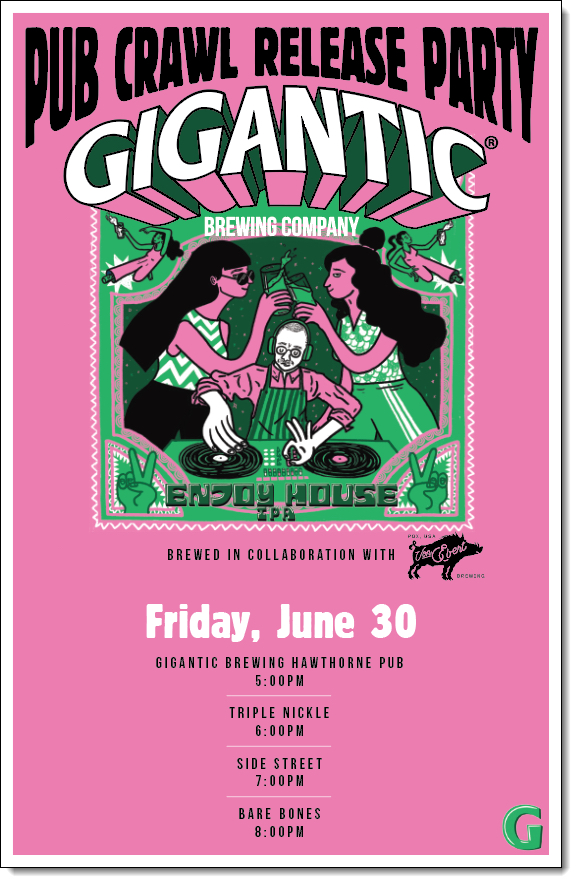 Also look for Enjoy House! IPA on draft and in 16.9oz refillable bottles at your favorite bar, bottle shop, bodega, or grocer in the Portland metro area! The beer will see limited distribution to the Seattle area, Southern Oregon and California.