Scooter Quest – Hazy Rider IPA Collabrewative Beer Release From Old Town Brewing & StormBreaker Brewing
|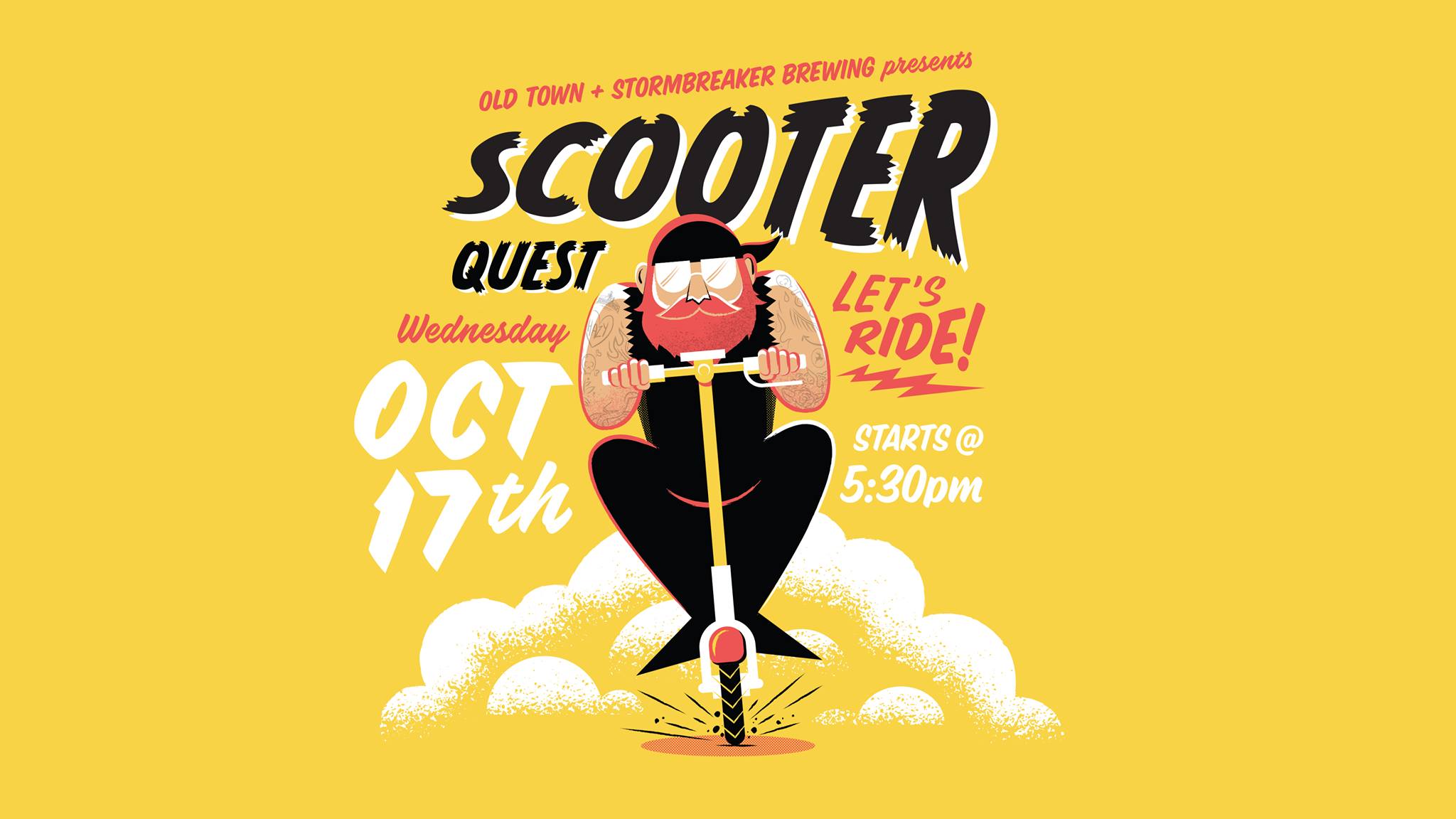 The appreciation of the array of electric scooters available in Portland has now taken a foothold in the local brewing scene. Both Old Town Brewing and StormBreaker Brewing have come together as brewers who scooter, or better known as Brewters to brew a collabrewative beer, Hazy Rider IPA.
The collabrewation was brought together from the two brewery's thirst for Hazy IPAs and local scootering. What makes Hazy Rider IPAspecial is that it was brewed entirely on scooters*.
"At the end of the day we are a handful of guys who like to make strong, hazy, aromatic beers," said Dan Malech, co-founder of StormBreaker Brewing. "And we also have a strong affinity for local scootering."
Hazy Rider IPAuses copious amounts of Motueka, Moutere, and El Dorado hops. These hops provide flavors of grapefruit, tropical fruit, passion fruit and a little bit of pineapple to this new Hazy Rider IPA.
"Honestly there is not much difference between hazies and scooters," said Joe Sanders, from Old Town Brewing. "I mean when you're drinking a hazy and it hits you right in the face with all of that aroma and flavors. It's the same thing when you're riding a scooter and the wind is hitting you in the face. It's just pure magic!"
On Wednesday, October 17, 2018 Old Town Brewing and StormBreaker Brewing will release Hazy Rider IPA during a scooter rider across North Portland. At 5:30pm the celebration will begin at Old Town Brewing and then will depart to StormBreaker Brewing, on electric scooters of course!
Jordan Wilson produced this outlandish video that can be seen below.
Scooter Quest Schedule of Fun:
5:30pm – Meet at Old Town Brewing (5201 NW MLK Blvd.) for FREE snacks and to reserve a FREE scooter ride voucher.
6:00pm – Group scooter ride down to StormBreaker Brewing (832 N Beech St.) to tap the collabrewation beer.
6:20pm – Drink the new release Hazy Rider IPA. Everyone who came on the journey or shows up on a scooter receives $1.00 off their beer.
*we cannot confirm that this beer was entirely brewed on scooters