The Beer Here – New IPAs and a Raft of Belgian-style Ales, Beer Events for the Week of May 31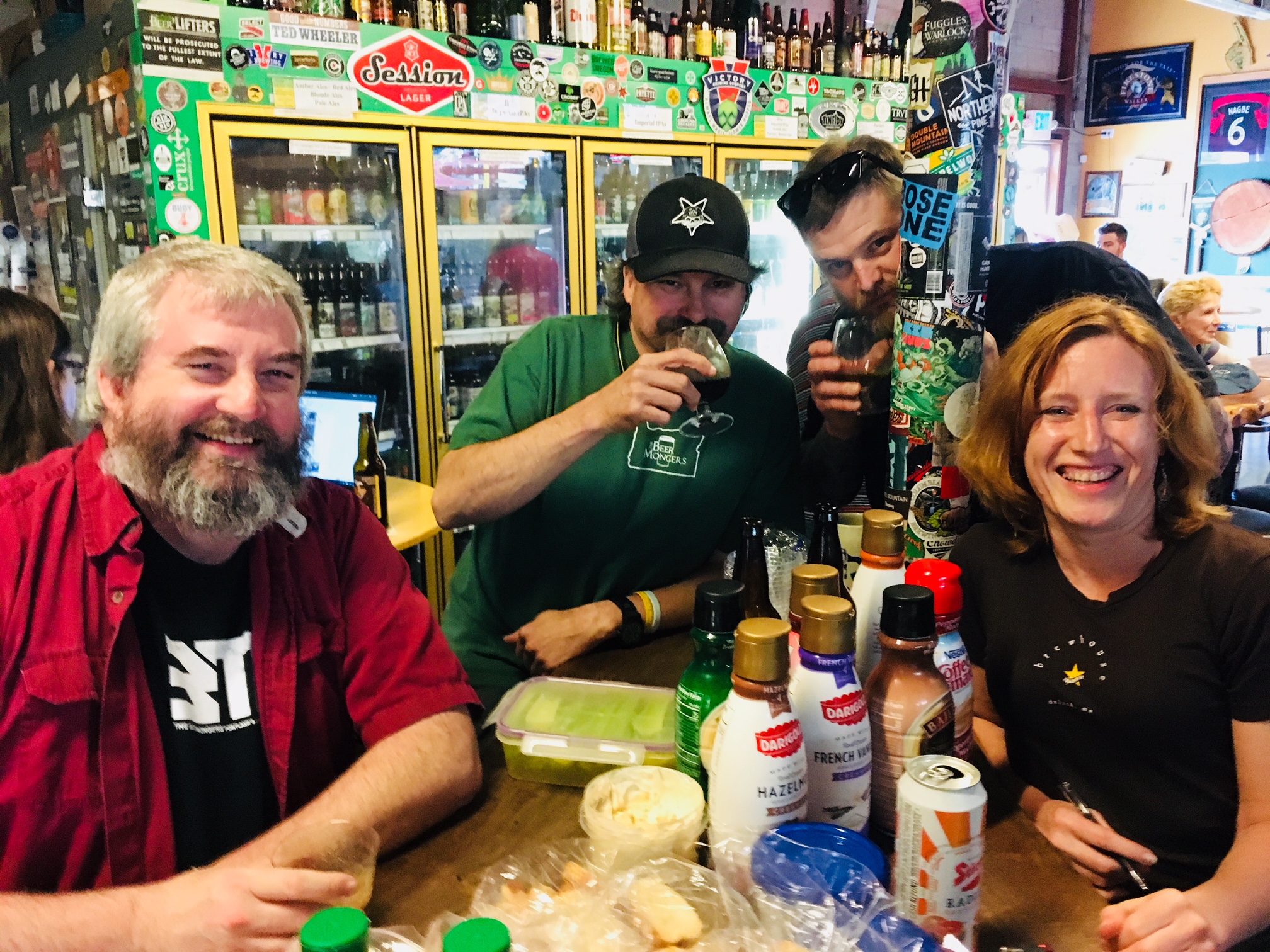 New IPAs on tap and a raft of Belgian-style ales at Cheers To Belgian Beers; beer events for the week of May 31, 2018.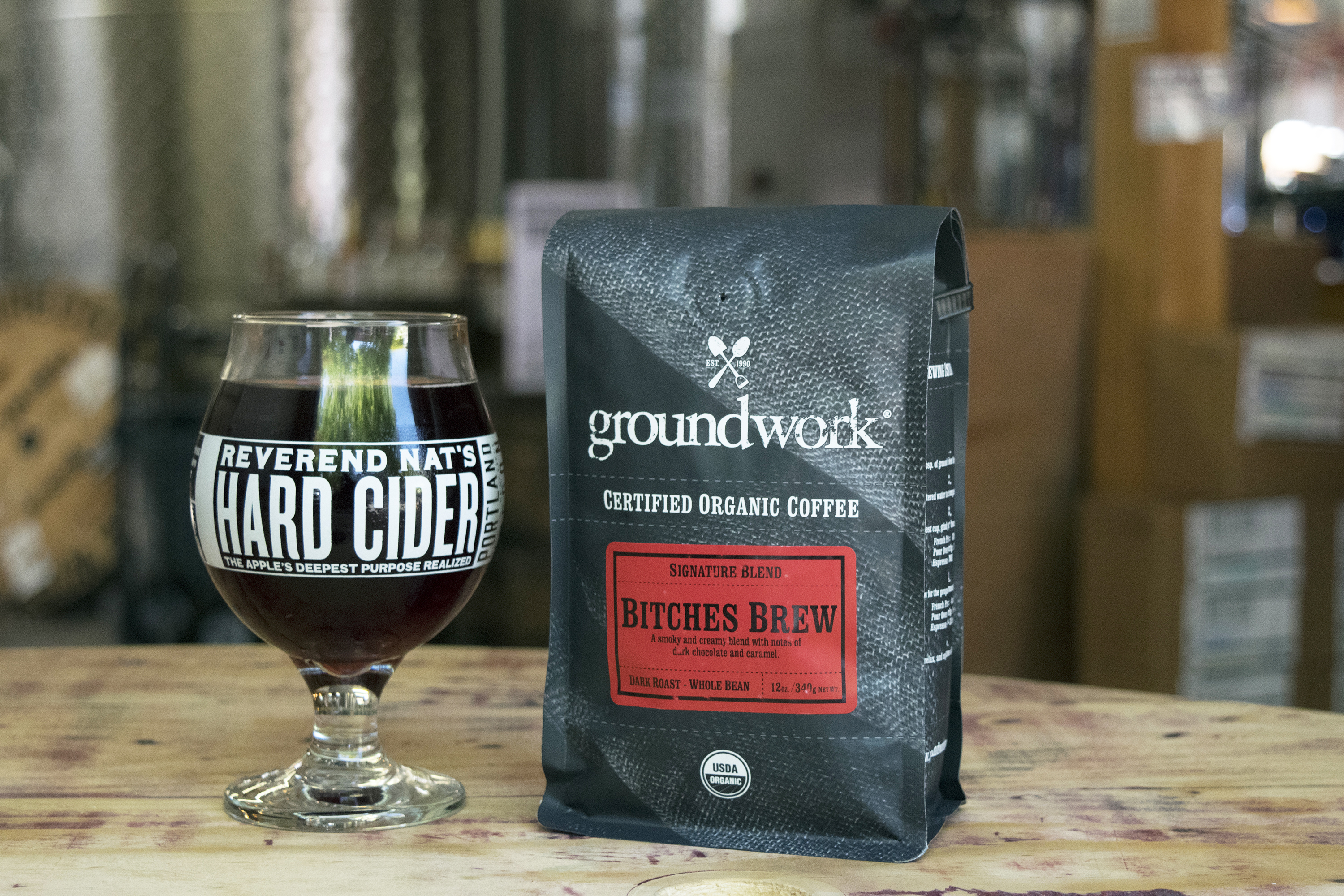 Electric Red Coffee Sour Cherry Cider
Thursday May 31, Reverend Nat's Tasting Room, 1813 NE Second Ave.;
Groundwork Coffee's organic Bitches Brew signature blend pairs with Reverend Nat's vibrant sour cherry cider to create Electric Red cider: the name describes the color of this sour cherry cider and is also a reference to aging the cider on Groundwork's Bitches Brew — named after Miles Davis' Grammy Award-winning record, one of jazz's greatest albums and a progenitor of the jazz rock genre. During the cider's first week on tap, May 31-June 7, $1 will be donated to the Café Femenino Foundation, an independent nonprofit organization that funds community betterment grant requests proposed and managed by women in coffee-producing regions around the world.
Electric Red Tasting Notes: Nice deep palate with enticing and assertive aromas of dark chocolate, cherry, and coffee roast smokiness, subtle caramel notes. A tart granny-apple base blended with copious amounts of sweet and tart cherry juices, aged on Bitches Brew ground coffee — imagine a semi-sweet dark chocolate-cherry cake, drizzled with a dark-roasted coffee finishing glaze, ending with a kick of ghost-chili spice surprise to round out the profile.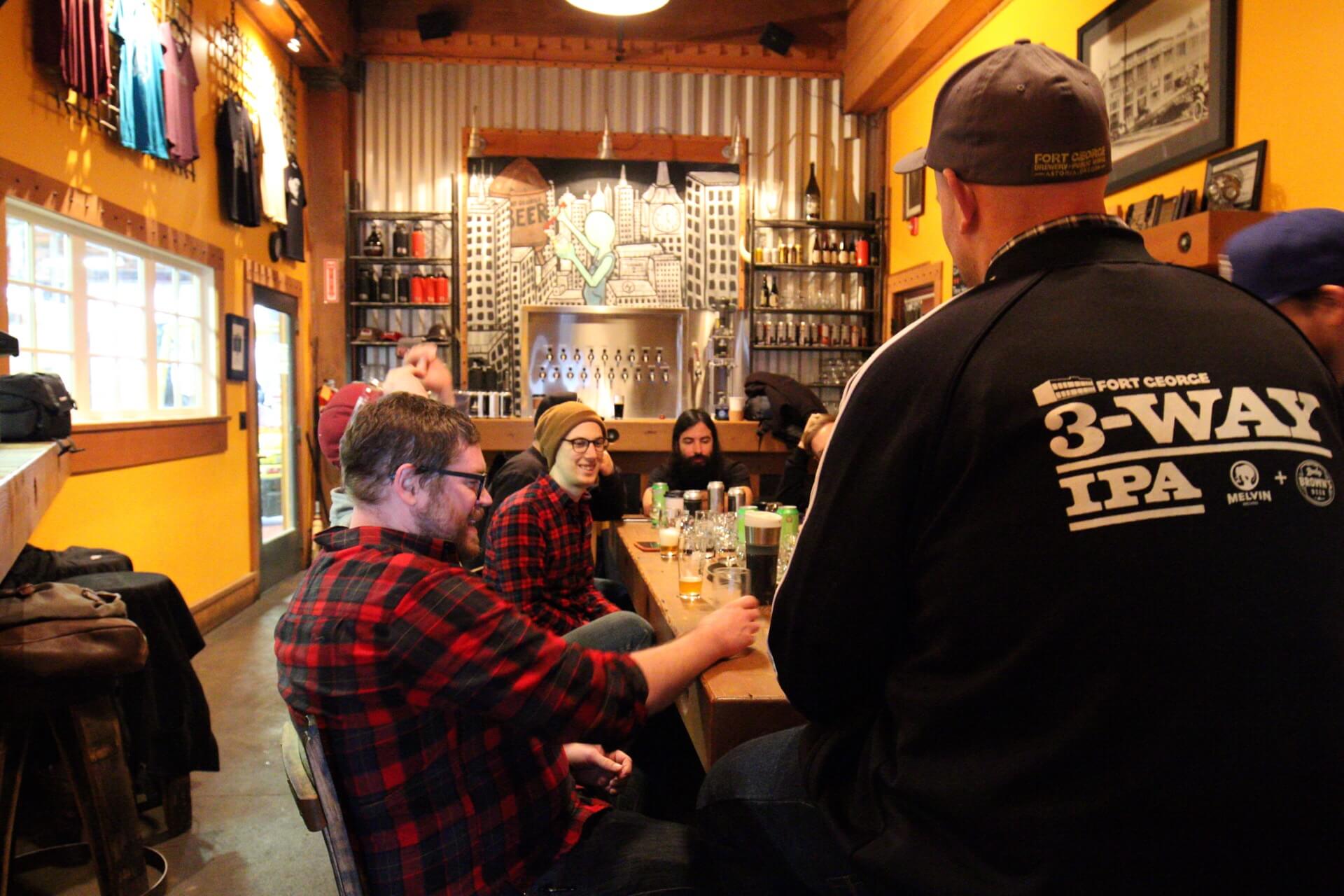 3-Way IPA Portland Release Party
6-9 pm Friday June 1, White Owl Social Club, 1305 SE Eighth Ave;
The Fort George crew is well chuffed about its annual three-way collaboration summer IPA, this year with the collaboration of the Modern Times and Holy Ghost brewers, as witness the press release verbiage: "Among the swelling base and heavily hopped riffs, a uniting dissonance appears. Wheat and oats load in sustained distortion and vast amounts of feedback. From the Juice yeast emerges an ethereal realm of suspended ambient fruit and lupulin resonance. Aromatic and resinous, 3-Way IPA reverberates with the IPA passion of these three collaborators. Share a pint with us, as we present this summer seasonal exclusively to the Pacific Northwest by tapping 3-Way IPA and offerings from the breweries at 6 pm."
The Yeast: Juice. Much as the name implies, this particular yeast leaves the beer big and juicy. Popular among hazy beer brewers, it's also the yeast used in City of Dreams, which means the brewers are very familiar with how it reacts during fermentation.
The Malt: Proteins & polyphenols. High protein malts bind with polyphenols from the hops, creating that lasting juiciness you find in the hazy beers. To achieve this, the brewers used white wheat, flaked oats, golden oats, and topped it off with oat malt.
The Hops: Just a handful of Mosaic in the first addition, hefty amounts of Comet and Citra in later additions, and finally a ridiculous amount of dry-hopping with Citra, Comet, Simcoe, and Ariana hops. Ariana is a relatively new hop that ranges in flavor from blackcurrant and grapefruit to geranium and vanilla.
Dead Comics Society
9 p.m. Friday June 1at the Rogue Eastside Pub's Barrel Room, 928 SE Eighth Ave.;
The First-Friday event starts at 9 pm to celebrate the later summer light, and this month includes Alex Falcone, Neeraj Srinivasan, Wilfred Padua, Phil Schallberger and is hosted by Chase Brockett.
Twelfth Annual Cheers to Belgian Beers
1-9 pm Friday June 1, Noon-8 pm Saturday June 2, The North Warehouse, 723 N Tillamook St.; $20 at the door include souvenir goblet and eight tix. 21 and older only, ID required.
Cheers to Belgian Beers showcases around 75 Belgian-style beers brewed by Oregon craft brewers and is a longtime favorite on Oregon's festival calendar. It's a standout because every beer is potentially made using the same primary yeast strain — this year it's Precious, a classic Belgian yeast that features a very mild phenolic character balanced with moderate fruitiness. This year, brewers were also given the option to add a secondary aging strain, Suburban Brett, which is especially good when used in wood barrels, producing complex and balanced aromas of sour cherry and dried fruit. To ensure diversity among the beers the color and strength of each brewery's beer is determined by a dart throw earlier this year. Depending on where the dart lands on the board determines whether that brewery will brew a Belgian-style beer that is light or dark in color, with amber as the midpoint; and low or high in alcohol, with six percent being the midpoint. Breweries that hit a bull's-eye get a wild card and can select their own color and strength.
This year, the Brewers Guild is donating $1 from every ticket package sold to House That Beer Built, a partnership between Habitat for Humanity Portland/Metro East and the local craft beer industry. This exciting new collaboration celebrates the strength and creativity of Oregon's craft beer industry, along with its passion for community involvement. Participating breweries and businesses pledge to raise funds with the goal of collectively raising $75,000 to fully sponsor a home for a Portland family. Learn more about Habitat's work 
The fest happens inside The North Warehouse as well as outside in the tented parking lot. Food is available from Urban German Grill and Monk's Deli; Brewed Oregon will be selling Oregon craft beer gear and apparel. Street parking is available, but limited. Take public transportation — the TriMet Bus Line 35 stops one block away and the Yellow Max Line stops two blocks away — or ride yer bike: free bike parking is available onsite.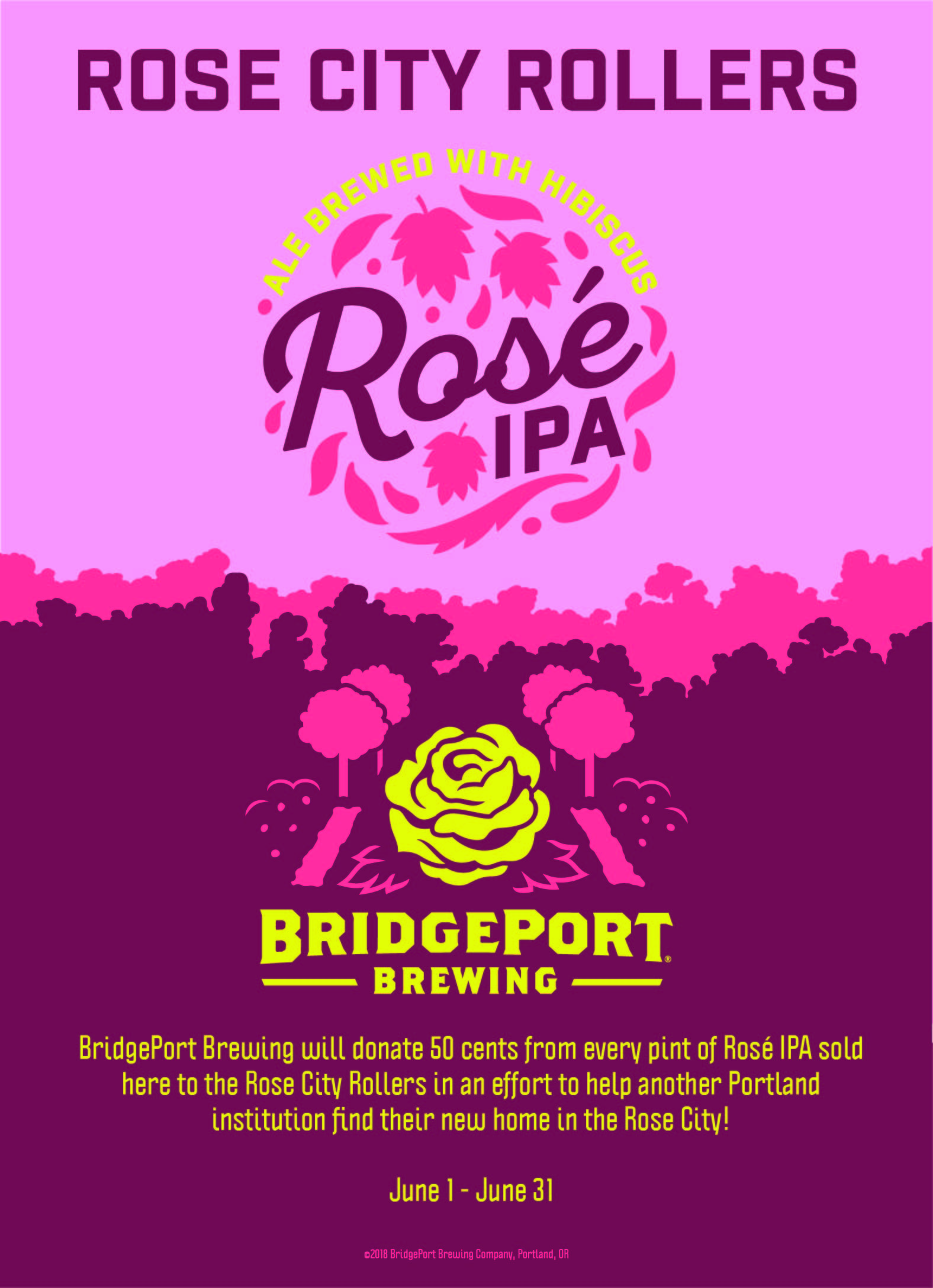 BridgePort Brewing Rosé IPA Release
7 pm Saturday June 2, Oaks Park Roller Rink, $22 at the door
Rosé season is upon us and to truly get us into that summer sipping spirit, BridgePort Brewing has brewed a brand new Rosé IPA and celebrating the official launch of this highly anticipated beer with a night of beer and roller derby fun with Portland's own Rose City Rollers. The Rose City Rollers are in search of a new home and this summer, BridgePort Brewing will donate 50 cents from each pint of Rosé IPA poured at the brewpub to that effort. Here's what they say about their eminently quaffable — 5 percent and 20 IBU — new Rosé IPA: "We start this beer with our Pale Ale malt and little Honey malt to accentuate the slightly sweet background for this beer. This is a fun session beer is a lower alcohol beer "hopped" in our hopjack with Hibiscus for a unique floral/citrus flavor and aroma punctuated by a gorgeous subtle pink hue. We then finish this beer with a solid dose of Mosaic, Citra, and Meridian dry hops at the end of fermentation to give a slightly sweet fruity finish.
Fearless Turns Fifteen
5:30-8:30 pm Saturday June 2, Fearless Brewing Co., Main St. Estacada;
Fearless Brewing owners Ken and Bennett Johnson thank their customers and friends with a family-friendly crystal anniversary party that features live music by The Mossy Rock Ramblers and the release of a new beer: Fearless Crystal Anniversary Pilsner with Crystal hops.
Tags:
3-Way IPA
,
BridgePort Brewing Rose IPA Release
,
Dead Comics Society
,
Electric Red Coffee Sour Cherry Cider
,
Fearless Brewing
,
Fearless Crystal Anniversary Pilsner
,
Fort George
,
Groundwork Coffee
,
Holy Mountain
,
John Foyston
,
Ken Johnson
,
Modern Times
,
Oaks Park Roller Rink
,
Reverend Nat's
,
Rogue Eastside Pub
,
the beer here
,
The Rose City Rollers
,
Twelfth Annual Cheers to Belgian Beers
,
White Owl Social Club
About The Author
John
John Foyston is Oregon's longest serving beer writer, and wrote a weekly beer column for The Oregonian until just recently. His work has appeared on CNN, and in Beer Connoisseur, Celebrator Beer News, Oregon Beer Growler, Mix Magazine and other publications and will occasionally appear on these pages, at least until Angelo and DJ get tired of him too...He can be followed on Twitter at @beerherejohnny.